NFL: 9 Rookies Who Stand Out as Rising Stars
While the 2015-16 NFL season is now in the books, the attention turns to the 2016 offseason and of course, the NFL draft, which will once again be loaded with superstar prospects. Before we look ahead too much into the upcoming draft, let's take a look back at the impressive talent that was found in the 2015 NFL draft by breaking down a few of the rookies from last season who qualify as "rising stars."
9. Leonard Williams, New York Jets
Leonard Williams had a strong rookie season, specifically against the run. While he managed just three sacks — obviously something he needs to improve — he had 63 combined tackles and proved to be a bit of a steal with the No. 6 pick to the Jets, who probably didn't expect to land him. Many believed Williams would be one of the top picks in the draft, but he did fall a bit, fortunately for New York. The Jets have a bright future ahead of them, and Williams should be a leader for this talented defensive unit.
8. Byron Jones, Dallas Cowboys
Many will overlook Byron Jones' rookie season, but while players were going down with injuries all season long for the Cowboys, Jones was the player who always stepped up. He played safety, cornerback, and was even tasked with covering Rob Gronkowski primarily when the two teams met. He finished up the year with 66 combined tackles and eight passes defensed. The Cowboys definitely got a steal with the No. 27 pick in the 2015 NFL draft.
7. Ronald Darby, Buffalo Bills
The second-round pick for the Bills was in the mix for defensive rookie of the year, but was beaten out by a player who simply was too good to ignore last season. In the end, though, Darby's stat line and ability to make plays when it mattered was impressive. He ended up not only with 68 combined tackles and two interceptions, but he had 21 passes defensed as well. He quickly proved that he can be a cornerstone of this secondary for years to come in Buffalo, which is excellent news for Rex Ryan and company.
6. Thomas Rawls, Seattle Seahawks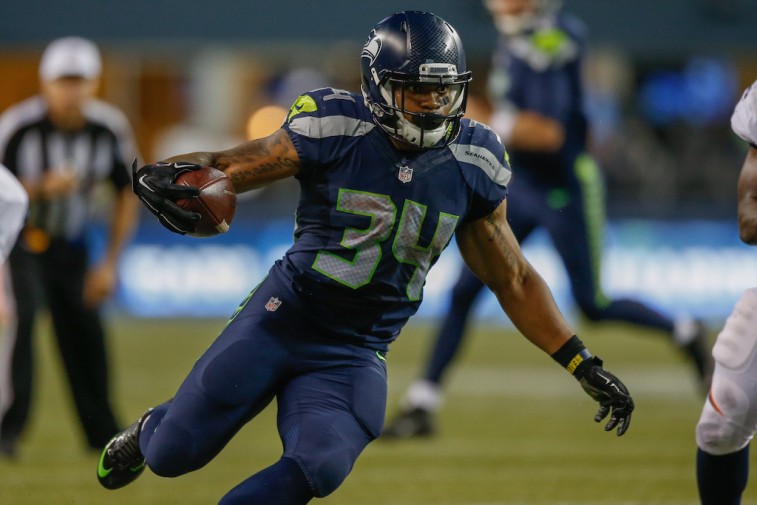 It took an injury to Marshawn Lynch for Thomas Rawls to really get the call from the coaches, but once he did, the undrafted rookie never looked back. Rawls had six games during the regular season in which he tallied double-digit carries, and in those games he failed to top 81 yards just one single time, while also topping the 100-yard mark four times.
The final stat line on the year for Rawls featured 147 carries for 830 yards (5.6 yards per carry), with four touchdowns. He also tacked on nine receptions for 76 yards and a touchdown just for good measure. The Seahawks have their future at running back, which is great news since Marshawn Lynch has decided to call it a career.
5. David Johnson, Arizona Cardinals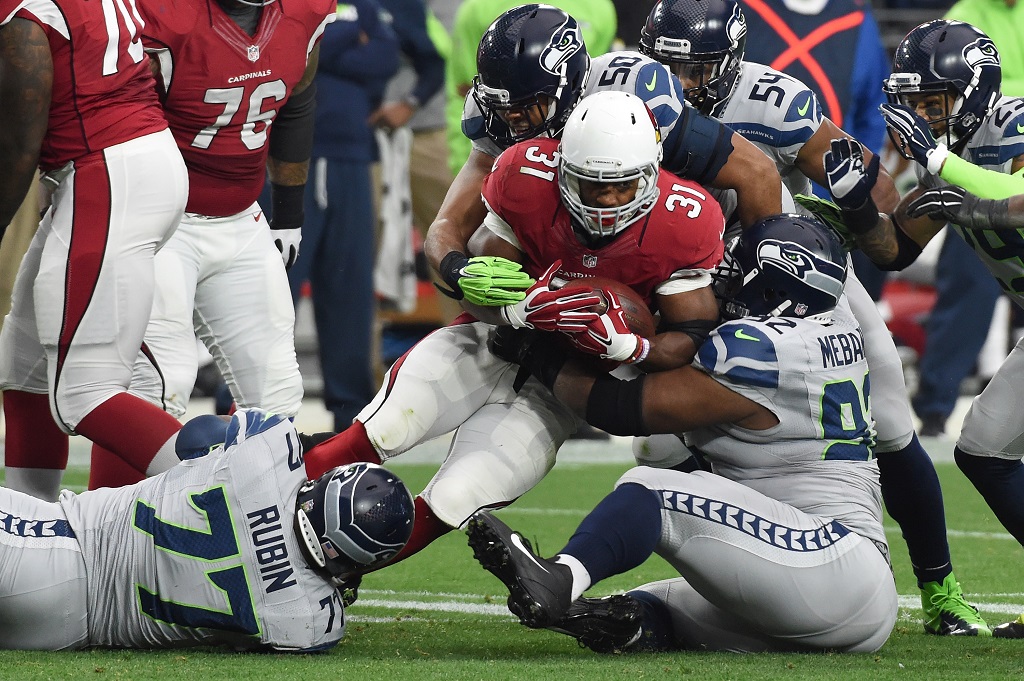 It took multiple injuries and about 11 games for the Cardinals to finally hand control of the running game over to David Johnson, the rookie from Northern Iowa. Fortunately, once they did, the third-round pick took full advantage of his opportunity. While statistically, he wasn't as strong as Rawls was on the ground, he finished up with more touchdowns and was a force in the passing game for Carson Palmer as well.
His ability to catch passes was a serious game-changer for Arizona. Johnson had 125 carries for 581 yards, with 36 receptions for 457 yards and 12 combined touchdowns in the 2015 regular season. Expect him to be the focal point of Arizona's running game next season, and to help ease the pressure off Palmer and the passing game.
4. Marcus Mariota, Tennessee Titans
Marcus Mariota would obviously be higher on this list had he been able to play in more games, as he probably would have put up even more impressive numbers than he did. Even with that said, it's obvious that the Titans must be ecstatic about what Mariota brings to the table and how well he produced as a rookie for them.
The upside of this guy is unreal, and his ability to beat teams with both his arm and his legs is pretty scary. While Mariota played in just 12 games this past season, he completed 62.2% of his passes for 2,818 yards, 19 touchdowns, and 10 interceptions. He also rushed for 252 yards and two additional scores as well. All of this was done on a Titans offense that wasn't exactly loaded with offensive playmakers.
3. Jameis Winston, Tampa Bay Buccaneers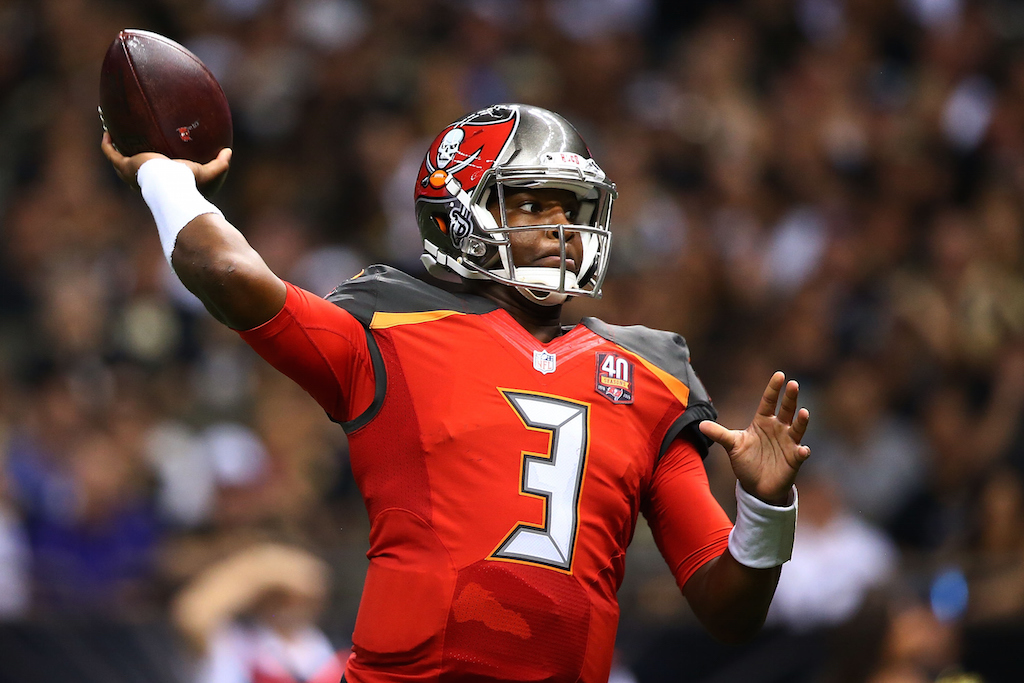 The man dubbed "Famous Jameis" came in, did a great job as a rookie, and almost immediately established himself as a leader for this team. While Winston did have a poor game here and there, he always seemed to bounce back in a big way, finishing up the year with 4,042 passing yards, 28 total touchdowns (six rushing), and 15 interceptions.
It's obvious that Winston was a bit turnover prone at times, but the same could be said about Mariota. Winston's best moment of 2015 came in a 45-17 dominating victory over the Philadephia Eagles, when he threw for five touchdowns and no interceptions. This is the start of something beautiful in Tampa Bay.
2. Marcus Peters, Kansas City Chiefs
There is truly an argument to made for Peters to be pushed up to the No. 1 spot on this list. For now, though, we'll give him No. 2 and watch him dominate once again in 2016. He's proven that he has all the skills to be one of the elite cornerbacks in the NFL, and while opposing quarterbacks did their best to pick on Peters at times, he won more than his fair share of battles.
At the end of the year, Peters wound up with 60 combined tackles, a ridiculous eight interceptions, and 26 passes defensed, with two touchdowns and a forced fumble for good measure. The man did a little bit of everything, and it's probably a safe bet that quarterbacks won't be targeting him much in 2016.
1. Todd Gurley, Los Angeles Rams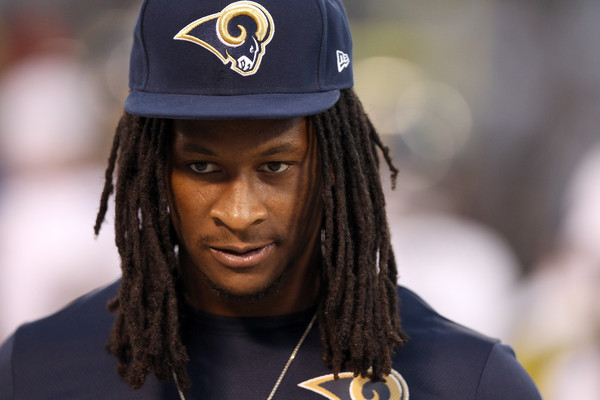 We could argue that since Gurley played in just 13 games that he shouldn't be in the top spot, but the numbers and our own eyes tell a different story. He may have missed the first three games, and his first actual game started off a bit rocky (six rushes for nine yards against the Pittsburgh Steelers), but he just went to work from that point forward. After that first poor showing, Gurley basically had one really bad game, in which he rushed just nine times for 19 yards.
Yes, he had a few games where he didn't have a great yard-per-carry average, but still found the end zone to save his day. This happens to all running backs, but in the end, he topped the 100-yard mark five times in his 13 games. Gurley's season wrapped up with 229 carries for 1,106 yards (4.8 yards per carry) and 10 touchdowns. It's obvious that the No. 10 pick by the Rams will be a huge hit once he gets to Los Angeles.
Statistics courtesy of ESPN.com.
Follow Jeff Smith on Twitter @JSM8ith