NFL: AFC Divisional Previews and Predictions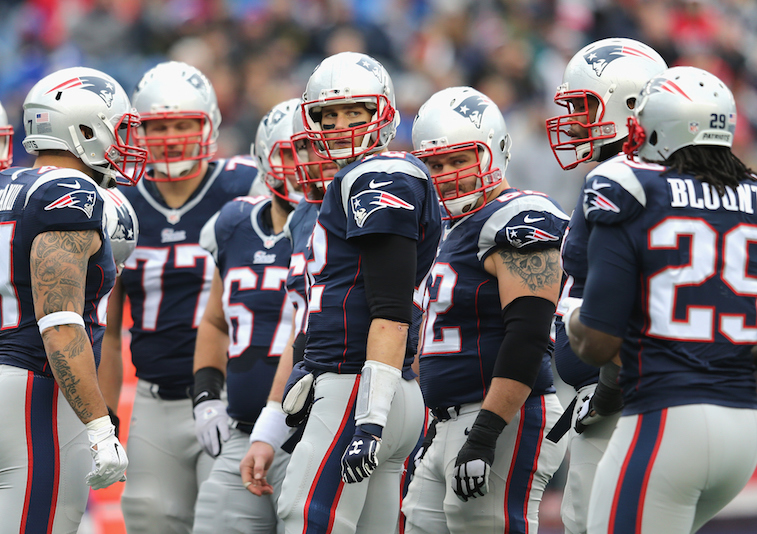 After Thursday's huge news out of Deflategate land, NFL fans and players can finally hopefully start focusing on week one. The Sept. 10 season-opener between the New England Patriots and Pittsburgh Steelers is going to without a doubt draw a HUGE amount of viewers and rightfully so.
The first week of the regular season is a time where unproven rookies shake off their nerves, savvy veterans dust off the off-season cobwebs and the head coaches see what they have to work with for the next four or so months. Of course you'll always have the perennial favorites in the American Football Conference (i.e. New England Patriots, Denver Broncos, etc.,) but which teams will be this year's surprises?
Nearly half (six) of the 16 AFC teams will make it to playoffs this winter. It's time to look through our Cheat Sheet crystal ball and take a hack at picking the four division winners, as well as predicting who will snag the two wild cards.
AFC East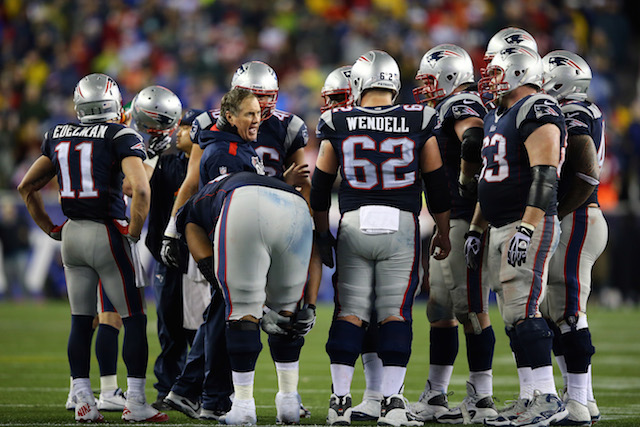 Predicted order of finish:
1. New England Patriots
2. Buffalo Bills
3. Miami Dolphins
4. New York Jets
No real surprises here, as this week's reversal of Patriots quarterback Tom Brady's four-game suspension only solidifies the team's perch atop the AFC East. After finishing last season in first place at 12-4, look for more of the same this year. They've still got Brady and they've still got head coach Bill Belichick and that almost alone makes them the prohibitive favorites in this division. Add in the best tight end in the league, a solid second receiving option in Julian Edelman, a powerful, underrated running back in LeGarrette Blount and a defensive line and linebackers crew that rank with the best of them, and you should see New England sporting those division title tees at the end of the year again.
The Buffalo Bills are likely the best threat to unseat the Pats as they have made a one-dimensional team from 2014 much better. Last year's team was all about defense, and while that is definitely still their strong suit, they have improved on offense and in coaching. The additions of Rex Ryan and LeSean McCoy (if healthy) cannot be understated and they make the Bills a real threat for a wild card this season. Like last year, they'll be stuck in second place, but they could certainly add a win or two to their total of nine from 2014.
The Miami Dolphins will probably only go as far as quarterback Ryan Tannehill can take them. He's almost certainly the second-best QB in the division, but that isn't saying much considering the situations with the Bills and New York Jets. Miami finished last year in third at 8-8 and it would shock few if this season ended with the same fate. Look for the Dolphins to clearly separate themselves from the Jets at the bottom of the barrel, but unless Tannehill can take that next step and find consistency, this team is still no better than a third place finisher.
Look, the 2015 Jets are not going to be a pretty team to watch. Geno Smith's locker room fiasco and subsequent injury truly put into perspective just how this NFL franchise may be. However, the team has enough talent on both sides of the ball to probably avoid a league-worst record. Quarterback Ryan Fitzpatrick shouldn't be as bad as some are saying he will be, and with Brandon Marshall and Eric Decker to throw to, he has the potential to look that much better. Toss in a deadly secondary and the Jets should be competitive in most games this year. After a fourth-place finish at 4-12 last season, this team should at least still better than the Jacksonville Jaguars and Tennessee Titans in 2015.
AFC North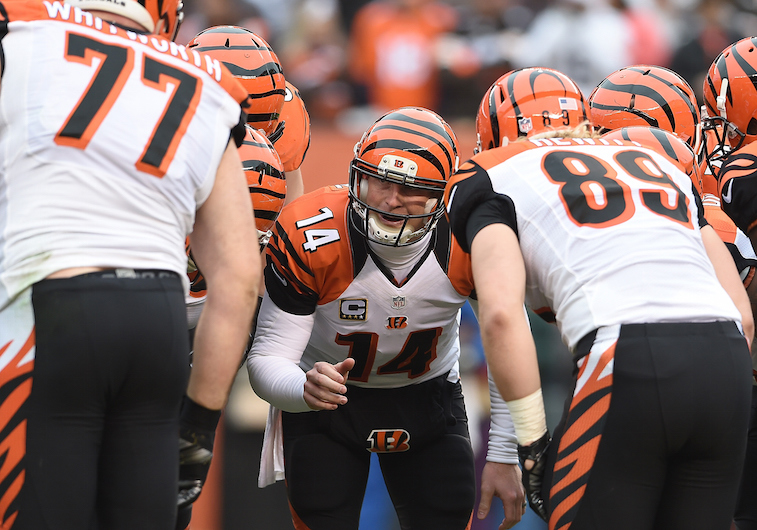 Predicted order of finish:
1. Cincinnati Bengals
2. Baltimore Ravens
3. Pittsburgh Steelers
4. Cleveland Browns
The AFC North was arguably the best division in football last year, as they combined for a league-best 38 wins (and a tie) between them. Expect a bit of a drop-off this time around though as the Bengals will be the only team from the group to make the playoffs. The team went 10-5-1 and finished in second place a year ago. With Andy Dalton only having to worry about the regular season for the first handful or months, plus with offensive weapons A.J. Green and Jeremy Hill by his side, Cincinnati should be able to fend off the Ravens for the crown.
With an aging core of receivers and a quarterback who only seems to step it up in the playoffs, the Ravens may struggle to reach the 10 wins they registered in 2014. Luckily for Baltimore, the Ray Rice departure has opened the door for 29-year-old seventh round draft pick Justin Forsett to lead the backfield. He should still have enough for one or two more seasons to help this roster avoid the bottom half of the division.
These are not the Pittsburgh Steelers of old. This is not the same defense we saw with the likes of Troy Polamalu circa 2010 and the terrifying James Harrison. On offense though, the team has a strong core of quarterback Ben Roethlisberger, running back Le'Veon Bell (suspended two games) and wide receiver Antonio Brown that should help them reach the .500 plateau. It'll be a drop off from last year's 11-win total, but not enough of a decrease to earn last place.
The way the Cleveland Browns look in the AFC North standings come December will depend a heck of a lot on the play and maturation of quarterback Johnny Manziel… or whoever ends up being the starter. Still, it has to hurt knowing that a young stud with the talent that Josh Gordon had has thrown his season (and maybe more) away. It could be another last place finish for Cleveland and it would be a surprise to see them reach the seven victories that they did last year.
AFC South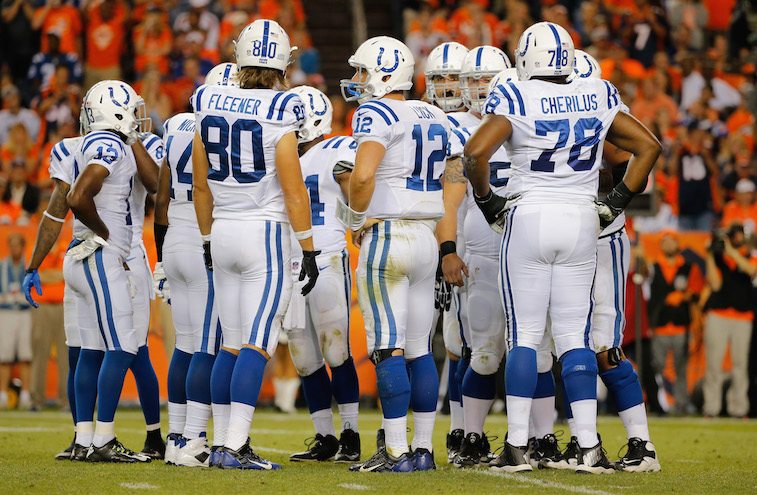 Predicted order of finish:
1. Indianapolis Colts
2. Houston Texans
3. Tennessee Titans
4. Jacksonville Jaguars
To be honest, this division was perhaps even easier to predict than the AFC East. A year after making the AFC Championship game, the Colts are clearly the class of the AFC South. They should win the division again with ease and could very well bump last season's 11 wins to 12 or 13 this time around. They appear to have improved their running game with the addition of Frank Gore, and their defense should be better too. Then you have great receivers in T.Y. Hilton and Andre Johnson who have the potential to become elite when they have a guy like Andrew Luck targeting them.
If only they had a quarterback. Very much like the Bills, the Houston Texans finished 2014 in second place in their division at 9-7. Also like the Bills, the Texans have a stellar defense and star-laden, but injury-prone running game. The difference makers that may push Buffalo ahead of Houston in the wild card race is the coaching and the uncertainty surrounding the health of Arian Foster. With an unbelievable defensive corp that includes J.J. Watt, Mario Williams and the return of former number one overall pick Jadeveon Clowney, the Texans could certainly meet or surpass last year's nine victories.
Basically the only reason that the Tennessee Titans are placed above the Jacksonville Jaguars is because of quarterback Marcus Mariota. The dude was drafted number two overall for a reason and playing against the defenses of the Colts and the Jaguars in a quarter of his games this year, the team should improve on last year's two-win, last place finish.
The Jaguars are a real candidate for finishing with the league's worst record. It's hard to see them being better than any other AFC team right now. Quarterback Blake Bortles hopefully has a long NFL career ahead of him, but after being drafted third overall a year ago, his rookie season did not inspire a ton of hope. A repeat of last season's 3-13 record is a strong possibility.
AFC West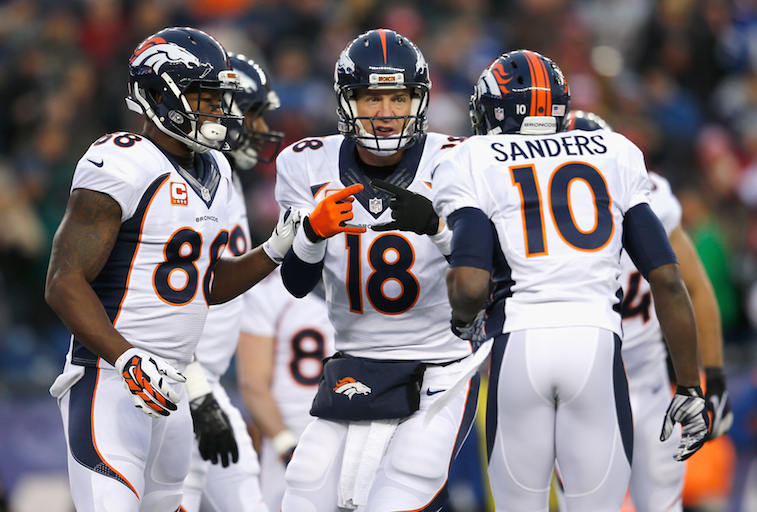 Predicted order of finish:
1. Denver Broncos
2. Kansas City Chiefs
3. San Diego Chargers
4. Oakland Raiders
Does Peyton Manning have one last run in him? The future first-ballot Hall-of-Famer has drawn skepticism this off-season, maybe more than ever before in his career. At 39 years old and given his recent surgeries, the questions surrounding his game are reasonable. With that being said, Manning's proven us wrong before and he has the offensive firepower (Demaryius Thomas, C.J. Anderson) to at least get his team to one more postseason. An improvement upon last year's 12 wins is asking a lot, but matching that could be a possibility.
After finishing tied at 9-7 with the San Diego Chargers last year and narrowly missing out on the playoffs, look for that to change this winter. The fully healthy, all-purpose pro-bowl back Jamaal Charles is the spark plug on offense who is a treat to watch. Justin Houston and rookie Marcus Peters are the big names on defense. Kansas City is a definite candidate for a wild card berth this season.
The Chargers have the misfortune of playing in probably the best or second-best division in the AFC, which includes solid defensive units. Since the days of LaDainian Tomlinson, San Diego has struggled to find a strong feature back. They've tried Darren Sproles and Danny Woodhead among others, showcasing varying levels of success. Now with first-round pick Melvin Gordon in the fold, we'll see how Philip Rivers and company mesh this fall.
The Oakland Raiders should actually be one of the stronger last-place finishers this upcoming season. That sounds bad, but when you play 12 of your games against the Broncos, Chiefs and Chargers, there's always the chance that you'll struggle. This is still a young team, but Derek Carr should be able to get is team more than the three-win output from a year ago.
AFC Wild Cards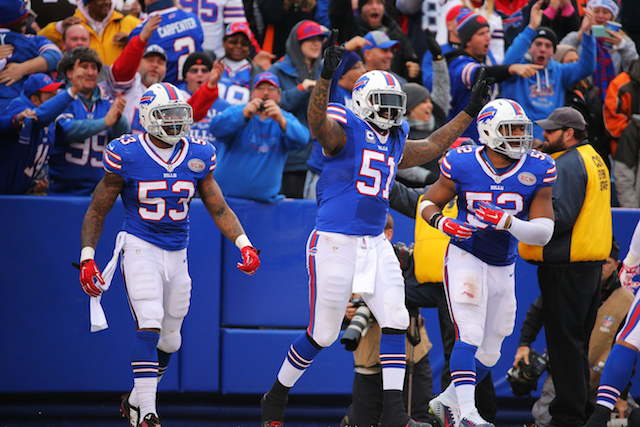 Predicted wild card winners:
1. Buffalo Bills
2. Kansas City Chiefs
Is this the year the Bills finally return to the playoffs? As previously mentioned, they are the best shot to dethrone the Patriots in the AFC East. While they may not be able to do that quite yet, they could very well earn a consolation prize. For the first time since 1999, the Buffalo will be playing in the postseason. Led by their daunting defense, their colorful coach and their robust running back, this team can get the number five seed over the likes of Baltimore, Houston and Kansas City.
Thanks to a power back and solid defense of their own, the Chiefs will also make a return to January football this season. As long as Jamaal Charles stays healthy, they have an MVP-caliber player leading their offense to compliment a young, but impressive defense. Having a coach with plenty of playoff experience like Andy Reid on the sidelines doesn't hurt either.
All data courtesy of NFL.com and Pro-Football-Reference.com.
Follow Victor on Twitter @vbarbosa1127.
Want more great content like this? Sign up here to receive the best of Cheat Sheet daily. No spam; just tailored content straight to your inbox.