NFL: 5 Fantasy Football Sleepers for 2015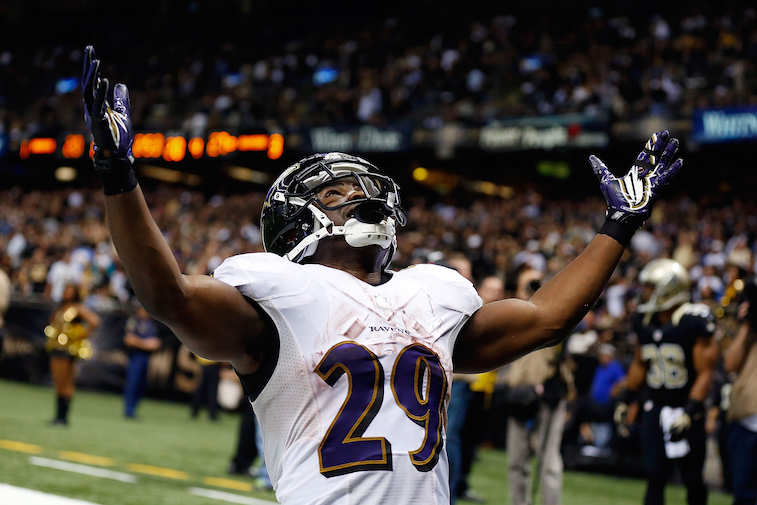 If you're an avid fantasy football player you probably already know this, but taking a chance on the right sleeper players can mean the difference in making a championship run and missing your league's playoffs altogether. In 2014, the fantasy owners who had the foresight to pick up guys like Pittsburgh Steelers running back Le'Veon Bell, Baltimore Ravens running back Justin Forsett, Indianapolis Colts wide receiver T.Y. Hilton, or Denver Broncos wide receiver Emmanuel Sanders probably found themselves in the mix for their league's championship.
There has been a couple of players pop up as popular sleeper picks this offseason who we chose to leave off of our list. We believe that whoever wins the starting running back job for the Dallas Cowboys – it will likely be Joseph Randle or Darren McFadden – will have a Pro Bowl caliber season assuming they stay healthy. As it stands, the two are reportedly neck-and-neck in their depth chart competition, and as soon as we learn who will be the team's starter, that player will instantly become a must-add player due to the Cowboys have the best offensive line in the league. The other player that continues to emerge as a sleeper pick is Minnesota Vikings quarterback Teddy Bridgewater. After a solid rookie season where his arsenal of weapons was somewhat scarce, he now will have a supporting cast featuring the likes of Adrian Peterson, Mike Wallace, Cordarrelle Patterson, and Kyle Rudolph. With that being said, we believe Peterson will be the one to steal the show in Minnesota.
If history is any indication, there is a sleeper out there who will come out of nowhere to surprise even the most knowledgeable experts in the fantasy football industry. Without further ado, here is an early look at five potential sleeper players for the 2015 NFL season.
1.  Marlon Brown, wide receiver, Baltimore Ravens
The Ravens have Steve Smith Sr. returning and drafted speedy wide receiver Breshaud Perriman out of Central Florida in the first round of the 2015 NFL Draft, but we still feel Brown has the potential to be a solid fantasy producer this season. His size – 6-foot-5 and 217 pounds – makes him a fantastic red zone option for Joe Flacco, and early reports out of Ravens OTAs are that the 24-year-old is fully healthy and looks better than ever. Don't be surprised if Brown ends up as the No. 1 wide receiver in Baltimore by the end of the season.
2.  LeGarrette Blount, running back, New England Patriots
The Patriots are having an open competition for the No. 1 running back job, and we believe Blount will end up being the team's Week 1 starter. The team allowed veteran running backs Shane Vereen and Stevan Ridley to depart during free agency, which means Blount will most likely be competing with Brandon Bolden and Jonas Gray for the job. New England will likely be heavily reliant on their running game during Tom Brady's suspension, which means Blount – assuming he wins the job – has the potential to put up some huge fantasy numbers early in the 2015 season.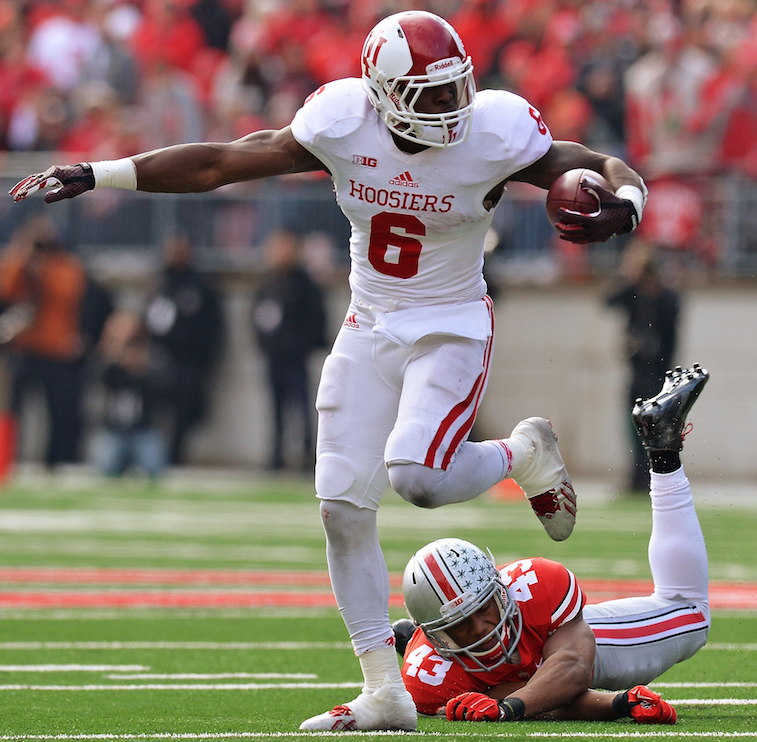 3.  Tevin Coleman, running back, Atlanta Falcons
Shortly after the Falcons selected Coleman in the third round of the 2015 NFL Draft, the former Indiana Hoosier boldly announced that he was going to win the team's starting running back job. He will face some stiff competition from Devonta Freeman, but based on his big play ability, we see Coleman backing up his words and becoming the No. 1 running back for the Falcons. Atlanta will more than likely be more of a run-oriented team under new head coach Dan Quinn, which makes whoever wins their starting running back job an excellent fantasy sleeper prospect.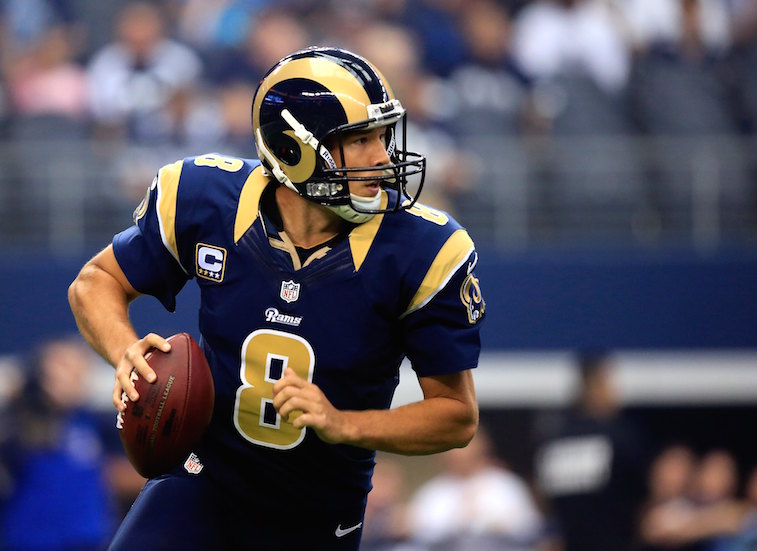 4.  Sam Bradford, quarterback, Philadelphia Eagles
Is this the year that Bradford finally stays healthy and looks like a quarterback worthy of being selected with the No. 1 overall pick in the 2010 NFL Draft? We believe that it is. He will be getting a fresh start to his career with the Philadelphia Eagles, and his skillset is an excellent match for Chip Kelly's offensive system. We are fully confident that if Bradford can stay healthy for the entire season, he will put up good enough stats to be considered a top-10 fantasy quarterback in 2015.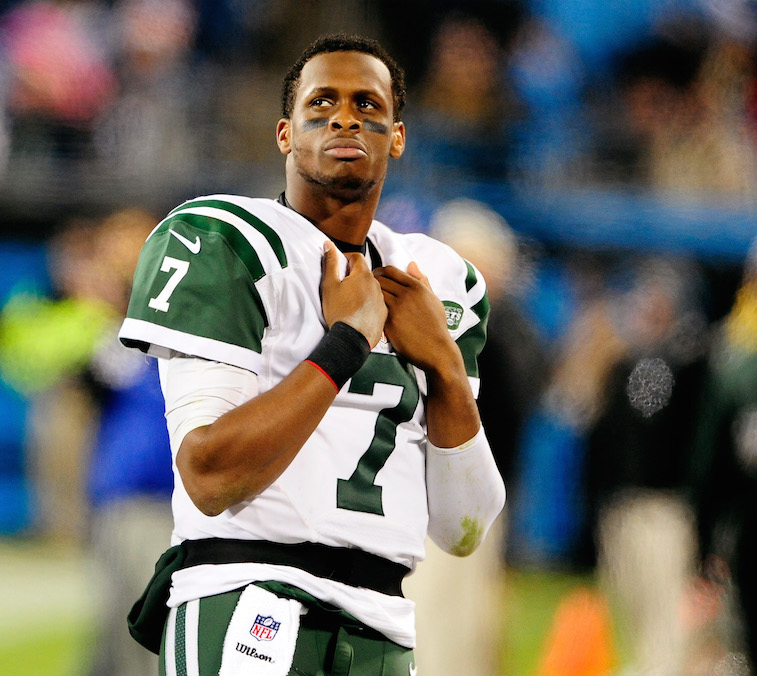 5.  Geno Smith, quarterback, New York Jets
2015 is a make-or-break year for Smith. Up to this point in his career, he has been wildly disappointing, but we believe that could all change this season. If he can't put up solid numbers throwing the ball to a group of pass catchers consisting of wide receivers Brandon Marshall, Eric Decker, Devin Smith, and Jeremy Kerley, and tight ends Jace Amaro and Jeff Cumberland, then Smith may simply not have what it takes to play quarterback in the NFL. Furthermore, new head coach Todd Bowles hired Chan Gailey, whose spread offense is a near-perfect fit for Smith's skillset, to be his offensive coordinator. If things go as planned in New York, Smith will emerge as a top-10 fantasy quarterback in 2015.