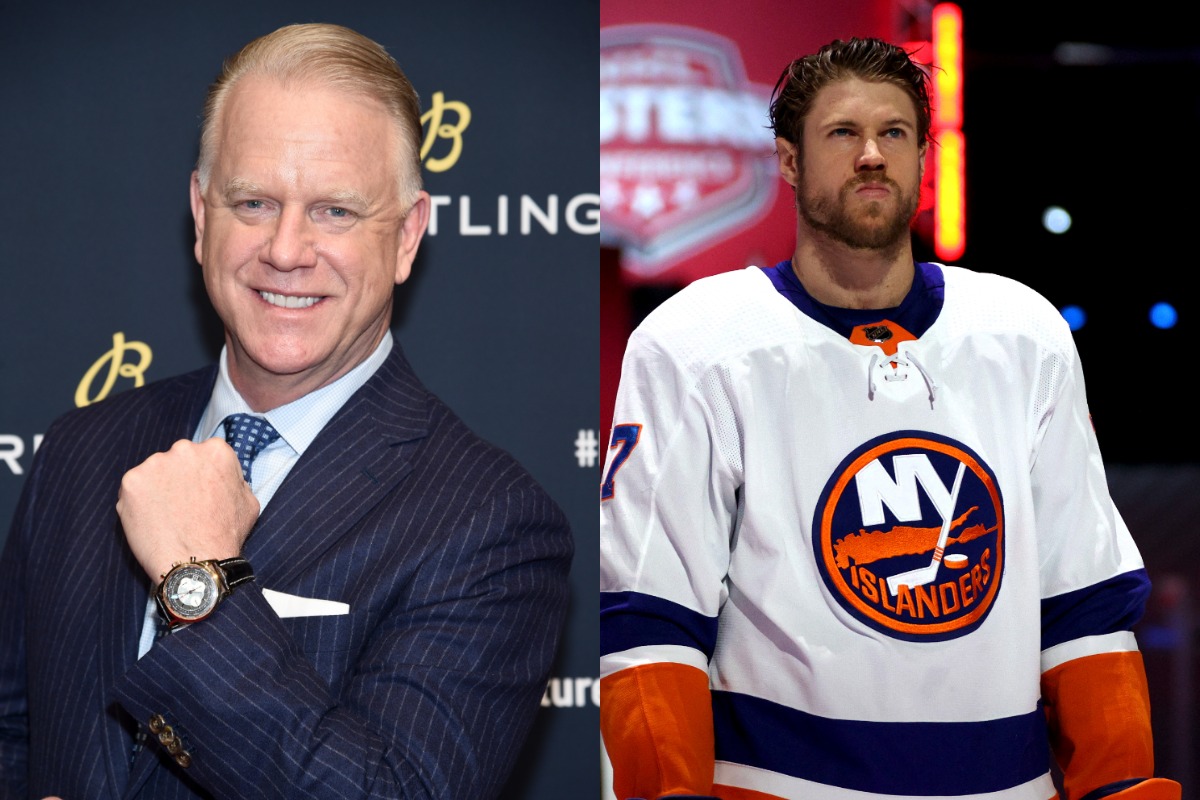 NFL Analyst Boomer Esiason's Son-in-Law Has Already Earned Over $14 Million in the NHL
Longtime NFL quarterback Boomer Esiason isn't the only famous athlete in his family. His son-in-law is Islanders wing and NHL veteran Matt Martin.
Former NFL quarterback Boomer Esiason and New York Islanders wing Matt Martin have plenty to bond over besides hockey.
Esiason, a former All-Pro gunslinger for the Cincinnati Bengals, is a passionate New York Rangers fan. But the veteran NFL analyst can put his fandom aside when it comes to Martin, a veteran figure on one of the NHL's rising teams.
At least, the two would be wise to put their rooting interests aside, given that Martin married Esiason's daughter, Sydney, in June 2019.
Boomer Esiason has had a long life around the NFL
Norman "Boomer" Esiason is a familiar face for many generations of football, from those who saw him quarterback the Cincinnati Bengals to a Super Bowl loss to those who enjoy him on WFAN in New York. 
A second-round pick in the 1984 NFL draft, Esiason completed 57% of his passes for 37,920 yards, 247 touchdowns, and 184 interceptions across 187 games and 14 seasons. 
Esiason made four Pro Bowls and earned first-team All-Pro honors after the 1988 season. That campaign, where he won the NFL MVP after throwing for 3,472 yards and 28 touchdowns, ended with the Bengals losing Super Bowl 23 to Joe Montana and the 49ers. 
Esiason has been a mainstay on CBS and The NFL Today for nearly 20 years. He also co-hosts Boomer and Gio on WFAN in New York.
Boomer Esiason's son-in-law is Islanders wing Matt Martin
Boomer Esiason is a New York Rangers fan, which would put him at odds with veteran Islanders wing Matt Martin.
There is only one problem. Martin, who is entering his 10th season on the Islanders, married Esiason's daughter, Sydney, in June 2019.
Martin enters the 2020-21 season having scored 131 points in 11 seasons. He spent nine of those seasons across two stints with the Islanders, contributing 53 goals and 57 assists in 590 games.
An imposing figure on the ice, Martin has tallied 2,540 total hits in his career.
Esiason and Matt Martin have bright futures in New York
The future is bright for Boomer Esiason and Matt Martin — and their quickly-growing family.
Esiason, who turns 60 later this year, has shown no desire to retire from either CBS or WFAN. Martin officially re-signed with the Islanders on a four-year, $6 million contract in January 2021.
According to Spotrac, Martin earned over $14 million entering the 2020-21 season.
Martin and Esiason's daughter, Sydney, welcomed their first child into the world last summer. Sydney gave birth to Windsor Grace on July 14, 2020.
Naturally, Boomer Esiason poked fun at his son-in-law when he told his Twitter followers about his granddaughter's arrival.
"Nothing to be confused about. Officially cutest new Rangers fan," Esiason tweeted last summer, along with heart emojis and a direct tag of Martin's account.
All contract figures courtesy of Spotrac.