NFL: How Antonio Brown Helped Keelan Doss Rejoin the Raiders
This has been one busy season already for the Oakland Raiders. The team juggled its appearance on HBO's Hard Knocks, this being the team's final season in Oakland, and adding star wide receiver Antonio Brown to the roster. The Brown matter, in particular, got very complicated and messy as the season approached. In the midst of all this commotion, the Raiders added another talented receiver in Keelan Doss. Doss was spotlighted on Hard Knocks before the team cut him.
However, Brown (inadvertently) helped Doss rejoin the Raiders. Here's how it happened.

Keelan Doss's 2019 training camp
Doss played wide receiver at UC Davis in college, gaining more than 4,000 yards receiving during his collegiate career. Despite this lofty yardage total, Doss went undrafted.

He played in the Senior Bowl, however, where he caught the eye of Jon Gruden, who was coaching his squad. The Raiders signed Doss as a free agent and gave him an opportunity to make the roster in camp. Doss performed well in the preseason, catching 17 passes for 162 yards. He also drew a lot of attention due to being featured prominently on Hard Knocks.

"I can't say enough good things about Hard Knocks. They've been nothing but professional the whole time," Doss said. "Great dudes. I'm just happy to be a part of it. I take it as a chance to showcase myself, and it was a great experience."

Keelan Doss didn't make the team. The Raiders told him he was one of the last players cut. They told him they wanted him as a member of their practice squad. Unfortunately, they had too many receivers to keep Doss on the 53 man roster, though that was soon going to change.

The Antonio Brown saga
The Raiders traded a third- and fifth-round pick to Pittsburgh for Antonio Brown this offseason. Brown was a problem almost from day one with the team. Below are just a few of the stunts and disruptions he caused during the preseason:
He showed up to training camp in a hot air balloon.
He had a mishap during cryotherapy, injuring his foot.
Brown protested the league disallowing his preferred helmet, refusing to play until the matter was resolved.
After GM Mike Mayock sent him a letter notifying him of a fine, Brown heatedly confronted Mayock and had to be restrained.
Brown posted audio of a phone call with Gruden to his YouTube account.
He requested the team release him via Instagram.
With every passing day, Brown's ordeal seemed like something out of a bad movie. The team finally cut him for his actions, and the New England Patriots rewarded Brown with a new one-year contract playing for a team that's defending a Super Bowl championship.

How Brown helped Keelan Doss rejoin the Raiders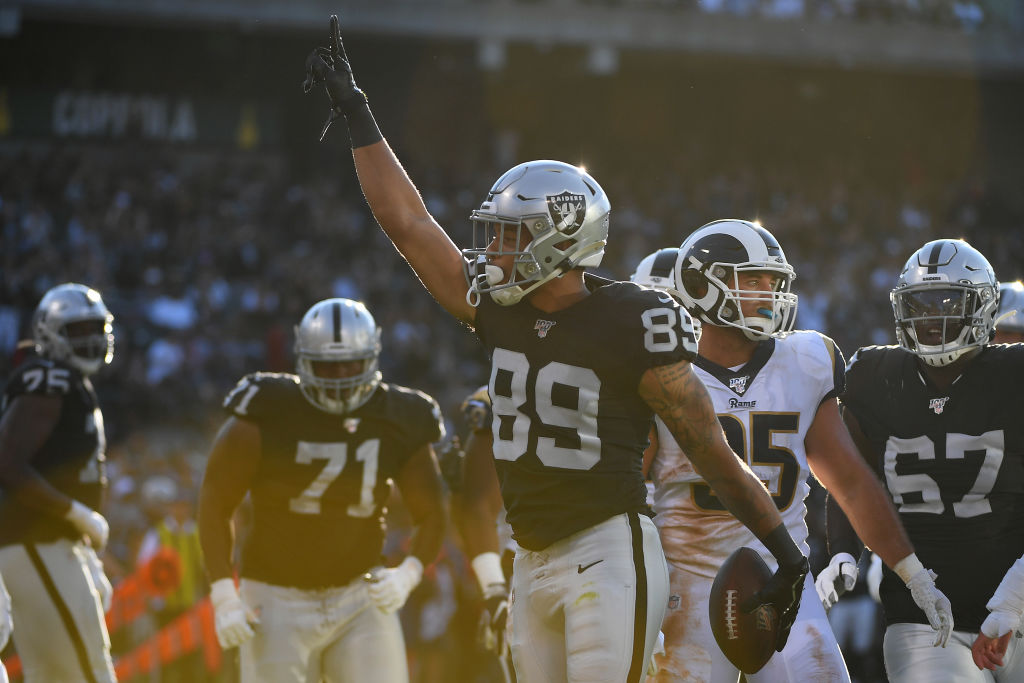 Once Brown was out, the Raiders had a wide receiver slot to fill. They turned back to Keelan Doss. At first, he rejected the Raiders, opting to stay on the Jaguars practice squad. Jacksonville had offered him the rookie minimum salary of $495,000.

Oakland refused to give up, however. They continued with a dogged pursuit of Doss until he signed on the dotted line to return. NBC Sports reported that Doss said the following when asked why he decided to return to Oakland after turning down their first offer:

"Opportunity," Doss said. "Obviously, I have a good feel here and just ready to go. Like I said, I'm just happy to be back here and hopefully make plays on Sunday."

This is proof positive of how crazy the NFL can be sometimes, particularly in the preseason. If the Brown saga never occurs, Doss would still be on Jacksonville's practice squad. Now he'll have the chance to play on Sundays.