NFL: Are Coaches Kyle Shanahan and Mike Shanahan Related?
There are sometimes family ties within the NFL coaching ranks, with relatives serving as coaches in the league at the same time, such as when John Harbaugh was coaching the Ravens while brother Jim was leading the 49ers. A lot of times, especially when it's a father-son combo, one of the family members gets his start by being part of his relative's coaching staff.
That's how 49ers head coach Kyle Shanahan gained valuable experience on an NFL coaching staff, he worked as the offensive coordinator when his father, Mike Shanahan, was the head coach of the Redskins.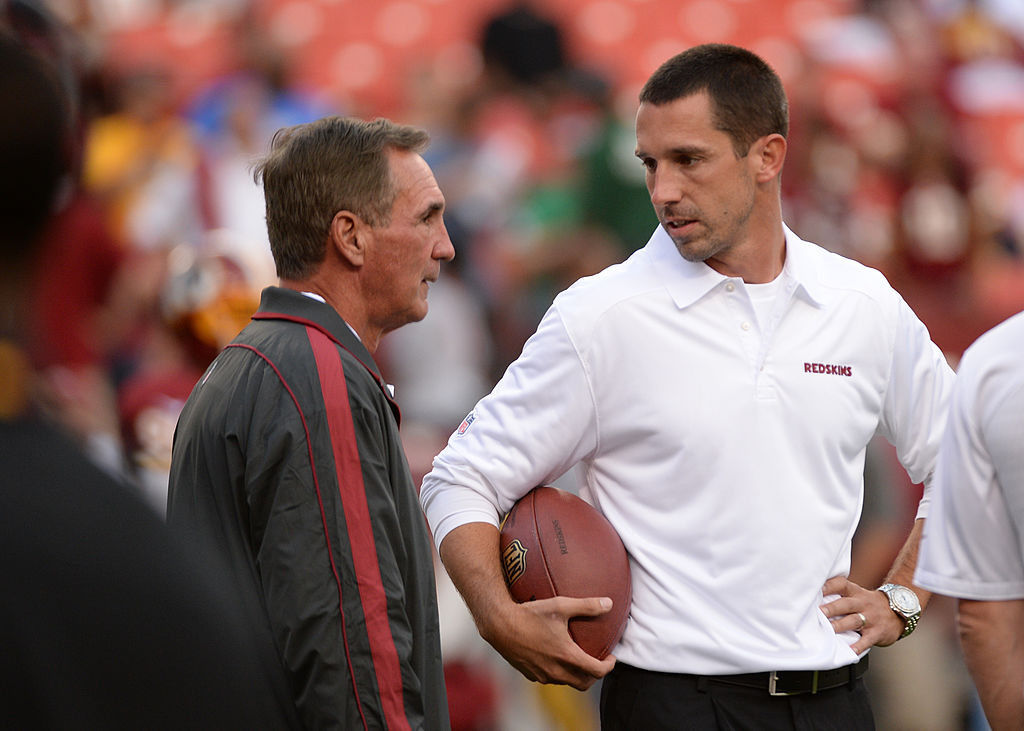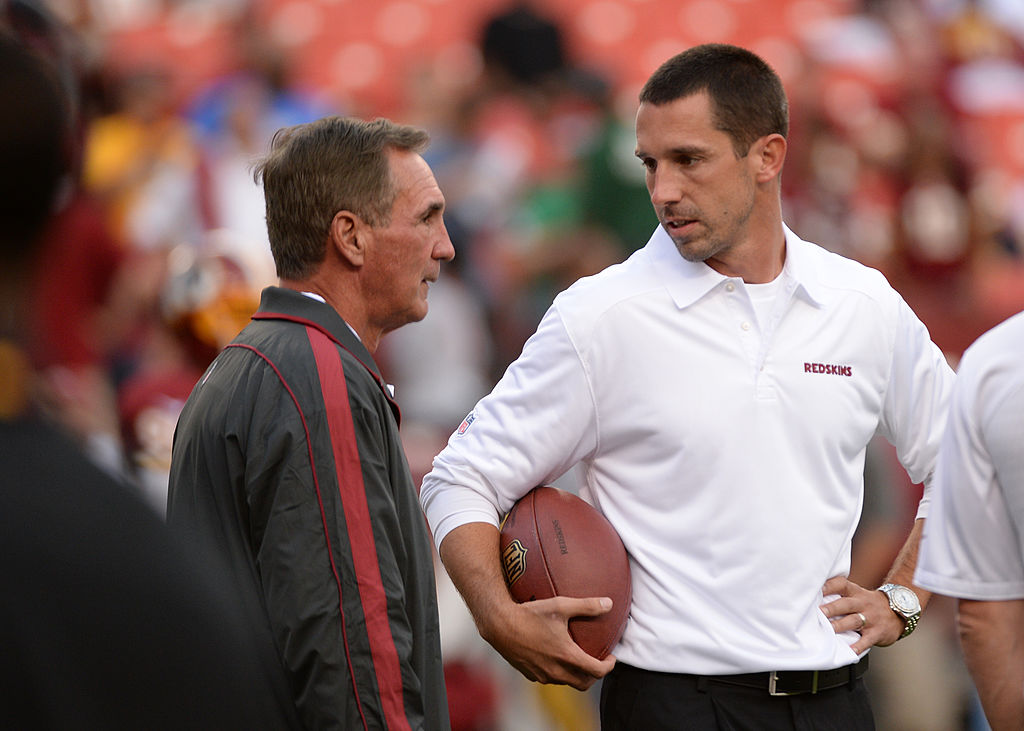 Mike Shanahan has success as a head coach
Only 15 men in NFL history have won at least 170 games as a head coach, and the older Shanahan is on that list. He won 170 games in 20 seasons as a head coach, 14 of them with the Broncos. Shanahan began his career as the head coach of the then-Los Angeles Raiders in 1988 and 89, lasting only four games into the second season before being fired.
His tenure in Denver, which began in 1995, was when he had his most success, leading the team to at least 10 wins seven different times. The Broncos won as many as 14 games in a season under Shanahan's leadership.
That was in 1998, the second straight season when Shanahan led the Broncos to a Super Bowl title. Shanahan left the Broncos after the 2008 season and took a year off before starting a four-year stint leading the Redskins, leading them to a winning record just once — going 10-6 in 2012.
Mike's relationship with son Kyle Shanahan
It was apparent from a young age that Kyle wanted to pursue a career as a football coach. Football was a regular topic of conversation in the Shanahan household, and when he was in eighth grade Kyle would already ask his dad about free agents worth going after and college players to look for in the draft.
Their relationship was so close that Kyle has said his father was his best friend growing up, so it's not a surprise that he went on to follow Mike's footsteps and eventually began his NFL coaching career. Mike recalls Kyle dissecting game tape to study routes and nuances of games even before he started coaching in the league.
Kyle Shanahan's coaching career
Kyle began his climb up the NFL coaching ladder as an offensive quality control coach for the Buccaneers in 2004-05 before becoming a position coach for the Texans in 2006.
After two seasons in that role, he became their offensive coordinator in 2008 and held that position until he left in 2010 to join his father with the Redskins.
After four years with Washington, Kyle spent 2014 as the Browns' offensive coordinator, then had the same position with the Falcons the subsequent two seasons.
In 2017, he was hired as the 49ers' head coach. He has an 18-23 record with the team in his first 41 games, but the team is on the rise and off to a strong 8-1 start in 2019.
How Mike has affected Kyle's job
As you would expect, Mike has had an effect on Kyle's head coaching job with 49ers. Once Kyle got the gig, Mike has spent a lot of time at the team's practices, and he helped break down film with QB Jimmy Garoppolo when he was rehabbing an ACL injury last year.
Mike would talk to the young quarterback about defenses, including terminology, blitz schemes, and zone schemes. Sometimes the elder Shanahan and Garoppolo would just sit back and talk about football in general.