NFL: Are the Buffalo Bills Already Done For This Season?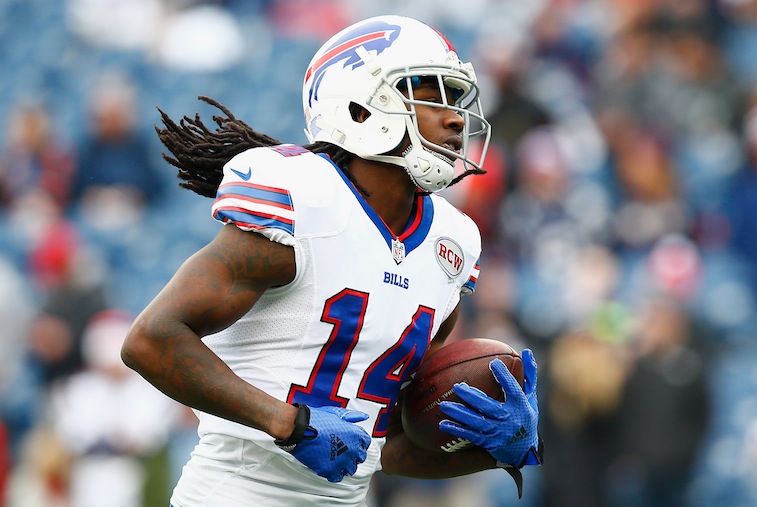 As the 2015 NFL season kicks off this week, three teams will be led by quarterbacks making their first career start: Tampa Bay, with Jameis Winston; Tennessee, with Marcus Mariota; and Buffalo, with Tyrod Taylor (who?).
You don't need to be an expert to notice the anomaly in that group; two of those teams went 2-14 last season and ended up with highly touted, Heisman-winning rookies, and one finished just a game short of qualifying for the postseason at 9-7.
The 2014 Buffalo Bills came of age last year as a team with a fierce defensive unit, but a puzzlingly, maddeningly inconsistent and inefficient offense. They even benched 2013 first-round pick and presumed franchise quarterback EJ Manuel in favor of career game-manager Kyle Orton.
If you'd like a microcosm of just how high (and low) the Bills could go last season, look no further than the period between December 14 and 21 of 2014, Weeks 15 and 16. In Week 15, they harassed none other than Aaron Rodgers into what was by far his worst performance of the season in a win over Green Bay. Rodgers' line: 17-42 (40.5%), 0 TD, 2 INT, 12.4 passer rating, and a 34.3 QBR. A week later, against a hapless Raiders team, the Bills laid an egg in Oakland that cost them their chance at a playoff berth.
The NFL's 4th ranked defense (and 26th ranked offense) then went through an offseason that saw them swap out one defensive-minded coach (Doug Marrone) for a louder one (Rex Ryan) and make some important offensive additions, such as RB LaSean McCoy, WR Percy Harvin, and possibly TE Charles Clay to pair with ostensibly their only remaining offensive weapons: WRs Sammy Watkins and Robert Woods.
They also brought in veteran QB Matt Cassel to replace the retiring Orton and grabbed Ravens backup, Tyrod Taylor. With a Pro Bowl runner in McCoy, a star second-year receiver in Watkins, and a strong defense, the chief question about the Bills in training camp seemed to surround whether or not Cassel would step into the void created by Orton's departure or Manuel would go up a level in his third year. And then this happened.
As surreal and strange as it was to see the news item that Taylor — a career backup without a single career start to his name — would start for the Bills, it was somehow outdone by what followed this weekend: the Bills doubled down and cut Cassel. For better or worse, the Bills are going with an untested guy under center and leaving as his insurance a former first-rounder who has thus far been a bust. Which all leads to one big question… 
Who the Heck is Tyrod Taylor?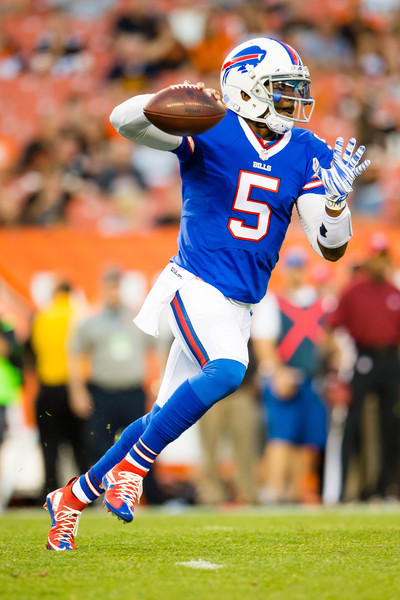 Tyrod Taylor was a 2011 sixth-round draft pick of the Baltimore Ravens. Coming from Virginia Tech, he holds school records for career passing yards (7,017), and the single-season touchdown mark (24), set during his banner 2010 season in which he was the ACC's Player of the Year, Offensive Player of the Year, and Championship Game MVP (which he also won in 2008). He also holds the school records for career rushing yards (1,940) and touchdowns (24) by a QB.
Upon being drafted 180th overall by the Ravens, Taylor spent his first four seasons as Joe Flacco's sparingly used backup and in that time, he did not manage to start a single game. As a result, his career stat-line is as scant as you might expect: 19-35 (54.3%), 0 TD, 2 INT, 47.2 passer rating, and virtually no QBR to speak of. Obviously, from such a small sample spread across four years, it's difficult to draw many conclusions.
The Bills, however, did just that, taking a gamble they didn't have to on a player nobody else was expecting to play much this season (or maybe ever). Taylor is definitely a dual threat QB – Rex Ryan constantly refers to his "explosiveness" — and at six-foot-one and with a similar, if possibly inferior, skill set, it's helpful that he has such a close relationship with fellow former Virginia Tech Hokie Michael Vick.
In a best-case scenario, Taylor will give the Bills a dimension they've been missing and allow them to rise through the ranks and into the AFC playoff bracket. In a less rosy forecast, however, a team that has two solid outside targets, a pass-catching running back, and a defense that shouldn't have trouble containing anyone will still have no signal caller who can move the ball downfield and, worse, could end up giving the ball to the other team with frightening frequency.
The 2014 Bills weren't dramatically different from the Kansas City Chiefs – they both finished 9-7, beat some decent teams, featured good defenses and conservative gameplans on offense, and (mostly) didn't beat themselves. (For what it's worth, they both also lost to the Raiders)
For a franchise whose last playoff appearance concluded with the infamous Music City Miracle, fans were probably hoping for a Hail Mary – or at least a guy who could complete one. While Taylor may yet prove to be such a player, his relative inexperience has to be a little unsettling for this team's unfailingly loyal fanbase. It's a good thing they're so loyal, too, because if this experiment does go off the rails, it could be another very cold winter in Western New York.
[Update: Since originally drafting this story, the Bills have re-signed Matt Cassel, but still only as a backup]
Statistics and information provided by ESPN
Connect with Tamer on Twitter @iamtamerabouras