NFL: Are the Cincinnati Bengals Facing a Quarterback Controversy?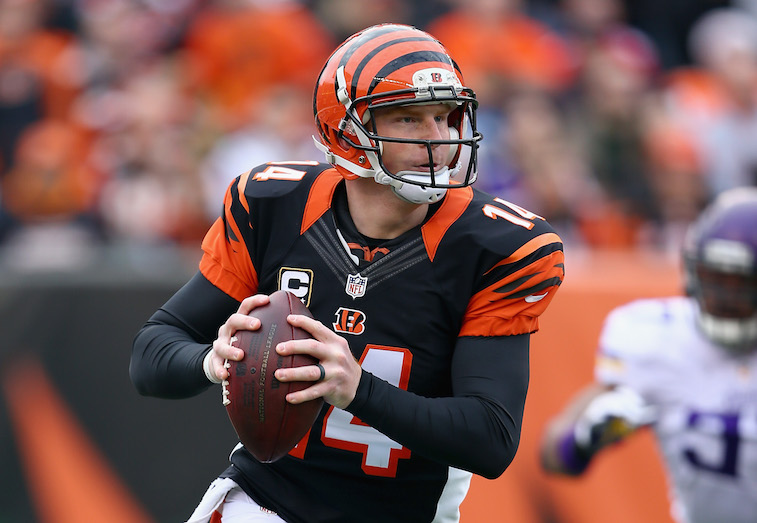 Make no mistake about it, Andy Dalton is the Cincinnati Bengals starting quarterback. That's why the team inked the 27-year-old signal caller to a six-year, $96 million contract extension shortly before the 2014 NFL season kicked off. With that being said, it would be completely foolish and wildly naïve to even suggest the idea that the Bengals are completely sold on Dalton as their long-term solution at the most important position on the field. The former TCU Horned Frog has flashed signs of brilliance since entering the league in 2011, but at the same time, he has at times looked like he has no business playing quarterback at the NFL level. In his defense though, Dalton has led the Bengals to the AFC Playoffs in each of his four years as the team's starting quarterback. That's where the positivity ends.
During the regular season, Dalton has proven to be a middle-of-the-pack type of quarterback, and some people will even argue that wide receiver A.J. Green has made the two-time Pro Bowl quarterback appear to be a lot better than he actually is. Here is a look at his career regular season stat line:
40-23-1 overall regular season record
61.6% completion percentage
14,758 passing yards
99 touchdown passes
66 interceptions
85.2 quarterback rating
624 rushing yards
11 rushing touchdowns
By no means are those bad numbers, but do they jump off the page as franchise quarterback-esque numbers? Absolutely not.
Now, let's take a look at Dalton's career postseason stats:
0-4 overall record
55.7% completion percentage
873 passing yards
1 touchdown pass
6 interceptions
57.8 quarterback rating
92 rushing yards
As you can see, Dalton has been at his worst on the game's biggest stage. In total, Dalton has played in 14 prime time and playoff games. His record in said 14 games is 3-11, his quarterback rating is 70.0, his completion percentage is 55-percent, and he has thrown a total 17 touchdowns and 12 interceptions.
Despite the fact that the total value of Dalton's contract is eye-opening, the team could move on from their 2011 second round pick with minimal financial damage. And it just so happens that there is another young quarterback on their roster who is emerging during Organized Team Activities (OTAs) that may have what it takes to legitimately challenge Dalton for the team's starting quarterback job.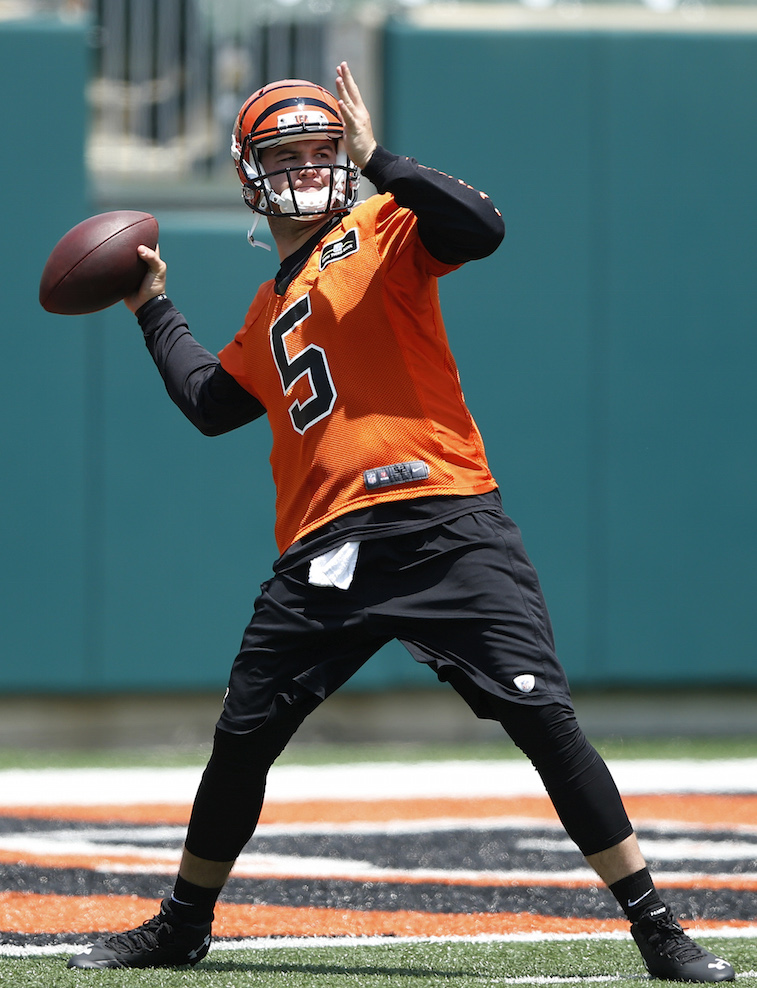 The quarterback in question is second-year pro AJ McCarron, who was the team's fifth round pick in the 2014 NFL Draft. For those who don't remember, McCarron was a three-year starter for Nick Saban at Alabama, and in addition to re-writing their passing record book, he also led the Crimson Tide to two BCS national titles. It was somewhat surprising to see McCarron slip to the fifth round of the Draft, but as it turns out, the 24-year-old was battling a shoulder injury throughout the pre-draft process. The injury was ultimately severe enough to put an end to McCarron's rookie season in Cincinnati before it ever really got started. According to reports out of Bengals OTAs, McCarron's shoulder is fully recovered and the Mobile, Alabama native looks poised to push Dalton for the team's starting quarterback job.
In an interview following the team's OTA session on Friday, Bengals defensive end Wallace Gilberry had this to say about McCarron's performance this offseason:
"The kid is doing awesome. When I say awesome, that's kind of an understatement. I mean, last year, he kind of struggled with the arm situation. But this year, man … his throwing motion is on point. His passes are on point. I think he's thrown one interception the whole camp. Not to say Andy (Dalton) has thrown any, but the kid is competing."
Gilberry's comments come on the heels of a story in the Cincinnati Enquirer where McCarron said, " "I feel like I'm throwing better than I ever have. Some of the coaches have come to me and told me I look like a totally different person than what they even saw at the end of last season." McCarron continued, ""If you're not going to dream big, then why dream? I want to compete. Andy's our starter, I know that. I love Andy to death. Andy's always been there for me. He's been like a big brother to me. But I'm going to compete and try to push him the best I can and have his back — always. He's our starter, I know that, but I want to make him better in every way that I can. Like I told him, hopefully one day me and him can be retired and look back on it and we're both $100 million guys. That's my dream. And I'll always be that way. So that's what I want to do."
It is painfully clear that McCarron possesses the confidence that is necessary to play quarterback at the NFL level. On top of that, he proved during his time at Alabama that he can excel on the game's biggest stage – something Dalton has yet to achieve. Nonetheless, it remains highly unlikely that McCarran unseats Dalton as the Bengals' starter in 2015. However, by turning in a strong offseason and playing well during the team's preseason games, he can force the Bengals into making a tough decision or possibly force them into letting him openly compete with Dalton for the job next offseason. Only time will tell how this situation plays out, but it appears as though the Bengals may have found a viable alternative to Andy Dalton should he struggle with his consistency again in 2015.
All statistics courtesy of Pro-Football-Reference.