NFL: Are the Falcons Really Super Bowl Worthy?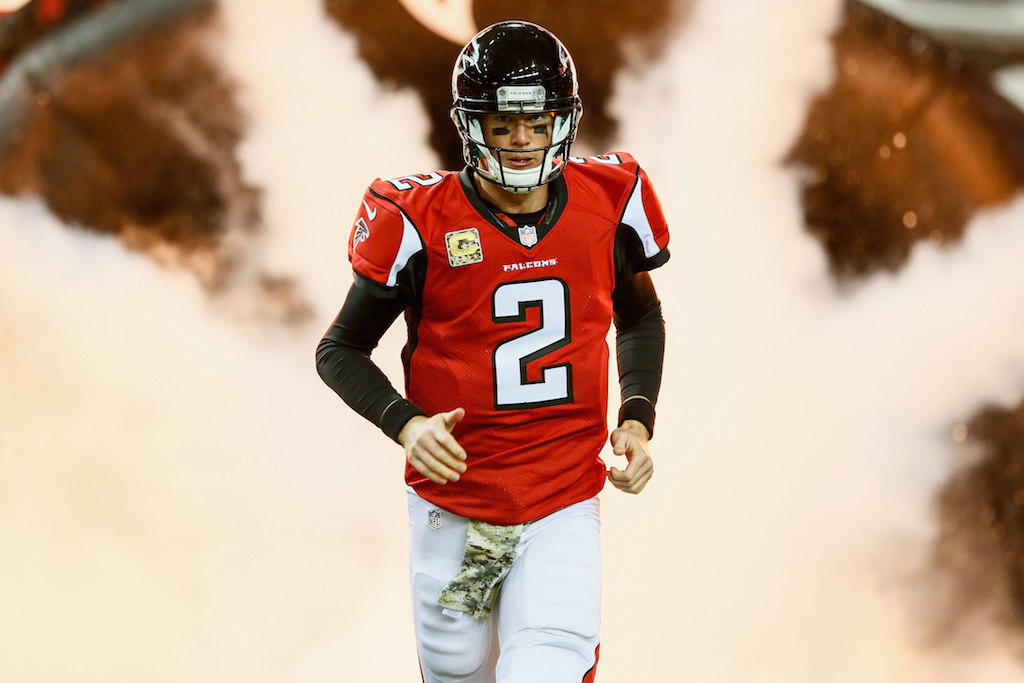 Last season, the Atlanta Falcons finished the year with a 6-10 record. This year, the Atlanta Falcons have jumped out to a 6-1 mark through seven games. Amazing what an offseason with a coaching change can do, isn't it? In reality, everybody knew the Falcons had the talent to be a contender in the NFC. Hiring Dan Quinn as head coach has proved to be huge, however. Now, instead of questioning whether or not this team will make the postseason, the question is related to Super Bowl aspirations in Atlanta.
In racing out to a 5-0 start on the season, Atlanta certainly looked like a team worthy of Super Bowl contention. It was showcasing a lethal offensive attack led by Matt Ryan, Julio Jones, and Devonta Freeman. Over the past couple of weeks, however, things haven't been nearly as smooth for the Falcons.
With a loss in a divisional rivalry matchup against the New Orleans Saints in week six, it was dismissed as just an off night for Atlanta. Those rivalry games always produce some crazy results, so having a slip-up didn't mean much or hurt the public view of the Falcons. However, after a sluggish win over the Tennessee Titans, 10-7, this past weekend, questions should be (if they aren't already) be arising in Atlanta.
Could the Falcons be doomed for a setback in the coming weeks or will they continue their winning ways? Let's dissect this Atlanta team to see just how good it is.
Defense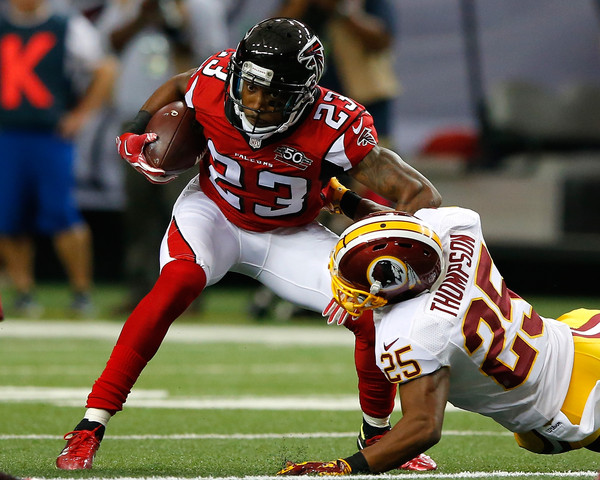 One thing you have to admit about Atlanta this season is that its defense, while still not great, has vastly improved under new head coach Dan Quinn. The Faclons were clutch in that low-scoring battle against Tennessee in week seven and won the game against the Washington Redskins, as Robert Alford returned an interception for a game winning touchdown in overtime. While the improvement is clear, things could still get better on the Falcons' defense.
With only eight sacks so far this season, that is an area of concern for this team that lingers over from previous seasons. That's why Atlanta drafted pass rushing specialist Vic Beasley Jr. in this years' draft, but he is still developing (even though he has picked up two sacks to lead the team). It's so critical to pressure the quarterback, and if Atlanta can't improve in that area, it's going to put more pressure on the the team's offense to win a shootout style of football (which Atlanta is more than capable of doing).
Pass rushing might be a concern for the Falcons, but something that is really positive about their defensive unit is the fact that they are taking the ball away from opposing offenses. Their 12 takeaways rank seventh in the league. When you can take the ball away, it voids many of the deficiencies your defense may hold.
If Atlanta keeps improving and keeps creating turnovers on defense in support of its talented offense, the sky is the limit for this team.
Offense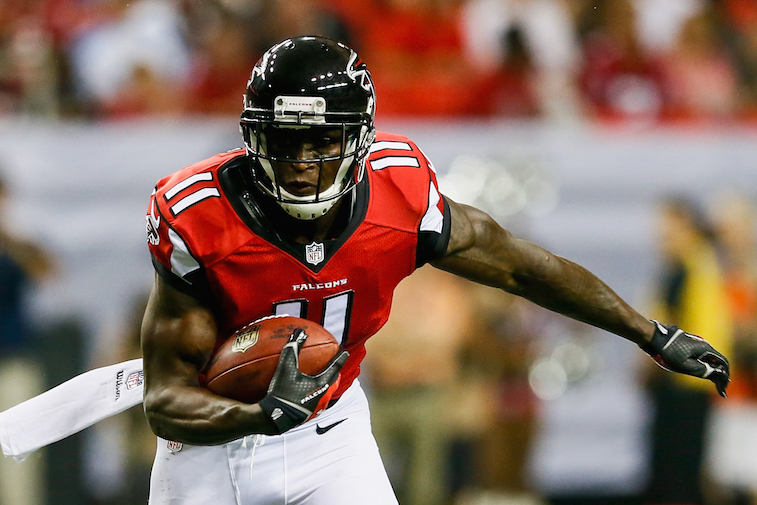 When you have Julio Jones on your team, it's a good bet that your offense is going to be able to produce. Jones is one of the best receivers in the game, with 58 catches, 730 yards, and five touchdown grabs already this season. While he's good, the rest of the receivers for the Falcons have been mediocre for the most part. Roddy White use to be a perennial Pro Bowl player, but something is clearly off with his game. Aside form that, no receiver outside of Jones is averaging more than 44 yards per game. Jones obviously takes away targets from other guys on the roster, but the drop-off in production is concerning.
Moving to running back, no player is having the type of breakout season that Devonta Freeman is having in Atlanta's backfield. Freeman already has over 900 all-purpose yards for that offense (including a league-leading 621 on the ground), along with 10 total touchdowns. He is actually the second leading receiver for the Falcons. It's a tough sell to say that Freeman is more valuable than Jones for this team, but when you look at his crazy production, the case can be made.
Of course, you can't forget about Matt Ryan at quarterback. The guy is as clutch as they come in the two-minute drill, so his value is unquestioned. However, his overall numbers aren't fantastic, as he has tossed six picks compared to nine touchdowns, faced a lot of pressure, and has been sacked 14 times on the year. Despite all that, Ryan still has the third most passing yards in the NFL.
This offense has skill at every position but lacks depth. They are one of the best units in the league, but if somebody like Jones or Freeman goes down, this team will be in trouble.
Contender or pretender?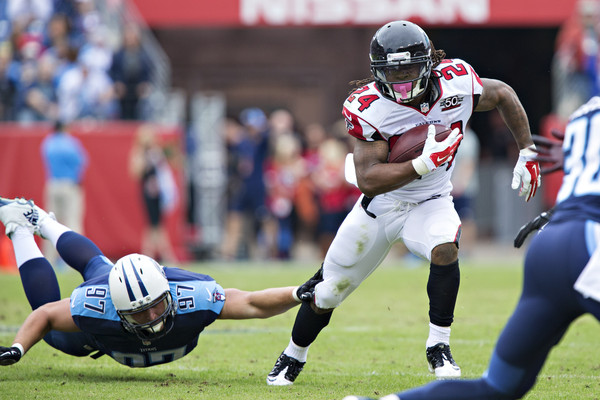 Atlanta is a team that has plenty of talent. Its defense is making strides and its offense is explosive at times. However, because of the lack of a pass rush and depth on offense, this team could be primed to stack up some losses before the end of the season.
Before the regular season wraps up, the Falcons will play the undefeated and physical Carolina Panthers twice and will face off against a good Minnesota Vikings team. Those are their three toughest games, but others could provide a slip-up for Atlanta as well. The playoffs seem highly likely, thanks to the team's hot start. In the playoffs though, this team might be missing one or two key pieces before it can make another run at the Super Bowl. Of course, the Flacons' clutch quarterback play and running game could prove that statement false.
Whatever happens, this is a team that has remade itself here in 2015 and should be a contender for years to come.