NFL: Are Vernon Davis' Best Days Behind Him?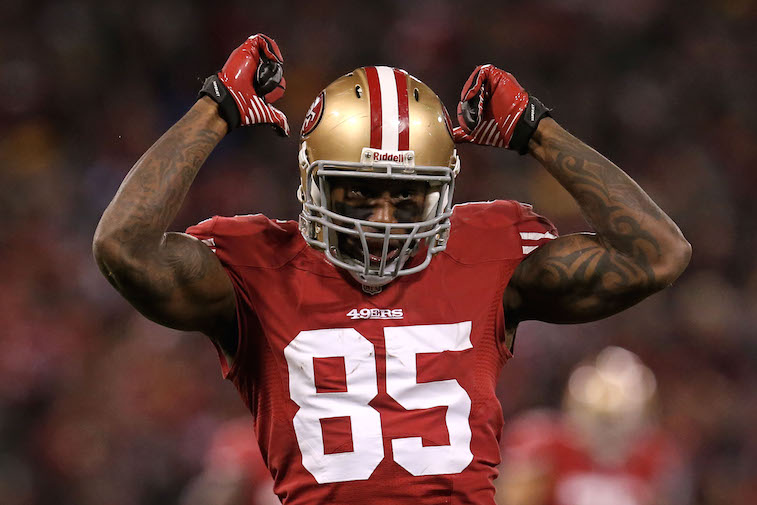 When the San Francisco 49ers selected Vernon Davis as the sixth overall pick in the 2006 draft, the team thought he had the potential to become one of the best tight ends in the league within a couple of seasons. He was coming off a productive collegiate career at Maryland, which had him as the best receiving prospect of his draft class.
In the first three seasons, there were concerns about his maturity, which most notably came into question when then-head coach Mike Singletary sent him to the locker room after he was called for an offensive face-mask penalty during a regular season game against the Seattle Seahawks in the 2008 season. Davis finally had a breakout year the following season, earning his first Pro Bowl by posting career highs in catches (78), receiving yards (965), and receiving touchdowns (13), which tied for the all-time record for most touchdown receptions by a tight end in a single season until Rob Gronkowski broke that mark in 2011.
Davis followed it up with two consecutive strong campaigns and added another in 2013 by tying his career-best mark with 13 receiving touchdowns, which helped him earn his second Pro Bowl selection. Since then, however, his production has drastically dropped, recording fewer than 400 receiving yards and 40 catches while catching a grand total of just two receiving touchdowns over the last two seasons.
Davis becoming a non-factor offensively for the 49ers in the passing game — combined with his less-than-feasible relationship with Colin Kaepernick — led to the team dealing him to the Denver Broncos last November in exchange for a pair of sixth-round picks in the next two drafts. Some thought the move would rekindle Davis's career but he hauled in just 20 catches for 201 yards and zero receiving touchdowns in nine games played with Denver. In total, he had 38 catches for 395 yards last season for both the 49ers and the Broncos.
Despite his lack of production, which could be partly blamed by Peyton Manning's struggles, he helped them win his first Super Bowl. He played in all three playoff games but made zero impact in the passing attack. Following the season's end, he entered the free agent market as an unrestricted free agent and has garnered little attention aside from visiting the Washington Redskins last week.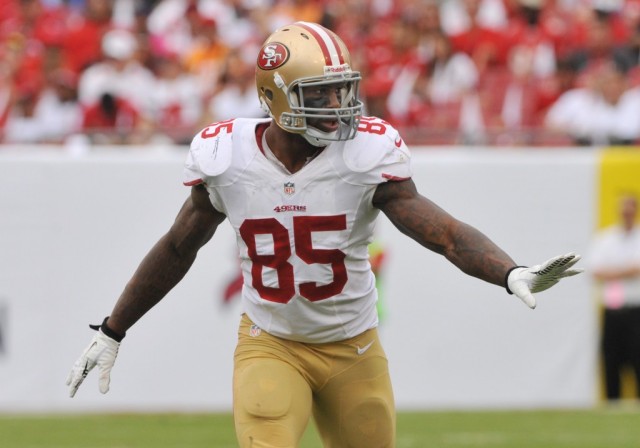 Davis has become a shadow of his former self. Prior to the last two seasons, he was one of the league's top tight ends thanks to his unique skill set with speed, strong hands, and strength. Now, the 32-year-old is unable to be a reliable receiving option. Davis progressively fell from grace over the last couple of years, failing to recapture the form that helped him earn two Pro Bowl selections. Just prior to Davis becoming a free agent, Broncos General manager John Elway stated that the tight end struggled to grasp the Broncos' offense in his brief stint with the team:
I think that the coaches kind of go in different directions at different times and how things mix and we could never really get up to speed with him. He did come in late in the year, so whether he didn't feel comfortable with what we were doing and what we could get him in situations, we tried to get him in situations to be successful. But then again it comes down to making those calls during a game and where he had a chance. So that's another area we'll look at, tight end's a position we have to look at, still very fluid that we feel like we have to get better there.
The fact of the matter is that Davis has the size and physical ability to be a force in the passing attack within any offense, but he struggles to be a strong receiving option. A change of scenery to a pass-heavy offense could possibly be the solution as he still has plenty to offer a team. He may not be the same physical specimen he was when he entered the league or even midway through his tenure with 49ers, but he can still be an effective offensive player.
He recently stated that he still has a desire to play four or five years, which would put him in play for another long-term contract. However, at this point, it's difficult to determine if a team would be willing to offer a long-term contract to Davis because of his utter lack of production. With that said, the two-time Pro Bowler should have the opportunity to reestablish his career with the next team that signs him. It's just a matter of finding the right fit.