NFL: Bears Wise to Place Franchise Tag on Alshon Jeffery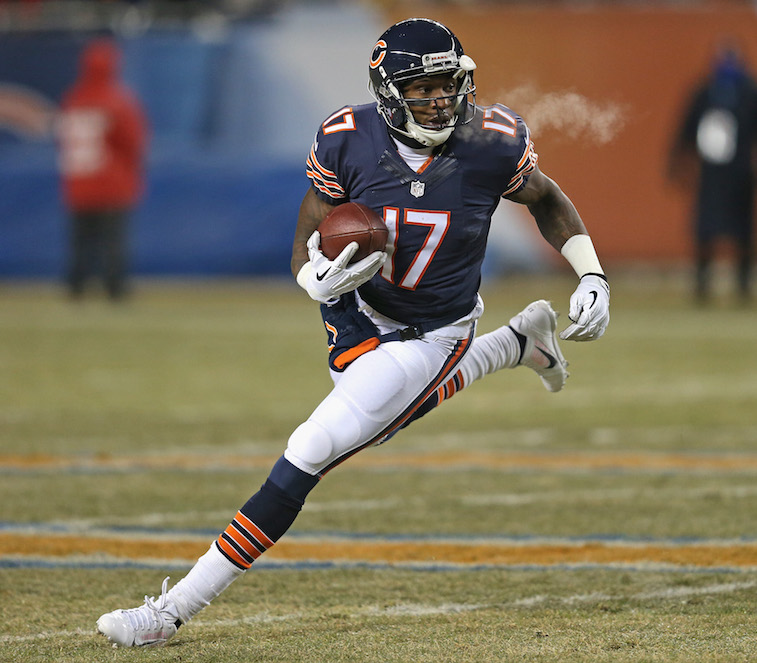 This year's crop of free agents is expected to be headlined by several of the league's top players including Super Bowl 50 MVP Von Miller, cornerback Josh Norman, and Pro-Bowl defensive tackle Muhammad Wilkerson. Another name that was garnering plenty of attention from teams across the league is standout wide receiver Alshon Jeffery. Through the first four seasons of his career with the Chicago Bears, the 26-year-old has established himself as one of the top players in the game at his position.
Jeffery's career took off in 2013 when he posted the second-highest receiving yards total (1,421) and sixth-best reception mark (89) in franchise history. This breakout campaign was highlighted as he became the first player in Bears' history to notch two 200-yard games in a single season and set the single-game franchise mark with 249 receiving yards against the Minnesota Vikings. Jeffery followed it up with another 1,000-receiving yards by recording 1,133 yards with 85 receptions for 10 touchdowns. This included notching a receiving touchdown in six consecutive contests.
Although his 2015 season was marred by injury, Jeffery tallied 807 receiving yards on 54 catches in only nine games played. He had seven games with at least 75 receiving yards and four catches, including four games with more than 100 receiving yards and two contests with at least 10 catches. What this indicates is that Jeffery is still one of the game's elite receivers when healthy; he could have easily put up another monster campaign that would have been the best of his young career. 
All of this made it an easy choice for the Bears to franchise tag the former Pro-Bowler. With Brandon Marshall and Matt Forte gone, Jeffery has become the team's biggest offensive weapon. Losing him in free agency would have been a tremendous setback, hurting an already struggling offense with Jay Cutler at the helm with no legitimate receiving options. Yes, $14.5 million is quite a lofty price tag for the 2016 season, but keeping him under contract allows the front office to negotiate a long-term contract with their star wideout.
On that same note, Bears general manager Ryan Pace stated last week that the team is "aggressively" looking to hammer out a long-term deal with the fifth-year wide receiver. "I sense he wants to be here," Pace said, according to NFL.com. "We're the team that drafted him. He loves the city of Chicago. He's comfortable in the O." Jeffery had his struggles with injuries last season, which ultimately led to the team placing him on the injured reserve in late December due to a hamstring injury that effectively ended his season.
This type of injury does warrant concern because it can linger if not handled properly. That said, Jeffery was coming off two consecutive campaigns where he played in every game, which shouldn't bring up serious questions about his durability given that he's been relatively healthy for most of his career. It's likely that any other team in the league would look past the nagging injuries and ink him to a long-term lucrative deal based on his unique talent alone.
At 6-foot-3 and 216 pounds, Jeffery is a great size for the position, and he has great hands and the ability to make difficult catches in traffic, as well as the mental makeup to be one of the top receivers in the game over the next several seasons. The bottom line is that the franchise tag puts the Bears in a great position to lock up one of their core players and maintain some stability in the offense with his presence. Jeffery is a player who the team can build around and rely on for production regardless of the situation. All in all, Chicago's move will have a positive impact on the team's future.