NFL: 7 Best Offensive Weapons in the AFC East
Not only does the AFC East have some incredibly talented football teams, but they also have some stellar offensive weapons. This division has a few of the best players in all of football at their respective positions, and as you can imagine, those guys are ranked right at the top of this list.
Overall, there's quite a bit of offensive firepower in the AFC East, and although the division may not offer quite as many huge names as a few others, this group is still filled with dynamic players. After looking at a few other divisions, let's jump into the AFC East and break down the seven best offensive weapons in this group.
7. Jarvis Landry, wide receiver, Miami Dolphins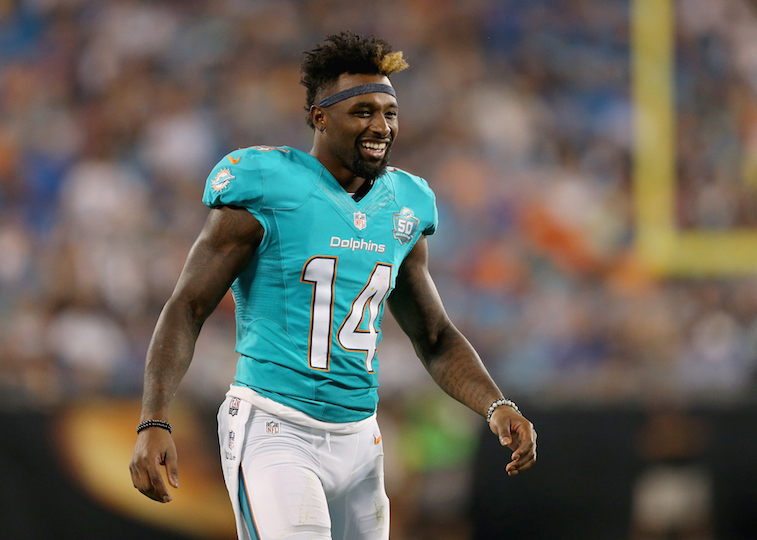 If this article was being written a year or two from now, there's no question that Jarvis Landry would be a few spots higher on the list. For now, though, he'll come in at the No. 7 spot, and the players who have to defend him know how brutal it is to try and slow him down.
Landry's numbers have been impressive throughout his first two years in the NFL, as he's totaled a stellar 194 receptions for 1,915 yards and nine touchdowns. While we'd love to see a few more scores from him, it's safe to bet that he'll have no problem improving that one statistical category in the coming seasons.
6. Sammy Watkins, wide receiver, Buffalo Bills
It was really hard to put Sammy Watkins over Landry, and we could make the argument that Landry should be higher. The reason why Watkins took the sixth spot instead of seventh is because of his big-play potential. He has 125 receptions over his first two NFL seasons, but has totaled 2,029 yards and an impressive 15 touchdowns. During the last two years with the Bills, his yards-per-reception has been 16.2, compared to 9.9 from Landry. The two are close, but if we're picking a big-play potential receiver out of the two, then it'd have to be Watkins.
5. Eric Decker, wide receiver, New York Jets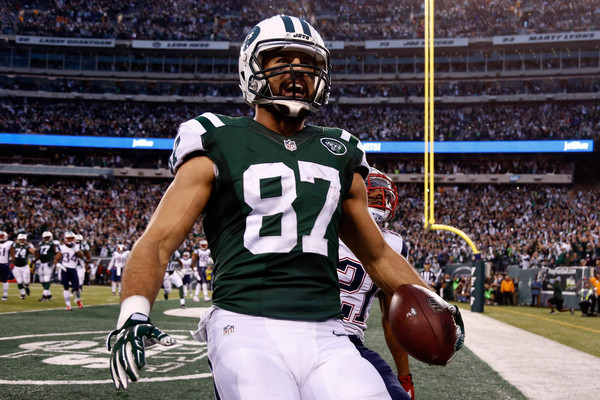 There's so much to love about Eric Decker. For starters, when he left Denver and signed with the Jets, people immediately wrote him off as a player who was just able to benefit from playing with the Broncos. Those critics have quickly been shut down, as he's caught 154 passes for 1,989 yards and 17 touchdowns during his two seasons with the Jets.
Decker's 2015 campaign was massively impressive, which came as soon as there was some type of stability at quarterback with Ryan Fitzpatrick. He and Fitzpatrick had a nice connection, and he caught 12 touchdowns this past season. Expect him to continue to improve, and let's not forget that he's only just 29 years old.
4. Julian Edelman, wide receiver, New England Patriots
What Julian Edelman has meant to the Patriots over the past three seasons is hard to put into words. This is a player who stepped up massively in 2013, and since then he's totaled 258 receptions over 39 games, for 2,720 yards and 17 touchdowns. He's been Tom Brady's safety valve and his most consistent receiver.
While the Patriots look to find a long-term answer at receiver to pair up with Edelman (and of course Rob Gronkowski), there's no other slot receiver in the NFL who has the ability to change the game the way that Edelman does. He is more than deserving of the No. 4 spot on this list.
3. Brandon Marshall, wide receiver, New York Jets
Brandon Marshall has had his fair share of ups and downs, but there's no question that he's a serious game changer. While he's had some great seasons between his time with the Broncos and Chicago Bears, his first season with the Jets was one for the ages. The 32-year-old wide receiver caught 109 passes for 1,502 yards and 14 touchdowns.
It was the second-most yardage in a single season by just six yards in his career, and it was also the most touchdowns he's ever caught in one year. Marshall's taken his game to another level, and to see a player do so at the back-end of his career makes it even more impressive. Marshall, more than anyone is likely hoping that Fitzpatrick returns to the Jets in 2016.
2. Tom Brady, quarterback, New England Patriots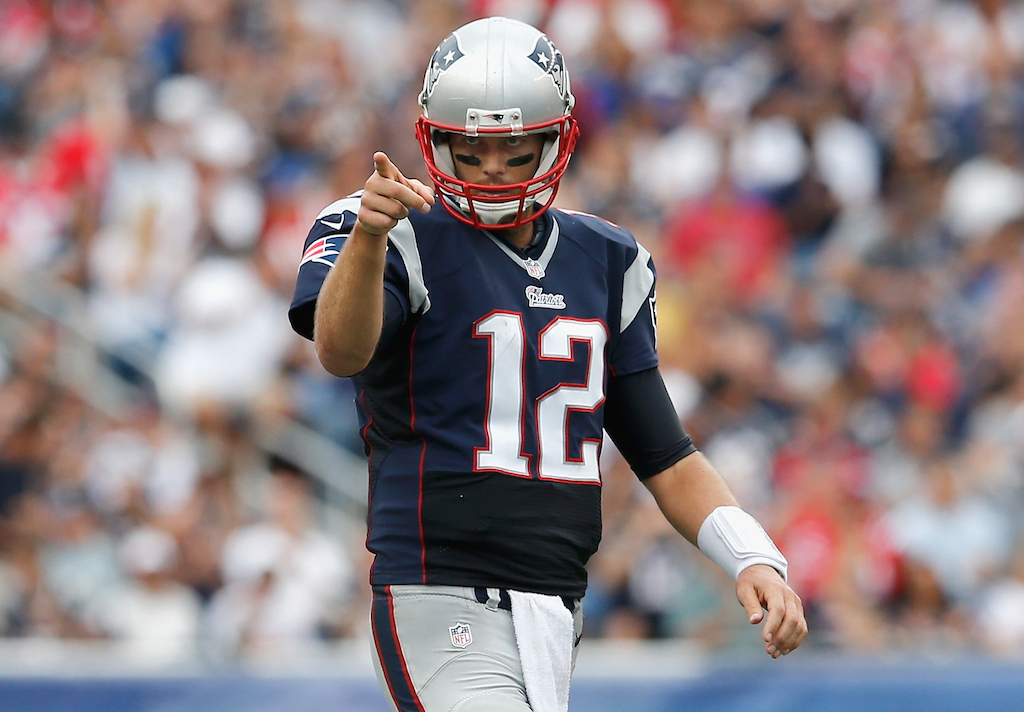 Tom Brady isn't your prototypical "playmaker," but that doesn't mean that he's not one of the most elite players in the NFL. This is a player who's 38 years old and has a regular season record of 172-51, while throwing for 58,028 career yards, 428 touchdowns, and just 150 interceptions. The fact is, he may not make this list if not for the fact that he's still playing at such an incredible level.
In 2015 specifically, Brady completed 64.4% of his passes for 4,770 yards, 36 touchdowns, and seven interceptions. To make this even more incredible, Brady has never had a season worse than 9-7 since taking over as the starting quarterback in New England.
1. Rob Gronkowski, tight end, New England Patriots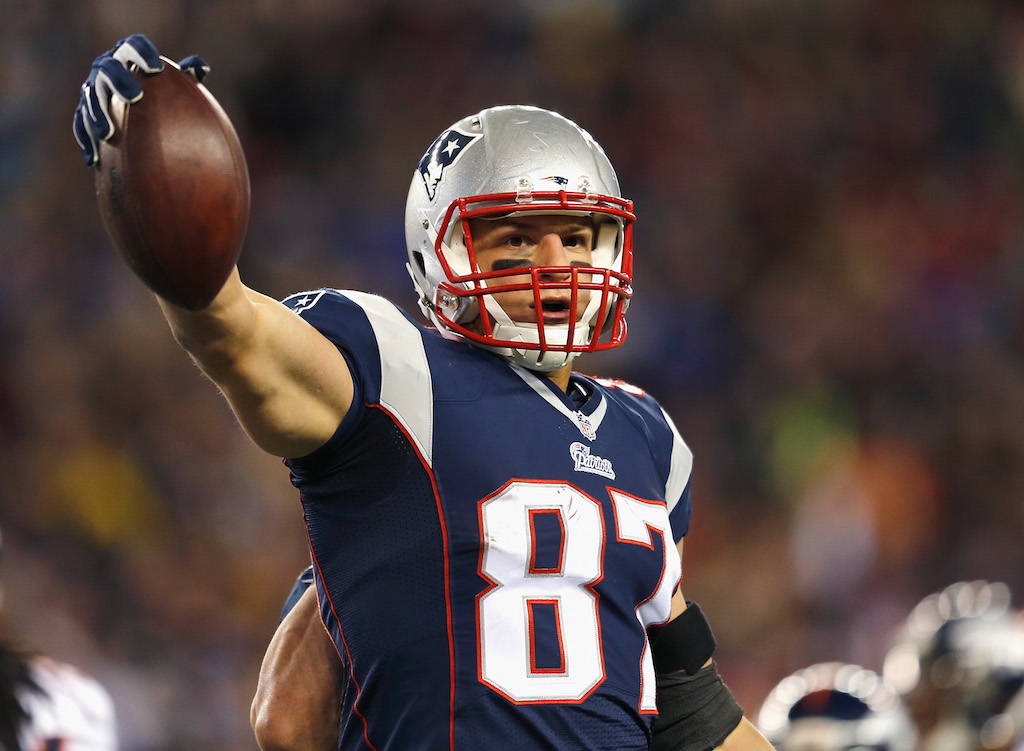 Gronk is not only one of the best tight ends in the NFL, but he's also one of the most talented pure players in the league as well. At just 26 years old, Gronkowski has now topped 1,100 yards in each of the past two seasons, while also totaling 23 touchdowns over that two-year span. He's consistent, reliable, and he's a big-play threat as well, which you don't always find at the tight end position.
In 2015 alone, he averaged 16.3 yards-per-reception. Whenever Gronkowski is on the field, opponents have to take notice and try to do anything and everything possible to slow him down. And to put it as gently as possible, few teams wind up doing that.
Statistics courtesy of ESPN.com and Pro-Football-Reference.com.