NFL: The 5 Best Wide Receivers Tom Brady Has Ever Had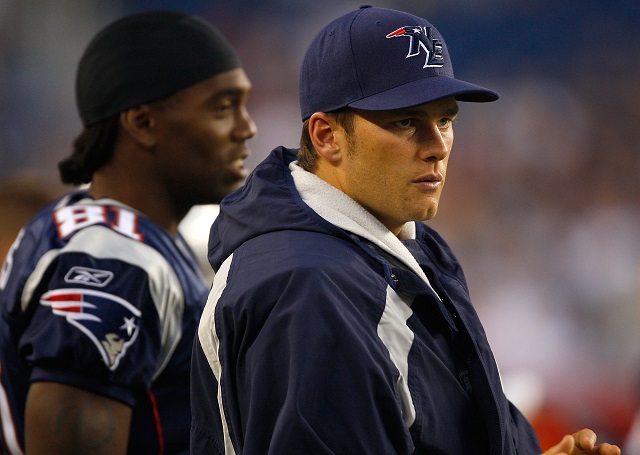 New England Patriots quarterback Tom Brady is (supposed to be) entering the twilight of his career. His status as a 39-year-old franchise superstar puts him on the verge of the geriatric stage in the NFL. Don't tell that to TB12 though, because he was still putting up monster numbers at the end of the 2016 season. Equally as important, his team is winning at a tremendous pace (can you say five rings?). Brady allegedly wants to play into his late 40s. While that seems farfetched, we don't see any signs of him slowing down yet.
It's been said many times that No. 12 hasn't been dealt the most dominant hand of offensive teammates throughout his 15-year career. Some people speculate just how much crazier Brady's statistics would be if he had the luxury of throwing to Marvin Harrison, Reggie Wayne, Jerry Rice, and Terrell Owens rather than the likes of David Patten, David Givens, Jabar Gaffney, and Donte' Stallworth.
While we believe the sentiment is exaggerated, we understand the argument. After all, when you look at the NFL's all-time reception leaders, only two guys who played with Brady during their careers land near the top of the list. In honor of Brady's four touchdowns to four different receivers in New England's 2016 win over the Buffalo Bills, let's look at the five best wide receivers Brady has ever had in his career.
Note: We stick strictly to wide receivers for this list. Therefore, we won't include guys like Rob Gronkowski.
5. Julian Edelman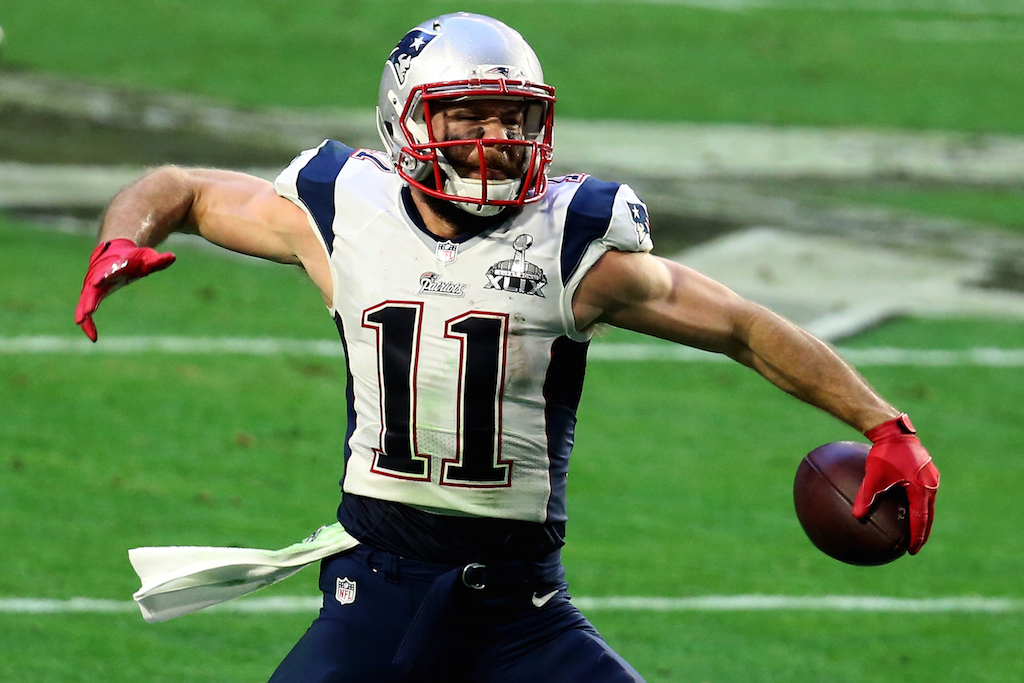 Career statistics (regular season): 399 receptions, 4,152 receiving yards, 10.4 yards per reception, 23 receiving touchdowns in 99 games
Honestly No. 5 through No. 3 on this list were a toss-up in terms of order, but we stick Julian Edelman at fifth. Before 2013, Edelman would've landed nowhere near the top of this list. However, No. 11 rapidly ascended over the past few seasons. He is one of two truly dominant receiving options, along with Gronk, who Brady has today.
Edelman's 327 receptions come on 482 targets. While we don't know exactly how many of those came from Brady's arm, we can say that almost all of them did. The former college quarterback is primarily used as a slot receiver, picking up chunk yardage on third downs frequently. But Edelman is actually fifth on Brady's list of most touchdowns thrown to (with 21). The shifty wide out is just four TD hookups with Brady away from passing No. 4 on that list, a feat he should easily accomplish in 2017.
4. Deion Branch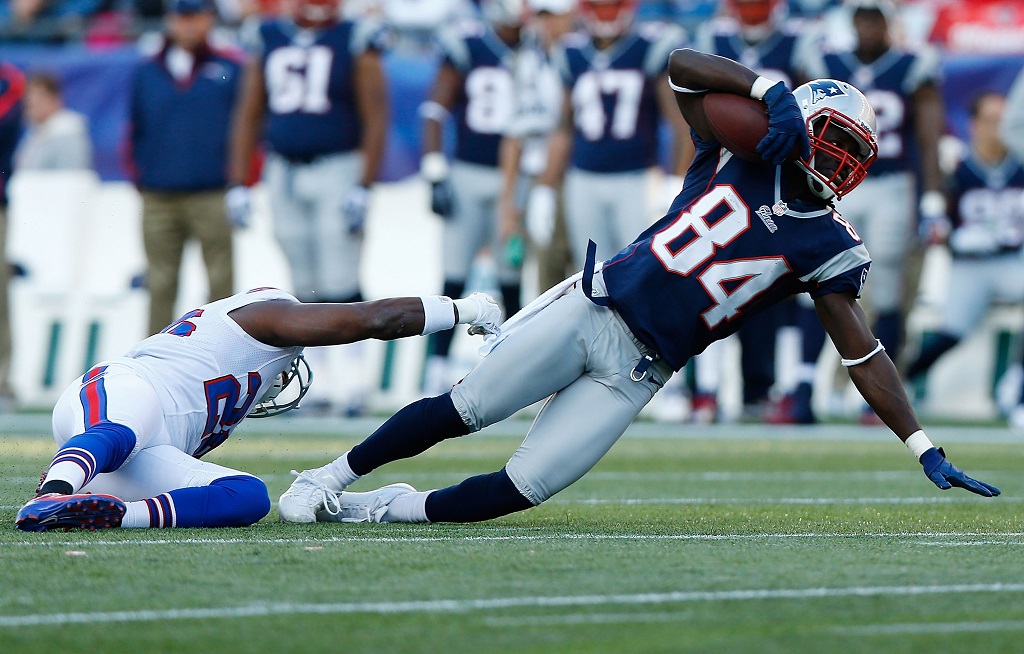 Career statistics (regular season): 518 receptions, 6,644 receiving yards, 12.8 yards per reception, 39 receiving touchdowns in 140 games
Deion Branch is another undersized wide receiver on this list. He's most well-known for his historic performance in the Pats' Super Bowl XXXIX victory over the Philadelphia Eagles. On the world's biggest stage, Branch hauled in 11 receptions (on 12 targets) for 133 yards, earning the game's MVP award. Quite frankly, if not for Branch's unbelievable effort, Brady almost certainly would have won this contest's MVP too, giving him the honor in all four of his Super Bowl wins, instead of "just" three of them.
But Branch was far from a one-trick pony during his 11 years in the league. Securing his 518 career receptions on 883 targets, Branch demonstrated intense reliability, especially during his first tenure in New England. Of his 39 career TD receptions, 24 of them came from the arm of Brady, which puts him in fourth place on No. 12's all-time touchdown receivers list.
3. Troy Brown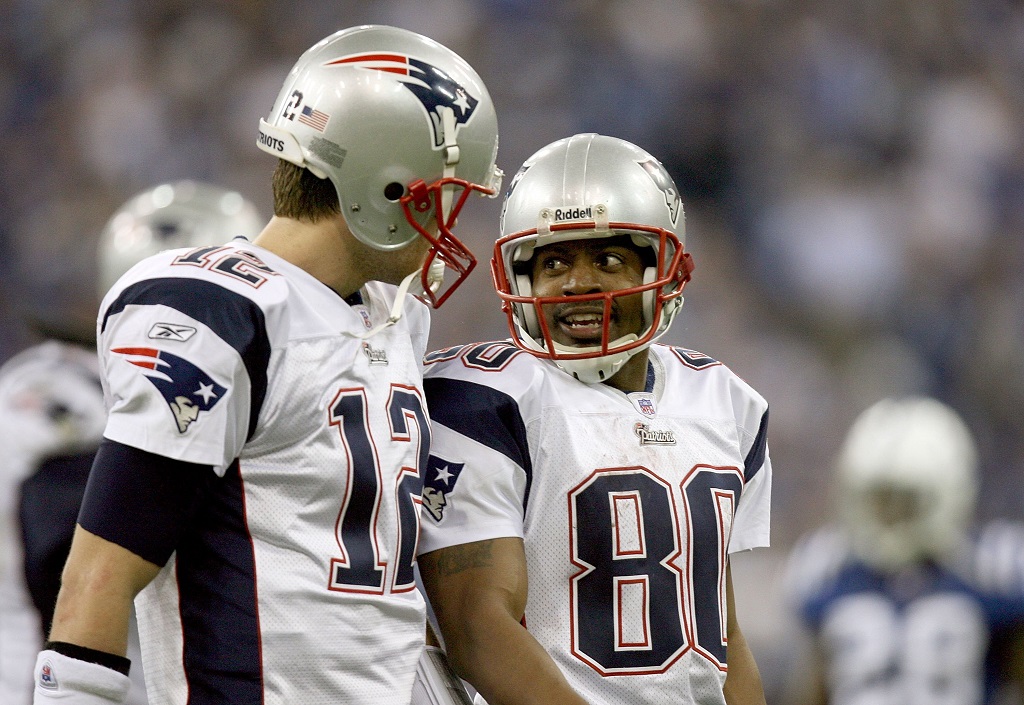 Career statistics (regular season): 557 receptions, 6,366 receiving yards, 11.4 yards per reception, 31 receiving touchdowns in 192 games
If only Troy Brown were five years younger, we could have seen he and Brady in sync for years on end. Unfortunately, Brown was already in his ninth season by the time Brady took over the reins of the Patriots franchise, but for the relatively short time that they were together, this duo was terrific.
Brown did play all the way through the 2006 season (plus appearing in one game in 2007). During the early stages of Brady's amazing career, No. 80 was certainly among his favorite targets. More or less than half of Brown's career receptions probably came from Brady's predecessor, Drew Bledsoe. However, Brady and this wide receiver built a solid repertoire during their six seasons together. In fact, 15 of Brown's 31 career TD receptions came from No. 12, a figure that puts the receiver inside the top 10 of the quarterback's top touchdown receivers.
2. Wes Welker
Career statistics (regular season): 900 receptions, 9,905 receiving yards, 11.0 yards per reception, 50 receiving touchdowns in 173 games
Before there was Edelman, there was Wes Welker. As automatic as they come, this undrafted player's career skyrocketed under Brady's wing after three mediocre seasons to start his career in Miami. Edelman still has a ways to go to match what Welker accomplished with Brady, but the similarities between the two slot receivers are uncanny.
Edelman is actually listed as three inches taller than Welker. However, neither classify as big wide outs whatsoever. Welker was easily Brady's most consistent target during their six seasons together and 34 of his TD catches came from No. 12. That gives the Texas Tech product the third most touchdown receptions from TB12.
1. Randy Moss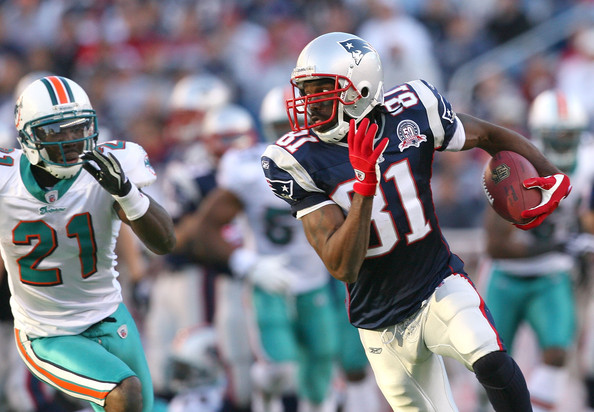 Career statistics (regular season): 982 receptions, 15,292 receiving yards, 15.6 yards per reception, 156 receiving touchdowns in 218 games
Randy Moss absolutely blows the competition out of the water on this one. "The Freak" is not only Brady's greatest wide receiver ever, but one of the greatest of all-time, too. Moss had it all — speed, length, and unmatched athleticism. Unlike some of the other receivers on this list, Moss was not Brady's first option on third and short. This guy was all about the long ball, as he and Brady hooked up many, many times for Hail-Mary-esque touchdown bombs during their three-plus seasons together.
When considering who ranks at the top of this list, all you have to look at is the 2007 season. The nearly perfect Patriots had arguably the best offense in NFL history, and Brady to Moss was the team's most dangerous weapon. Of Brady's record 50 TD passes that year, 23 of them went to Moss. In all, this duo connected an astounding 34 times for touchdowns during their careers, a mark that puts Moss in second on Brady's list (a distant second behind Gronk).
Statistics courtesy of Pro-Football-Reference.com.