Cam Newton Still Has One Major Problem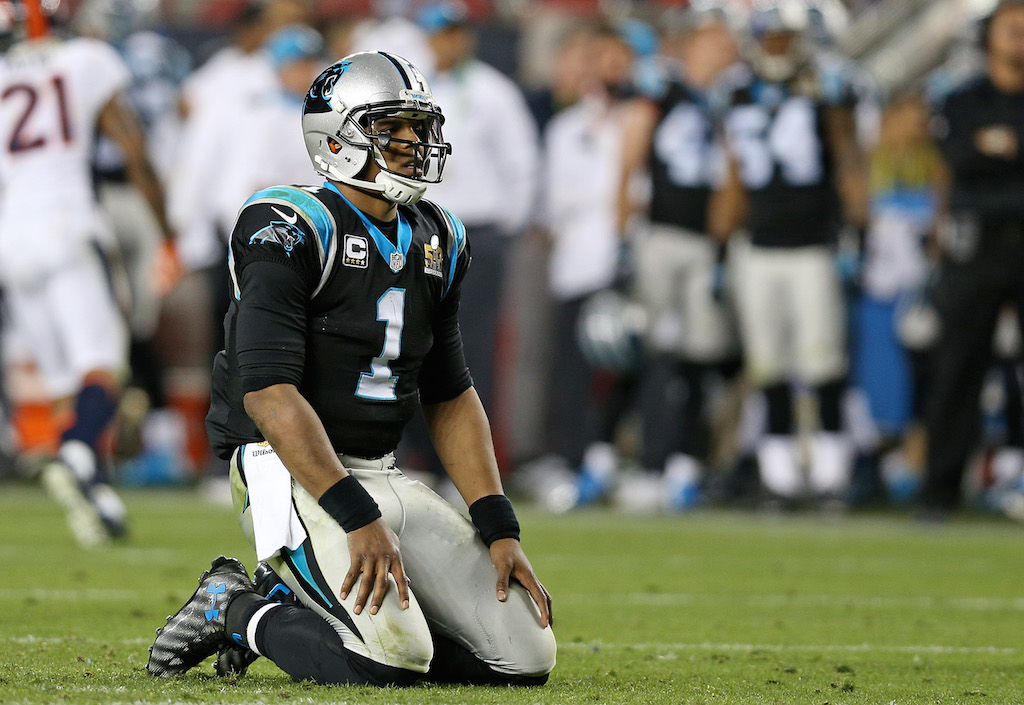 In the National Football League, you don't win a Most Valuable Player award and lead your team to a conference championship in the same year without talent and confidence. And as we learned in 2015, there may not be a more confident and talented player in the league than Carolina Panthers quarterback Cam Newton. In his fifth season, Newton took the NFL by storm.
While he has always been a threat to make plays with his feet, 2015 marked the first time in Newton's career that he showed the ability to consistently pick teams apart with his arm from within the pocket. The 2010 Heisman Trophy winner threw for 3,837 yards, 35 touchdowns, and 10 interceptions, and put up another 636 yards and 10 touchdowns on the ground. More importantly, though, he led the Panthers to a 15-1 regular season record and the second NFC title in franchise history.
What sets Newton apart from the other great quarterbacks (both past and present) is that he plays the position with a swagger that more closely resembles an NBA superstar than an NFL quarterback. Before you say there's a racial component there, first consider the fact that Newton is simply more exuberant than most of his peers. He's the Russell Westbrook to Peyton Manning's Kevin Durant. This is unmistakably evident every time the 2011 NFL Offensive Rookie of the Year reaches the end zone, as well as any time the former Auburn Tiger conducts an interview with the media.
In case you're one of the few people who missed it, Newton's end zone dances have become borderline legendary, and you can count on at least one headline-capturing quote in every one of his interviews. As a direct result of his brash antics, Newton has also developed into one of the biggest love-him-or-hate-him athletes in all of professional sports. There are the football traditionalists who aren't particularly fond of his flashiness, and there is the crowd of people who love his energy, conviction, and the polarizing persona he displays when talking to the media.
Knowing this, it should come as no surprise that Newton was far and away the most visible and widely discussed player on either Super Bowl 50 roster during the two weeks leading up to the game. It is also no secret that Newton loves being in the spotlight. He embraced being the media darling of Super Bowl 50, putting on a show any time a camera or microphone was within speaking distance.
Let's not forget, Newton is the same player who said he wanted to become a global icon before he ever played a down in the NFL. When things didn't go as planned for Newton and his Carolina teammates during their 24-10 loss to the Denver Broncos in Super Bowl 50, the recently crowned 2015 NFL MVP showed that he clearly still has a lot of growing up to do.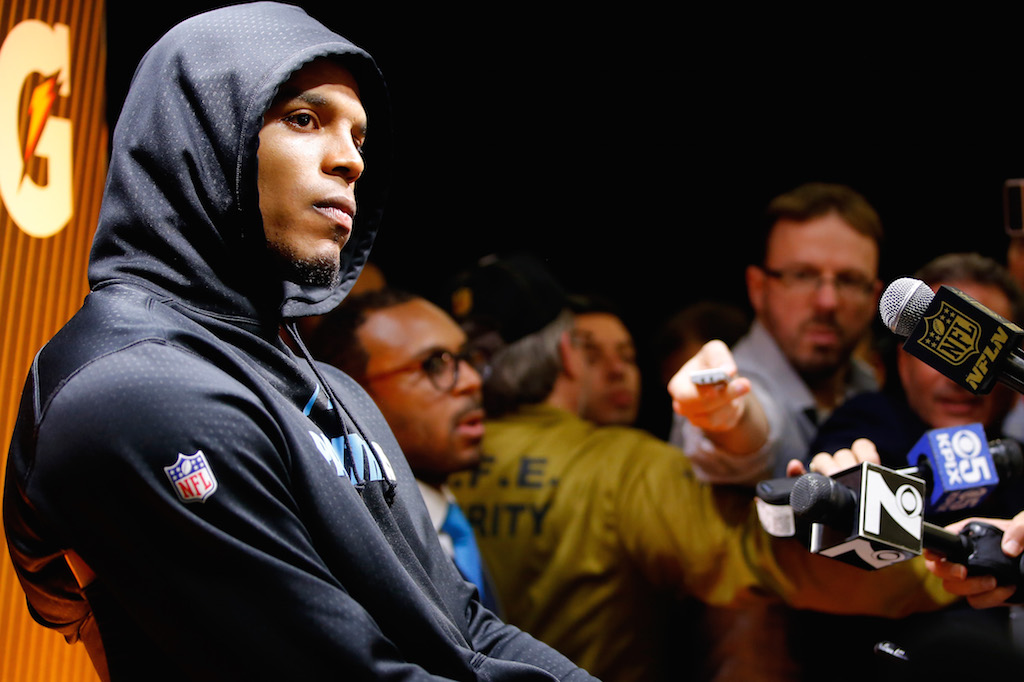 Newton's actions at the Panthers' post-Super Bowl press conference are getting most of the attention, but in our eyes, there are other, more alarming, issues at hand. While he probably should have stayed at the press conference and acted like a grown man, we can forgive him for not wanting to sit within earshot of Denver cornerback Chris Harris Jr. spouting off to reporters about the Broncos' defensive game plan revolving around forcing Newton to beat them with his arm.
It's important to point out that when his press conference opened, Newton was just minutes removed from playing one of the worst games of his career in the biggest night of his career. He was fuming — and rightfully so. And in Newton's defense, he did take the time to meet and congratulate his counterpart, Broncos quarterback Peyton Manning, at midfield at the conclusion of the game — something that Manning himself failed to do when his Indianapolis Colts team lost to Drew Brees and the New Orleans Saints in Super Bowl XLIV.
With that being said, Newton's immaturity was blatantly obvious to us on two separate occasions over the past couple of days. The first was his effort, or lack thereof, in going after his second Von Miller-induced fumble of Super Bowl 50 during the fourth quarter of the game. Despite his best efforts to defend his lack of effort on the play, this all happened at a point when the outcome of the game was still very much in question. There were four minutes left in the game and the Broncos were ahead by only six points.
If Newton had somehow gotten the ball back, Carolina could have punted, rather than give the Broncos a first-and-goal from the Panthers' four-yard line. Moreover, Newton's response to the fumble signified to the rest of his team that their leader — who had displayed an outstanding leadership ability all season — was ready to throw in the towel. On Tuesday afternoon Newton weighed in on the situation, and in our opinion, his explanation was anemic at best (via ESPN):
I didn't get the fumble. We can play tit for tat. I've seen numerous quarterbacks throw interceptions, and the effort afterwards … they don't go. I don't dive on one fumble, because of the way my leg was it could have been [contorted] in a way. We didn't lose that game because of that fumble. I can tell you that.
In summation, Newton was apparently worried about getting hurt during the most crucial part of what could ultimately prove to be his only chance at winning a Super Bowl title. The second factor that leads us to believe Newton still has a lot of growing up to do is the fact that he has yet to publicly take accountability for his role in the Panthers — who led the league in scoring in 2015 — only putting up 10 points in Super Bowl 50.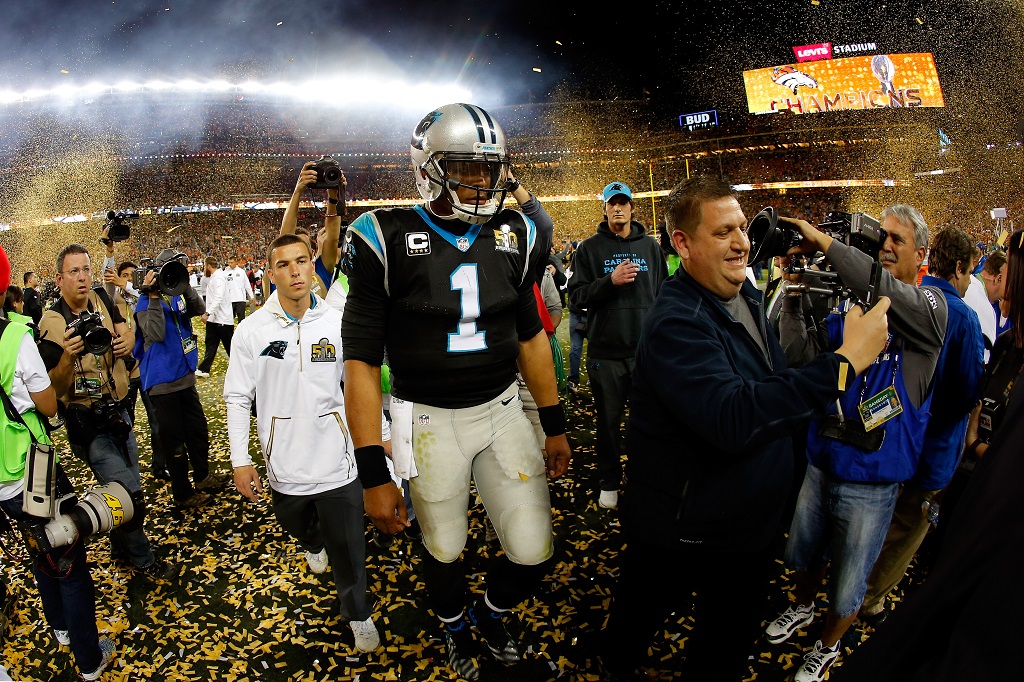 He's the face of the franchise, the undisputed leader of the team, and arguably the best player in the league. We really do appreciate (and commend) Newton for showing that he did care about his performance and the outcome of the game — some players treat Super Bowl week as one big party — but when you get completely dominated, the right thing to do is take your lumps and get back to the grind to ensure that it doesn't happen again. Instead, Newton opted to defend his actions on Tuesday saying, "You show me a good loser and I'm going to show you a loser."
In all fairness, Newton does seem to have his heart in the right place. He is active in the community, cares about winning, and by all accounts is a great teammate. However, if Newton wants to have a flamboyant personality, dance excessively during games, and taunt his opponents, then he needs to prepare for a career with a target on his chest. For what it's worth, we are firm believers that there is nothing wrong with him being showy, but he has to back it up or be prepared to handle himself with dignity when he doesn't win.
We're not suggesting that Newton needs to conform to anybody's expectations. There is no reason that he can't be himself while  representing the game of football with class and humility. If you get beat, own up to it and don't let it happen again. It's as simple as that. Don't act like a grade schooler who lost a game of dodgeball on the playground. After all, Newton will never become the global icon he so badly wants to be if everyone other than the Panthers' fanbase hates him.
Statistics courtesy of Pro-Football-Reference.