NFL: Can Adrian Peterson Break the Rushing Yard Record?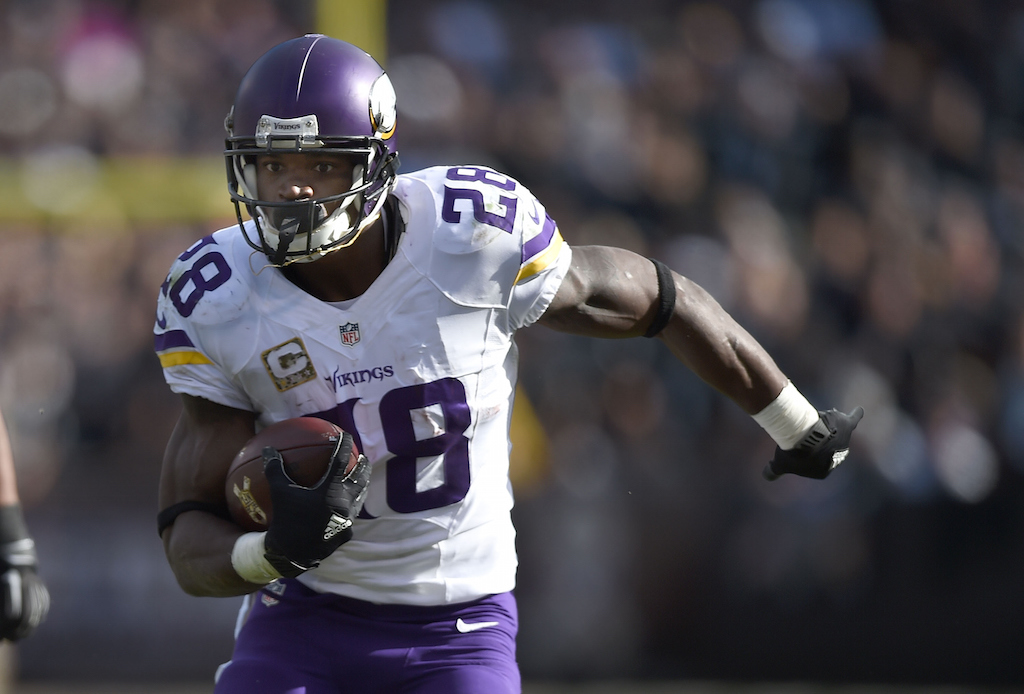 Through the first nine years of his NFL career with the Minnesota Vikings, Adrian Peterson has been arguably the league's most dominant running back. He's set to enter next season at the ripe age of 31 years old, coming off another productive campaign and leading the league with 1,485 rushing yards with 11 rushing touchdowns.
All this helped Peterson earn his seventh Pro Bowl selection. It also marked the third time that he's led the league in rushing, which was also the fourth occasion that he's been the NFC rushing leader. No. 28 also earned his fourth First-Team All-Pro selection and fifth FedEx Ground Player of the Year award. This production came after missing almost the entire 2014 season due to an off-field issue. In fact, Peterson clearly demonstrated that he can still be a workhorse running back, recording 300-plus carries for the fourth time in his career.
This immediately turns the conversation to the much larger picture of him breaking the long-standing rushing yard record currently held by Hall of Famer and former Cowboys running back Emmitt Smith, who has 18,355 rushing yards. The former league MVP and eight-time Pro Bowler stated last month that he believed that Peterson was the lone player who could challenge his prestigious record. "If he doesn't get it, I don't know who's going to get it," Smith said, according to ESPN.com. "He's still got a lot of yards to go. I'm not going to lie to you."
Prior to Smith, Hall of Famer Jim Brown held the NFL rushing record for 21 years, followed by Hall of Famer Walter Payton holding it for 18. Currently, Peterson is the only player in the league with a realistic shot of breaking Smith's record as he has 11,675 rushing yards (which currently puts him 17th all-time in NFL history). It isn't a stretch to believe that the Vikings tail back could challenge the record, but the odds are certainly stacked against him.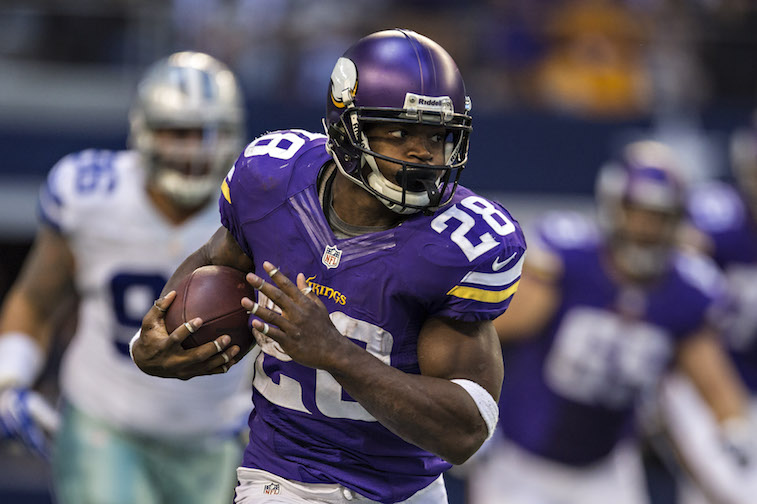 Although Peterson has shown that he's fully capable of playing at an elite level next season, it doesn't take away the simple fact that he's now in his early-30s. This is often a time when running backs' bodies break down significantly due to the massive workload they have accumulated over their careers. Peterson is no different in that regard, piling up 2,381 carries up until now.
However, he's a different physical specimen who has a rare combination of speed, strength, and quickness that doesn't seem to be slowing down. Peterson demonstrated that after he tore his ACL and MCL four years ago, and then came back better than ever, posting a career-high 2,097, which fell less than 10 yards short of the all-time single-season record held by Hall of Famer Eric Dickerson.
Since then, Peterson has posted two seasons with over 1,200 rushing yards and it may have been three straight had he not been suspended for the off-field incident. He is currently averaging 1,297 yards per season, which puts him on pace to surpass the rushing mark early during the sixth season from now.
This is well within Peterson's wheelhouse in terms of production given that he has topped that average six times already in his career. However, he needs to produce well in his 30s, which is certainly a lot to ask. Peterson is a rare athlete, but maintaining this type of physical capability through the wear and tear that is an NFL season makes it hard for us to believe that it can be accomplished.
That said, Smith was still an extremely productive player, recording over 900 plus yards in four out of his final five seasons including two campaigns with over 1,000 yards. He was also quite impressive in his final season at age 35 when he rushed for 937 yards. However, Smith and Peterson have completely different running styles, with the former depending more on his exclusiveness and his shiftiness to gain yards.
Peterson, on the other hand, has built his game on his strength and speed. This could ultimately hurt him as he goes through the latter years of his career with his body not responding the way it once did. All in all, Peterson could continue to put up elite numbers, which will help him break the long-held rushing record — but it's simply too hard to go against Father Time.
Statistics courtesy of Pro-Football-Reference.com, ESPN.com, and NFL.com.