NFL: Can Andre Johnson Still Be a Reliable Receiver?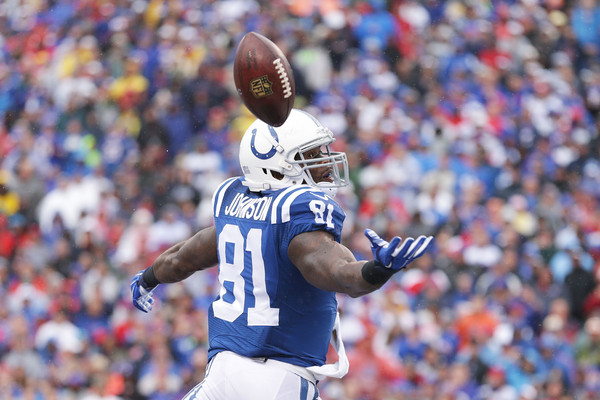 When the Indianapolis Colts signed veteran wide receiver Andre Johnson to a three-year, $21 million deal in free agency last offseason it was thought he could be the missing piece to the puzzle who would help get the franchise to their first championship since 2006. They were coming off one of their most successful years in nearly a decade, reaching the AFC Championship Game, which saw them fall to the eventual Super Bowl champion New England Patriots.
The Colts had seen vast improvement from their star quarterback Andrew Luck in his third season, as he put up his best statistical campaign with career highs across the board (4,761 passing yards, 40 touchdown passes, 61.7 completion percentage, and a 96.5 passer rating). He had 10 games with at least 300 passing yards and 13 contests with multiple touchdown passes, including seven games with three or more touchdown passes.
The team also added another proven veteran in Frank Gore, who had eight seasons with more than 1,000 rushing yards while compiling five Pro Bowl selections during the first 10 years of his career with the San Francisco 49ers. These two immediately skyrocketed the level of expectations to Super Bowl-or-bust, given their progressive improvement over the last three seasons and getting a step further in the playoffs in each year.
However, things didn't pan out how they hoped, with Luck struggling mightily through the first seven games, compiling 15 touchdowns with 12 interceptions. On top of that, he missed the remainder of the year due to his slow recovery from a lacerated kidney and a partially torn abdominal muscle. Although Gore was a steady force, nearly topping the 1,000 rushing yard mark for the ninth time in his career, it was quite evident that Johnson had seen his best days behind him.
He posted just 41 receptions (41) and 503 receiving yards, which were the second-lowest marks in his career since the 2011 season when he missed nine games due to a nagging hamstring injury. Johnson no longer displayed that same ability to separate from defenders that he once had during his days with the Houston Texans. He was a complete shadow of himself, making four catches or fewer in all but one game and notching fewer than 50 receiving yards on 14 occasions, including three games with no receptions.
Johnson may have dealt with a carousel of quarterbacks throughout the second half of the season, but this shouldn't be an excuse for his lack of production. He had experienced that same scenario in many instances with the Texans near the tail end of his tenure with the franchise and still put up numbers like one of the top receivers in the league.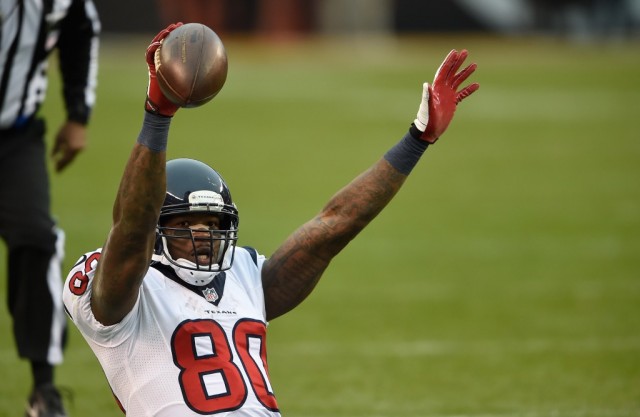 All of this shouldn't overshadow what's been a Hall of Fame-worthy career that includes several NFL and Texans records. He is the only player in NFL history to haul in 60-plus receptions in his first eight seasons, tied for the most seasons with 100-plus receptions (five), holds the most seasons the 100 or more catches and 1,400 plus receiving yards (four), and most games with 10-plus receptions.
Johnson has also been the best offensive player in Texans history, holding the franchise record for most catches (1,012), receiving yards (13,597), receiving touchdowns (64), and receptions (115), and receiving yards (1,598) in a single season. His lack of production combined with steady decline last season appears to have ended his time with the Colts after just one year.
Johnson is currently scheduled to make $14 million over the next two seasons, which is a salary that the organization sees as not worth the pay. Recent reports suggest that if he doesn't decide to retire, the team will release him. It's evident that he still has gas left in the tank, playing in all 16 regular-season games for the third time in the last four seasons, but his ability isn't what it once was.
It wouldn't be surprising to see him walk away from the game, but at the same time, he may still have the desire to play, and a few teams may be interested in acquiring his services. If Johnson extended his career, there are serious questions about whether a team can rely on him as a top receiving option for any team in the league.
In that same breath, these were the same questions that Larry Fitzgerald faced prior to last season. Fitzgerald responded with arguably one of the best campaigns of his career, hauling a career-best 109 catches with 1,215 receiving yards and nine touchdowns, which earned him his ninth career Pro Bowl selection. This included recording at least five catches in all but three games, posting over 80 receiving yards eight times, and putting together three performances with at least eight catches and 100-plus receiving yards.
All in all, Johnson has been one of the most talented wide receivers the NFL has seen, and it wouldn't be a total shock to see him bounce back next season. That said, at this point in his career he has demonstrated that he's no longer a receiver who can be relied upon.