NFL: Can Marvin Jones Have a Breakout Year With the Lions?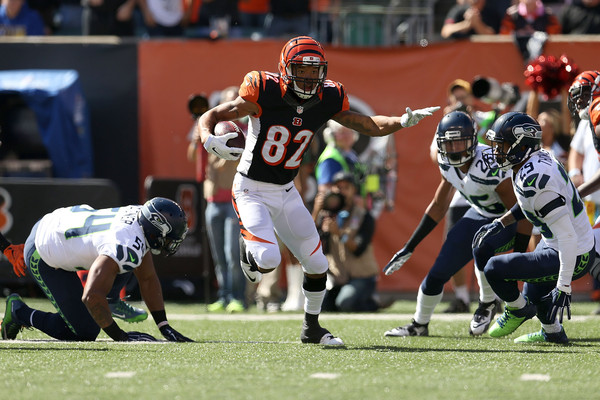 This upcoming season, the Detroit Lions will be a much different team without star wideout Calvin Johnson, who decided to retire in early March after just nine seasons in the league. The six-time Pro Bowler holds almost every significant franchise record including being the all-time leader in receptions, receiving yards, and touchdowns.
He holds 15 NFL records, highlighted by the single-season receiving yards record (1,964, 2012), most career games with 200-plus receiving yards (five), most consecutive games with at least 100 receiving yards (eight), and most consecutive games with at least 10 receptions (four). The absence of the future Hall of Famer created a huge void for the Lions.
Johnson was Detroit's one source of consistency throughout his NFL career. There's no possible way that a player of his magnitude and rare ability can be replaced, but this offseason Detroit was tasked with the responsibility of finding a viable receiving option who can play alongside Golden Tate and be a dependable target for quarterback Matthew Stafford.
The biggest acquisition that the front office has made in that department was signing former Cincinnati Bengals wide receiver Marvin Jones to a five-year, $40 million contract just a few days after Johnson announced his retirement. In the last two seasons, Jones proved to be a productive receiver for the Bengals, recording 50-plus catches with at least 700 receiving yards and four touchdowns in each campaign.
He had a significant jump in production in his second season, notching 51 catches for 712 receiving yards with 10 touchdowns, which ranked 10th in the league and fifth-highest in the AFC. This included setting the franchise record with four touchdowns in a single game, and a team playoff record with 130 receiving yards on eight receptions in the Bengals' 27-10 playoff loss to the San Diego Chargers.
Although Jones missed the entire 2014 season due to ankle and foot injuries, he bounced back last year by setting career highs with 65 catches and 816 receiving yards along with four touchdowns.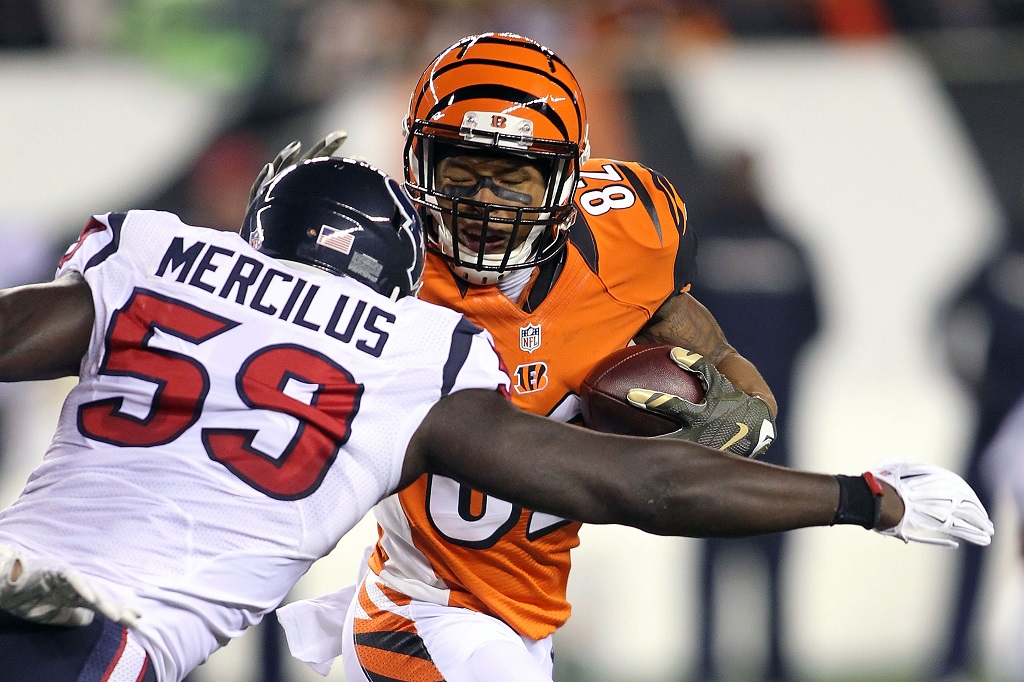 In his brief NFL career, Jones has been a productive player who seems to be confident that he can fill Johnson's huge shoes and make the best of this opportunity. According to MLive.com, Jones said:
I do good with pressure. I don't have any pressure whatsoever on my shoulders. I know what I can do. Obviously, I'm here for a reason, and that goes back to the opportunities. Throughout my career, I've capitalized on my opportunities the best I can, and I know that's what I'm going to do. So there's no pressure.
If the former Cal product hopes to become a reliable receiving option for the Lions, he'll need to build a strong rapport with his new quarterback so he can get involved in the passing game. Jones faced that challenge head on by attempting to develop on-field chemistry with Stafford before the start of his first season with the team.
"You do it by repetition," Jones said, according to the Detroit Free Press. "We've been out there a couple times a week. This is going on our second week. We was out there yesterday. Just going out there and firing. That's basically how you get the relationship. It's great to catch some passes from him."
Jones is playing alongside Tate, who had two extremely productive campaigns in each of his first two years with the Lions, recording at least 90 receptions and 800-plus receiving yards. He had the best season of his career in 2014, setting career highs with 99 catches and 1,331 receiving yards that ranked sixth and seventh highest in the league respectably earning his first Pro Bowl selection.
With Tate playing on the other end and a capable quarterback in Stafford — who proves he can get the ball to his receivers — we can expect Jones to have the best campaign of his career so far.
Statistics courtesy of Pro-Football-Reference.com, ESPN.com, and NFL.com.