NFL
NFL: Can Robert Griffin III Rekindle His Career With The Browns?
Heading into the 2012 NFL Draft, Baylor quarterback Robert Griffin III was regarded as the next top player at his position following Stanford's Andrew Luck, who the consensus No.1 overall pick of the draft class — so much so that "Suck for Luck" was a phrase in some frequent use through the second half of the season. If Luck was the obvious first pick, Griffin was the one who looked like he could be the next great hybrid signal caller, someone as likely to beat you with his feet as with his arm, ala Michael Vick.
This potential, alongside their lackluster quarterback at the time (sorry, Rex Grossman) led the Washington Redskins to make a massive trade with the Los Angeles Rams for the second overall pick: the trade included their first-round picks in 2012 (No.6 overall), 2013 (No.22 overall), and 2014 (No.2 overall), along with their second-round pick (No.39 overall) in 2012.
In retrospect this was obviously a risk that didn't pay off, but you have to remember  Griffin's highly productive collegiate career. He had an impressive junior year in 2011 that saw him capture the Heisman Trophy and showing off his dual-threat abilities — passing for 37 touchdowns while rushing for 699 and 10 touchdowns, and being the only player in the country to have at least 3,300 passing yards and 300 rushing yards. In fact, Griffin is one of three players in FBS history with 10,000 career passing yards and 2,000 rushing yards, joining Central Michigan's Dan LeFevour and Nevada's Colin Kaepernick.
You could also be forgiven for forgetting that during his first season, it appeared the Redskins had struck gold, with Griffin experiencing a lot of success playing out of the read-option formation and completing 65.6% of his passes for 3,200 yards and 20 touchdowns while leading the Redskins to the playoffs after winning their first NFC East title since 1999. His play also earned him the NFL Offensive Rookie of the Year and a Pro Bowl selection. However, along the way he suffered tears to his ACL and LCL ligaments in his right knee, which required surgery in the offseason. It's no exaggeration to say that he's never been the same since.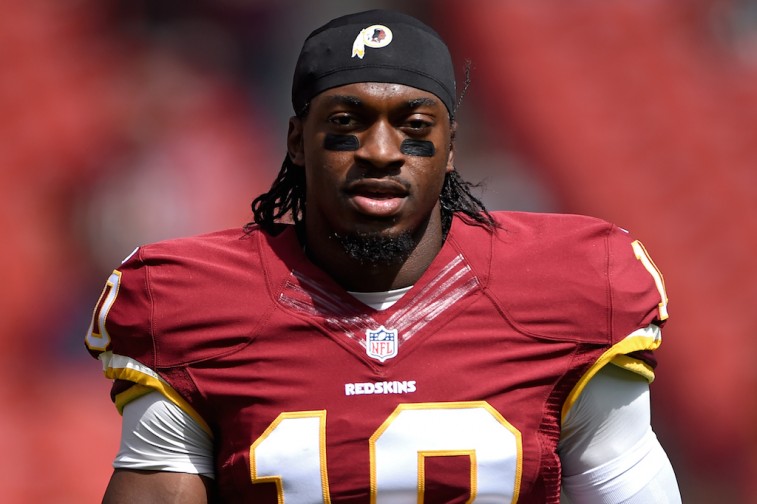 In the following three seasons, his injuries and subsequent lackluster play eventually lost him the starting job to Kirk Cousins, as well as a 2015 where he didn't see the field at all. When Washington cut ties with RGIII, releasing him at the start of this offseason, it felt long overdue. However, it didn't take long for him to find a new home signing a two-year, $15 million deal with the Cleveland Browns a little more than two weeks later.
It may be an extremely difficult challenge for Griffin to succeed given the fact that the team lost key players on the offensive side of the ball this offseason. The Browns' biggest offensive weapon in wide receiver Travis Benjamin — who had career highs in receptions (68), receiving yards (955), and touchdowns (touchdowns) in 2015 — decided to sign a four-year, $24 million deal with the San Diego Chargers. Two starting offensive linemen, center Alex Mack and tackle Mitchell Schwartz, signed long-term deals with the Atlanta Falcons and Kansas City Chiefs respectably. There's also still no timetable for the return of star wideout Josh Gordon, who is still on an indefinite suspension after he had violated the league's substance-abuse policy multiple times.
Following the move, there was a strong belief that Griffin would step in as the starting quarterback from the get-go, especially with the front office trading down from their second overall pick in this year's draft with the Philadelphia Eagles. However, vice president of football operations Sashi Brown has quickly pointed out that there will be an open competition in training camp for the starting job.
"Listen," Brown said, according to ESPN.com, "we have Connor [Shaw] and Austin [Davis] and Josh [McCown] here competing along with Robert and that's what we want to provide, which is competition at that position. We won't be panicked. We feel those guys are going to compete their butts off, get into the system and we'll evaluate it as time bears out."
Which isn't to say that there's an implicit lack of faith in Griffin's ability, but instead the team wanting to see what he has to offer at this point of his career. When the 26-year-old last played, he had struggled to adjust to playing full time under center, rather than the shotgun (Baylor's offense of choice) and because of that tremendous rookie campaign powered by the read-option.
Even with many questions surrounding his on-field capability, Griffin doesn't lack the confidence that he can work his way into becoming the full-time starter for his new team under new head coach Hue Jackson.
"You are always that guy in your mind. Every time you step out there as a quarterback, you have to have confidence, not only in yourself but the guys around you," Griffin said, according to Clevelandbrowns.com. "The way do you that is you practice hard every single day, every throw, every rep is the Super Bowl."
Statistics courtesy of Pro-Football-Reference.com, ESPN.com, and NFL.com.