NFL: Can Roddy White Still Be a Reliable Receiver?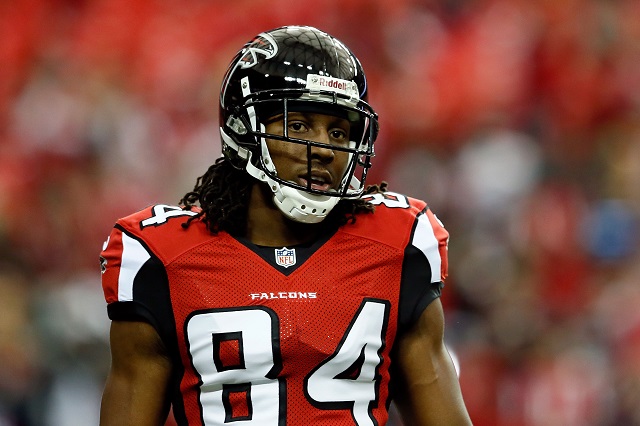 The Atlanta Falcons released veteran wide receiver Roddy White from the final two years of his contract last week, making him a free agent this offseason. This move came shortly after it was reported that White had no desire to take a pay cut as he was due to make $4.25 million in 2016 with a high salary-cap figure of $6.1 million.
This coupled with a significant decrease in production in 2015 (just 43 catches for 506 receiving yards and one touchdown — which were the lowest totals since his second season in the league) made the end result anything from a surprise. White's role in Atlanta's passing game had shrunk dramatically, as he finished the season fourth on the team in receptions despite playing in all 16 regular season games for the first time in three years. In truth, White has seen a steady decline in his production over the last three seasons from his impressive six-year stretch that saw him set a franchise record with six consecutive 1,000-yard seasons and haul in more catches (480) than any other player in the NFC during that span.
White's 6,571 receiving yards from 2008-12 was second-most in the league behind just Calvin Johnson, and his 43 receiving touchdowns were tied with Larry Fitzgerald for second in the NFL. He was also only the fifth player in league history to notch three straight seasons with at least 90 receptions and 1,200 receiving yards. During this stretch in his career, he set the Falcons franchise record for single-game receiving yards with 210 yards against the San Francisco 49ers and was only the second player in franchise history to have three straight 1,000-yard seasons. He also earned all four of his Pro Bowl selection in consecutive seasons and was named to his lone First Team All-Pro in 2010.
The 34-year-old holds numerous all-time receiving records for the Falcons: receptions (808), receiving yards (10,863), receiving touchdowns (63). These numbers also rank him among the best with active players placing eighth in receiving yards, ninth in receptions, and 1oth in touchdowns. He is also one of 33 players in NFL history with more than 800 catches, and one of 45 players to record at least 10,000 receiving yards. White has put together an impressive career, but his performance in 2015 was huge step down from his high level of production that many have become accustomed to seeing from him. Is it any surprise, then, to wonder whether he can still be a reliable receiver in the NFL?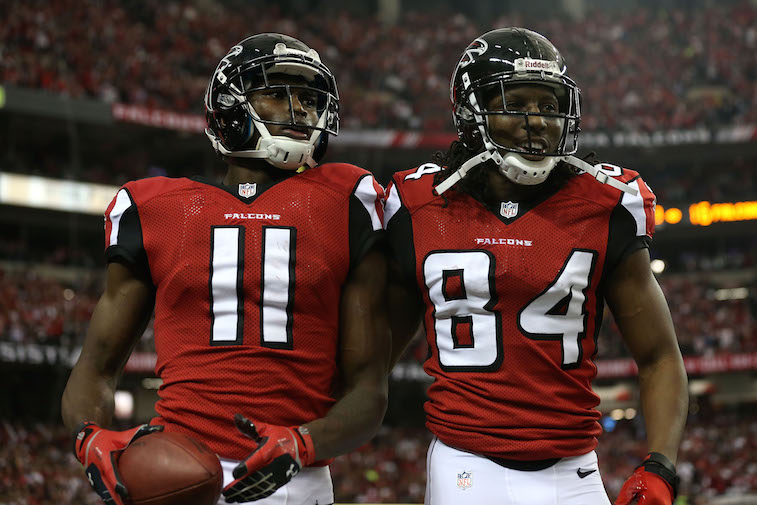 White had become the second receiving option behind Julio Jones over the last several seasons, but in his first year in Kyle Shanahan's offense he fell behind Leonard Hankerson, running back Devonta Freeman, and tight end Jacob Tamme. He had complained early in the season about his diminished role, which resulted in a meeting between head coach Dan Quinn, Shanahan, and White to help alleviate the situation. However, the relationship between Shanahan and White continued to remain a problem. If you need proof, look no further than this — since his release White has stated that the Falcons offensive coordinator "wanted me to be out of the [offense]" and the veteran wideout blamed him for the team's offensive struggles in 2015.
This gives the appearance that White may have more left in the tank than he showed last season, but he will once again have to prove next season that he can still be a productive player regardless of the situation. He has shown that his hamstring health issues are behind him along with the ability to still gain separation from defenders, and he can be a possession receiver with his strong hands. In reality, his departure from Atlanta could be a blessing in disguise for him as it will allow him to join a team where he's valued more in the offense and given the opportunity to produce.
"I know I can still play, without a doubt," White said, according to ESPN.com. "Two or three years, I feel like I can play. I feel like I can be productive. Whoever brings me in will give me the opportunity to catch passes."
There's no question that White still believes that he can play at a high level. He may not be an elite player at this point in his career, but he can still be a productive receiver that can be a primary target in the passing game. It all lies on his shoulders to show in 2016 that he can be a dependable receiving option for whatever team he chooses to sign with this offseason.