NFL: Can the 2015 Tampa Bay Buccaneers Pull it Together?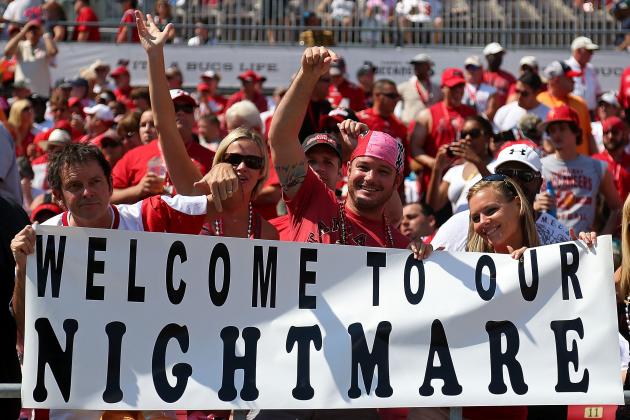 There are some bad teams that are fairly easy to make sense of. With franchises like Jacksonville, Tennessee, and even the improving but still bad-until-further notice Oakland Raiders, the ineptitude is self-evident – by virtue of poor drafting and some misfortune, their high draft picks never seem to land them Andrew Luck types, their prolonged lack of success and stability makes top free agents mostly shy away, and there never seems to be any parlaying of those top picks into established players in trades.
When we run through previews of those teams, we'll get into their issues in these areas. As far as the Bucs, however, the recent run alternating mediocre and complete disaster seasons is more of a head-scratcher.
As recently as the beginning of the 2013-2014 season, when the perpetually young team was coming off of a 7-9 campaign under then-first-year head coach Greg Schiano, Tampa still had a young and promising Josh Freeman at quarterback, "Muscle Hamster" Doug Martin –who, for the record, has always hated that nickname – in the backfield, Darrelle Revis starring on his island at corner, and a dominant force along their defensive line in Pro Bowler DT Gerald McCoy.
By now we know that season went up in smoke in the form of a 4-12 turn, and last offseason saw Schiano's ouster and replacement by the chronically, permanently overrated Lovie Smith (seriously, he's practically the Jay Cutler of coaches). It also saw splashy signings, which included DE Michael Johnson and DT Anthony Collins from Cincinnati, as well as Josh McCown from the Bears (where he briefly shined spelling Cutler). Fast forward to this offseason and none remain with the Bucs.
The bright side, of course, is that coming off of a 2-14 year, there's really nowhere for this team to go but up. And at least heading into this campaign, no one is suffering any illusions that this team has any ambitions beyond a return to respectability. Well, almost no one.
We all know that playoff runs, much less Super Bowl trips, aren't decided based upon your roster makeup in August, but by now we still (usually) have a decent idea of how teams will most likely perform. So, without further ado, let's take a look at who the Bucs have added and lost and see if we can't make a prediction about where this ship of fools is headed. 
Additions and Subtractions
IN: (via the draft) — QB Jameis Winston, OT Donovan Smith, C/G Ali Marpet, LB Kwon Alexander, WR Kenny Bell, WR Kaelin Clay, FB Joey Iosefa;
(via free agency and trades) — TE Tim Wright, DE George Johnson, DT Henry Melton, OLB Bruce Carter, LB Larry Dean, CB Sterling Moore, S Chris Conte
OUT: QB Josh McCown, OT Anthony Collins, OT Oniel Cousins, DE Michael Johnson, DE Adrian Clayborn, DE Da'Quan Bowers, ILB Mason Foster, ILB Dane Fletcher, S Dashon Goldson
It's a little hard to believe we made it this far into a Bucs preview before mentioning their drafting of Jameis Winston No. 1 overall, but the context helps when taking his arrival to Tampa into account. One quick look at the team's moves in free agency and the draft reveals that they did a lot of exchanging, while adding one big franchise quarterback on whom they'll pin all their hopes for the foreseeable future.
In the short-term, Winston's learning curve will be helped by the fact that he has a pair of thousand yard targets to throw the ball to in veteran Vincent Jackson and absolute beast Mike Evans. What won't help is an offensive line and running game which gave up 52 sacks and ranked 29th in yardage last season, respectively. Donovan Smith and Ali Marpet have their work cut out for them.
As for what else looks promising, George Johnson and Henry Melton bring a combined 11 sacks to a revamped defensive line that managed only 36 last season, Bruce Carter adds a solid tackler to the linebacking corps, and Sterling Moore and Chris Conte come over to shore up a defensive backfield that ranked 28th against the pass a year ago. 
Outlook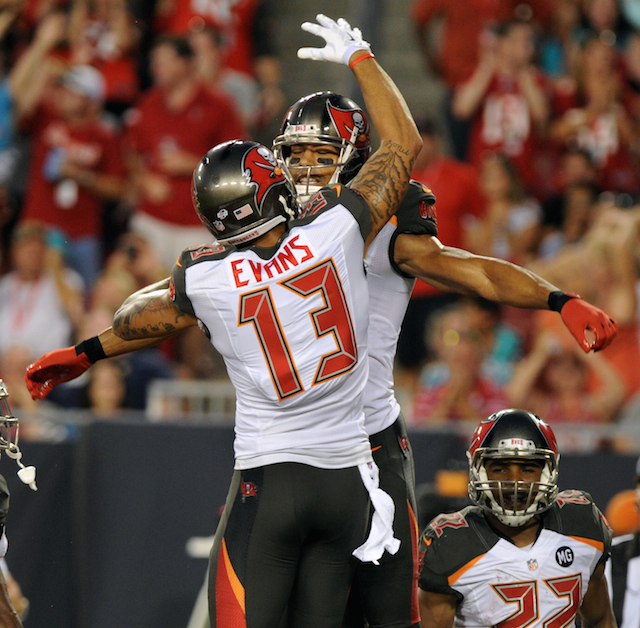 No 2-14 team can point to having done a tremendous number of things well. With that being said, the Bucs did finish an almost average 19th against the run last year and made improvements to that part of their defense. They also boast talent at skill positions on offense, although they're still at least partially banking on improved rushing performances from Doug Martin and/or Bobby Rainey and someone emerging as a viable pass-catching option at tight end.
Their schedule is notably weak, in large part because they play in the pathetic NFC South, but try not to forget that the 6-10 Atlanta Falcons hung 56 on them in the first three quarters of a nationally televised Week 3 game last season.
The long and short, however, is that the Bucs will go as far (this year and thereafter) as Famous Jameis can take them. If you believe he's the guy who only lost one game in college and engineered all those great second half comebacks, then Tampa Bay's future appears bright. If he's the guy who threw 18 interceptions in the god-awful ACC and did this, however, this ship might once again run aground.
Prediction: The Bucs improve, but even in a terrible division with a weak schedule, it doesn't show up much in the record, as they'll finish 3-13. Winston will take home Offensive Rookie of the Year honors, though.
For the next month, Sports Cheat Sheet is proud to bring you previews of each of the NFL's 32 Teams (in draft order). Here you'll find out who your team added, lost, and whether or not it's shaping up to be their year (Hint: it probably isn't).
Stats provided by ESPN. Transaction information provided by WalterFootball.com
Connect with Tamer on Twitter @iamtamerabouras