NFL: Can Thomas Rawls Replace Marshawn Lynch?
The Seattle Seahawks will enter next season with a different starting running back for the first time since 2010, due to Marshawn Lynch retiring after just eight years in the NFL. The 29-year-old had become a steady, reliable force for the Seahawks, rushing for more than 1,200 yards over the last four years and earning a Pro Bowl selection in each season. Lynch was the linchpin for two consecutive Super Bowl trips and the franchise's first championship.
However, there were signs that Lynch may not be the same dominant running back. He was limited by injuries in 2015, which included missing the last seven weeks of the season due to a nagging abdominal injury. Prior to the injury, he struggled tremendously to produce (outside of his 122-yard performance against the 49ers) by failing to surpass 75 yards in the other six games played. He did make a return to the field in the team's divisional-round playoff game against the Carolina Panthers, rushing for 20 yards on six carries.
Lynch showed a few glimpses of his old self, breaking several tackles and even breaking Roman Harper's helmet during a tackle. However, this would be his final lasting image on the field as he announced his retirement during Super Bowl 50 three weeks later. It was a decision that was for the most part anticipated, given that he had heavily contemplated retiring in each of the last two offseasons and experienced the most injury-riddle season of his career.
Although Lynch's departure marks the end of an era for the Seahawks, it could be the birth of another one with Thomas Rawls likely taking over the reigns as the lead back. The undrafted rookie out of Central Michigan was quite impressive in place of the five-time Pro Bowler in 2015, finishing second among rookies in rushing yards (830), rushes for first downs (37), and rushes for 20-plus yards (seven).
There's no question that Rawls would have eclipsed 1,000 rushing yards had he not suffered a freak broken ankle in Week 14 against the Baltimore Ravens. His rookie campaign included putting together the first two 100-rushing-yard performances of his career in his first three starts and becoming just the first player besides Lynch to record a 100-yard rushing game for the Seahawks since the 2012 season. His marks of 5.65 yards per-carry average and 2.68 yards after contact were both the best in the NFL.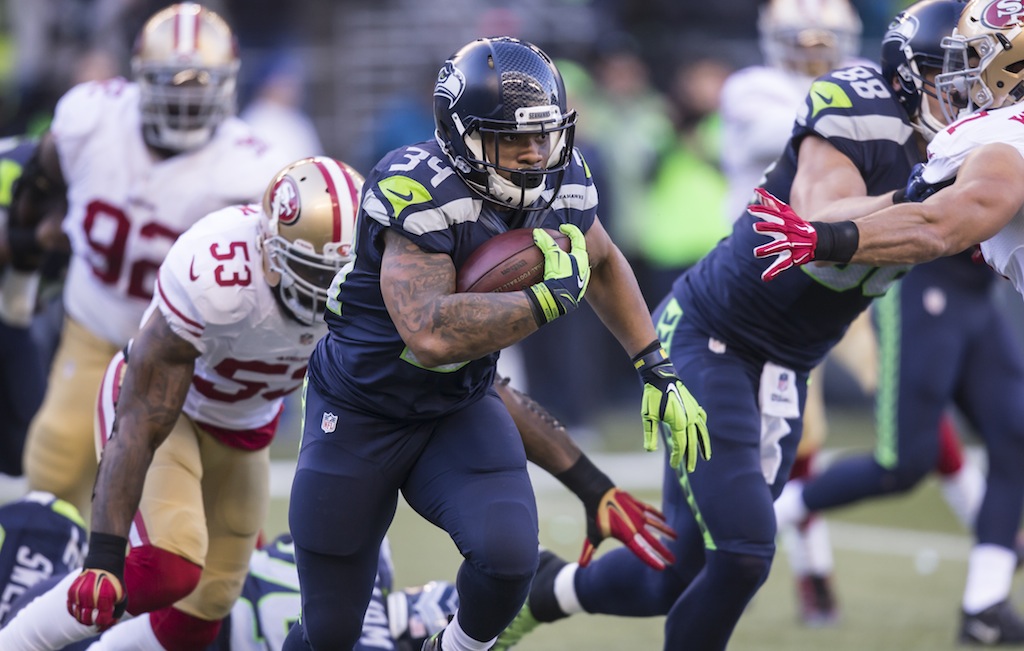 Rawls had the best game of his young career against the San Francisco 49ers, rushing for 209 yards, which broke the Seahawks' franchise rookie record for rushing yards and also made him the first player in NFL history to have 250-plus scrimmage yards, a rushing touchdown, and a receiving touchdown in the same game. He was also the first Seahawks player to surpass 200 rushing yards since Shaun Alexander in the 2006 season.
More than anything else, the 22-year-old demonstrated that he shares a similar mindset to that of his predecessor, being an aggressive runner who is always looking to make contact instead of running out of bounds. "I have never run out of bounds," Rawls said, according to ESPN.com. "It's just my make-up. It's my whole mentality. I think I would feel less of a person just running out of bounds instead of being physical, showing toughness and [having] a different mentality at the running back position."
Rawls clearly demonstrates that he can handle a huge workload — if that is thrust upon him next season. He had at least 16 carries in all six of his starts, including recording 20-plus and at least 5.3 yards per carry in three contests. Rawls is also expected to be ready to go by the start of training camp. On top of that, head coach Pete Carroll has voiced great confidence that the young tailback can handle the huge responsibility.
"Well, Thomas is going to get a great shot at it," Carroll said of Seattle's 2015 undrafted rookie wonder on Thursday at the NFL's scouting combine, according to TheNewsTribune.com. "He did everything he could his rookie season to make a statement that he belongs. We love the style. He's a great kid. I can't imagine that he's not going to be right in the middle of it."
This all but clears a path for him to make a strong case for being one of the league's top running backs and helping lead the franchise back to another Super Bowl. In his short time in the NFL, he has flashed great abilities with his unique combination of strength, power, and vision that will open the way for him to be the next great Seahawks running back.