NFL Combine: Everything You Need to Know From Day 1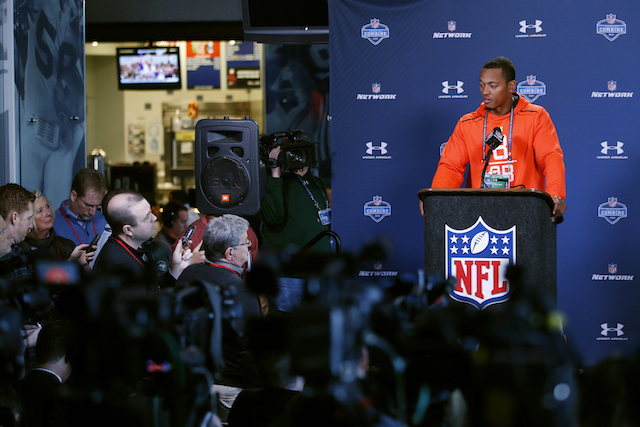 The NFL Scouting Combine is one of the biggest events of the offseason. Every general manager, scout, personnel executive, and agent are in Indianapolis for a week of testing and interviewing players, filling job openings, and negotiating big-money deals for veteran NFL stars. The first group of prospects are set to take to the field for the first round of workouts on Friday after spending Thursday meeting with team doctors and doing media interviews. At the same time, head coaches and general managers all took their turns meeting with the media as well.
Here is a look at five key takeaways from day one of the NFL Scouting Combine at Lucas Oil Stadium in Indianapolis.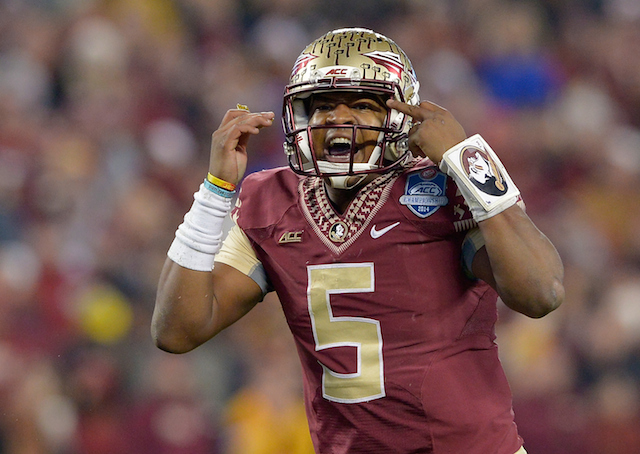 1.  Jameis Winston is the heavy favorite to be picked first overall
The Tampa Bay Buccaneers appear to be leaning heavily towards selecting Winston, the 2013 Heisman Trophy winner, with the first pick in the 2015 NFL Draft. The Bucs have already begun doing their due diligence in examining Winston's off-field issues, and as of yet, nothing has popped up that has caused them to have any serious concern. Barring any unforeseen circumstances, including poor pre-draft interviews and workouts, Winston will be selected by Tampa Bay with the top pick in the 2015 NFL Draft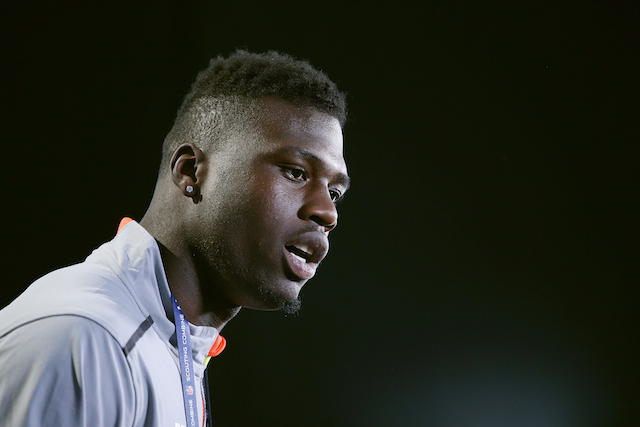 2. Wide receiver Dorial Green-Beckham helped his draft stock during his first round of interviews
Green-Beckham's physical talent has never been a question. The former Missouri and Oklahoma wide receiver measured in at 6-foot-5 and 237 pounds, which is almost the exact same height and weight as Detroit Lions All-Pro wide receiver Calvin Johnson. We would actually more than likely be speaking about Green-Beckham in the same light as Johnson as an NFL prospect had Green-Beckham not had numerous legal issues during his college career. Before he has even stepped onto the field at Lucas Oil Stadium for testing and positional drills, Green-Beckham has done a great job on helping his draft stock through his first round of interviews. He has been forthright, apologetic, and honest in answering questions about his past, while also letting anybody who will listen know that he is fully committed to being a successful NFL player.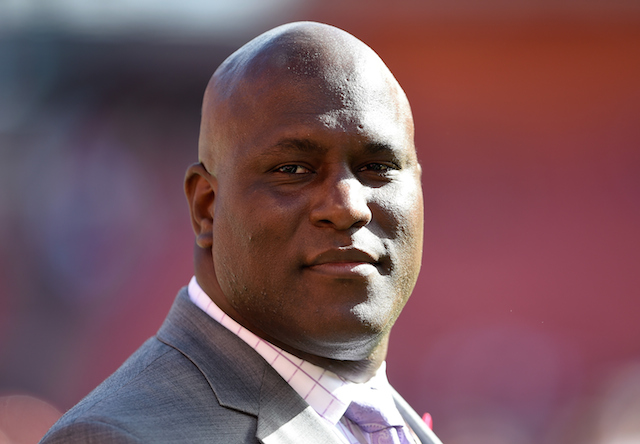 3. Cleveland Browns general manager Ray Farmer took full responsibility and apologized for TextGate, but won't shed any light into the team's quarterback situation
Farmer was more willing to discuss the texting scandal that may ultimately cost the Browns a future draft pick than he was the uncertain quarterback situation his team is facing. Farmer admitted that he let his emotions get the best of him, which led to his in-game text messaging with members of the Browns' coaching staff.
After addressing "TextGate," the hot topic for Farmer during his media session related to how the Browns planned to address the quarterback position. Only a day after his head coach, Mike Pettine, said that the team would address the starting quarterback position through the Draft or free agency, Farmer told the media that nothing is off the table, including going back to Johnny Manziel, during their search for a starting quarterback. Don't be surprised to see the Browns make a splash at the position in one way or another this offseason.
4. Cam Newton is off to a great start this offseason
When Panthers head coach Ron Rivera took to the podium, he had nothing but praise for Newton and his start to the 2015 offseason. According to Rivera, the 2010 Heisman Trophy winner has been organizing voluntary throwing sessions with his teammates, has started work toward completing his college degree, and is recovering nicely from the multitude of injuries he suffered in 2014. This is great news for the Panthers who are likely going to be locking up Newton, who has battled immaturity issues during his professional career, to a long-term extension in the near future.
5. The 49ers want to bring Frank Gore and Michael Crabtree back in 2015
Despite their ugly salary cap situation, the 49ers are doing everything they can possibly do to re-sign running back Frank Gore and wide receiver Michael Crabtree, according to new head coach Jim Tomsula. Tomsula called himself "a big Frank Gore guy," and said he "absolutely" wants Crabtree to be on San Francisco's roster in 2015. That may be easier said than done, however. As it stands now, both players stand to make substantially more money on the open market than the 49ers are going to be able to pay them to stay.