NFL: Could the Cowboys Draft Ezekiel Elliot?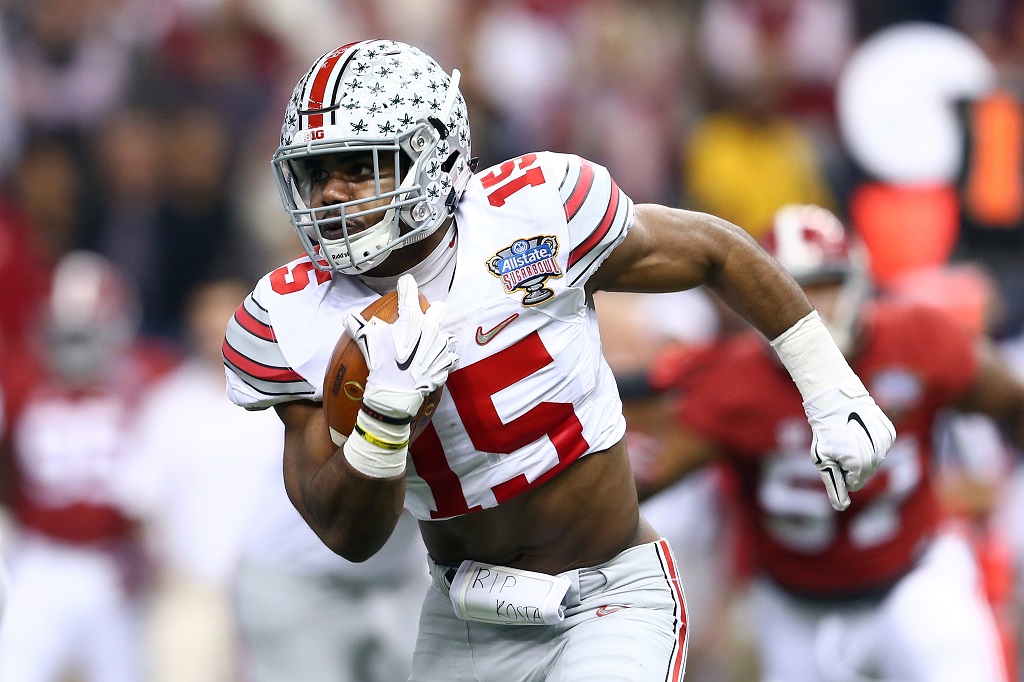 The 2016 NFL Draft will mark the first time since 2003 that the Dallas Cowboys will hold a top-five pick. They currently sit with the fourth overall selection after posting their fewest regular-season wins in nearly three decades [Update: this piece originally listed the Cowboys as having the third overall pick, instead of the fourth, and has been corrected to fix that error]. Just two games in, the season was marked by injuries with two star players, Tony Romo and Dez Bryant, suffering extensive injuries that forced them to be sidelined for long portions of the year.
More importantly, it gave their offense a significant disadvantage with a lack of stability at quarterback and running back after the loss of DeMarco Murray, who left the team in free agency, signing with the Philadelphia Eagles. The Cowboys hoped that the combination of Joseph Randle, Lance Dunbar, and last offseason addition Darren McFadden would fill the massive void left by the former two-time Pro Bowler.
Randle got the first crack at being the lead back, starting the first six games prior to suffering a strained oblique in their Week 7 matchup against the New York Giants, which forced McFadden into action as he rushed for a season-high 152 yards. Things spiraled downward for Randle as he was demoted to third-string and then waived by the Cowboys a few days later. (It was reported that he would face a four-game suspension stemming from an arrest involving the unlawful possession of marijuana. This was after police received a call concerning a domestic violence incident.)
Dunbar saw his season come to an abrupt end too, after he suffered a tear to the ACL, MCL, and patellar tendon in his left knee in the fourth game of the season. With that said, McFadden did a solid job picking up the slack with both Randle and Dunbar out of the picture, finishing the season fourth in the league with both 1,089 rushing yards and 1,417 scrimmage yards and third with 4.6 yards per carry.
McFadden also finished second in the league with five games of 100 or more rushing yards, fourth with 52 rushing first downs, and fourth with nine 20-plus-yard runs. It made him the first former Arkansas running back to record two 1,000 rushing yard seasons in the NFL. More than anything else, McFadden has already proven himself to be a huge bargain for Dallas after he signed a two-year deal that will be worth up to $5.85 million.
However, it's quite evident that the Cowboys don't believe McFadden can be the long-term answer for the franchise as they signed Alfred Morris in free agency to a reasonable two-year, $3.5 million deal. Morris is coming off the worst campaign of his brief NFL career, which saw him fail to reach 1,000 rushing yards for the first time. Prior to that, Morris had been a source of reliability in his first three years in the league with the Washington Redskins, rushing for at least 1,050 yards and seven rushing touchdowns over that span.
This included having a breakout rookie campaign, breaking several Redskins and NFL records after being selected in the sixth round of the 2012 NFL Draft. His 1,613 rushing yards broke Clinton Portis' single-season franchise rushing yard record, and his 13 rushing touchdowns surpassed Charley Taylor's record for most touchdowns scored in a rookie season.
Morris became the fourth player in NFL history to notch over 1,600 rushing yards in his rookie season, ranking third in total yardage behind Eric Dickerson and George Rogers. Although he took a major step back, rushing for just 751 yards that included splitting time with a pair of rookies in Matt Jones and Chris Thompson, Morris has proves that he can be a more-than-reliable workhorse running back in the league.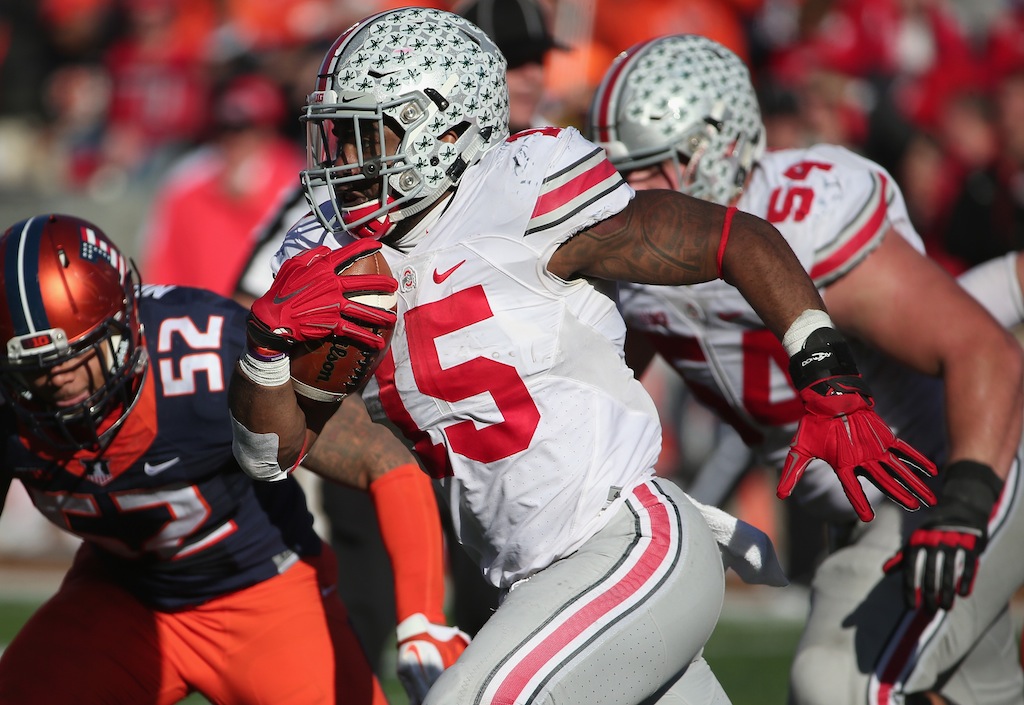 All of this puts the Cowboys in a precarious position heading into the draft; one of the rare times in franchise history when they hold a top-five pick. One of the many possibilities that could happen: The Cowboys select the top running back in the class, former Ohio State standout Ezekiel Elliott. He burst onto the scene in his sophomore season in 2014, rushing for 1,878 rushing yards and 18 rushing touchdowns.
Most of Elliott's production came in the three postseason games, where he recorded 696 rushing yards and eight touchdowns that included notching a Big Ten championship record 220 yards and two touchdowns. In the Allstate Sugar Bowl, he helped ignite a 42-35 win over No. 1-ranked Alabama with 230 rushing yards and two touchdowns, including a Sugar Bowl and Ohio State bowl game record 85-yard rush that helped him earn offensive MVP honor.
Elliott capped off his season in the National Championship game by leading the offense with an Ohio State bowl game record and a then-career-high 246 rushing yards and four touchdowns in the 42-20 victory over Oregon that once again earned him offensive MVP honors. He followed that up with a productive 2015 campaign, rushing for 1,821 yards with 23 rushing touchdown while making 27 catches for 206 receiving yards. This helped him earn the Graham-George Offensive Player of the Year and Ameche-Dayne Running Back of the Year, as well as be selected as Unanimous First Team All-Big Ten.
Throughout his entire collegiate career, he had 22 100-yard rushing games including five games with more than 200 rushing yards. With all of this in mind, it's obvious to see why Elliot enters the draft as the unquestioned top running back prospect. He's proven that he can handle a heavy workload, amassing over 600 carries over the last two years. He possesses the rare combination of size — at 5-foot-11 and 225 lbs — along with athleticism, pass-catching and blocking skills, and a strong competitive fire.
Elliott clearly has the potential to become a three­-down running back. This also makes him an appealing prospect for the Cowboys to consider, but there is a greater need at the quarterback position. The fact of the matter is that Romo will enter next season at 36 years old, having come off his second broken collarbone. There's also a likely chance that his production takes a significant dip because of his age and the wear and tear on his body over the years.
This makes it a bigger need to take a quarterback such as Carson Wentz or Jared Goff with their third overall pick so that they are prepared to hand the reigns over to a capable quarterback who can be the next face of the franchise. The NFL is a quarterback-driven league and without a reliable one it becomes an extremely difficult task to win games and get to the playoffs on a consistent basis.
Yes, there's still a high probability that the Cowboys could take Elliott with their first-round pick, but their biggest need is adding a quarterback who can take over once Romo retires or the front office decides to part ways with him. In that same regard, their running back situation should more than suffice with their current duo of Morris and McFadden sharing the workload. Elliot has potential to be one of the league's most productive running backs, but the Cowboys need to take care of their future at quarterback more.