NFL Defense: 5 Players With the Most Sacks
At his best, a relentless sack artist will force the opposition into costly turnovers, and convert defense into offense. At the bare minimum, a solid pass rush is now all but necessary, to really contend within today's pass-happy league. Each of the five greatest sack artists of all time is instantly recognized as a terror for the opposing quarterback. Imagine: it's third and long, and the home crowd is out for blood. In a panic, the quarterback takes the snap with a silent count, as the pocket immediately collapses. The entire stadium then begins to rock, with the opposing QB going down in a crumpled heap, and the star defensive end emerging away from the pile, to showcase his own sack dance.
5. Derrick Thomas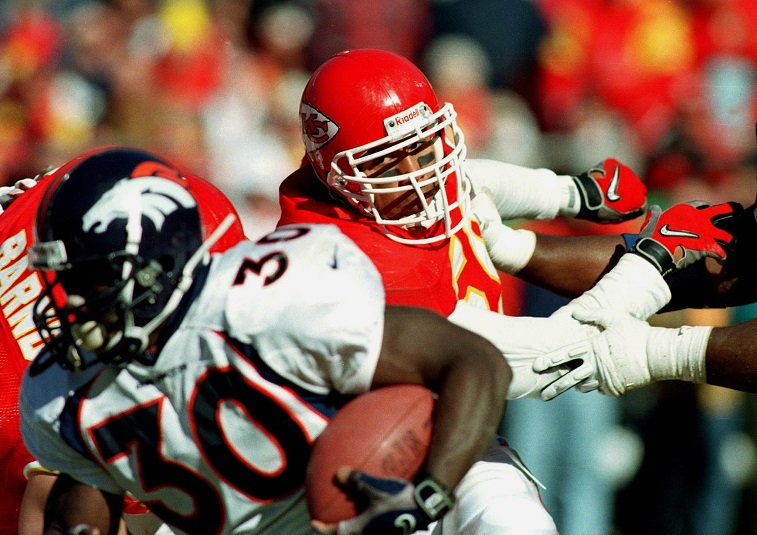 Derrick Thomas was speed defined. In passing situations, DT would actually take a sprinter's stance. At the snap of the football, Thomas would simply blow past lumbering left tackles at the line of scrimmage — A speed demon, Derrick Thomas would often loop around double teams, before chasing down a QB rollout, to come up with the sack.
In 1990, Derrick Thomas led the league in sacks with 20. That season, DT abused the Seattle Seahawks front, for a record seven sacks in one game: Seattle made the ill-fated attempt to block Thomas one-on-one and paid the price. For his career, Derrick Thomas tallied up 126.5 sacks and 41 forced fumbles.  In 2000, however, Derrick Thomas' life came to an early end, at 32, after suffering from the complications of a horrific car accident off I-435 in Kansas City.
Still, Thomas' legacy lives on. The New York Giants have won two Super Bowls versus Tom Brady and the New England Patriots, largely by rotating fresh edge rushers into the game. Last year, Jadaveon Clowney went first in the draft to Houston, before Jacksonville selected Dante Fowler as the third overall pick in the 2015 draft. General managers have been busy looking for the next Derrick Thomas, or an undersized, but speedy OLB/DE hybrid that pressures the quarterback.
4. Lawrence Taylor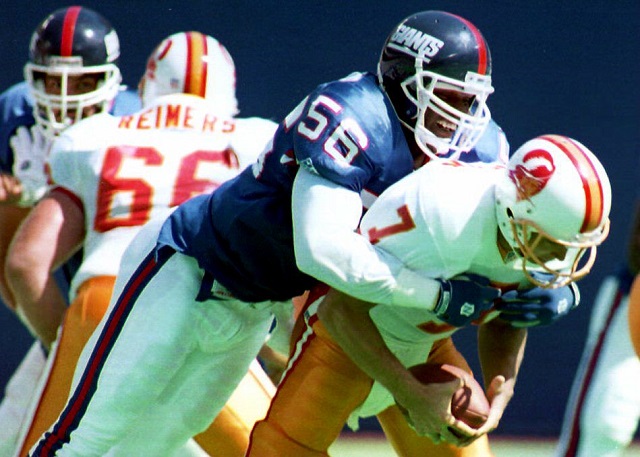 Lawrence Taylor was arguably the greatest defensive force of all time, and revolutionized the game, on both sides of the football. In working together, Taylor, Bill Parcells, and Bill Belichick created and popularized the concept of the hybrid outside linebacker / defensive end. As a physical specimen, LT was too fast for left tackles to contain, and too strong for backs and tight ends to grapple with.
Taylor had mastered the art of the strip sack, where he would explode off the weak side, blow up the quarterback, and hammer out the football, in one fell swoop. After forcing the turnover, the Giant defense would be off to the races for six, with LT throwing vicious blocks to lead the convoy. Taylor won the NFL MVP award in 1986 after racking up 20.5 sacks.
In response, offensive coordinators threw double tight end, motion, shift, and misdirection plays at the Giants, apparently to confuse Taylor. For once, offenses were then forced to read Taylor's moves and react, instead of imposing their collective will upon the game. Lawrence Taylor was the ultimate weapon that could stop the run, blitz the quarterback, or even drop back into coverage. Certainly, LT would have finished higher on this list if teeing off on the opposing QB were his sole responsibility.
3. Bruce Smith
Bruce Smith was built to rush the quarterback. Smith stood six-foot-four and weighed in at a cut 265 pounds, and could still explode off the ball, pirouette, spin, and chase down running backs. Opposing offenses would often throw out triple teams and chip blocks below the knees, in hopes of containing  No.78. The Bills would then respond by alternating Smith out of both end spots, or even moving him right over the nose, where he would anticipate the snap count and rush up field. With the tackle already on his heels, Bruce Smith would feint right, before spinning left, and making his way to demolish the quarterback. In unison, the Ralph Wilson Stadium crowd at Orchard Park would then break out into a serendade in the key of "Bruuuce."
In Buffalo, Bruce Smith racked up 171 sacks and made four trips to the Super Bowl, over the course of fifteen years, afterwards he took his game to Washington, where he posted another 29 sacks between the ages of 37 and 40 — Smith's 200 career sacks still stand as an NFL record.
2. Reggie White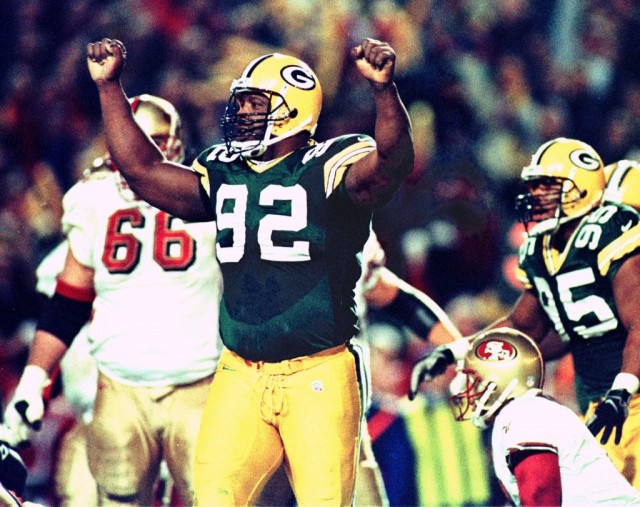 Reggie White has largely been credited with the perfection of "the hump move," designed to get after the quarterback and blow plays up behind the line of scrimmage — The Minister of Defense would quickly rise at the snap of the football, shrug his shoulders, and deliver a forearm shiver to the opposing right tackle, from there, White would quickly cut inside to take a shot at the quarterback.
White bookended a front four defensive line that also included Jerome Brown, Ron Pitts, and Clyde Simmons, in Philadelphia. With Buddy Ryan dialing up the blitz, White was often unleashed against one-on-one blocking, and led the league in sacks, in respective back-to-back 1987 and 1988 seasons, with 21 and 18. From there, Reggie White revolutionized free agency and player personnel movement, when he signed on with the Green Bay Packers in 1993.
In Green Bay, Reggie White stood in as a veteran and emotional leader, in winning his first and only Super Bowl, in 1996. The Minister of Defense then proved to be worth every penny, as he racked up three sacks against Drew Bledsoe, in Super Bowl XXXI. Two years later, in 1998, Reggie White was still dominating the league for 16 total sacks, at age 37.
At 39, Reggie White closed out his NFL career with 198 total sacks. Reggie White did play his first two years out of college in the USFL, where he recorded 23.5 sacks for the Memphis Showboats. It's impossible to prove, but we believe that White would have likely set an unbreakable sack record, had he have followed a more traditional path to the NFL.
1. Deacon Jones
Deacon Jones first coined the term "sack," and would have likely challenged Bruce Smith and Reggie White atop the career leader board had this statistic been kept by NFL box scores in his day. At least one unofficial record has pegged Jones at roughly 175 sacks over 14 years and 191 games. Even in the lack of evidence it seems clear that in his prime Jones was likely racking up more than one sack per game, for several years running.
""You take all the offensive linemen and put them in a burlap bag, and then you take a baseball bat and beat on the bag," Jones told The Los Angeles Times in 2009. "You're sacking them, you're bagging them. And that's what you're doing with a quarterback."To do so Jones often made use of his patented head slap (now illegal), where he would forcefully smack the opposing tackle in the face and helmet before going into a speed rush.
In Los Angeles, Deacon Jones anchored the Fearsome Foursome that owned the line of scrimmage, between 1961 and 1971. These Rams teammates featured Lamar Lundy, Rosey Grier, and two Hall-of-Famers, in Jones and Merlin Olsen. Also of note: future Hall of Famer Jack Youngblood backed up Deacon Jones in 1971.