NFL Divisional Round: 5 Players Set to Have Big Performances
If the wild-card round of the 2016 NFL playoffs wasn't crazy enough for you, put on your seatbelt because this weekend has the potential to feature some incredible games. Instead of breaking down each game individually, we'll take a look at which specific players are poised to have the biggest games. Whether it's due to matchups or some type of revenge factor, the five players below should fill up the box score in a big way this weekend.
1. Peyton Manning, QB, Denver Broncos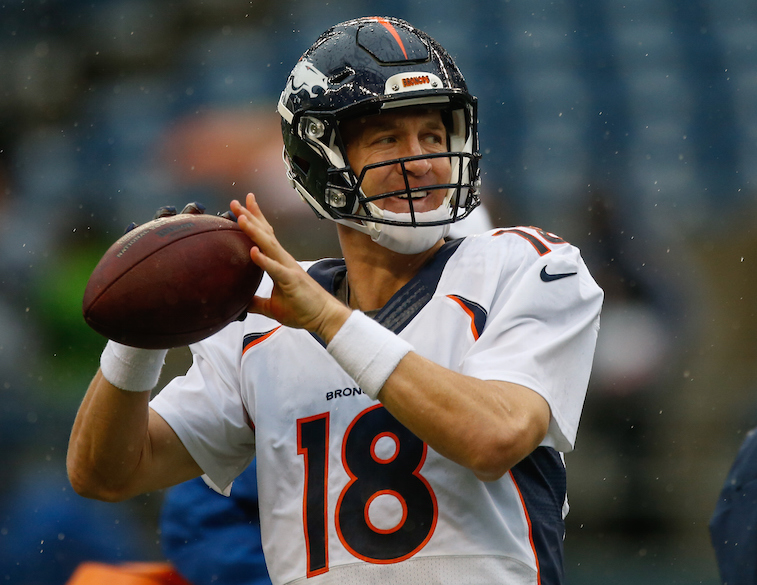 Peyton is back, he's (somewhat) healthy, and has a great matchup against the Pittsburgh Steelers. Pittsburgh's secondary hasn't been great this year, and in turn, Manning is getting a bit overlooked in this matchup. That could happen though with players like Tom Brady, Aaron Rodgers, Carson Palmer, Cam Newton, and Russell Wilson playing in the divisional round. Manning draws a Steelers team who gave up 29 total touchdowns to opposing quarterbacks through the air this season, as well as 4,664 yards.
While No. 18 hasn't had a great year, dealing with injuries throughout the season, he came in and played admirably to help lead the Broncos to a comeback against the San Diego Chargers in Week 17. In that game he completed five of nine passes for 69 yards. While the injuries are still a concern, Manning received almost two full weeks to prepare for this game after the regular season ended, so there's reason to believe he'll come out and shock many people on Sunday.
2. David Johnson, RB, Arizona Cardinals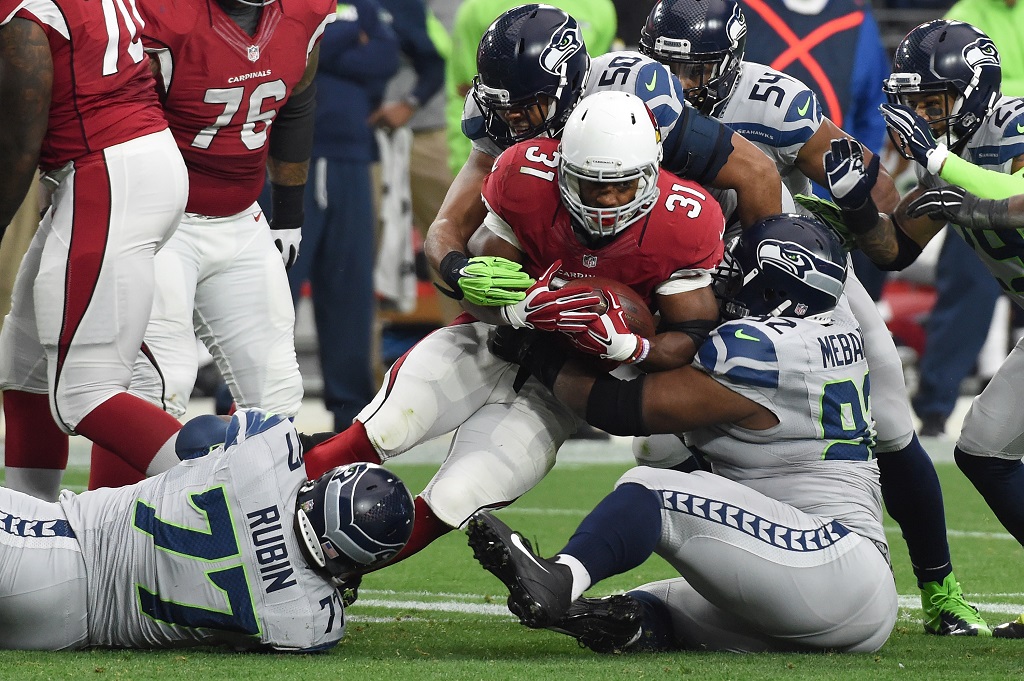 David Johnson burst onto the scene in a big way at the end of 2015. When his number was finally called (largely due to injuries at the running back position), he excelled. Johnson finished up the season rushing for 442 yards and four touchdowns over the final five games. He also caught 17 passes for 216 yards and an additional touchdown. His final 2015 numbers included 1,038 combined rushing and receiving yards and 12 total touchdowns.
Next up for Johnson? A matchup with the Packers, who allowed 1,425 yards and 12 rushing touchdowns to opposing running backs this season. On top of that, Green Bay also allowed backs to catch 68 total passes for 581 yards. Johnson's matchup is nice on paper, but his talent is what makes him an even more intriguing player to watch this weekend.
3. Fitzgerald Toussaint, RB, Pittsburgh Steelers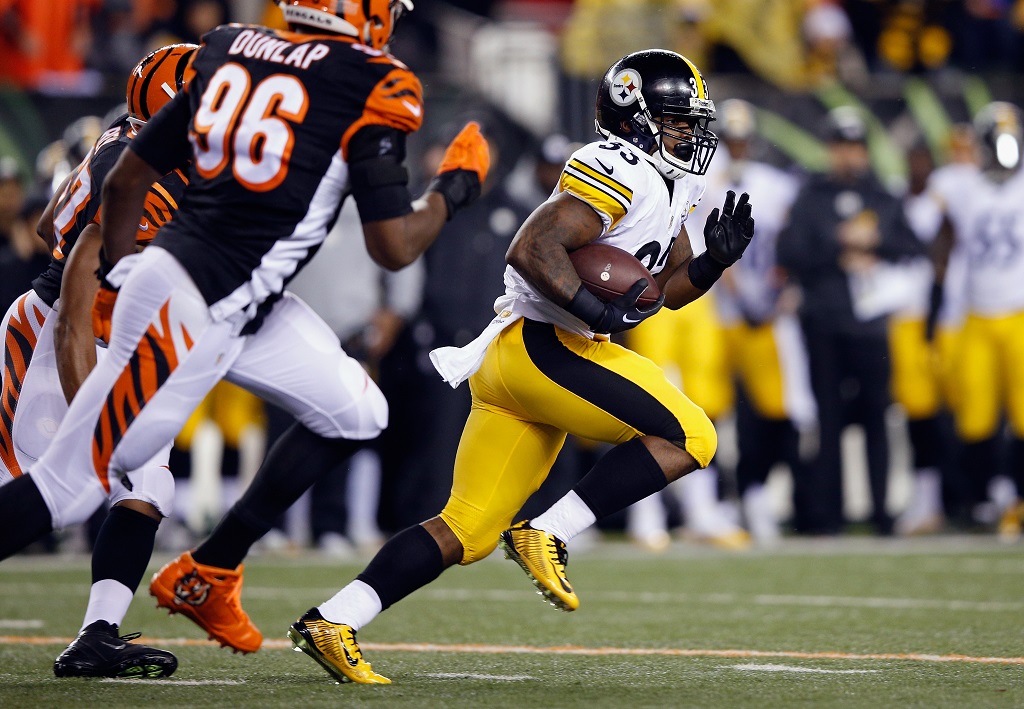 Toussaint was forced into a starting role against the Cincinnati Bengals in the wild-card round, and he performed admirably. With DeAngelo Williams injured, Toussaint had 17 carries for 58 yards. What was even more impressive, though, was his four catches for 60 yards, which makes him worth watching this weekend — in our eyes.
Jordan Todman looked like a great option in the run game for the Steelers last weekend, but with Ben Roethlisberger's status up in the air, expect Toussaint to catch plenty of passes against the Broncos. That's great news for him, as Denver has allowed 96 receptions for 727 yards and five touchdowns to running backs. Essentially, if you can catch passes out of the backfield, that may be the way to take down this Denver defense.
4. Emmanuel Sanders, WR, Denver Broncos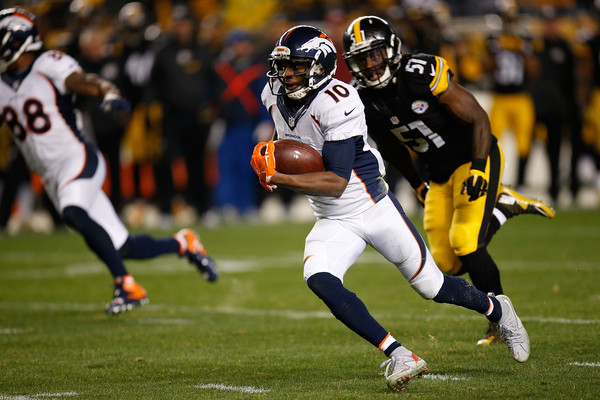 We picked on Pittsburgh's secondary a bit above, but this is where you'll see a real breakout. We were tempted to put Demaryius Thomas here, and while he should have a strong game, we believe Sanders is the one who really lights it up. We'll start by talking about Sanders, who had 76 catches for 1,135 yards and six touchdowns this year. What really stands out though, is what he's done over the past three games.
Sanders totaled 19 catches for 347 yards and two touchdowns. His best game? Well, that came against this same Steelers team, as he caught 10 passes for 181 yards and a score. Pittsburgh has allowed 3,043 yards and 19 touchdowns to opposing wide receivers, so don't be surprised if Sanders is a bit antsy to get out on the field and get this divisional matchup underway.
5. Greg Olsen, TE, Carolina Panthers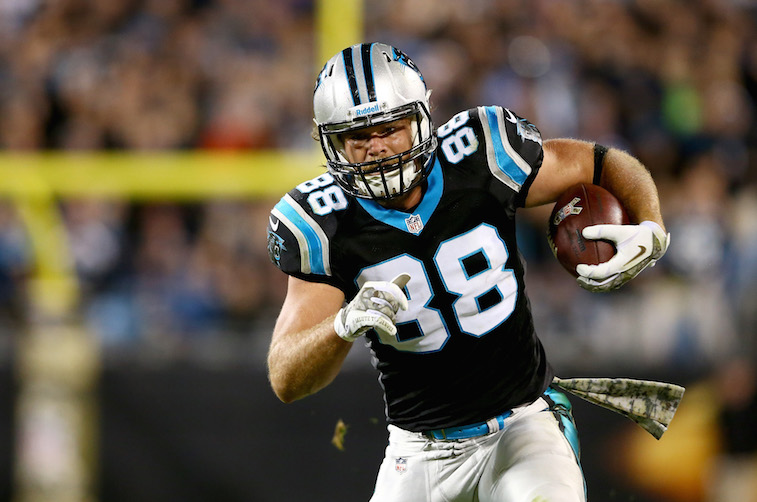 Yes, the Seattle Seahawks have one of the most talented defenses in the NFL, but their biggest issue? Covering skilled tight ends. Fortunately for the Panthers, they have one of the most talented players at the position in the entire NFL. On the year, Olsen had 77 catches for 1,104 yards and seven touchdowns. He also had a game-winning touchdown catch against this same Seattle team early on in 2015. In that first matchup against Seattle, we saw Olsen catch seven balls on 11 targets for 131 yards and the touchdown.
He's the go-to target for quarterback Cam Newton, who also may be without wide receiver Ted Ginn Jr. in this game. It wasn't just Olsen who had a nice showing against Seattle, as the Seahawks gave up 75 catches for 873 yards and eight touchdowns to opposing tight ends this season. Expect Olsen to receive plenty of targets and take full advantage of his opportunities.
Follow Jeff Smith on Twitter @JSM8ith
Statistics courtesy of Pro-Football-Reference.com.