NFL: Does Jalen Ramsey Deserve an Armored Truck Full of Money?
Jalen Ramsey, the fifth overall pick in the 2016 NFL Draft, has quickly developed into one of the best defensive backs in the NFL. Ramsey has a huge impact on the field and a huge personality off of it, routinely talking trash about quarterbacks and wide receivers on opposing teams.
That big personality was on display Wednesday morning when Jalen Ramsey arrived at training camp in hilarious fashion. He is looking for a contract extension as huge as his impact and personality, and he's not afraid to show it.
Jalen Ramsey's training camp stunt
An armored truck rolled up to the front of the Jacksonville Jaguars' practice complex adjacent to TIAA Bank Field and parked. A man dressed in all black exited the driver's seat with a megaphone. He walked around to the back of the truck and addressed the media through his megaphone.
"Y'all know what time it is! This man covers so good, he could have his own cell phone service! The man so good they're finna give him his own jail: Jalen Towers, because these receivers are on 24-hour lockdown. If you check his pocket, he's got eight Master Locks in his pocket. They're on lockdown all season. The man, the myth, Jalen Ramsey!"
The doors to the truck then swung open to a smattering of applause among the small crowd outside of TIAA Bank Field. Jalen Ramsey, surrounded by prop money bags in the truck, emerged.
"It's time to get this money, money!" Ramsey's hype man added.
It was silly. It was theatrical. And it served its purpose; to get us talking about Jalen Ramsey and the contract extension that he deserves.
His career so far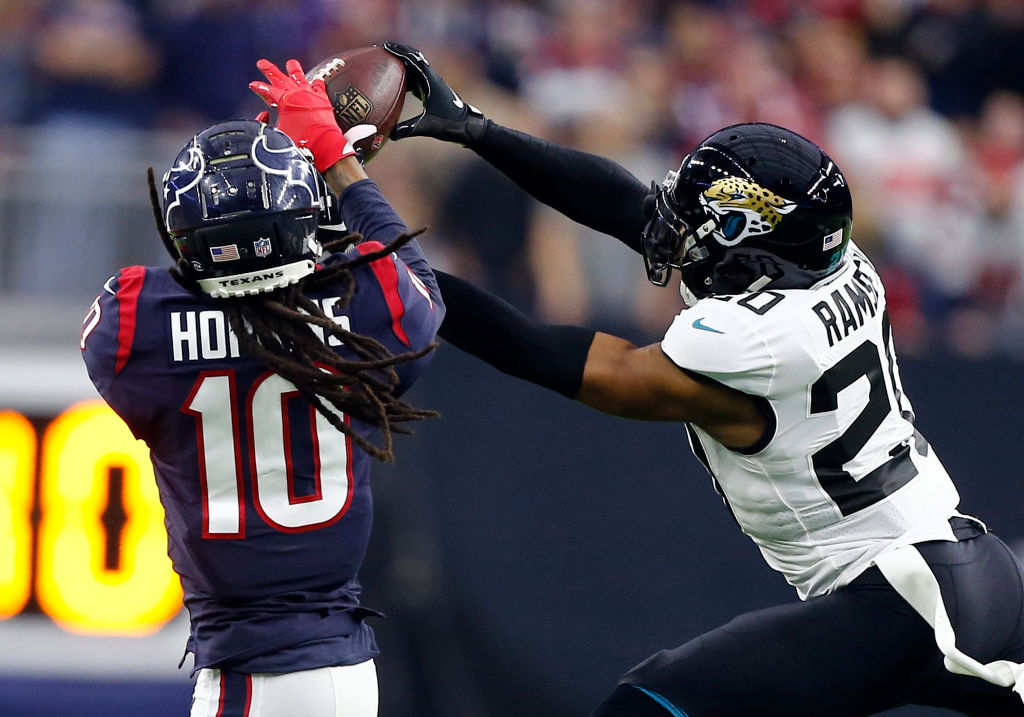 Jalen Ramsey's rookie contract was for four years, $23.3 million, with a team option for a fifth year at $13.7 million in 2020. The Jaguars recently decided to pick up this fifth-year option instead of negotiating a long-term extension with their star corner.
Ramsey won the starting job out of camp as a rookie in 2016 and never looked back. He started all 16 games in his rookie year and was an immediate impact player, collecting 65 total tackles, 14 passes defended, two interceptions, a forced fumble, and a touchdown.
In 2017, Jalen Ramsey was even better, picking up 63 total tackles and setting new career highs in passes defended (17) and interceptions (four). In his first career postseason game, he had one pass defended and a game-sealing interception in Jacksonville's 10-6 win over Buffalo. Ramsey was an All-Pro, a Pro Bowler, and his peers ranked him the 17th best player in the NFL in 2018.
Even as the Jaguars stumbled to a disappointing 5-11 season in 2018, Ramsey still managed to make the Pro Bowl with 65 total tackles, 13 passes defended and three interceptions.
Show him the money
Not everyone was a fan of Wednesday morning's stunt. I couldn't disagree more with these critics. So what if he's outspoken about his desire to earn a better contract? So what if he is showing some personality? What matters is that he is showing up to work.
This isn't a knock on Melvin Gordon, Yann Ngakoue, or anyone else holding out for a better contract. They have the right to do so if they think that is what is best for their careers.
But Ramsey, who is clearly out-performing his current contract, is still coming to play. After being told by the team that he wasn't being offered a long-term extension, Ramsey has taken it in stride. "At the end of the day, it's not the end of the world." Ramsey told reporters, "I'm tremendously blessed. I'm so blessed. I'm not down on it or anything like that at all, but that is the circumstance. That is what I've been told."
And he doubled-down on his commitment to the team and the community, too: "As long as I'm a part of this organization, as long as I'm a part of Duval County, I'm going to give the city and the players all I've got, and I think y'all know that. I've fought through injuries. I've fought through everything, haven't missed a game."
A man who talks the talk and walks the walk? If I were in the Jacksonville Jaguars front office, I'd see to it that the next armored truck Jalen Ramsey sees is filled with real money bags this time.