NFL Draft 2016: 5 Players Who Will Make an Immediate Impact
With the 2016 NFL Draft rapidly approaching and the NFL Scouting Combine now in the books, the question becomes which players are ready to make an instant impact at the next level? The draft is loaded with playmakers, probably more so on the defensive side of the ball, but regardless, there are plenty of players ready to make some noise for their potential teams.
Let's take a look at the five players who are poised to make an immediate impact, wherever they wind up playing in the 2016 season and beyond. We'll kick things off with the man who most believe is the top-rated running back.
1. Ezekiel Elliott, RB, Ohio State
The rumors are heating up that Ezekiel Elliott could land with the Dallas Cowboys at the No. 4 pick. It would make a ton of sense for him to play for Dallas, and in all honesty, it may just be a dream scenario. Regardless of where Elliott winds up playing, he will make an impact.
After seeing Todd Gurley go No. 10 to the St. Louis Rams last season, don't be surprised to see a team jump at the opportunity to find a running back who can pack the same type of punch. Elliott's one of the most well-rounded players in the draft, and his work ethic seems to be second to none. Elliott will excel right out of the gate for whichever team he goes to.
2. Laremy Tunsil, OT, Ole Miss
This pick seems pretty simple and straightforward for the Tennessee Titans. The rumors are floating around that they could trade the pick. If the price is right, they should probably make the trade, but if they decide not to, then Laremy Tunsil is a home-run selection at No. 1.
The reason? Well, after drafting their franchise quarterback last season in Marcus Mariota, the selection of Tunsil in the first round would give them someone to protect his blind side. Last season, Mariota was sacked 38 times (tied for ninth-most), while only playing in 12 games. It's obvious that Tennessee needs to get people in front of him who can keep him from taking hits.
3. Jalen Ramsey, S, Florida State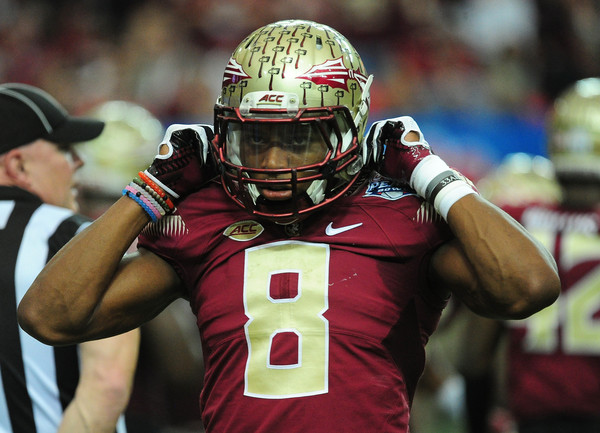 Jalen Ramsey is simply on another level compared to the other safeties and cornerbacks in the 2016 NFL Draft. During his three seasons with the Seminoles, he totaled 181 combined tackles, 22 passes defensed, 15.5 tackles for loss, five sacks, four forced fumbles, and three interceptions.
The man can do it all and was pretty exceptional at the 2016 Scouting Combine as well. If he wasn't locked in as a top-five pick before, he absolutely is at this point. Ramsey will be the type of player who can step in and immediately make an impact for a defense at the NFL level.
4. Myles Jack, LB, UCLA
Myles Jack was a stud for the Bruins, but unfortunately he suffered an injury that allowed him to only play in three games as a junior. Regardless, he still chose to enter the 2016 NFL Draft, and the early reports seem to be that this was a great decision.
Jack is a name in the mix as a top-five pick, which makes sense after totaling 163 combined tackles through his first two seasons, with 15 tackles for loss, 18 passes defensed, and three interceptions. It'd be pretty shocking to not see Jack go in the top five, but if he doesn't, then a team in the 6-10 range will be pretty happy after the draft's first day winds down.
5. Noah Spence, DE, Eastern Kentucky
After being banned by the Big Ten when he failed multiple drug tests, Noah Spence moved from Ohio State to Eastern Kentucky for his final year in college. Once at Eastern Kentucky, he didn't fail to impress. Spence totaled 63 tackles, 22.5 tackles for loss, 11.5 sacks, and three forced fumbles.
Spence could have stayed for one more season, but after such a stellar showing as a junior, there was little reason for him to do so. He'll almost certainly be a top-10 pick, and whoever winds up getting him will receive a pass rusher who'll get into opponents' backfields from day one.
Follow Jeff Smith on Twitter @JSM8ith
Statistics courtesy of ESPN.com.