NFL Draft 2016: Post-Super Bowl Mock Draft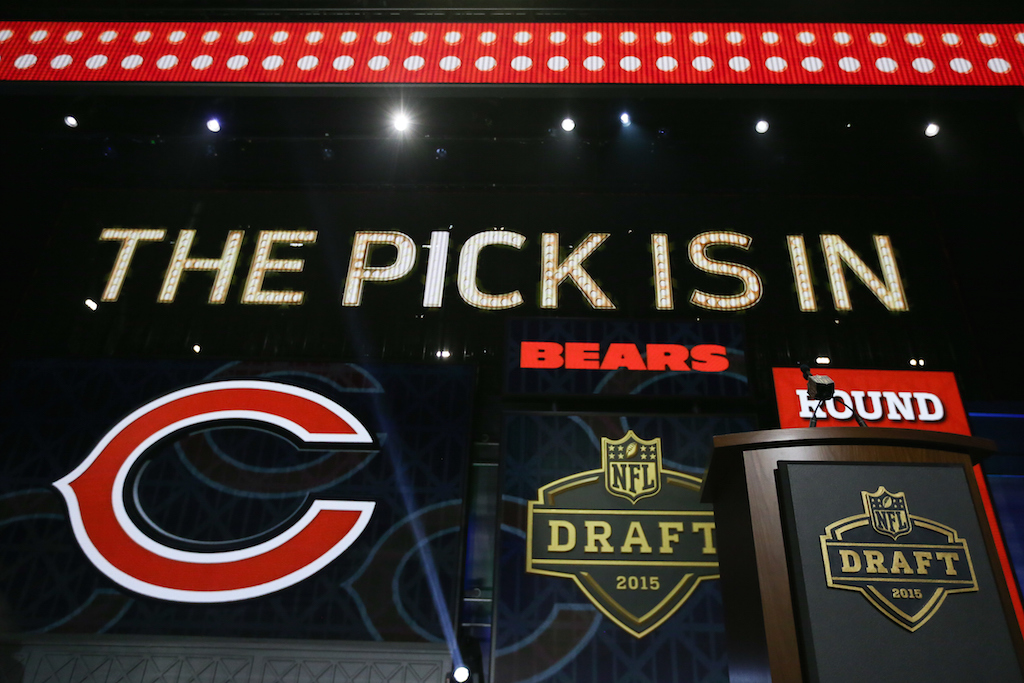 It didn't hit us until after we watched the confetti fall on the heads of the Denver Broncos players following their Super Bowl victory that we were now faced with an undeniable truth: The 2015 NFL season is officially over. And for just one second, we were literally (and a little melodramatically) as sad as all those poor souls who choked on the stage of Super Bowls past. But then we quickly cheered up because we remembered that we can now turn all our attention to another key event: the 2016 NFL draft.
Now that the Lombardi Trophy has been lifted into the air, the order for this year's draft is officially complete. As a result, we can throw out our previous mock draft and begin with something fresh and current. Of course, as we continue our thorough examination of this year's potential draftees, our predictions are subject to change. Here's a look at our (Post-Super Bowl) 2016 NFL mock draft.
1. Tennessee Titans: Laremy Tunsil, OT, Ole Miss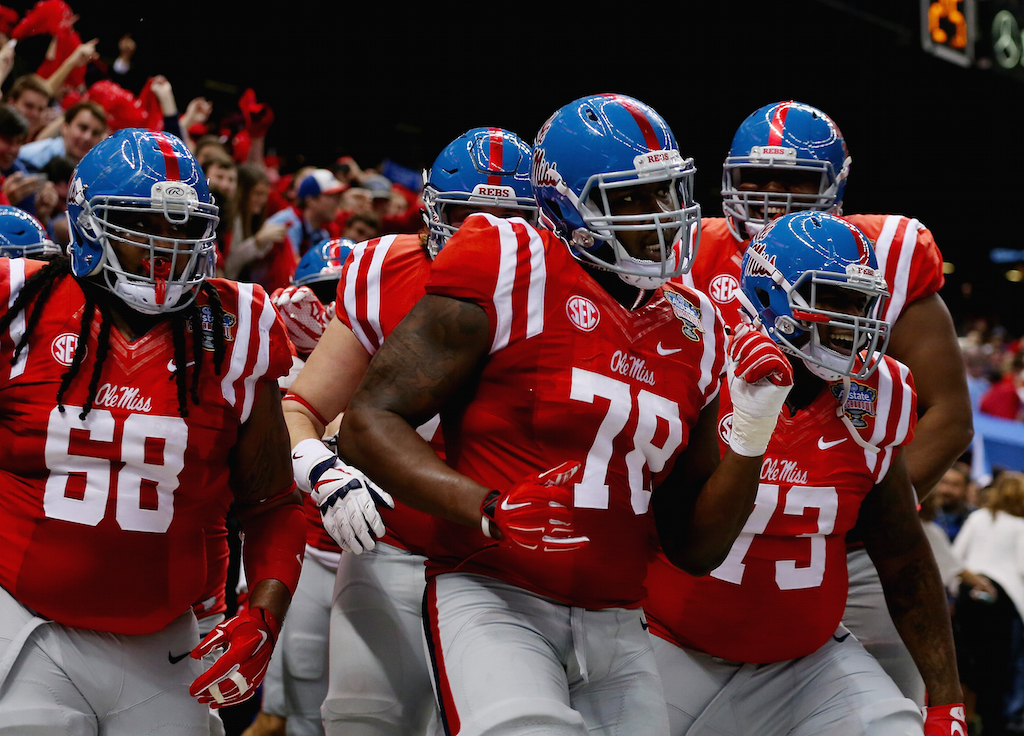 The Tennessee Titans could go in a few different directions with their No. 1 overall pick. However, we continue to believe — just as we did following the divisional round of the playoffs — that solidifying the O-line makes the most amount of success. If Marcus Mariota is going to be the Titans' franchise quarterback (and we have every reason to believe that he is), then the front office better step up and use this selection to protect their most important player. And that means drafting Ole Miss tackle Laremy Tunsil.
With his massive 6-foot-5, 305-pound frame, the junior standout is big, strong, and — per draft expert Mel Kiper's evaluation up to this point (subscription required) — the top pass-blocker in the draft. It's time for the Titans to protect Mariota's blind side. As far as the 2016 draft is concerned, no one will do that better than Laremy Tunsil.
2. Cleveland Browns: Carson Wentz, QB, North Dakota State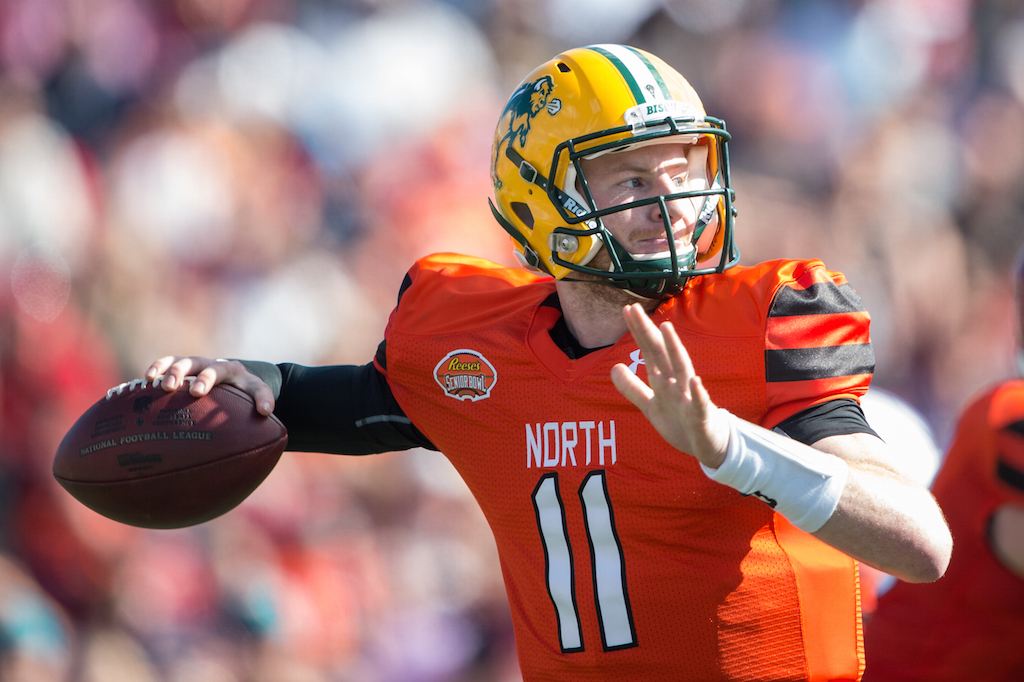 In our earlier mock draft, we had the Cleveland Browns selecting Cal quarterback Jared Goff. We still believe the Browns need to select a QB with their No. 2 overall pick, however, now we're leaning toward a different gunslinger: North Dakota State's Carson Wentz. Not only does Wentz have the build of a prototypical quarterback (he's 6-foot-6, 235 pounds), but after lighting up the competition at the Senior Bowl, he also demonstrates that he has first-round talent despite playing college ball at an FCS school.
Trust us, the question of whether or not Wentz could handle himself against the country's top players was easily the biggest concern surrounding the quarterback. The Cleveland Browns forced us to start taking them seriously after they hired Hue Jackson to be their new head coach. And when discussing the upcoming draft, Jackson said the following: "If there is a QB at No. 2 that is a best fit for our team, we need to go get him. It's my opinion we need a QB." Well, in our opinion, that quarterback is Carson Wentz.
3. San Diego Chargers: Joey Bosa, DE, Ohio State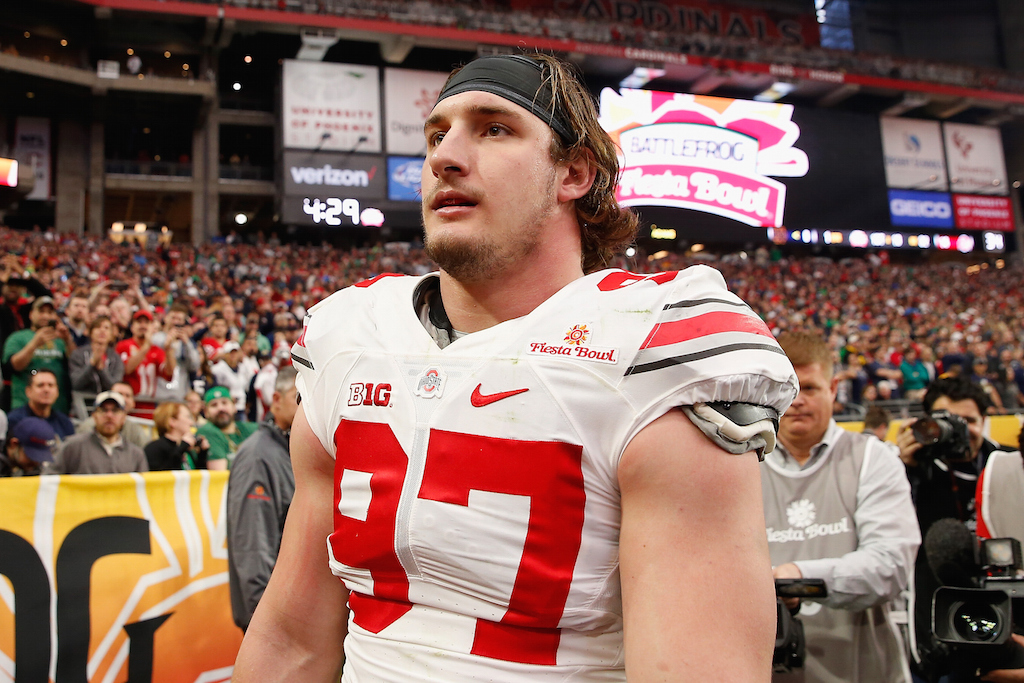 Ohio State defensive end Joey Bosa may not be on the board when the San Diego Chargers pick at No. 3. However, if he is, they should take him immediately. Bosa is No. 1 on Mel Kiper's Big Board (subscription required) and we don't expect that to change anytime soon. The reason: He's a monster.
At 6-foot-6, 275 pounds, this two-time consensus All-American is powerful, versatile, and practically impossible to block one-on-one. Bosa is a dominant pass rusher and an undeniable game-changer. This is one who the Chargers shouldn't even have to think about.
4. Dallas Cowboys: Myles Jack, LB, UCLA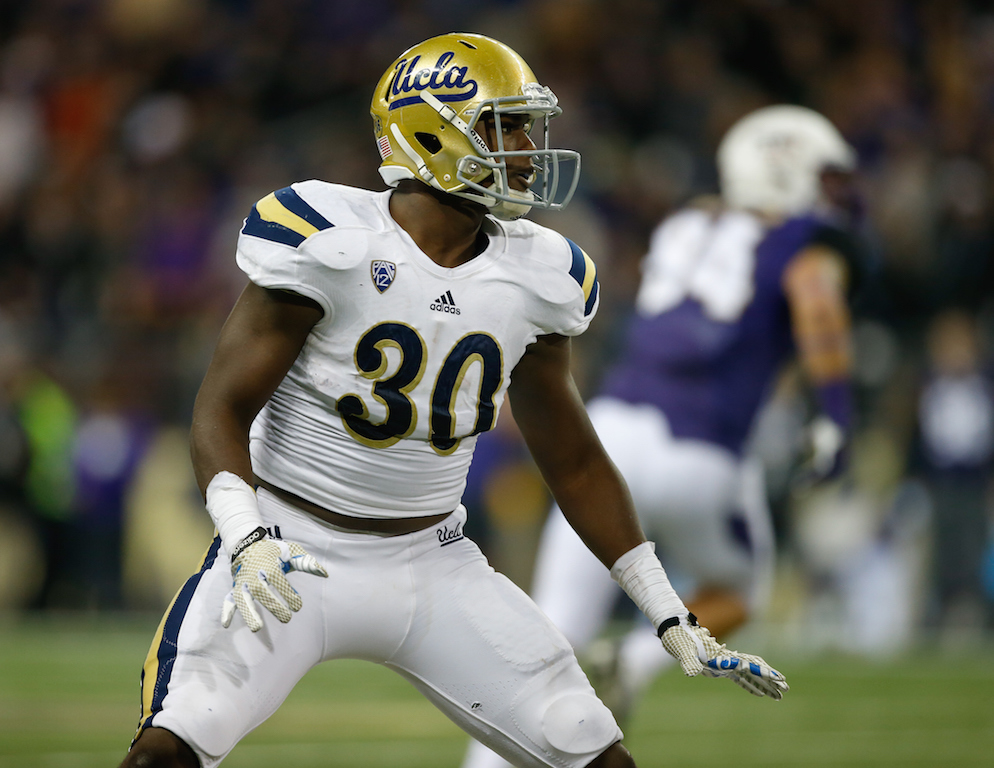 Another team that could go in multiple directions are the Dallas Cowboys. And while we took a look at the club's biggest needs and originally decided that upgrading the secondary was the best play, we now believe that increasing the talent at the linebacker position may be the better move. Which is why we think the Cowboy's should take UCLA's Myles Jack.
Despite suffering a season-ending knee injury back in September, Jack is versatile, athletic, and explosive. He is tough, mobile, and has the speed to cover a lot of ground. Also, he is preparing to showcase the goods at the upcoming NFL combine. If he performs like we expect him to, there's no reason why the Cowboys should let this former UCLA stud fall past them at No. 4.
5. Jacksonville Jaguars: Jalen Ramsey, S/CB, Florida State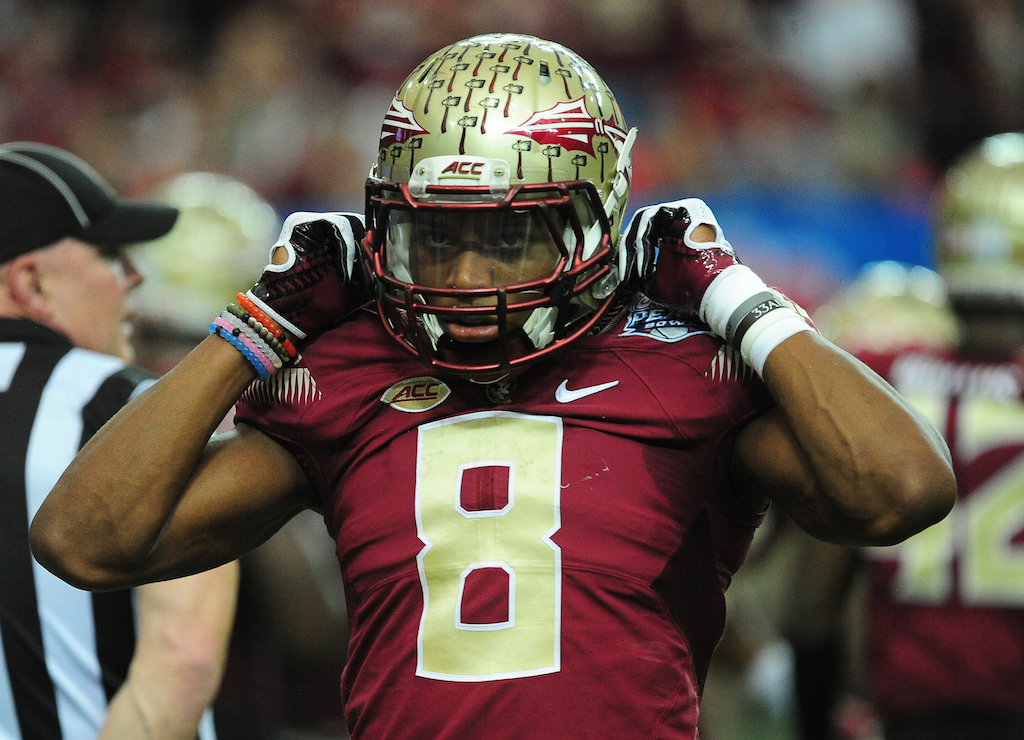 Like we said before, in 2015, the Jacksonville Jaguars were last in the league in points allowed (448 points and 28.0/g) and 29th in passing yards (4,291). Looking at these figures, it wouldn't be surprising to see the Jags target a pass rusher. However, that was before Florida State's Jalen Ramsey fell into their laps.
Ramsey is an unrivaled athletic specimen. This multipurpose DB can shutdown receivers as a cornerback or cover in space as a safety. At 6-foot-1, 202 pounds, he's rangy, instinctive, and knows how to bring the wood. This is exactly the kind of player who Gus Bradley and the Jacksonville Jaguars need.
A review of the rest
6. Baltimore Ravens: Ronnie Stanley, OT, Notre Dame
7. San Francisco 49ers: Jared Goff, QB, Cal
8. Miami Dolphins: Mackensie Alexander, CB, Clemson
9. Tampa Bay Buccaneers: DeForest Buckner, DE, Oregon Ducks
10. New York Giants: Noah Spence, DE, Eastern Kentucky
11. Chicago Bears: Reggie Ragland, LB, Alabama
12. New Orleans Saints: A'Shawn Robinson, DL, Alabama
13. Philadelphia Eagles: Paxton Lynch, QB, Memphis
14. Oakland Raiders: Vernon Hargreaves, CB, Florida
15. Los Angeles Rams: Laquon Treadwell, WR, Ole Miss
16. Detroit Lions: Sheldon Rankins, DT, Louisville
17. Atlanta Falcons: Jaylon Smith, LB, Notre Dame
18. Indianapolis Colts: Shaq Lawson, DE, Clemson
19. Buffalo Bills: Robert Nkemdiche, DT, Ole Miss
20. New York Jets: Taylor Decker, OT, Ohio State
21. Washington Redskins: Jarran Reed, DL, Alabama
22. Houston Texans: Ezekiel Elliott, RB, Ohio State
23. Minnesota Vikings: Jack Conklin, OT, Michigan State
24. Cincinnati Bengals: Braxton Miller, WR, Ohio State
25. Pittsburgh Steelers: Eli Apple, CB, Ohio State
26. Seattle Seahawks: Kevin Dodd, DE, Clemson
27. Green Bay Packers: Vernon Butler, DT, Louisiana Tech Bulldogs
28. Kansas City Chiefs: Kenny Clark, DT, UCLA
29. Arizona Cardinals: Jonathan Bullard, DE, Florida
30. Carolina Panthers: Vonn Bell, S, Ohio State Buckeyes
31. Denver Broncos: Jason Spriggs, OT, Indiana
Statistics courtesy of Sports-Reference.com, NFL.com, WalterFootball.com, and ESPN.go.com.