2016 NFL Mock Draft: Laremy Tunsil at No. 1?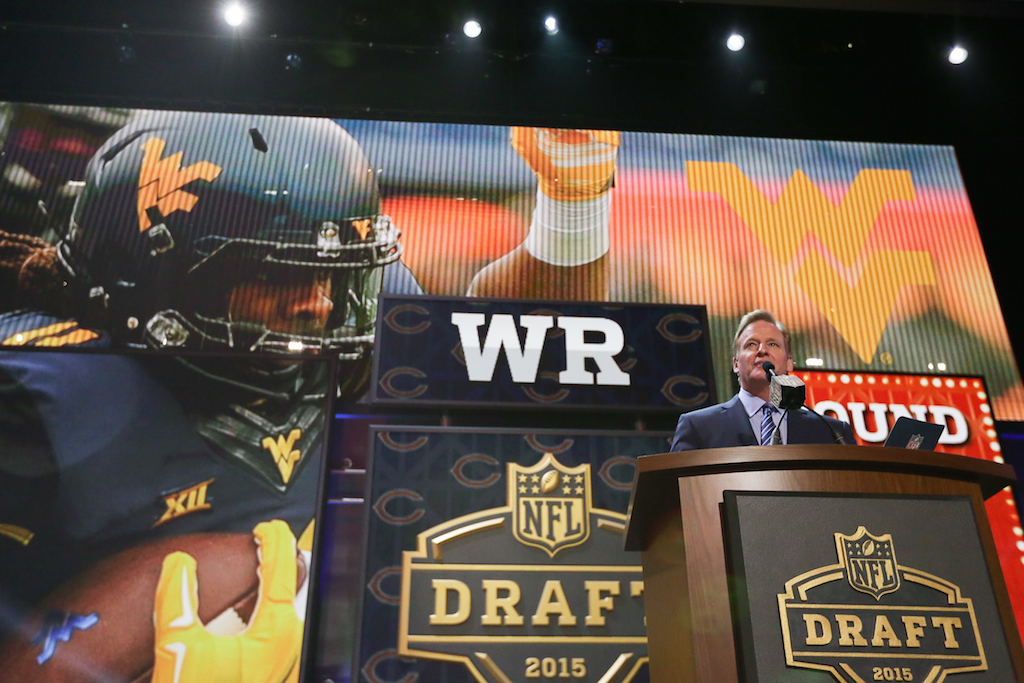 The NFL draft process is long and arduous. As the crop of talented players prepare for the day that will ultimately change their lives, we spend all our time analyzing and evaluating every minute detail along the way.
But our job of looking at the numbers, watching the tape, and crafting mock drafts is nothing compared to the steps taken by potential draftees, who must endure everything from performing under the microscope at the NFL Scouting Combine to impressing organizations at their scheduled pro days. And yet, there is one piece of the puzzle that these future NFL players cannot control; something that will better determine the needs of teams around the league. That, of course, is free agency.
There is still plenty of time between now and the draft (which will be held April 28-30), and all of the tests, measurements, interviews, and drills that took place at this year's combine will definitely help franchises get a better feel for the potential of this year's incoming class, there's still a chance that organizations will look to fill potential roster holes with some already established NFL talent. With that in mind, here's a look at our 2016 NFL mock draft.
1. Tennessee Titans: Laremy Tunsil, OT, Ole Miss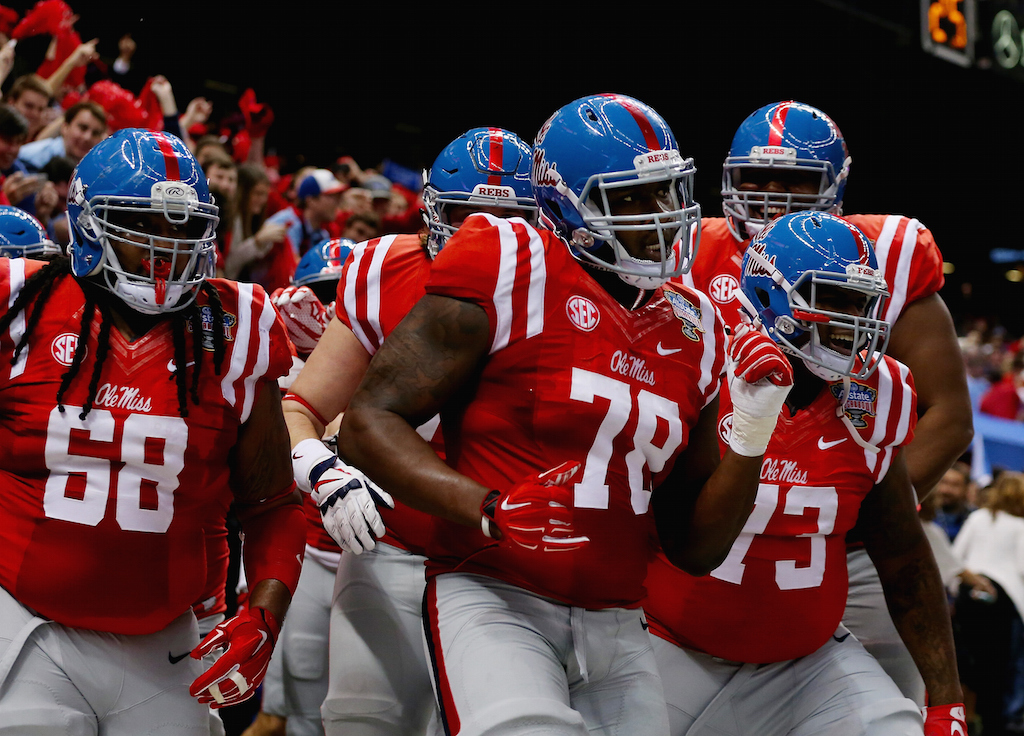 The Tennessee Titans should not overthink this pick. They already have their franchise quarterback in Marcus Mariota. Now it's time to protect him. Therefore, just as we said after the Super Bowl, with the No. 1 overall pick in the 2016 draft, the Titans need to step up and solidify their offensive line. And that means selecting Ole Miss tackle Laremy Tunsil.
With his massive 6-foot-5, 310-pound frame, the junior standout is big, strong, fluid, and exceptionally powerful. On top of that, per those in attendance, Tunsil absolutely crushed it at the NFL combine. It's time for Tennessee's front office to keep Mariota's blind side safe. As a result, the pick is simple: Laremy Tunsil.
2. Cleveland Browns: Carson Wentz, QB, North Dakota State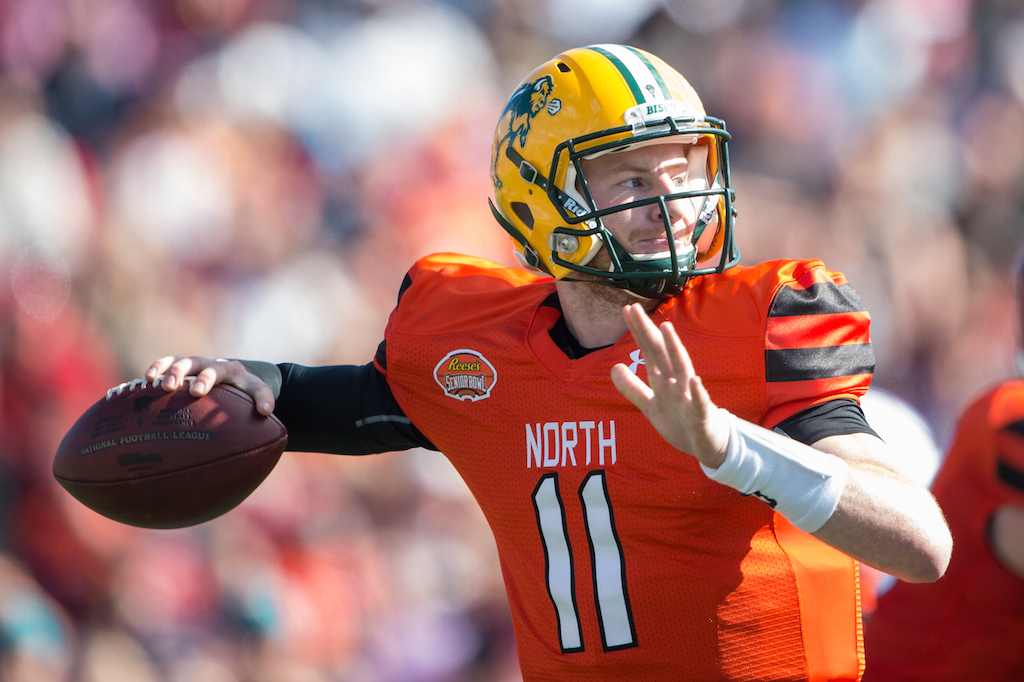 In our previous mock draft, we had the Cleveland Browns selecting North Dakota State quarterback Carson Wentz with their No. 2 overall pick. After another standout performance, this time on center stage at the NFL Combine where most experts agree he was the strongest quarterback in Indianapolis, we feel even stronger about our projection.
If you listen to Cleveland's new head coach, Hue Jackson, the team desperately needs to find a franchise quarterback — and even with RGIII suiting up for Cleveland next season, his injury history and general career trajectory hardly inspire confidence. Wentz, on the other hand, has the potential to be The Guy. Not only does he look the part (he's 6-foot-5, 237 pounds), he also has the arm, the athleticism (he ran the 40-yard dash in 4.77), and the mental makeup to withstand the pressures of playing at the highest level. For Wentz, all roads appear to lead to Cleveland. Time will tell if that's a good thing or not.
3. San Diego Chargers: Jalen Ramsey, S/CB, Florida State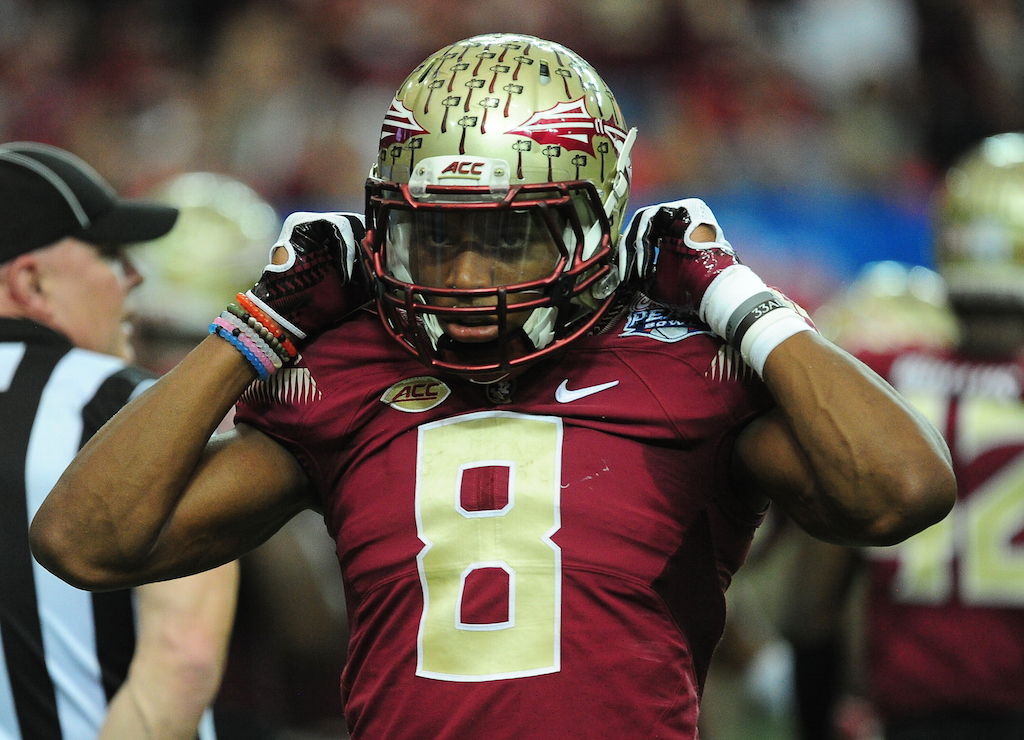 Originally, we had the San Diego Chargers selecting Ohio State's Joey Bosa with the third overall pick. That was before Florida State defensive back Jalen Ramsey went into the combine and blew away the competition. We see things a bit differently now. And we're sure we're not the only ones.
Aside from his incredible stature (6-foot-1, 209 pounds), the All-American displayed the kind of athleticism that you don't usually see from a player his size. Ramsey ran a 4.41-second 40-yard dash, had a 41.5-inch vertical jump, and finished with an 11-foot-3 broad jump. He was quick, instinctive, and as skilled as advertised. If Ramsey is still on the board when the Chargers pick at No. 3, he may be too talented to pass up.
4. Dallas Cowboys: Jared Goff, QB, Cal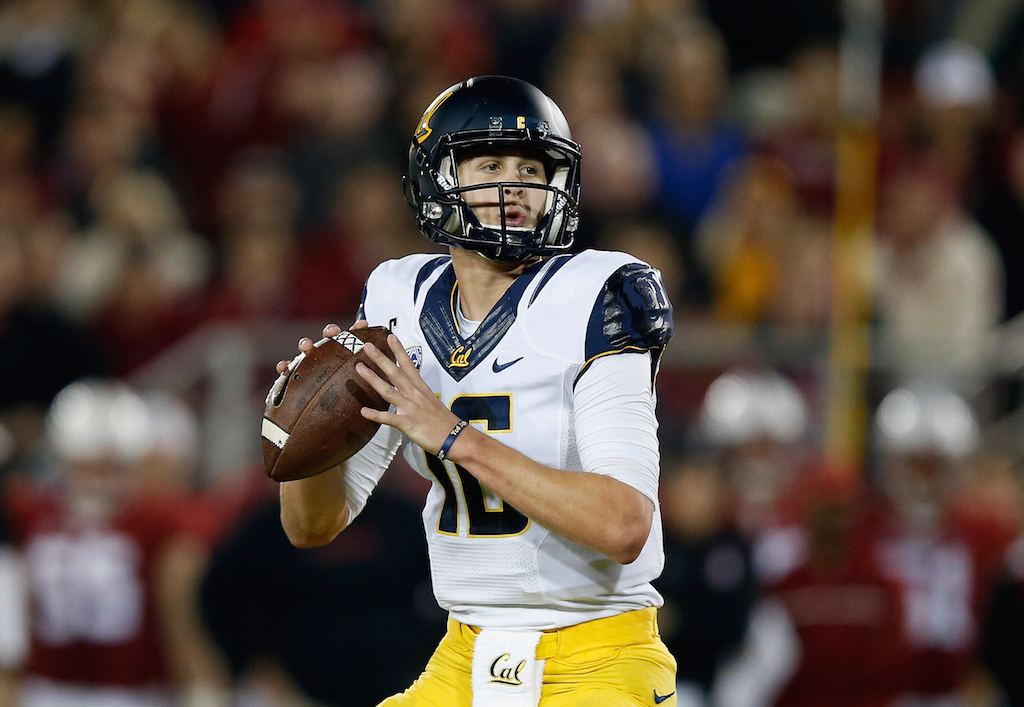 The Dallas Cowboys may have one of the best quarterbacks in the NFL in Tony Romo, but at 35 years old, the four-time Pro Bowler is not getting any younger. If Jerry Jones and company were wise, they'd use this golden opportunity to select their quarterback of the future. And there is no one more golden at this point than Cal's Jared Goff.
While the young quarterback spent much of his time at the combine trying to convince everyone that "hand size" doesn't matter, once he took the field for drills, he let his actions do the talking. With his smooth footwork, effortless release, and pinpoint accuracy, Goff — who threw for 4,714 yards and 43 touchdowns in 2015 — was easily the most polished gunslinger of the bunch. In this former Golden Bear, Dallas may have very well found its next star.
5. Jacksonville Jaguars: Joey Bosa, DE, Ohio State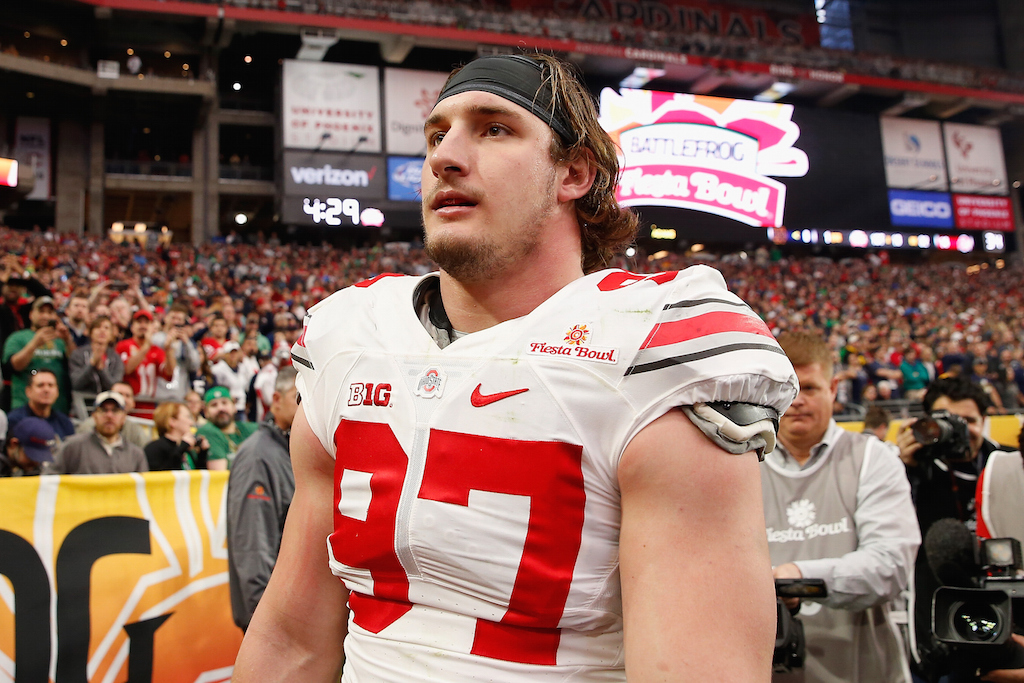 We cannot stress enough that, in 2015, the Jacksonville Jaguars were last in the league in points allowed (448 points, 28.0/g) and 29th in passing yards (4,291). They need to find someone who can get to the quarterback. And in this mock draft, the Jags get their pass rusher in Ohio State's Joey Bosa.
While Bosa's combine performance may not have blown folks away, it shouldn't change the fact that he is one of the best prospects in the draft. This two-time consensus All-American is strong, versatile, powerful, and almost impossible to block one-on-one. He is a dominant pass rusher with game-changing talent. If the Jaguars get the opportunity to select Bosa at No. 5, they shouldn't hesitate.
A review of the rest
*New England Patriots forfeit pick because of Deflategate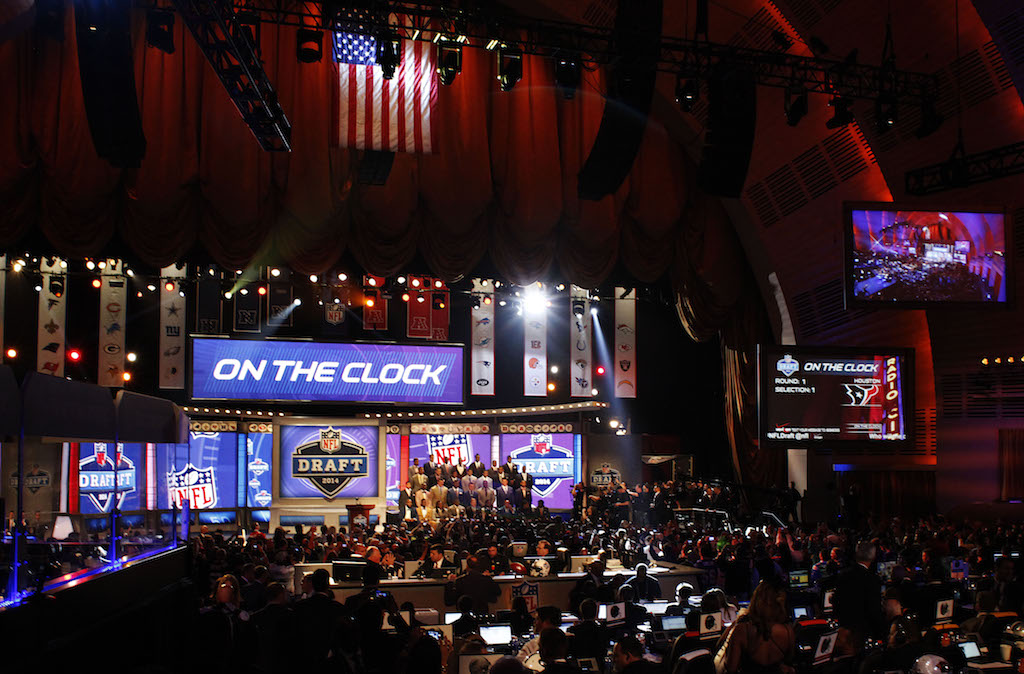 6. Baltimore Ravens: Ronnie Stanley, OT, Notre Dame
7. San Francisco 49ers: Myles Jack, LB, UCLA
8. Philadelphia Eagles: Vernon Hargreaves, CB, Florida
9. Tampa Bay Buccaneers: DeForest Buckner, DE, Oregon Ducks
10. New York Giants: Noah Spence, DE, Eastern Kentucky
11. Chicago Bears: Emmanuel Ogbah, DE, Oklahoma State
12. New Orleans Saints: A'Shawn Robinson, DL, Alabama
13. Miami Dolphins: Ezekiel Elliott, RB, Ohio State
14. Oakland Raiders: Mackensie Alexander, CB, Clemson
15. Los Angeles Rams: Laquon Treadwell, WR, Ole Miss
16. Detroit Lions: Sheldon Rankins, DT, Louisville
17. Atlanta Falcons: Darron Lee, LB, Ohio State
18. Indianapolis Colts: Shaq Lawson, DE, Clemson
19. Buffalo Bills: Robert Nkemdiche, DT, Ole Miss
20. New York Jets: Leonard Floyd, OLB, Georgia
21. Washington Redskins: Reggie Ragland, LB, Alabama
22. Houston Texans: Josh Doctson, WR, TCU
23. Minnesota Vikings: Jack Conklin, OT, Michigan State
24. Cincinnati Bengals: Corey Coleman, WR, Baylor
25. Pittsburgh Steelers: Eli Apple, CB, Ohio State
26. Seattle Seahawks: Kevin Dodd, DE, Clemson
27. Green Bay Packers: Jarran Reed, DL, Alabama
28. Kansas City Chiefs: Kenny Clark, DT, UCLA
29. Arizona Cardinals:Vernon Butler, DT, Louisiana Tech
30. Carolina Panthers: Taylor Decker, OT, Ohio State
31. Denver Broncos: Jason Spriggs, OT, Indiana
Statistics courtesy of Sports-Reference.com, NFL.com, WalterFootball.com, and ESPN.go.com.