NFL Draft 2016: Post-Divisional Round Mock Draft
For some, this past weekend's divisional round of the 2016 NFL playoffs was about as entertaining as they could've hoped for. Unfortunately, the same cannot be said for everyone. As great as it feels when your favorite team makes the postseason, it hurts just as much when they get eliminated. And unlike the regular season, there is no "next week." A loss signifies the end of the road; the all-too-painful reminder that this year is "not your year." Of course, it also forces you to focus on the next crucial stage of the NFL process: the draft.
While the conclusion of each round of the playoffs brings us one step closer to the season's champion lifting the Lombardi Trophy, it also brings us one step closer toward having a fully fleshed out draft order. And since we're all about trying to project where the nation's top prospects are going to end up when they get drafted, this is just another helpful piece of the puzzle. Therefore, with the latest set of playoff games behind us, here's a look at our post-divisional round NFL Mock Draft 2016.
1. Tennessee Titans: Laremy Tunsil, OT, Ole Miss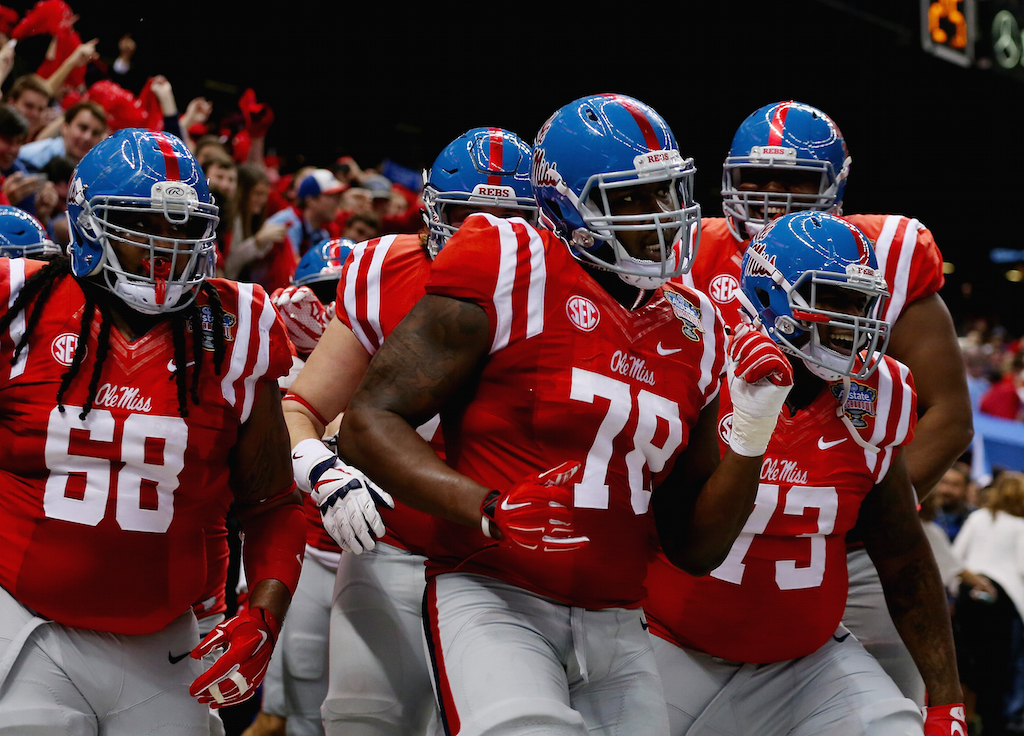 The Tennessee Titans could go a few different directions with their No. 1 overall pick. However, after watching Marcus Mariota prove he has the goods to be a legitimate franchise quarterback, we feel the Titans need to do everything they can to make sure he's protected, which includes shoring up their offensive line and selecting Ole Miss tackle Laremy Tunsil.
At 6-foot-5, 305 pounds, the junior standout is big, strong, and — per draft expert Mel Kiper's evaluation up to this point (subscription required) — the top pass-blocker in the draft. We reserve the right to change our opinion on this one. However, for now, Tunsil sits at the top of our board.
2. Cleveland Browns: Jared Goff, QB, Cal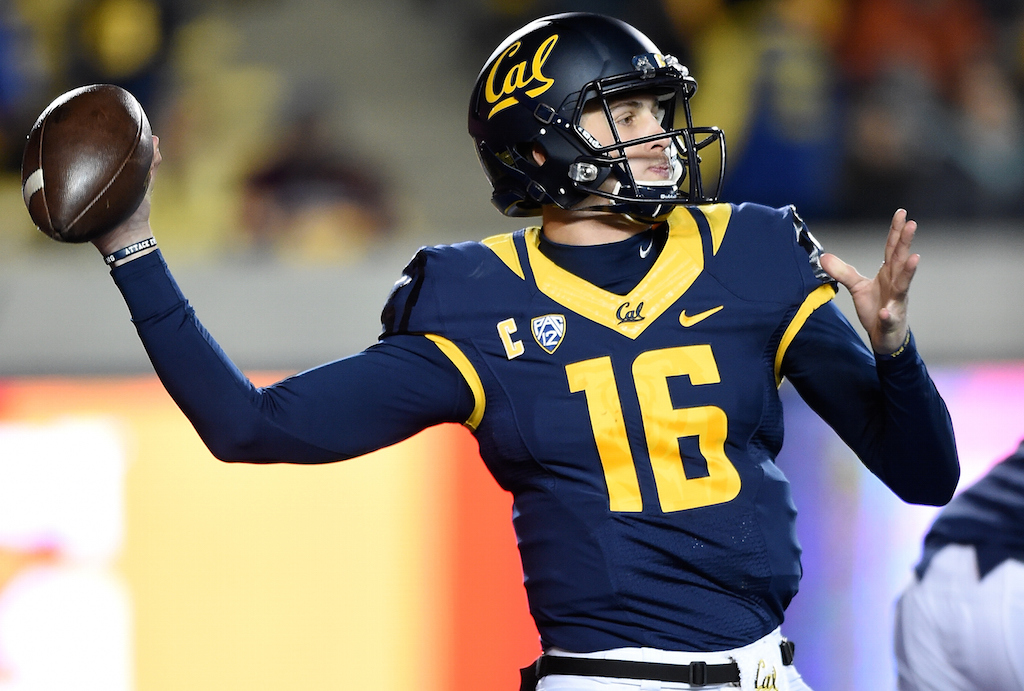 By recently hiring Hue Jackson to be the team's next head coach, the Cleveland Browns took a step in the right direction; one that should help folks take them seriously. If the Browns wish to keep the momentum going, they'd be wise to use the second overall pick to select Cal quarterback Jared Goff. When discussing the upcoming draft, the Browns new coach had the following to say: "If there is a QB at No. 2 that is a best fit for our team, we need to go get him. It's my opinion we need a QB."
The 6-f00t-4, 215-pound junior is definitely the most pro-ready in the class. He can make all the throws, is an accurate passer — 64.5% completion percentage this season — and isn't afraid to stand in the pocket and take a hit. Goff needs to add weight to his thin frame, and it would serve him well to spend his rookie year as a backup. Regardless, he has the necessary tools to be a top-notch NFL starter. Stay smart, Cleveland. Johnny Manziel should — and will — be out. Goff should be in.
3. San Diego Chargers: Joey Bosa, DE, Ohio State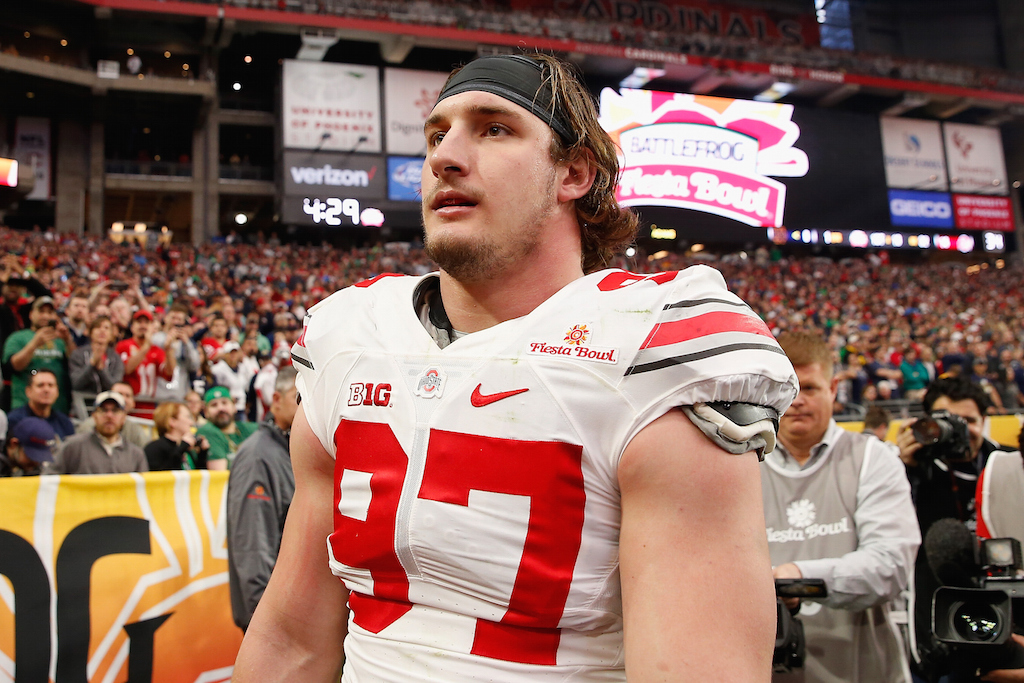 If Ohio State defensive end Joey Bosa is still on the board at No. 3 (and that's a big "if"), the San Diego Chargers shouldn't hesitate. They should pounce. Immediately. There's a reason Bosa is No. 1 on Mel Kiper's Big Board (subscription required). He's just that good. Coming in at 6-foot-6, 275 pounds, the two-time consensus All-American is powerful, versatile, and practically impossible to block one-one-one. Bosa is a dominant pass rusher and an undeniable game changer. This is one the Chargers shouldn't even have to think about.
4. Dallas Cowboys: Jalen Ramsey, S/CB, Florida State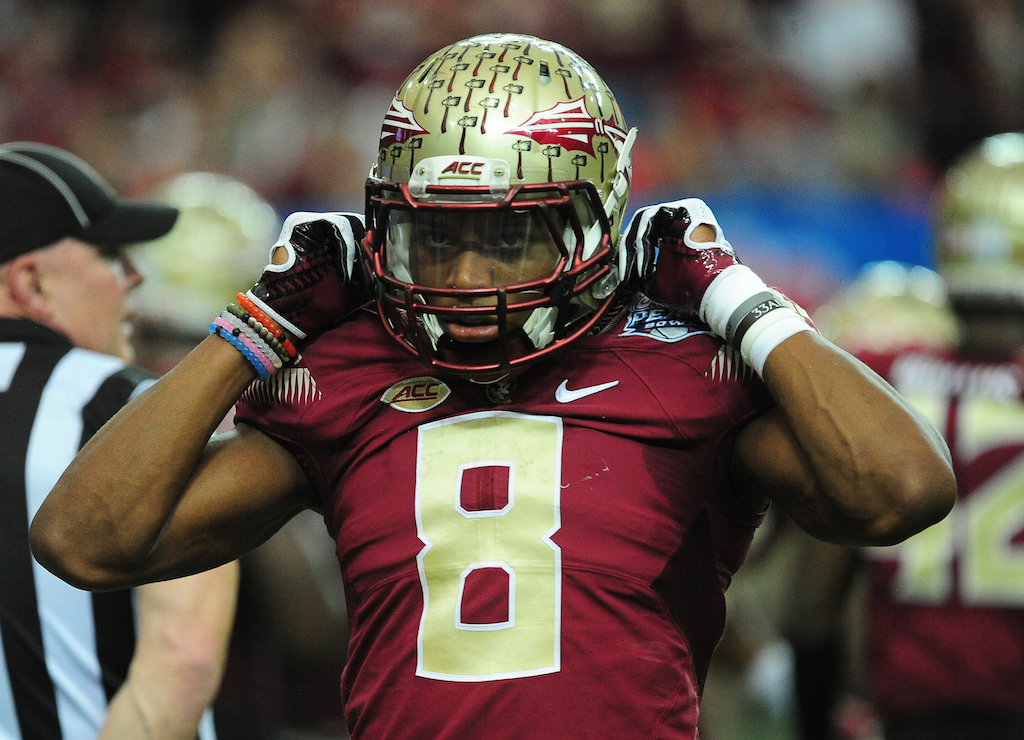 The Dallas Cowboys are another team that could go in multiple directions with this pick. However, if you factor in the club's biggest needs, Jerry Jones should probably look to upgrade the secondary. And in doing so, would be wise to take Florida State's Jalen Ramsey. Ramsey is an absolute freak of an athlete. He is a multipurpose DB who can play either cornerback or safety. He's instinctive, he's rangy, and, at 6-foot-1, 202 pounds, he has the size to lay on the hurt. Ramsey would get the Cowboys faithful doing the Tomahawk Chop in no time.
5. Jacksonville Jaguars: DeForest Buckner, DE, Oregon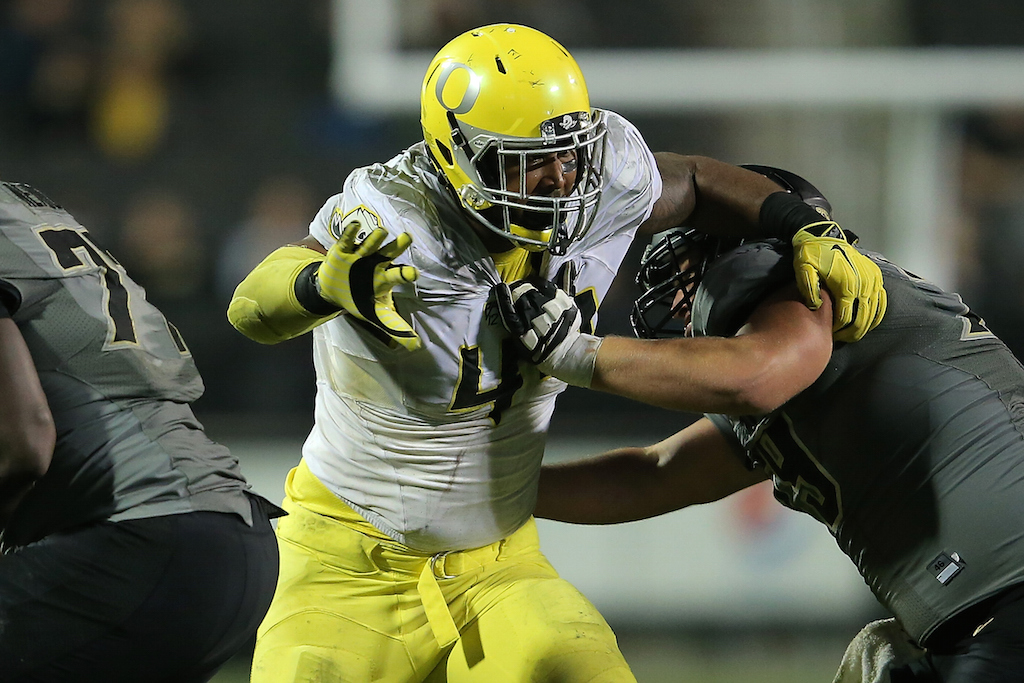 In 2015, the Jacksonville Jaguars were last in the league in points allowed (448 points; 28.0/g) and 29th in passing yards (4,291). When you think about these figures, it makes sense why the team's biggest need revolves around getting a pass rusher. With that in mind, it seems like a no-brainer for the Jags to take Oregon defensive end DeForest Buckner.
Buckner is a 6-foot-7, 300-pound monster. In 2015, he had 83 total tackles, 17 tackles for loss, and 10.5 sacks on his way to being named the Pac-12 Defensive Player of the Year. With a crazy motor that goes on for days, we feel it would be only a matter of time before Buckner becomes a fan favorite down in Jacksonville.
No.'s 6-31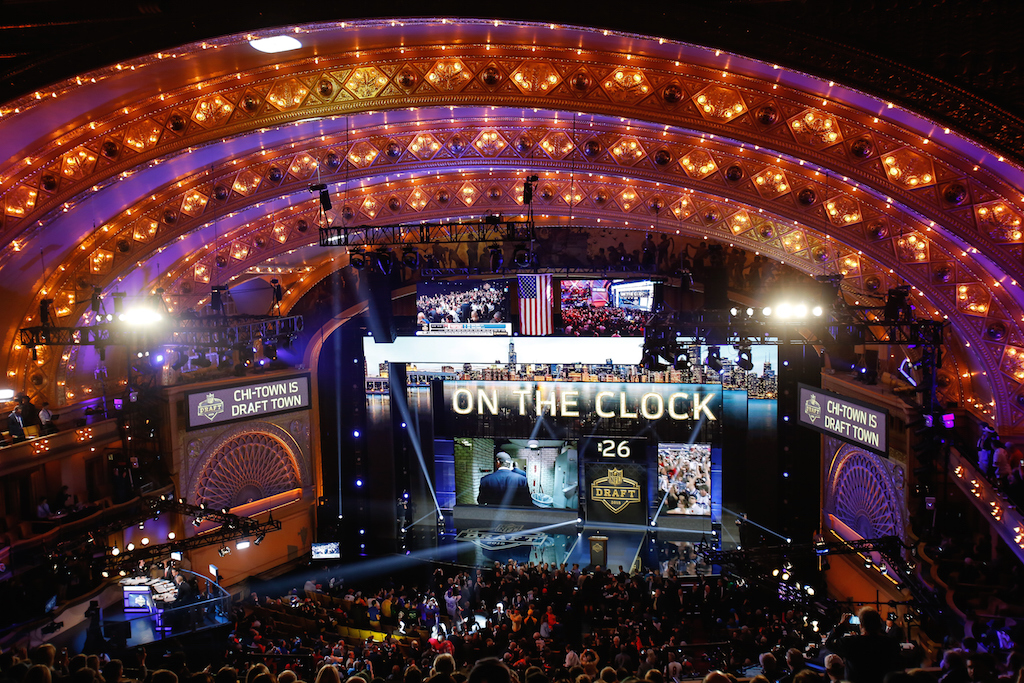 6. Baltimore Ravens: Ronnie Stanley, OT, Notre Dame
7. San Francisco 49ers: Myles Jack, LB, UCLA
8. Miami Dolphins: Reggie Ragland, LB, Alabama
9. Tampa Bay Buccaneers: Vernon Hargreaves, CB, Florida
10. New York Giants: Shaq Lawson, DE, Clemson
11. Chicago Bears: Laquon Treadwell, WR, Ole Miss
12. New Orleans Saints: A'Shawn Robinson, DL, Alabama
13. Philadelphia Eagles: Paxton Lynch, QB, Memphis
14. Oakland Raiders: Taylor Decker, OT, Ohio State
15. Los Angeles Rams: Carson Wentz, QB, North Dakota State
16. Detroit Lions: Jarran Reed, DL, Alabama
17. Atlanta Falcons: Robert Nkemdiche, DT, Ole Miss
18. Indianapolis Colts: Jack Conklin, OT, Michigan State
19. Buffalo Bills: Kevin Dodd, DE, Clemson
20. New York Jets: Jaylon Smith, LB, Notre Dame
21. Washington Redskins: Kenny Clark, DT, UCLA
22. Houston Texans: Connor Cook, QB, Michigan State
23. Minnesota Vikings: Josh Doctson, WR, TCU
24. Cincinnati Bengals: Mackensie Alexander, CB, Clemson
25. Pittsburgh Steelers: Kendall Fuller, CB, Virginia Tech
26. Seattle Seahawks: Noah Spence, DE, Eastern Kentucky
27. Green Bay Packers: Will Fuller, WR, Notre Dame
28. Kansas City Chiefs:  Sheldon Rankins, DT, Louisville
29. Denver Broncos: Jason Spriggs, OT, Indiana
30. Arizona Cardinals: Leonard Floyd, OLB, Georgia
31. Carolina Panthers: Emmanuel Ogbah, DE, Oklahoma State
Statistics courtesy of Sports-Reference.com, NFL.com, CBSSports.com, and ESPN.go.com.