NFL Draft: 3 Potential Targets for the Broncos at No. 31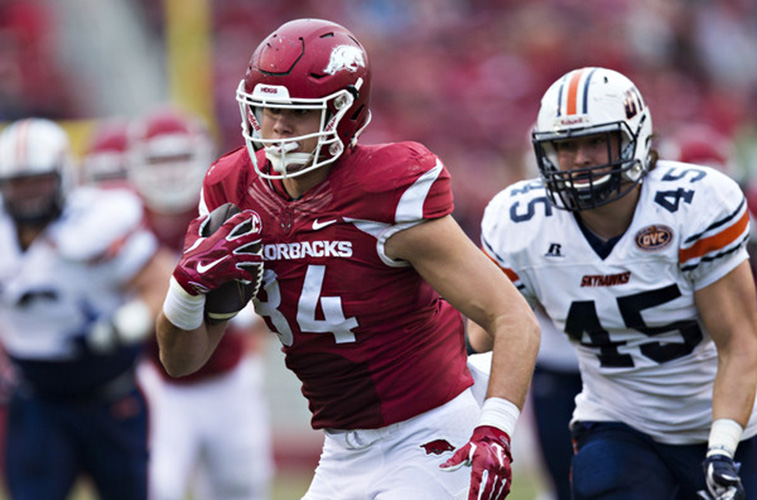 Annually, the last pick in the first round of the NFL Draft belongs to the previous season's Super Bowl champion. Seeing as the team that owns this selection generally has a strong roster already in place, the player who they select isn't always a critical pickup for their success.
However, with the hectic offseason of the Super Bowl 50 champion Denver Broncos, the first round's final selection on Thursday night holds plenty of importance as the team prepares to defend their title. With needs from quarterback and linebacker to offensive line and tight end, the Broncos' choice at No. 31 will be as critical a pick as we've seen from a defending champ in years.
The team may even be enticed to join the frenzy of trades this draft season and move up in the round to get a game-changing player, but assuming Denver stays put at No. 31, we have three worthwhile prospects they'll consider when they are on the clock.
3. Hunter Henry, Arkansas
Easily the draft's highest-ranked tight end, Henry was very productive during his three-season collegiate stint at the University of Arkansas. He won the John Mackey Award as the best tight end in the nation last season, bringing in 51 catches for 739 yards and three touchdowns and earning first-team All-American honors. Henry also managed solid numbers during his freshman and sophomore campaigns.
In a draft dominated by defensive standouts and quarterback talk, he could turn out to be one of the best players from this class. Henry is an "every down" tight end who's 6-foot-5, 250-pound frame allows him to excel as a blocker and pass catcher.
Garnering comparisons to Jason Witten, it would be surprising to see him slip out of the first round. While the position isn't the biggest need for the Broncos, picking up a reliable tight end would certainly fill a void. The team lost their top tight end from last season, Owen Daniels, and with the QB situation in flux, Henry could provide a security blanket for an offense that needs all the production it can get.
2. Chris Jones, Mississippi State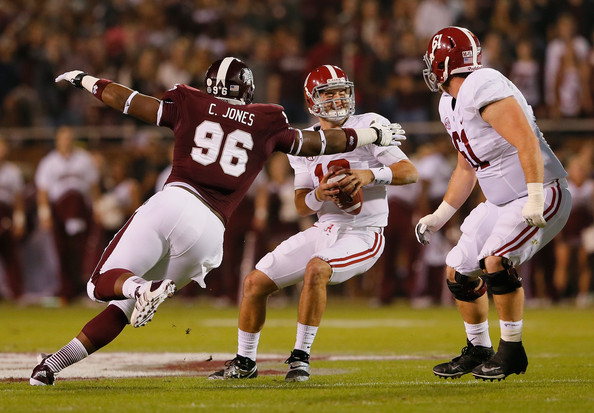 The Broncos lost a bunch of players during free agency, but one of their biggest losses (both in terms of size and production) came on the defensive line. Malik Jackson was a big part of Denver's historical defense last year and with the defensive tackle bolting to Jacksonville, they must replace his presence.
Luckily, this draft is deep in defensive line talent, so even at No. 31, Denver will have a chance to pick up a potential stud. Chris Jones of Mississippi State might be that guy. Although Jones had some legal issues earlier this offseason, he has the ability to be a star at the NFL thanks to his strength and quickness. Jones recorded 7.5 tackles-for-loss and 2.5 sacks last season for his Bulldogs, but those stats only portray a glimpse of his potential.
At 6-foot-6 and 310 pounds, he would fit nicely alongside guys like Derek Wolfe on the Broncos' defensive line. Again, this isn't the biggest need for the Broncos, but as a team that relies on a dominate defense to win games, they will take a good long look at Jones at No. 31 if he is still on the board.
1. Paxton Lynch, Memphis
Even if it isn't the most talented group of draft prospects, this year's first round has the potential to be the round of the quarterback. We all know that it's a basic guarantee that Jared Goff and Carson Wentz will be the first two selections of the draft, but with several other teams in need of help at the position, as many as five signal callers could come off the board by the end of Thursday night.
Denver is one of those teams and although they aren't in a great position to find a QB at No. 31, there is the potential that the draft's third-best quarterback, Paxton Lynch, could fall to them. If that happens, it's feels like a certainty that the Broncos would pick up the Memphis product. Lynch has the size, arm strength, and athletic ability to develop into a potential franchise quarterback if he's put in the right situation.
With back-to-back bowl game appearances over the previous two seasons, Lynch led his Memphis Tigers' to heights the program had never seen before. With those characteristics, it would be a surprise if Lynch were still available when the Broncos' pick comes around, but if he is, it could be the perfect situation for a team looking to move on from Peyton Manning and Brock Osweiler.
Teams in front of the Broncos in the first round — like the San Francisco 49ers, New York Jets, and even the Arizona Cardinals — could all select Lynch on Thursday night. Therefore, if Denver truly wants him, they will likely have to move up in the round, which is another definite possibility for their pick.
Statistics courtesy of ESPN.com and Pro-Football-Reference.com.