NFL Draft Analyst Argues Kayvon Thibodeaux's 'Goofy' Excuses Could Hurt His Stock
Hype is building around the 2022 NFL Draft class, as several prospects could legitimately go No. 1 overall. Kayvon Thibodeaux is one of the guys. The Oregon product has been one of the most-hyped college football players of the past year and should most likely hear his name called early in the first round. However, NFL Network's Daniel Jeremiah sees a potential red flag.
Some scouts already had concerns about Thibodeaux heading into the draft. Jeremiah believes that his behavior at the Scouting Combine could ultimately hurt the Ducks standout's stock in April. The longtime draft analyst explains why the edge rusher isn't a lock to be a top-five pick.
Daniel Jeremiah calls out Kayvon Thibodeaux's Combine behavior
There's no debate that Kayvon Thibodeaux is an immensely talented football player. Some scouts and analysts could have concerns about his work ethic, though. What happened at the 2022 NFL Scouting Combine didn't exactly quell those feelings.
Thibodeaux only partially participated in the Combine. The Consensus All-American ran a 4.58 40-yard dash, which was in the top 10 for all qualifying defensive ends. He also completed 27 reps on the bench press. Unfortunately, that was the extent of his time in Indianapolis. The Oregon star withdrew early without participating in on-field drills.
NFL Network draft analyst Daniel Jeremiah weighed in on the situation and why it's a bad look for Thibodeaux.
"The issue isn't that he didn't do the field workout," Jeremiah said on The Rich Eisen Show. "But when you tell everybody in the media and the teams that you plan on doing everything, then you get out there to run a 40 and stop and say 'I'm done for the day,' it's kind of weird."
Jeremiah also wasn't a fan of Thibodeaux's explanation for leaving early.
"He said, 'I want to do linebacker drills,'" Jeremiah added. "Well, so does Travon Walker and all these guys. You do the D-line drills then the linebacker drills. That explanation was just kind of goofy."
The NFL Network analyst believes other players could leapfrog the Oregon product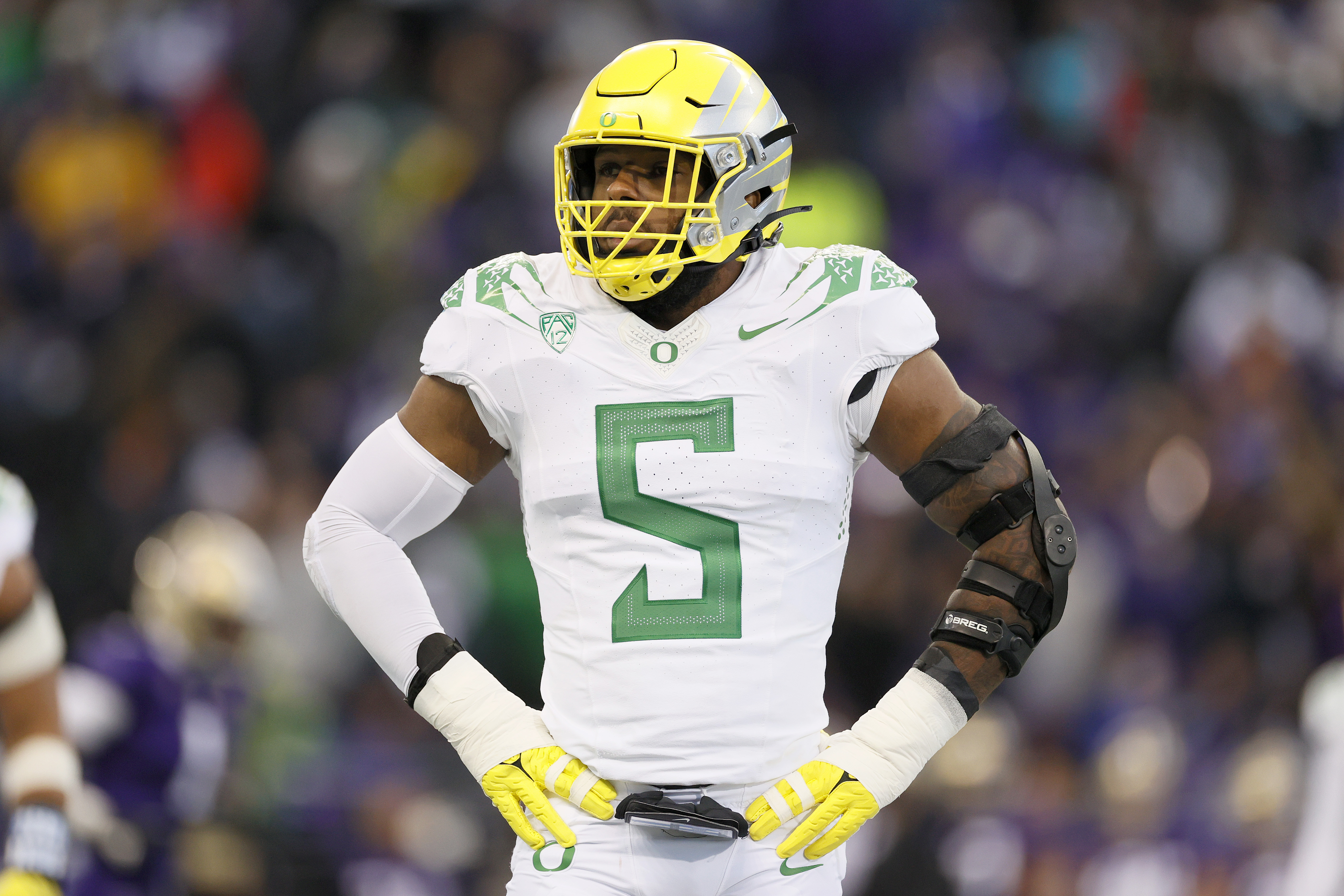 Daniel Jeremiah released his latest mock draft before the Scouting Combine kicked off. The NFL Network analyst projected Kayvon Thibodeaux to go No. 8 overall to the Atlanta Falcons.
The former NFL scout already had Thibodeaux falling outside of the top five, and he believes the red flags could be adding up.
"Teams kind of have some concerns there," said Jeremiah. "I mentioned it, when you watch some of the games, you see him take some plays off. There were some plays here and there that were just a little of a concern. You come here, you do everything, and put that all to bed, and we move on. But he chose not to do that."
Jeremiah also noted that the 2022 NFL draft class has plenty of talented defensive ends and edge rushers, which could ultimately hurt Thibodeaux's stock.
"We're so stacked at that position, I think he gave up some room for those guys to leapfrog him," he added. "This thing could all come out in the wash, and he's the second pick overall, and it's much ado about nothing. He just kind of opened the door a little bit to give those other guys some room to jump him."
The NFL analyst believes Kayvon Thibodeaux's biggest competition could be Georgia's Travon Walker.
"If you ask me right now, my opinion on March 8th is that Travon Walker will get picked ahead of Kayvon Thibodeaux."
Potential landing spots for Thibodeaux in the 2022 NFL Draft
Even with all the potential red flags Daniel Jeremiah mentioned, it's difficult to imagine Kayvon Thibodeaux falling outside of the top 10 picks of the 2022 NFL Draft.
Thibodeaux enjoyed a productive career at Oregon. The Los Angeles, California native recorded 126 tackles, 35.5 tackles for loss, 19 sacks, and three forced fumbles across three seasons.
Several teams with early selections have significant holes on the defensive side of the ball. Considering the NFL is very much a passing league, quality edge rushers are at a premium.
The Detroit Lions (2nd pick), Houston Texans (3rd), New York Jets (4th), New York Giants (5th), Atlanta Falcons (8th), and Denver Broncos (9th) need to address the position.
Michigan's Aidan Hutchinson is likely a lock to come off the board before Thibodeaux. As Daniel Jeremiah suggested, Travon Walker could as well. Still, the Ducks standout is undoubtedly a top 3-5 talent. Falling to the Broncos would be ideal from a football perspective. However, hearing his name called earlier could mean more money.
Kayvon Thibodeaux's NFL draft stock is a true mystery right now, as it could change several times before Apr. 28.
Like Sportscasting on Facebook. Follow us on Twitter @sportscasting19
RELATED: 2022 NFL Draft Prospect Becomes 'Fourth Face' on Todd McShay's Mount Rushmore of Combine Workouts