NFL Draft Analyst Jim Nagy Is All the Way in on Eagles QB Jalen Hurts: 'Put Limits on Him if You Want, I'll Just Choose to Be Impressed'
The Philadelphia Eagles have officially clinched a playoff spot, which is great news for second-year quarterback Jalen Hurts. After months and months of hearing about how the Eagles were more interested in veteran QBs like Russell Wilson and Deshaun Watson, Hurts pulled off the unthinkable and actually guided his team to the postseason.
Coming off a four-win season the year prior, many expected the Eagles to struggle again in 2021. Instead, they found their identity right around the midseason mark (run-first offense), thanks largely to Hurts.
Jalen Hurts played a big role in the Eagles' unexpected success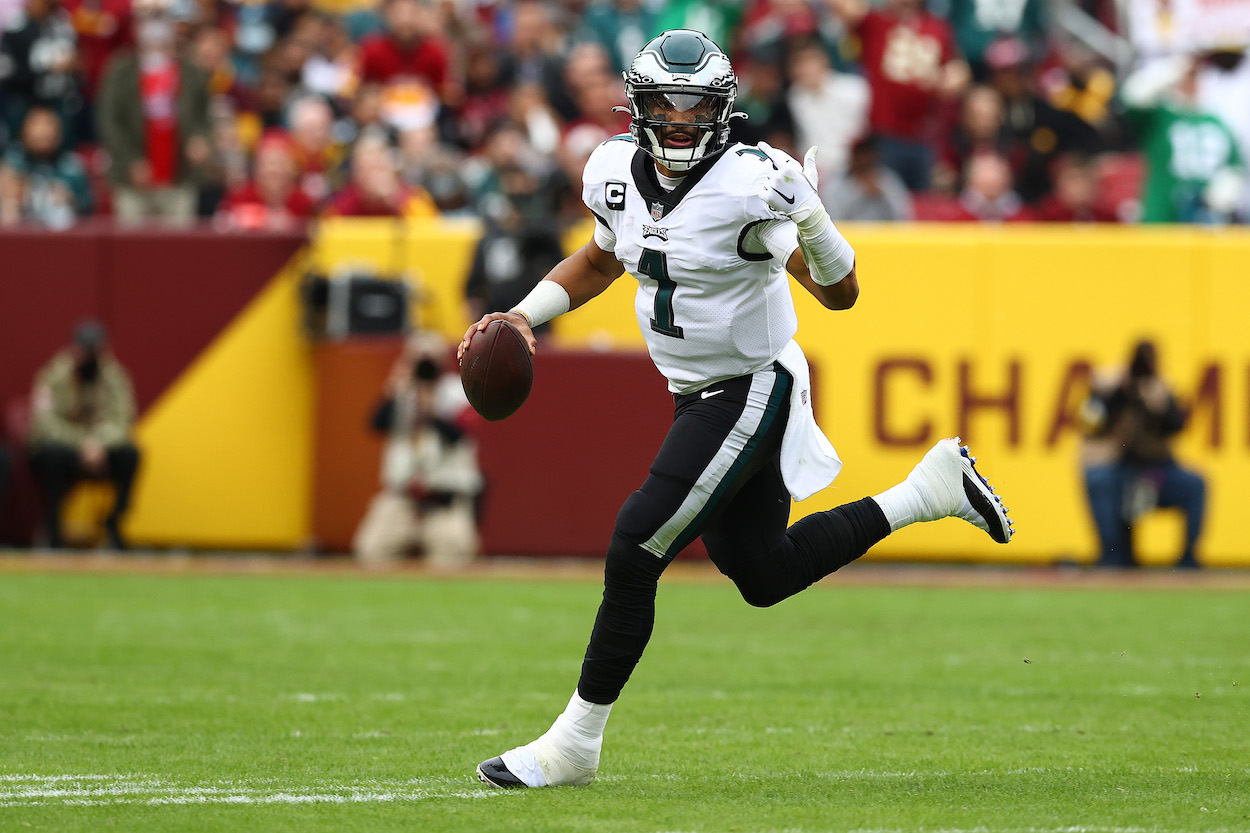 By no means has Hurts been a perfect quarterback this season. In fact, most of his passing metrics still rank toward the bottom of the NFL. However, it's impossible to ignore the good things he did this year and how they helped translate into wins for the Eagles.
For starters, his legs are a weapon that few starting quarterbacks around the NFL can relate to. Hurts leads the Eagles in rushing yards (784) and rushing touchdowns (10). Whether via designed quarterback runs or pure scramble drills, opposing defenses always had to be wary of Hurts taking off running.
Second, Hurts does appear to provide a bit of a calming presence to the Eagles locker room. Even when they were losing games and Hurts was missing easy throws, you never saw the organization hang their heads or get too low. Instead, they battled back and imposed their will on opponents with some old-fashioned, hard-nosed football.
First-year head coach Nick Sirianni, the team's offensive line, and a rejuvenated second-half defense deserve most of the praise for the Eagles' late surge. However, the quarterback is obviously a pretty important position, and Hurts did a fine job under center this season.
NFL draft analyst Jim Nagy is impressed with Jalen Hurts
Even with the Eagles securing their spot in the postseason this past weekend, there's still a healthy amount of discourse regarding Hurts and his actual ceiling as an NFL passer. He currently ranks 21st in passer rating and 20th in quarterback rating — it's an understandable conversation.
However, at least one NFL draft analyst thinks the discourse needs to be put on pause for the moment. Following the Eagles' Week 18 win, ESPN's Jim Nagy put out a tweet praising the second-year QB.
"Jalen Hurts is now a playoff QB in Year 2. Put limits on him if you want. I'll just choose to be impressed."
Can the Eagles make some noise in the playoffs?
The Eagles are an interestingly constructed football team. They have some big bodies on the offensive and defensive line and aren't afraid to battle for wins down in the trenches. Add in Hurts and a deep running back room, and it's no wonder they've been the best rushing team in the NFL this season.
The question is, will that style of football translate to postseason success? Typically speaking, it's the teams with the elite passers who have the most amount of success in late January.
Only time will tell if Hurts and the Eagles have enough juice in them to make some noise. However, Nagy has a point regarding Hurts. He deserves praise for simply getting his team to the playoffs. It's a notable accomplishment.
All stats courtesy of Pro Football Reference.