NFL Draft: 10 Boom or Bust Players That Could Make or Break Your Team's Draft
The NFL draft brings a few givens every April. One, fans that gather to see the selections in person will loudly boo Roger Goodell every time he steps to the podium, and two, armchair GMs will groan, grin, and complain as their team wheels deals and adds players. Some teams are in desperate need of a great draft, while others have only a few holes to fill.

The great picks are legendary, such as Tom Brady in the sixth round and Alvin Kamara in the third round. We never forget the busts, either. Yes, the New Orleans Saints once picked Russell Erxleben, a kicker, in the first round, but maybe stealing Kamara helped chase the ghosts of the Erxleben selection.

We don't know how the 2019 NFL draft in Nashville will unfold, but these players could be the difference between success and failure as teams build their rosters.

5 players teams will regret passing on in the draft
Daniel Jones, QB, Duke: Yes, he is already being tabbed as a first-round pick by some, but others have him as a day two pick. Jones played under QB guru David Cutcliffe at Duke, the same man that helped groom both Peyton and Eli Manning. That is not to say Jones is now an unofficial Manning brother destined for the same success, but Cutcliffe helped prepare Jones well, and given what he did at Duke with lesser talent surrounding him he very well could go down as the top QB from the 2019 class. If so, he would be a steal even at his high-end projections.
Darrell Henderson, RB, Memphis: This playmaker can take it to the house anytime he touches the ball, and his blazing 40-yard dash time helps that playmaking ability. The knock on him is he's too small, but we've heard that story before with guys like Darren Sproles and Alvin Kamara. A threat in or out of the backfield, GMs might regret passing on this productive back in the NFL draft in search of the perfect height and weight.
Lamont Gaillard, C, Georgia: Addressing the offensive line is never a sexy selection for fans, and a mid- to late-round center is not going to have anyone but his momma rushing out to buy a jersey bearing his name. However, Gaillard brings intangibles that very well could make him a stalwart in the middle of some savvy team's O-line for years to come. Originally a highly recruited defensive tackle, he understands defenses and plays with passion and nastiness.
Drue Tranquill, LB, Notre Dame: A converted safety, Tranquill understand all facets of the defense, and his versatility in coverage makes him attractive. On the downside, he has been injury prone, but Tranquill showed heart and toughness by playing through those same injuries when possible. Heart and drive could have Tranquill hear his name called in the NFL draft and give him a chance to surprise with a roster spot this season.
J.J. Arcega-Whiteside, WR, Stanford: The only reason this talented receiver is not higher on this list is that he's already projected as a second rounder. We like him to excel in the NFL because he's already proven to be a top pass catcher in contested situations. Given the tight coverage he will see on Sundays, that proven skill is one every receiver needs to exhibit.
5 players NFL teams will regret taking too high
D.K. Metcalf, WR, Ole Miss: Metcalf took the social media world by storm at the combine, and no one can question his numbers or imposing physique. These attributes were not enough to keep him healthy and on the field at the collegiate level, so he brings that risk to the NFL where the physicality is much tougher on Sundays than it ever was on Saturday. Add in the fact that Metcalf is known for straight-line speed that cutting and you have to question if he will be able to great separation from world class defenders.
Kyler Murray, QB, Oklahoma: Is Murray talented? Yes. But is he a surefire franchise QB worthy of being the possible top pick? No. Rookie NFL coach Kliff Kingsbury knows what Murray can do since they both called the Big XII Conference home before the NFL came calling, but the learning curve for both of them will be too steep here. And Murray's height doesn't help.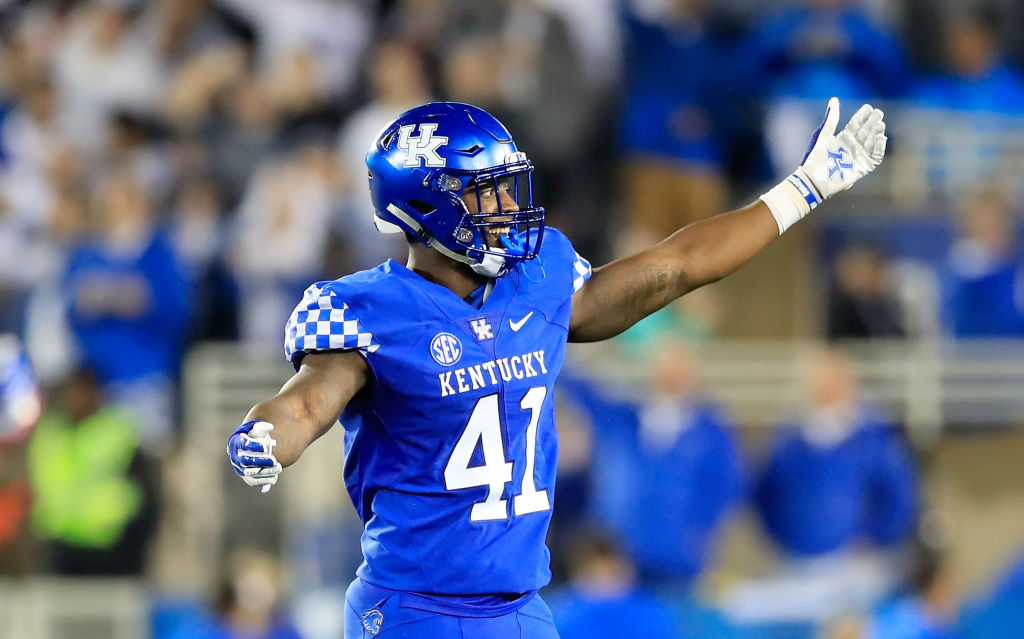 Josh Allen, DE, Kentucky: No one can discount his sack-laden senior campaign, but Allen's game seems one-dimensional. That one dimension is speed. A quick first step in dangerous, but NFL tackles are far more advanced than what Allen faced in the SEC. To make the kind of impact that justifies a top pick, Allen will have to deploy more tricks than we've seen to this point. If the rumors are correct, then he could very well land with the Raiders, where he will be judged against the talents of Khalil Mack who Gruden traded away.
Drew Lock, QB, Missouri: Let's face it, far more signal-callers disappoint than live up to their draft day hope, but we are not merely playing the odds with this pick. Lock has shown plenty of red flags from inconsistency to lazy footwork to questionable decision making from the pocket, especially when forced to move laterally. Rumor says Lock has captured John Elway's attention in Denver, but so did Paxton Lynch.
Rashan Gary, DE, Michigan: The tale of the tape can mean two things. In Gary's case, those two tales are fit for a sequel to Jekyll and Hyde. If by tape, you mean measurables like size, strength and 40-yard dash times, then Gary is a stud. But if by tape you mean a recording of how those attributes manifest during games, then Gary is a virtual ghost. And that should scare fans and anyone making NFL draft picks alike.