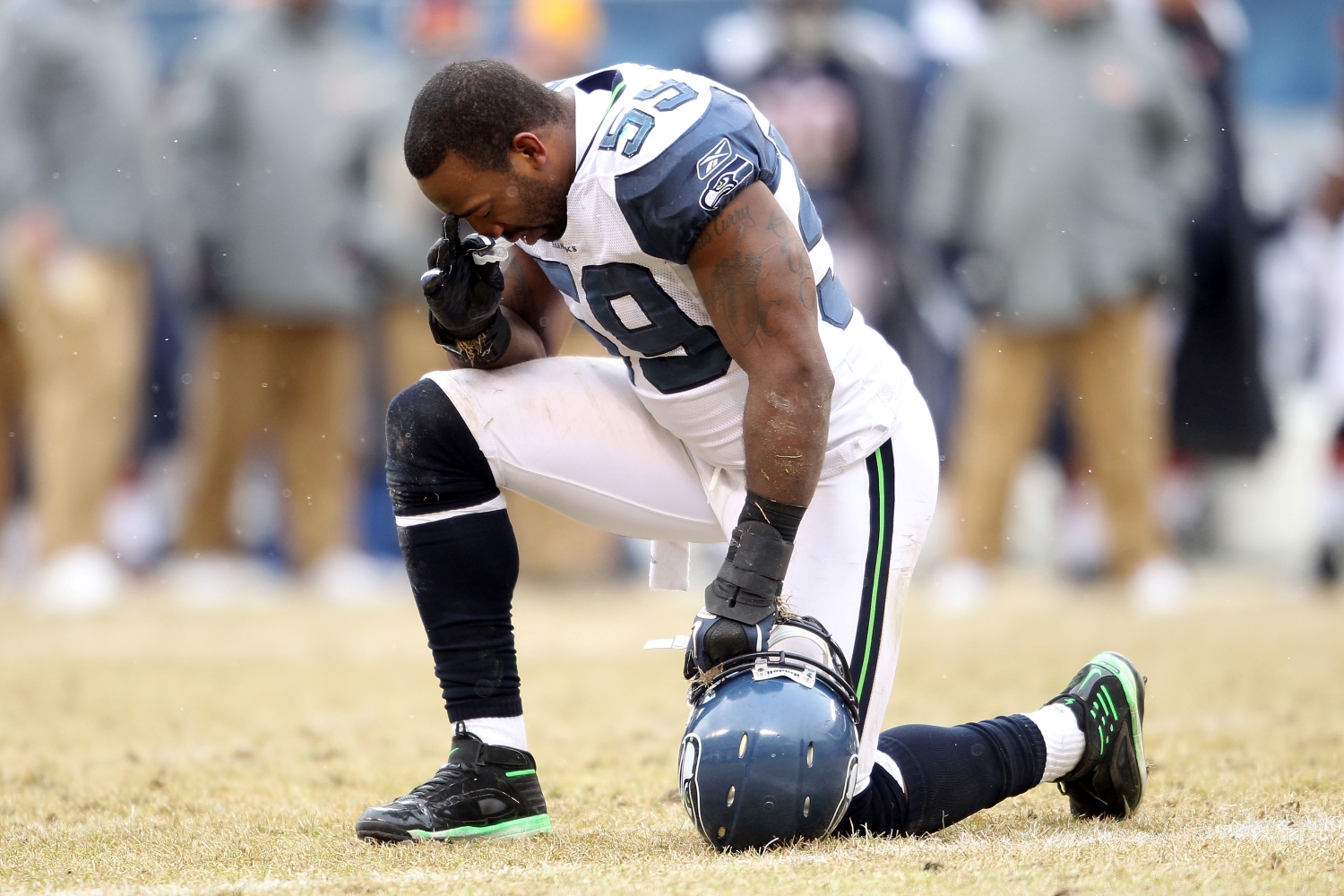 Epic NFL Draft Bust Aaron Curry is Making Amends For His Disappointing Seahawks Career by Becoming a Rising Star in Seattle a Decade Later
Aaron Curry didn't live up to expectations in Seattle as a linebacker. But he's helping the franchise in a different way today.
More than a decade ago, the Seattle Seahawks seemingly secured the perfect leader for their defense. Yet it didn't take long for fans and coaches to realize Aaron Curry would never live up the pre-draft hype that helped him become the No. 4 overall pick.
Undoubtedly one of the biggest NFL draft busts of all time, the 35-year-old could have easily abandoned the sport entirely. But instead of saying goodbye to football permanently, Curry is making amends for his short-lived stint as a linebacker for the Seahawks by working tirelessly to tutor and mentor those who play the same position he did years ago.
Ironically, though, while the player-turned-coach appears bound for future success, the Seahawks face a much more uncertain path moving forward, especially depending on what happens with Russell Wilson.
Aaron Curry went from being a highly touted prospect to one of the biggest NFL draft busts of all time
Need proof that the draft is an inexact science?
Look no further than Aaron Curry.
Almost universally viewed as the "safest" prospect in the 2009 class, the former Wake Forest star ran a 4.56 40-yard dash, posted a vertical jump of 37 inches, and cemented his case as a top-five pick. Yet despite going off the board well before talented defenders like Malcolm Jenkins and Clay Matthews, Curry didn't come close to delivering on his draft status.
In fact, it would be totally fair to call him one of the biggest busts of all time.
Despite possessing all the physical tools needed to succeed, the 6-foot-2, 250-pound linebacker didn't even make it through his third season in Seattle. After recording 134 tackles and 5.5 sacks in 35 games (30 starts), Curry found himself playing for a new franchise.
However, a change of scenery didn't lead to better results. Curry only appeared in 13 games for the then-Oakland Raiders before he received his walking papers.
Shockingly, a player once deemed as a can't-miss prospect never suited up in another NFL game after the 2012 season. And while Seahawks fans have every reason to view Curry unfavorably, they also have a reason to root for him.
The former linebacker has transformed into a key member of Seattle's coaching staff
By earning the dreaded "draft bust" label, Curry opened himself up to well-deserved criticism. After all, he didn't become the franchise-altering superstar the Seahawks envisioned when they selected him fourth overall in 2009.
Luckily, though, the North Carolina native has found a way to make a positive impact on the organization that placed its faith in him more than a decade ago. Even though he couldn't cut it as a professional football player, Curry is quickly making a name for himself as a coach. And by using his knowledge and passion for the game to help current members of Seattle's roster, the ex-NFL linebacker has started to make amends for his underwhelming career.
Now in his third year as an assistant under Pete Carroll, Curry has clearly made a positive impression within a short amount of time.
"I've been surprised and absolutely blown away by how far he's come so fast," Carroll told Tim Booth of the Associated Press. "He's an incredible part of what our staff is all about right now. He's got the sense, he's got the delivery, and he's got a really good mentality about dealing, talking with, and challenging players."
Curry's demeanor and dedication could help him achieve his ultimate goal of becoming a head coach. And he certainly sounds highly motivated to make that dream a reality.
"When you're passionate about it, you just go. You wake up every day and you just go and there's nothing that can discourage me from it," Curry said. "Nothing that can keep me from getting to where I want to get to and just stay locked in on handling what I got to handle right now, and focusing on what I can do right now and to make sure that we can win championships here in Seattle."
While Curry seems to have a bright future ahead of him, the same can't be said for the Seahawks
Although his NFL playing career didn't turn out as expected, Curry seems destined to stick around the league for a long time as a coach. And if he keeps trending in the right direction, perhaps he will get a chance to run his own team in the near future.
In other words: The arrow is pointing up for the linebacker-turned-coach.
On the other hand, it's impossible to say the same for the Seahawks.
At 5-8, the reigning NFC West champions will likely finish with their first losing record since 2011—the year before Russell Wilson arrived as a third-round pick. Speaking of the star signal-caller, will he remain with the franchise beyond 2021? If the future Pro Football Hall of Famer wants to secure a second Super Bowl ring, he may need to orchestrate his exit sooner than later.
After all, the Seahawks simply don't have the pieces needed to compete for the Lombardi Trophy. With a suspect offensive line and a defense that lacks premier playmakers, the roster needs major reinforcements. But given general manager John Schneider's struggles in the draft in recent years, should anyone trust him to get the job done?
Ultimately, Aaron Curry's turnaround deserves praise, especially since he's working for the same team he let down so many years ago. Only time will tell, though, whether he keeps his job.
Because if his boss can't figure out how to win at least a few more games by season's end, Seattle may have to start from scratch this spring.
All statistics courtesy of Pro Football Reference.