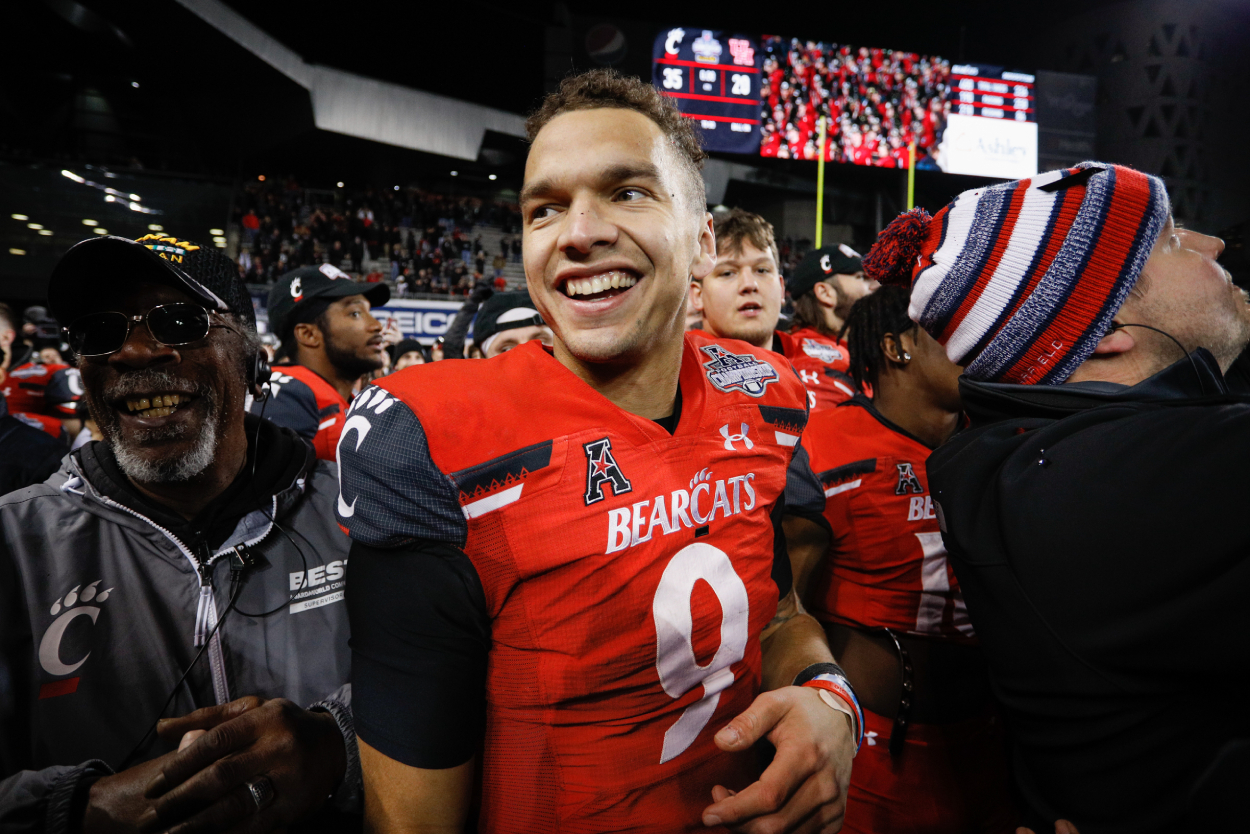 NFL Draft: Desmond Ridder's Unpredictable College Career Proves Why He Can Become a Star in the Pros
Former Cincinnati Bearcats quarterback Desmond Ridder is skyrocketing up NFL Draft boards, and his unpredictable college career proves why he can become a star in the pros.
If you follow NFL Draft rumors and the trajectories of various players, you may be wondering, "Who the heck is Desmond Ridder?"
OK, you likely know of Ridder, especially if you're a college football fan. He led the Cincinnati Bearcats to the College Football Playoff, as they were the first non-power five team to reach the four-team tournament.
But it seems that Ridder has gone from being a Day 2 draft pick to a potential first-round selection within the last month. So, why is that?
I'm not an NFL scout, so I can't say what he is showing these teams, but I am a University of Cincinnati graduate, and I can say this: His college career was likely foreshadowing for his time in the pros. He came out of nowhere, but he became the star the Bearcats hoped he would develop into, despite the questions they likely had about whether he would ever take the next step.
Desmond Ridder went from game manager to star QB with the Cincinnati Bearcats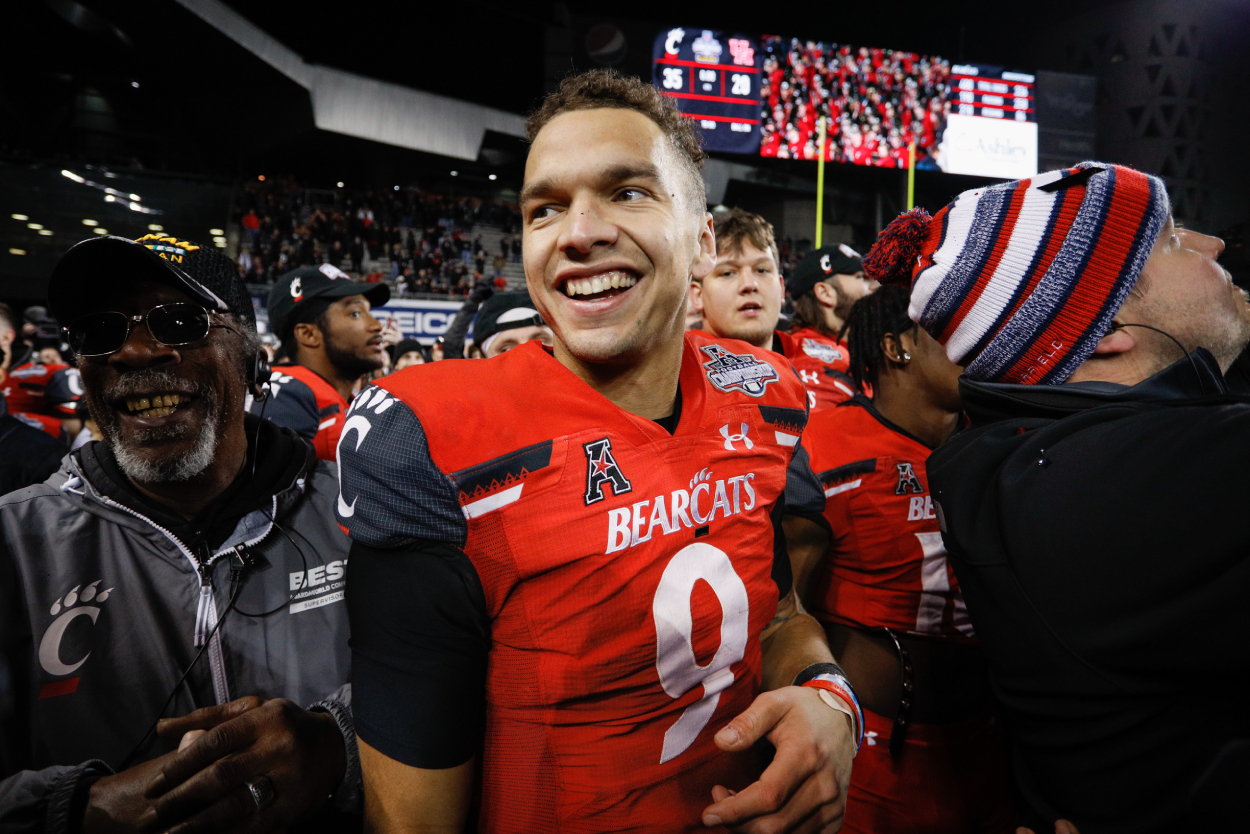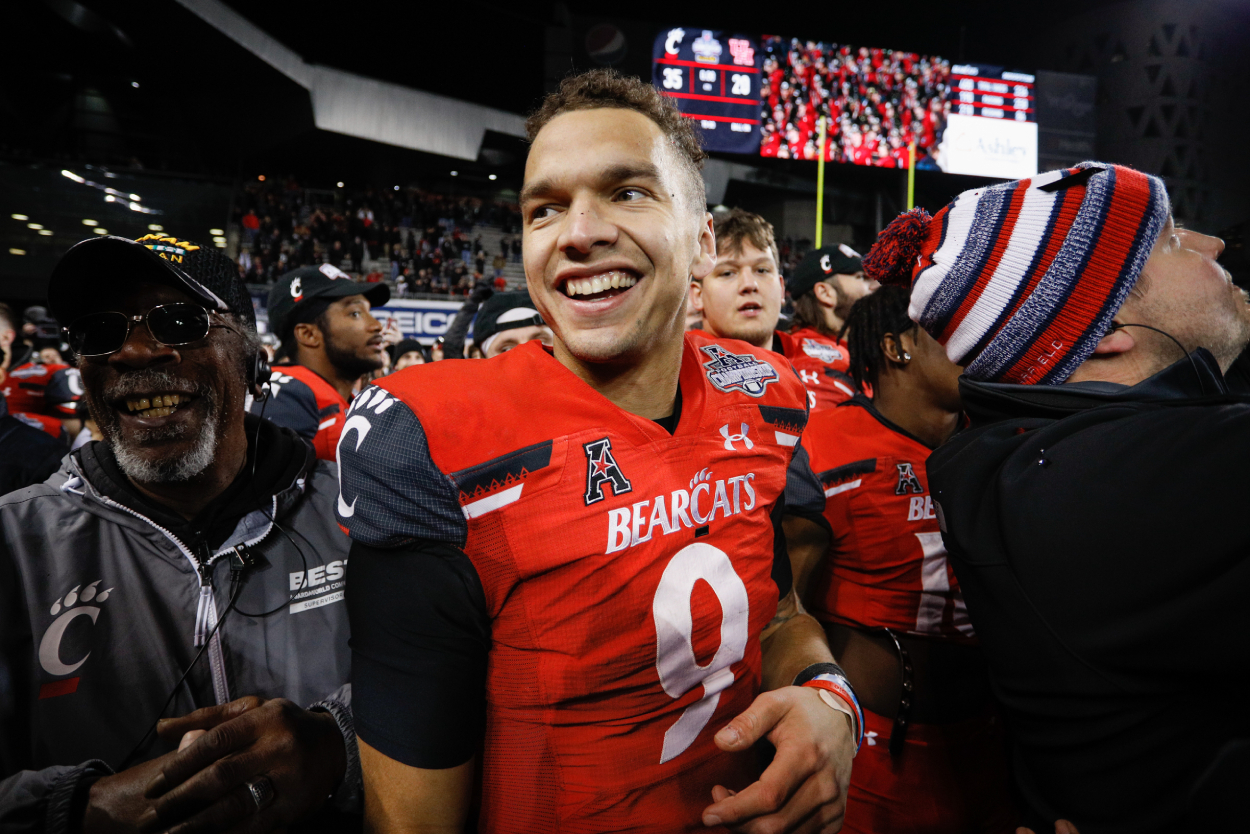 Desmond Ridder wasn't a highly-touted recruit coming out of high school. He was a three-star QB from Louisville and had one FBS school offer him a scholarship: Cincinnati.
Tommy Tuberville led the Bearcats at the time, but when Luke Fickell took over in 2017, Ridder stuck around. He redshirted during that 2017 season, but Cincinnati fans weren't sitting there expecting him to become their guy in the upcoming years. Many of them probably didn't even know who he was.
But in 2018, Ridder made himself well-acquainted with the UC faithful. He replaced starting quarterback Hayden Moore during a game against UCLA and kept the job for the rest of his career.
However, it wasn't a "rest is history" type of path. Ridder had some struggles.
After leading Cincinnati to an 11-2 record in 2018, everyone knew he was the starter heading into 2019. But some fans began calling for the team to bench him that year. His completion percentage was awful (55.1%). He routinely missed wide-open throws and was essentially just a game manager. The Bearcats didn't win because of him. They won because they had a talented roster around Ridder, and he wasn't careless with the football.
Those questions about his role as the team's starter bled into the 2020 season. He became a liability during UC's first three games that year. Ridder completed just 54.5% of his passes in a win over Army, and he threw a whopping three interceptions against South Florida.
Fans wondered if he was really cut out to lead one of the country's top teams.
After that, though, something clicked.
The signal-caller threw four interceptions in his team's first three games that year but only had two the rest of the season. Ridder completed 68.5% of his passes in the final seven games of the year and led the Bearcats to an undefeated regular-season record. They then had a close loss to the Georgia Bulldogs in the Peach Bowl.
Similar to the way his 2019 struggles carried over to the 2020 campaign, his 2020 success made its way into 2021. Ridder had a breakout year last season, throwing for 3,334 yards, 30 touchdowns, and eight interceptions. He helped UC go undefeated in the regular season again, and the program punched its first-ever ticket to the College Football Playoff.
Ridder started his college career as an unknown player who struggled to make easy throws. He ended it as arguably the greatest quarterback in program history.
Desmond Ridder can become a star in the pros
So, what does Ridder's college career have to do with his NFL future?
Everything.
While he proved to have a relentless work ethic and a dedication to improving his mechanics at UC, he also became a perfect quarterback for today's NFL game. Ridder is mobile and can make throws outside the pocket. He can also use his athleticism to get yards on the ground if he has to. He ran for over 2,100 yards in his college career.
But that isn't the only thing that makes him an ideal guy to become the face of a franchise.
Despite being from Louisville, Ridder embraced Cincinnati. He formed a bond with the fans that will live on throughout his entire pro career, however long that may be, and even once he hangs up the cleats for the last time. The QB never let his critics get in his head during the lows of his career, and he stayed humble throughout all the highs.
There's also something to be said about a guy who was an Academic All-American while leading one of the top teams in college football and being a fantastic father to his daughter Leighton. No matter how much he had on his plate, Ridder found success through it all.
Will Desmond Ridder be a franchise quarterback in the NFL? I don't know. But he proved in college that he has all the tangibles to become a star in the pros, and that's likely why he is skyrocketing up NFL Draft boards. He's the type of player – and person – teams want leading their organization.
Stats courtesy of Sports Reference