NFL Draft: Packers Can't Afford to Be Patient Like They Were With Rashan Gary
The 2022 NFL Draft will be vital for the Green Bay Packers as they look to move all their chips into the center of the table and keep their Super Bowl window open with at least one more year of Aaron Rodgers at quarterback.
While it does make sense for the Packers to go all-in on offense in order to get Rodgers as many weapons (or as much protection) as possible, at least one noted NFL expert would like to see Green Bay get some defensive help as early as possible.
The Green Bay Packers need to hit on their 2022 NFL Draft picks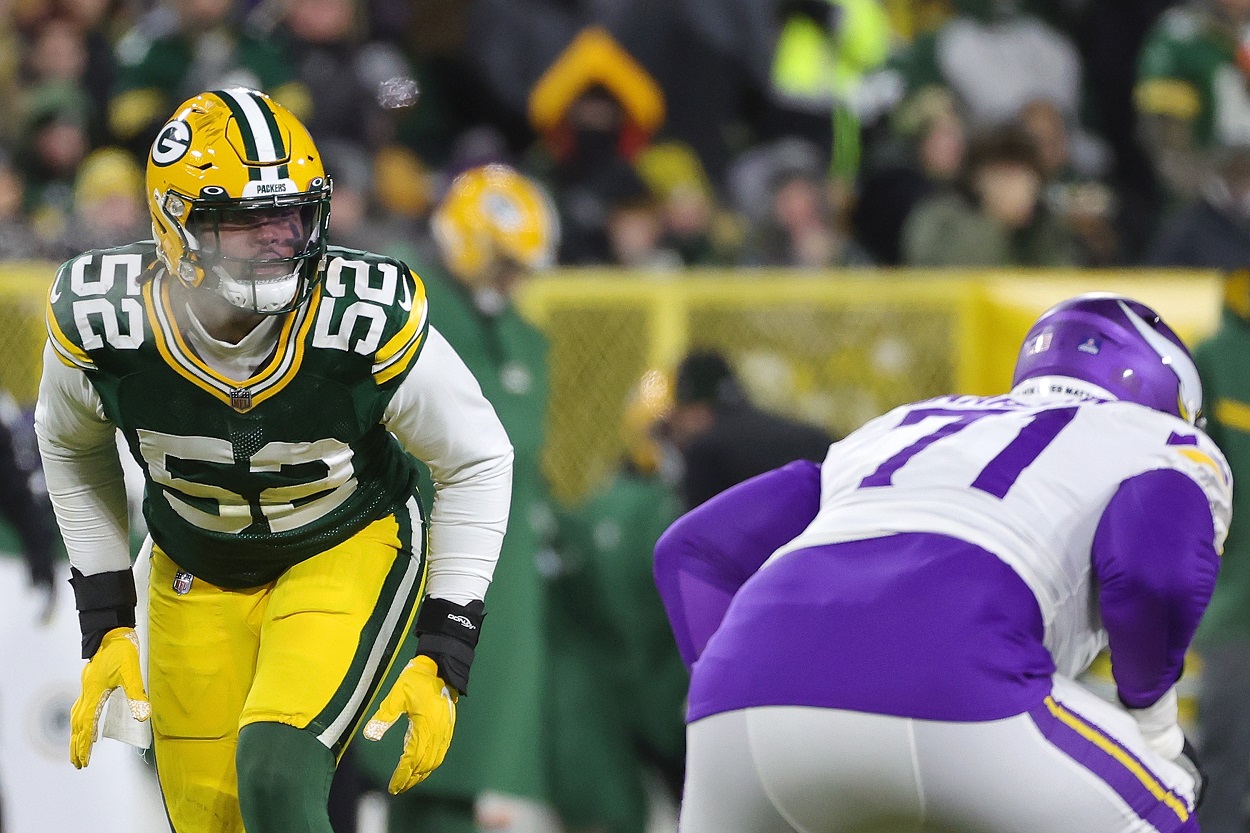 The best kind of talent is homegrown talent because, at least at the start, those players come very cheap. While no front office wants to be known as cheapskates, adding affordable, young players through the draft is going to be extremely important for the Packers in 2022 and beyond.
That's especially true on the defensive side of the ball, where Green Bay very well could be one or two solid picks away from being elite.
The unfortunate reality for Green Bay in 2022 and likely beyond is that there's not a ton of cap room (if any) to go out and make the kind of splash the organization created in 2019 by bringing in Preston Smith, Za'Darius Smith, and Adrian Amos, three players that became cornerstones of the defense. The Packers spent $36 million in guaranteed money on the two Smiths alone. As of this writing, Green Bay is currently $43.7 million over the cap, so the team is currently in a much different spot.
The fact remains that even if both "Smith Bro's" have to take a hike this season in order to create cap space (cutting Za'Darius would save $15.2 million while cutting Preston will save $12.4 million), this is a defense that's still very close to being elite.
That's much in thanks to general manager Brian Gutekunst hitting on the defensive players he's drafted. It's an impressive list that includes homegrown talents in Jaire Alexander, Darnell Savage, and Rashan Gary. 
Should the Packers draft a pass-rusher early on in the NFL Draft?
Green Bay has gotten a commitment from Rodgers for 2022, and Davante Adams has been franchise tagged with the hopes that a long-term deal is right around the corner.
It would make sense for the Packers to go hard on offense early on in the 2022 NFL Draft to truly capitalize on the final seasons of Rodgers. It makes sense to get him a true No. 2 receiver who can become a trusted playmaker from day one and take pressure off Adams. It makes sense to get a player who can play right tackle immediately but has the Elgton Jenkins-Esque flexibility to play wherever the Packers need. Protecting Rodgers as he ages through his next contract will be extremely important for Green Bay.
All those routes would make sense.
It's worth pointing out that noted draft expert Ben Fennell sees a different way forward for the Packers, though.
'Would love to see the Packers add an EDGE rusher in Round 1 or 2… Need to get younger/cheaper/more productive and best way to keep going back to the well via the Draft," he tweeted. "This class is too deep to leave empty-handed"
The Packers can't be patient like they were with Rashan Gary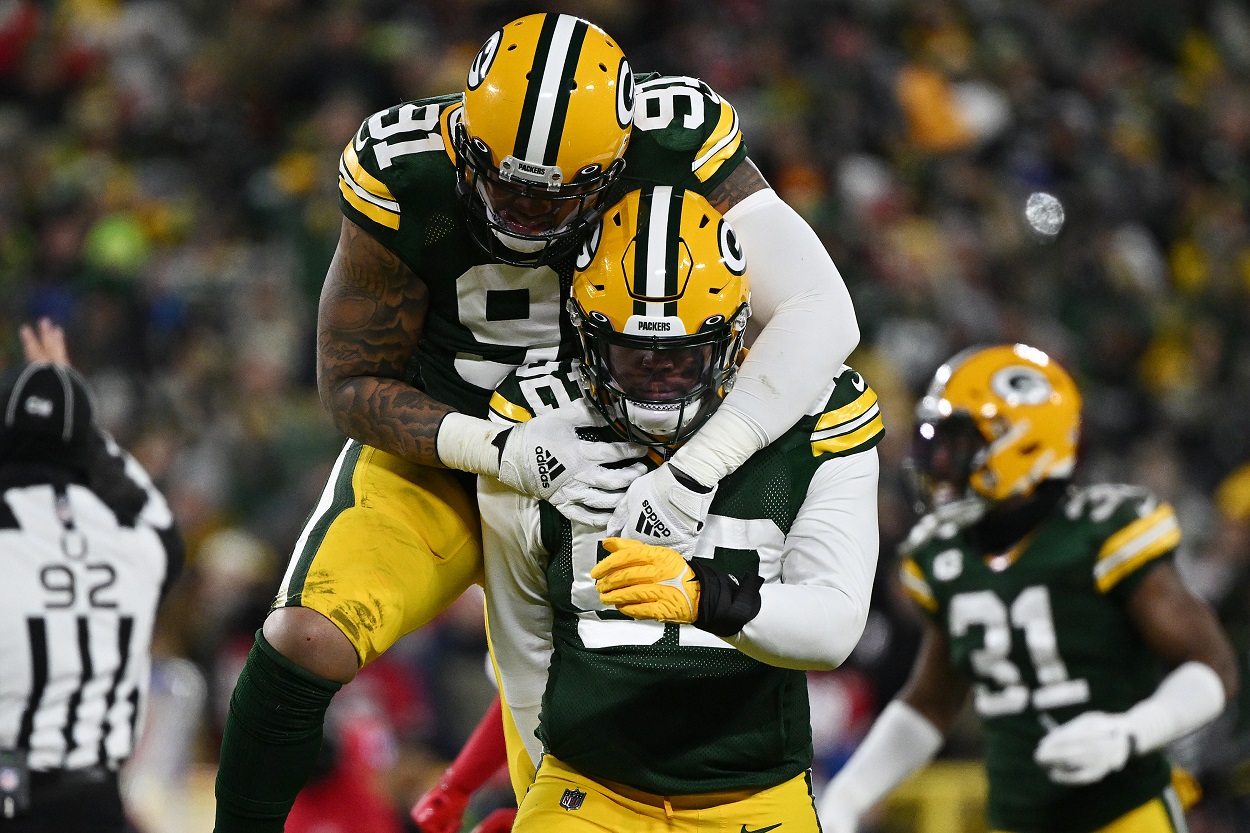 If the Packers do draft a pass-rusher with No. 28 (if that's where they stay), that player will automatically be in a different situation than Gary.
Gutekunst took Gary with the 12th pick in the 2019 NFL Draft and it was a controversial decision from the start.
First of all, the Packers wanted to transition Gary from a defensive end to a stand-up 3-4 outside linebacker. They also envisioned him having a future as an elite pass-rusher, though he didn't have the numbers or much tape to back that up in college.
Gary took time to develop. He rotated in behind the Smith Bro's and notched just two sacks in his rookie season and five sacks in year two.
The 2021 season was when Gutekunst's vision played out for Gary. Not only did he snag 9.5 sacks, but he was one of the most effective pass-rushers in the league. If he wasn't getting to the quarterback, he was making his presence known. Now, four seasons after he was initially drafted, Gary looks to be on the verge of being a superstar.
Gary was able to take time to develop because the Packers had a strong group around him and he had two great veterans to learn from. That may not be the case for any of the pass-rushers Gutekunst brings in through the 2022 draft, though. Even if Preston Smith sticks around, which is possible, Joe Barry's Green Bay defense really works at its best when he can utilize multiple linebackers as pass-rushers at the same time. If the Packers take a rookie pass-rusher high, they're going to want him to play ASAP.
Gary is one of the hardest workers in the league and he'll undoubtedly be a great asset for a young pass-rusher to learn from, but Green Bay doesn't have the luxury of waiting for this player to develop as Gary did.
The Packers need to capitalize on their Super Bowl window right now, and the best way they can add talent to the roster despite the serious cap crunch this offseason is by hitting on rounds one and two in the draft.
Fennell says great talent can be found on the edge in 2022, and if the Packers are able to snag a pass-rusher they believe can be elite from day one, Green Bay's defense has the opportunity to be very special.
Players who could make sense for the Packers (especially if they decide to trade up) include David Ojabo from Michigan or Travon Walker from Georgia.
Ojabo is 6-foot-5, 250 pounds, and notched 11 sacks and five forced fumbles for the Wolverines last season. Walker is an athletic marvel at 6-toot-5, 275 pounds. He notched only six sacks for Georgia in 2022, but he ran a speedy 4.51 40-yard-dash at the NFL Combine. For comparison's sake, Nick Bosa ran a 4.79 40 in 2019 and went No. 2 overall. Jermaine Johnson II out of Florida State is another intriguing option as he looks like he can be a young Preston Smith from day one in the league.
Either way, if an edge rusher comes off the board in round one or two for Green Bay, Gutekunst and the Packers have to hope that player hits ASAP.
There's no time for patience in a Super Bowl window that could be over in the blink of an eye.
Stats courtesy of ESPN and Pro Football Reference. Contract information via Spotrac
RELATED: The Green Bay Packers Have to Tiptoe Around Aaron Rodgers Because He's a Diva