NFL Draft: Ranking the Top 5 Wide Receivers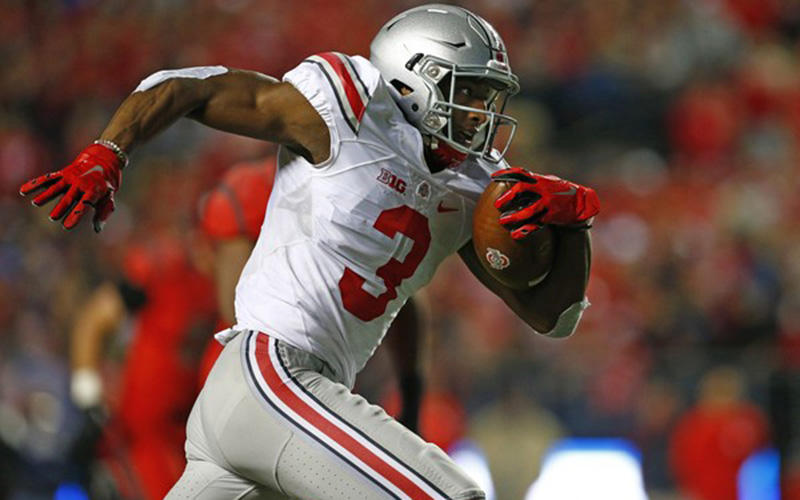 Amari Cooper. Stefon Diggs. Sammy Watkins. Odell Beckham Jr. DeAndre Hopkins. Keenan Allen. Those are just some of the several productive wide receivers to enter the NFL via the draft over the past three seasons. Looking at those names alone, we see record-breaking performances, highlight reel plays, and even Pro Bowl appearances in the short span of these receivers' careers.
Over the next decade, it would we wouldn't be surprised to see these talented young pass catchers develop into some of the best players at their position in NFL history. With the statistics that rookie wideouts have produced over the past few seasons, it's clear that drafting an impact player at the position is almost a must for a team in need of a playmaker. Lately, these young receivers can play right away and make a difference on a struggling offense.
That isn't always the case for other positions, so the importance of drafting well at wide receiver is as critical as anything. In this year's draft, another promising crop of pass catchers are prepared to make their mark on the league. Which names are at the top of the list? We took a shot at naming the 10 best of the best of a talented wide receiver class.
5. Michael Thomas, Ohio State
Michael Thomas is just one of many Ohio State Buckeyes preparing to enter the NFL next season, as a talented group that found plenty of success under Urban Meyer should be featured throughout the first round. The nephew of former NFL receiver Keyshawn Johnson, Thomas comes from a good bloodline and backed it up with two productive seasons in Columbus.
In OSU's championship season of 2014, he was the team's leading receiver with 54 catches, nearly 800 yards, and nine touchdown grabs. He basically had a duplicate season in 2015, catching 56 balls for nearly 800 yards and nine more touchdowns to lead the Buckeyes once again.
While his numbers may not seem gaudy, Thomas had to deal with a carousal at quarterback and played in an offense with a "run-first" mentality. With some solid performances at the NFL combine and his prototypical NFL receiver size (6-foot-3, 212 pounds), Thomas will likely become a reliable playmaker in an NFL offense. We'd be surprised to see him fall out of the first two rounds of the draft.
4. Will Fuller, Notre Dame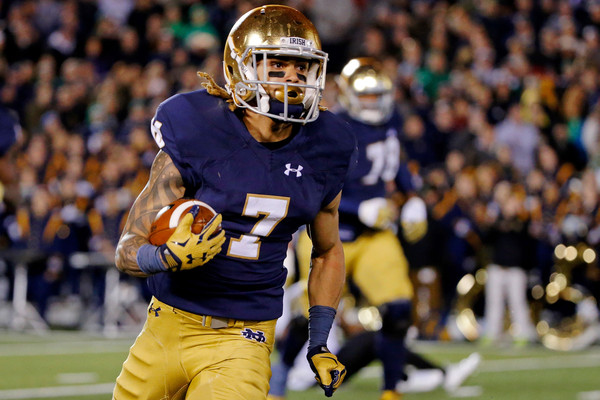 The fastest receiver (in terms of the 40-yard dash) at the combine, Will Fuller is rapidly rising up draft boards and making a case as a top-three player at his position. His productivity at Notre Dame certainly helps his case, as Fuller was a reliable threat for the Irish in the last two seasons. His sophomore campaign in 2014 saw him catch 76 passes for 1,094 yards and 15 touchdowns. He returned in 2015 with an equally brilliant season, bringing in 62 passes for 1,258 yards and 14 touchdowns.
Fuller was a big play weapon for Notre Dame as well, owning a 20.3 yards per reception last season with his longest reception compiling 81 yards. He's relatively small for a NFL wideout (6-foot-0, 184 pounds), but Fuller's speed, proven production, and big play ability make him an intriguing option for teams looking to upgrade at the position. He probably won't fall outside of the top 20 picks in the draft.
3. Josh Doctson, TCU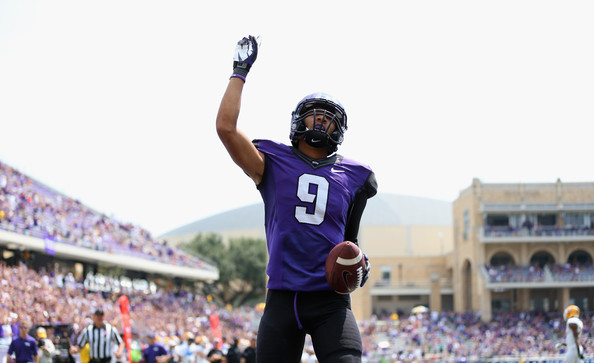 In a TCU offense that loves to score, Josh Doctson was the go-to man. In 2014, he caught 65 passes for over 1,000 yards and 11 touchdowns, but last season was when the Texas native really showed the world what he can do. In just nine full games in 2015, Doctson caught 79 passes for 1,327 yards and 14 touchdowns. He also had several breakout performances over that time, as he went for over 150 yards and two touchdowns six times last season (highlighted by a 18-reception, 267-yard, three-touchdown performance against Texas Tech).
Clearly, Doctson was a game-changing type of player for TCU and has the potential to do the same for an NFL team as early as next season. He has the size (6-foot-2, 202 pounds), the proven productivity, and the mentality of a potential great wideout. Plus, he can jump, as shown by his high vertical leap at the NFL Combine. Doctson should go within the top 10 or 15 picks in the draft and could even be the first receiver taken off the board when all is said and done.
2. Laquon Treadwell, Ole Miss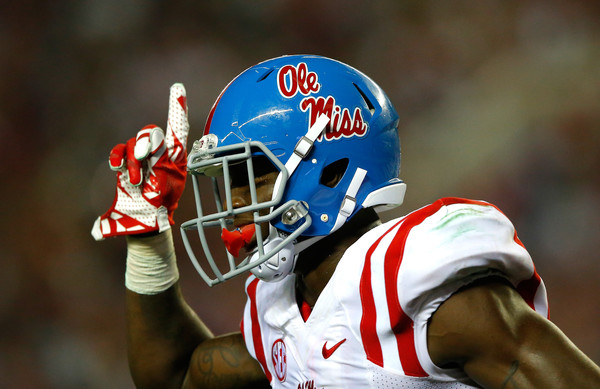 Laquon Treadwell has a chance to become an "Odell Beckham Jr." or a "DeAndre Hopkins" at the NFL level — but not because of his physical traits. Sure, 6-f00t-2 and 221 pounds is a solid frame for a wideout, but Treadwell doesn't blow you away with any one thing he does. He didn't have a fast 40-time at the combine, didn't jump the highest, and didn't have the most reps on the bench press. What he did at Ole Miss, though, was produce results.
Treadwell had three solid seasons with the Rebels, but 2015 was truly special. His stat line last season read 82 catches, 1,153 yards, and 11 touchdowns, but even those impressive numbers don't tell the whole story. What teams love about Treadwell is his route-running skills, ability to catch the ball with his hands, and ability to win in jump ball situations. When you see him on the field, it's clear that this guy is as talented a player as there is in the entire 2016 draft class. He could easily be a top-10 pick.
1. Corey Coleman, Baylor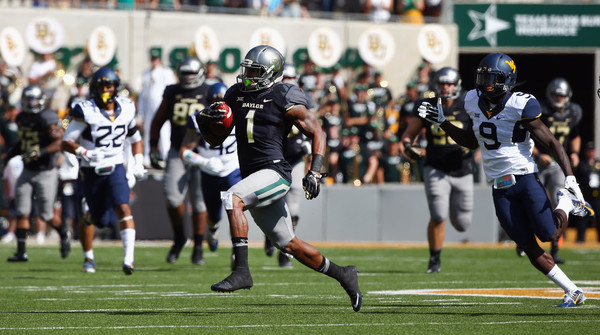 As the nation's top wide receiver — winning the 2015 Biletnikoff Award — Corey Coleman was the most critical cog in the highest-scoring machine in college football last season. He raised eyes with an impressive sophomore campaign in 2014, going for 64 catches, 1,119 yards, and 11 touchdowns for the Baylor Bears.
However, 2015 was when Coleman portrayed his true excellence. He had 74 catches, 1,363 yards, and a mind-boggling 20 touchdowns last season, which is the main reason many consider him the top receiver in this year's draft. Coleman has the quickness and leaping ability (as the combine proved) to be a serious vertical threat in the NFL.
With his nose for the end zone and route-running ability, teams will likely look over his small size at 5-foot-11 — plus, other small receivers have found plenty of success in the league. Whether or not Coleman is really the top receiver in this year's class is up for debate, but given his past production and accolades, it's hard to argue against him.
Statistics courtesy of NFL.com and ESPN.com. Videos courtesy of YouTube.com.