NFL Draft: The 2019 Running Backs With the Fastest 40-yard Dash Times
With the 2019 NFL draft right around the corner, teams are focusing on speed as they look to find the next superstar running backs. Although a player's speed is not a complete litmus test for their overall talent, speed can be the difference between a player of a similar skill set getting drafted lower, higher, or not at all. Nothing can emulate what a player does in-game, but the 40-yard dash gives teams an idea of what a player is like on his feet, and the following running backs had the fastest times in the 2019 NFL combine.
10. Tony Pollard, Memphis: 4.52 seconds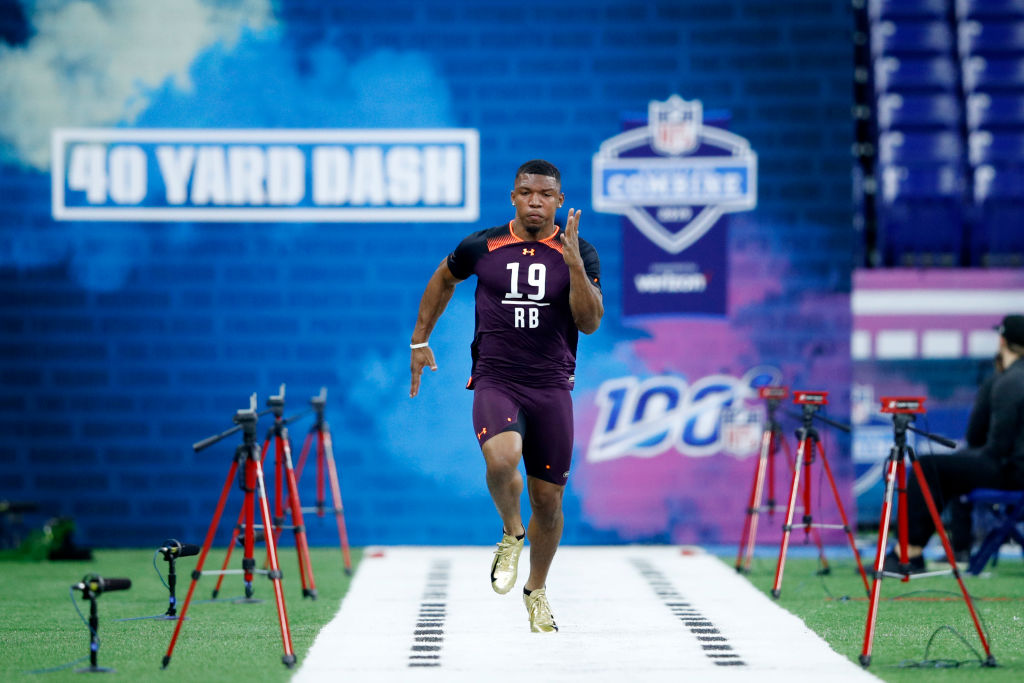 A masterful returner, Tony Pollard spent three years as both a member of the Tigers' special teams and went from a redshirt freshman to a star among the entire college world during his three-year stint with the Tigers.

9. Trayveon Williams, Texas A&M: 4.51 seconds
Although he was good his first two years at Texas A&M, Trayveon Williams broke out during his final year as a junior in 2018. He was one of the best rushers in college football with 1,760 rushing yards and 18 touchdowns. Although not his primary skill set, he also became a decent pass catcher, as well, receiving 27 passes for an average gain of nearly 10 yards in the process. That kind of production coupled with his 40-yard dash time makes Williams one of the top running backs in the NFL draft.

6. Miles Sanders, Penn St.: 4.49 seconds (TIE)
After securing his starting spot during his final year as a Nittany Lion, Miles Sanders made headlines. He was his team's most consistent rusher during a season in which he proved to be one of the best offensive players in the entire Big Ten. Although he isn't expected to be a top pick, many believe that he could be a valuable addition in one of the earlier rounds. Sanders might be a steal whenever he's picked. One source ranks him No. 2 among all running backs in the NFL draft.

6. Karan Higdon, Michigan: 4.49 seconds (TIE)
Projected to be a middle-round selection, Karan played four years at Michigan and showed a knack for growth each year. During his senior season, he showed up enough to become one of the best running backs in the Big Ten with his consistent play on offense. He finished the season with nearly 1,200 yards rushing and 10 touchdowns.

6. Darrell Henderson, Memphis: 4.49 seconds (TIE)
Henderson spent three years as a Memphis Tiger, and he accumulated many accolades not only within his team and conference but on a national scale. Any way you look at it, he was one of the top running backs in college football last season. His 1,909 yards rushing ranked No. 2, and he tied for second with 22 touchdowns.

Projected to be an early round pick, teams are looking for Henderson to utilize his relentless speed in the backfield and across the offensive formations as he has a knack for explosive play and getting lots of yardage when he is given the opportunity to run the field.

5. Travis Homer, Miami: 4.48 seconds
Homer did not take a normal path to become an NFL draft prospect. As a freshman, he got more run as a defensive player, amassing eight tackles in the process. It wasn't until his second year that he began to show his skill at the offensive side of the ball. Although he is still raw, many believe that Homer could be a steal in the middle rounds if he can reach his true potential.

3. Mike Weber, Ohio St.: 4.47 seconds (TIE)
Another middle-round projection, Weber's career at Ohio St. was plagued by injuries which kept him from making leaps into the projected early rounds. He wasn't the Buckeyes' top back last season; J.K. Dobbins was. That's not to say that he isn't skilled, however. When he was able to get on the field, he showed lots of promise with five yards per reception and six yards per carry.

3. Jordan Scarlett, Florida: 4.47 seconds (TIE)
Off the field issues, including being suspended for a season, plagued Scarlett's, but many believe that if he commits himself to becoming a better football player, he could end up being a steal in the draft. His 40-yard dash time is one of the fastest of all the running backs in his class. Still, teams are worried about his character issues, and some believe that he may go undrafted.

2. Ryquell Armstead, Temple: 4.45 seconds
Ryquell Armstead played four years at Temple, and he went from a perennial bench player to a starter by the end of his senior season. He had nearly 1,100 yards and scored 13 times in 2018. Projected to go in the middle rounds, many believe that he could work his way into an effective NFL player thanks to his size and his relentless, competitive play.

1. Justice Hill, Oklahoma St.: 4.40 seconds
Oklahoma teammate Kyler Murray could be the top pick in the NFL draft. Hill probably won't be picked in the first round, but he has a chance to be selected later in the draft. With the fastest 40-yard dash time, Justice Hill's ability to get down the field isn't in question. However, concerns about his small size and lack of poise make him a middle round prospect who will need to earn his spot on an NFL roster. However, if he can adjust to the pro level, those concerns could prove to be unfounded.