NFL Draft Showdown: Jared Goff vs. Carson Wentz
When the 2016 NFL Draft kicks-off at the end of April, plenty of teams will look to improve upon their depressing quarterback situations by selecting their future of the franchise (hopefully). Starting with the No. 2 pick in the draft — owned by the Cleveland Browns — and trickling through the first round, it wouldn't be surprising to see as many as four teams take a chance on a young signal caller.
Luckily, there are a handful of intriguing options for those clubs to consider. Guys like Paxton Lynch out of Memphis have the size to be successful. Others like Connor Cook from Michigan State have the experience and a track record of success. No matter who you ask, though, one thing is clear about this year's quarterback class: Jared Goff from Cal and Carson Wentz from North Dakota State are the two players with the most potential at the position.
Both Wentz and Goff display characteristics that indicate success at the NFL level. However, which QB has the brighter NFL future and which will ultimately get drafted first? We broke down the tale of the tape to compare the two and pick the head of the class.
The case for Goff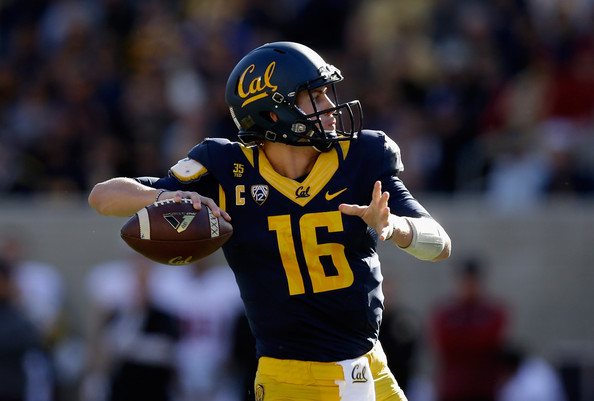 Jared Goff had a statistically impressive career for a Cal team that didn't have a lot of success during his tenure there. Goff threw for more than 3,500 yards in each of his three seasons in Berkeley while throwing for 96 touchdowns compared to just 30 picks. Among all FBS quarterbacks in 2015, Goff was third in passing yards at 4,719, third in passing touchdowns with 43, and 10th in quarterback rating. Those numbers make it clear that Goff was one of the best quarterbacks in the nation a season ago, even if Cal didn't have the most success.
The Golden Bears entered the 2015 season with high expectations, but they stumbled to an 8-5 mark (with a bowl win) that saw them finish with just a 4-5 record in Pac-12 games. That record was actually the best in Goff's three seasons as a starter, as the Bears won just one game his freshmen year before improving to five wins in 2014. Those losing seasons gave Goff a terrible record as a starter, but he can't take the blame for those struggles.
People who analyze Goff are quick to say that he has a quality arm. He showed poise and the ability to move in the pocket at Cal, and he proved his intelligence when recognizing blitzes — all excellent qualities for an NFL quarterback. Of course, Goff is far from perfect. He isn't the biggest guy, which could affect his durability. He also showed periods of inaccurate throwing while at Cal. However, Goff has all the tools to become a quality starting QB; he could start for a team from day one if need be, but there are some kinks to work out in his game.
The case for Wentz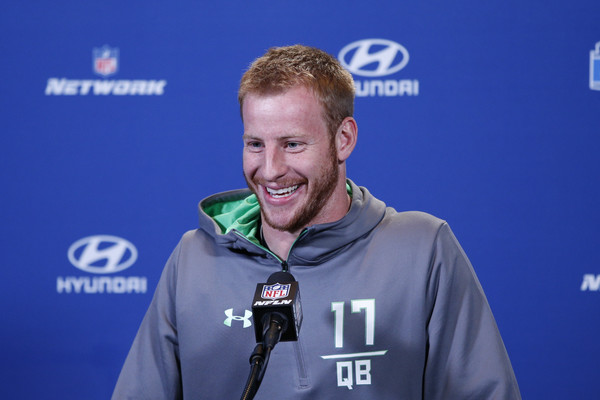 A lot of people didn't know about Carson Wentz prior to the Senior Bowl (and many still don't know who he is). That's because Wentz played for an FCS school, North Dakota State, so he certainly didn't receive the national attention of, say, Jared Goff. However, he played well at the Senior Bowl, which only further contributed to the growing buzz around the Bismark, N.D. native.
Wentz didn't take the reigns of the Bison offense until his junior season in 2014, when he put up some impressive numbers. He threw for 3,111 yards and 25 touchdowns, leading NDSU to their fourth consecutive FCS Championship. Wentz's senior season saw him miss two months due to an injury, but he came back to throw for 1,651 yards and 17 touchdowns in seven starts, leading North Dakota State to yet another title. Even though he did it at a lower level of college football, few players in America can say they had as much success as Wentz did in terms of winning games.
Things to love about Wentz include his prototypical size at 6-foot-5 and 237 pounds. His accuracy, deep passing skills, and ability to make plays with his feet make him desirable. The relative lack of experience (just two years as a starter) could hurt Wentz's draft stock a bit, as does his history of injuries. However, seeing how well big-bodied, mobile quarterbacks such as Cam Newton and Ben Roethlisberger have done in the past, it's understandable to see NFL teams chomping at the bit to see how Wentz' career will turn out.
Who will do better at the next level?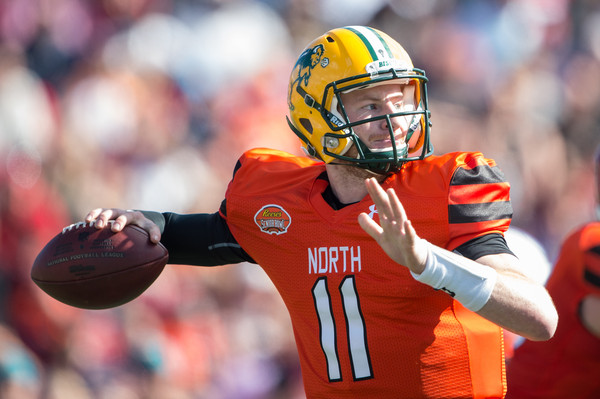 Goff and Wentz have the potential to excel in the NFL. Each player found different pockets of success in college that indicate their ability to be successful in the pros. Despite the fact that they both could be great, one player stands out as having more potential for an immensely bright future in the league — Carson Wentz.
While it's somewhat of a concern that he played in a lower division in college, Wentz demonstrates everything that a team could want in a modern NFL quarterback. Goff is probably the safer choice, mostly because he played for a major university. If a team wants an exciting future that could deliver a championship or two in the next 15 years, Wentz seems like the better option.
Statistics courtesy of NFL.com and ESPN.go.com.