NFL Draft: Top 5 Cornerback Prospects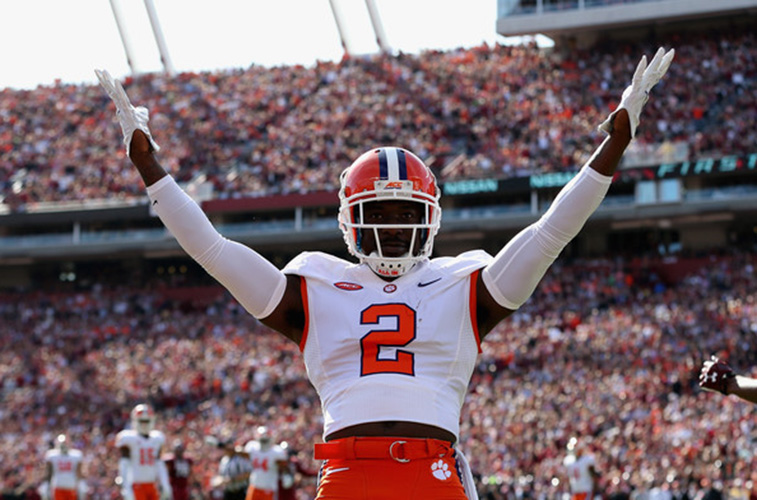 In today's pass-oriented NFL, the only thing more important than having a great quarterback on your roster is having a great corner to stop the other team's best receiver. That's why we see the cream of the crop, guys like Darrelle Revis, Patrick Peterson, and (most recently) Josh Norman, receive some of the largest contracts in the game.
With the need for corners never running thin, when the NFL Draft begins on Thursday night, several top flight cover guys in college could hear their names called very early.
As many as five teams could be thinking cornerback during the first-round of the draft on Thursday, showing the need at the position and the depth of this year's class. With that depth and demand, we have the top five corners that will be coming off the board this weekend.
5. Mackensie Alexander, Clemson
Clemson has a strong group of draft prospects this season that includes the likes of Shaq Lawson and Kevin Dodd, but Mackensie Alexander can't be overlooked as a potential stud at cornerback at the next level. An All-ACC player, Alexander didn't have huge numbers over his final two seasons at Clemson simply because people didn't throw his way. When QBs did target him, Alexander allowed a completion percentage of just 29.6% with zero touchdowns thrown against him. While he lacks size at just 5-foot-10, he more than makes up for it with a fiery competitive attitude and the desire to compete with the best. At this point, Alexander feels like a late first-round or early second-round selection and with time, he could turn into a reliable corner for a team that's willing to be patient.
4. William Jackson III, Houston
Jackson began his career in junior college before finding a home with the Houston Cougars. Once there, he became a leader on the Cougars' defense, earning two second team all-conference selections over the course of his final two seasons. Last year, Jackson really excelled with five interceptions and 23 pass breakups for a Houston team that won a big time bowl game against Florida State.
With an impressive 40-time of 4.37 (third among corners) at the NFL Combine and strong playmaking ability, Jackson could turn out to be the best corner this draft has to offer. He'll likely be drafted near the end of the first-round though, where a playoff-ready team will be happy to add him to the mix.
3. Eli Apple, Ohio State
Apple is just one of many highly ranked Ohio State Buckeyes who are entering the NFL next season. While not as highly touted as Joey Bosa or Ezekiel Elliott, Apple is likely to join them as a top 25 pick come Thursday night. He only started for two seasons at Ohio State, but over that time he managed a high number of tackles and impacted plenty of passes.
He also was an integral part of the Buckeye's championship run in 2014, sealing the title with an interception late in the championship game against Oregon.  With the desired size and speed for an NFL corner, along with excellent hands and quickness, Apple is likely going to be a great pick for a playoff caliber team late in the first-round.
2. Vernon Hargreaves III, Florida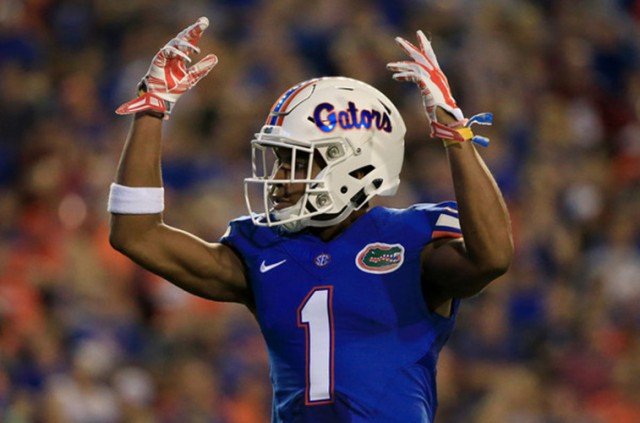 Many are quick to point his size to discount his potential as a star corner at the next level, but 5-foot-1o Vernon Hargreaves has all the tools to make people forget about his relatively small stature. In three seasons at Florida, he earned three consecutive first team All-SEC honors as well as two All-American honors in 2014 and 2015.
Over that time span, Hargreaves also proved his playmaking potential with 10 interceptions and 38 pass breakups. With the ability to be successful in all types of coverage, great speed and leaping ability, and willingness to make plays against the run make him one of the best players the draft has to offer. Throw in the fact that he can return kicks and it would be surprising if Hargreaves falls out of the top 10.
1. Jalen Ramsey, Florida State
Potentially the best player in the draft regardless of position, there's been a lot of debate about what position Ramsey will actually play in the NFL. He found success at Florida State both as a corner and a safety, but it appears that he's best suited to line up at corner — although that versatility is just another thing scouts love about him.
A two time All-ACC and All-American player, Ramsey didn't have a bunch of interceptions during his collegiate career (just three in total), but the completion percentage he allowed (38%) proves why that number might be so low. He has the prototypical size of an NFL corner and also has the leaping ability to challenge just about any pass that is thrown his way.
In reality, there isn't a lot not to like about Ramsey and he could easily be the first non-quarterback taken on Thursday night.
Stats and info courtesy of NFL.com and SR/College Football.