NFL Draft: Why Myles Jack Is the Top Player in the Class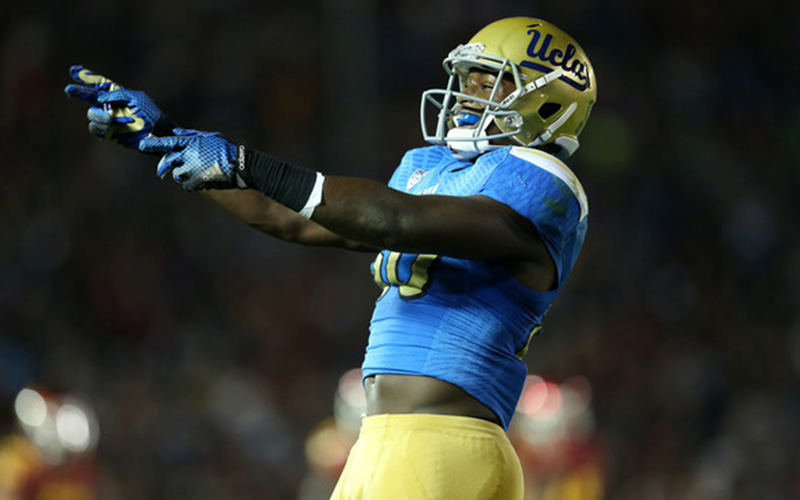 The debate about who the best player in the 2016 NFL Draft class is wide open. Names like Joey Bosa, Laremy Tunsil, Jalen Ramsey, and even Ezekiel Elliott have been thrown around by the countless number of draft experts out there, but nobody can seem to agree about which prospect has the brightest future in professional football.
One name that hasn't necessarily been associated with the honor is now former UCLA linebacker Myles Jack. However, Jack just might be the player who could come in and make an immediate impact for any NFL team. With lofty comparisons to San Francisco 49ers linebacker NaVorro Bowman, it's clear that Jack is top linebacker in this draft.
At 6-foot-1, 245 pounds, his size may cause scouts to overlook him a bit, but it's his game-changing skills and versatility that sets him apart from the rest of the class. Let's dive deeper into Jack's case as a can't-miss prospect with the top three reasons supporting the claim.
Something to prove
After two spectacular seasons to begin Jack's UCLA career, which included honors as Pac-12 Offensive and Defensive Rookie of the Year in 2013 (more on his offensive ability later), 2015 was likely the most frustrating season of his young football career. Jack played in just three games during his junior campaign before suffering a season-ending knee injury.
The injury has hindered Jack's pre-draft process, forcing him to miss the NFL combine and cancel his pro day. While a serious injury is generally a red flag for players entering the league, recent history shows that world-class athletes can come back even better than they were prior to their setback. The prime example of an NFL rookie coming back from knee surgery relatively quickly is Los Angeles Rams' running back Todd Gurley.
Similar to Jack, Gurley dealt with an injury during his final collegiate campaign at the University of Georgia, playing in only six games during the 2014 season. It didn't scare the Rams, who knew Gurley had the skills and production to be an elite NFL running back. They drafted him 10th overall in last year's draft. In his rookie season, the Georgia product didn't disappoint, as he rushed for 1,106 yards and 10 touchdowns in 13 games, winning Offensive Rookie of the Year honors in the process.
Despite his injury, Jack's tape shows that he has the ability to be something special in the NFL. The lack of workouts leading up to the draft shouldn't scare teams away. Instead, the league should be excited about what he can do in the face of adversity. Jack's got something to prove and with his skill set, that's a frightening thought for opposing offenses.
Game-changing defender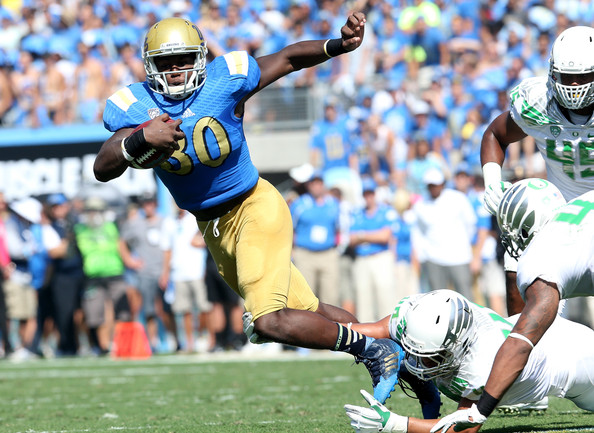 When healthy, it was pretty clear that Jack was one of the best defenders in college football over the past few seasons. In his freshman season of 2013, he accounted for 76 tackles, a sack, intercepted two passes and defended another 11, and forced two fumbles in 13 games. He was equally as good as a sophomore, recording 87 tackles and intercepting one pass while defending another seven.
Even in his injury-shortened junior season, Jack displayed his skill with 15 tackles and one interception in just three games played. While his numbers alone make him stand out, Jack's effect on the game spans beyond his stats. His quickness to the ball allows him to be a part of every play and he simply doesn't quit with his intense energy level (see here).
That type of effort is contagious for an entire defensive unit, no matter which level of football it is. His play helped the UCLA Bruins win 10 games in back-to-back seasons in 2013 and 2014 for the first time since the late '90s. If that's not indicative of the game-changing type of player Jack can be, then nothing is.
Versatility
What really makes Jack such an intriguing football player is his unmatched versatility. UCLA asked him to do everything on the football field and he did so with immense success. On defense alone, Jack played linebacker and safety for the Bruins, displaying the ability to not only tackle with ease, but also to cover tight ends, running backs, and even receivers.
Playing multiple defensive positions in college allowed him to show off his strength, speed, and unquestioned athleticism. So, too, did carrying the ball on offense. On 38 carries as a running back during his freshman season, Jack gained 267 yards (7 yards per carry) and seven touchdowns, which earned him that Pac-12 Offensive Rookie of the Year award. He came back in his sophomore season to accumulate another 113 yards on 28 carries with three touchdowns on the ground.
Even in his three-game season in 2015, Jack still managed to find the end zone from the backfield. Playing on offense allowed him to prove that he is fast, strong, and that he has a nose for the end zone; all desirable characteristics for an NFL linebacker. What Jack's versatility does is allow for defensive coordinators to be creative in their schemes. He can rush the quarterback, cover a tight end, or stay in his zone and attack the football.
When his team's on offense, he'll always be a "trick-play" threat. Jack will be a thrill to watch on Sundays and should step in and be a star from day one. In this draft class, there aren't many other players you can say that about, making the linebacker the player to chase at the end of April.
Statistics courtesy of NFL.com, SR/College Football, and Pro-Football Reference.com. Videos courtesy of YouTube.com.