NFL Draft: Why the Tennessee Titans Need to Trade the No. 1 Pick
The Tennessee Titans were arguably the worst team in the National Football League this past season. They posted a league-worst 3-13 overall record (as did the Cleveland Browns), they had a point differential of -124, they gave up a league-high 54 sacks, and they were blown out by their opponents on several occasions. In fact, the Titans were so bad in 2015 that team owner Amy Adams Strunk chose to fire Ken Whisenhunt from his position as the team's head coach less than halfway through the season.
The one bright spot for the Titans that comes from their substantial shortcomings in 2015: they now own the No. 1 overall pick in the 2016 NFL Draft. It kind of goes without saying, but Tennessee desperately needs to get this pick right if they are going to climb out of the AFC cellar anytime soon.
As one would expect, the Titans have holes all over their roster (this is why they wound up with the first overall pick, after all). One position they don't have to worry about, though, is quarterback. After posting a 2-14 regular season record in 2014, they landed Marcus Mariota (pictured above) with the second overall pick last year, nabbing the player who had just won the 2014 Heisman Trophy at the University of Oregon.
In his rookie season, Mariota looked the part of a future Pro Bowl quarterback, but he also got flat-out beat up. As we previously mentioned, the Titans allowed more sacks than any other team in the league in 2015, and due to his dual-threat abilities, Mariota also took several hits outside of the pocket. Simply put, the Titans have to protect their future by drastically improving their offensive line. Knowing this, it should come as no surprise that most people around the league are expecting Tennessee to use the No. 1 overall pick on Ole Miss offensive tackle Laremy Tunsil. While Tunsil looks like a safe pick and a player who will end up playing in several Pro Bowls, we believe that the Titans would be better served to go in a different direction.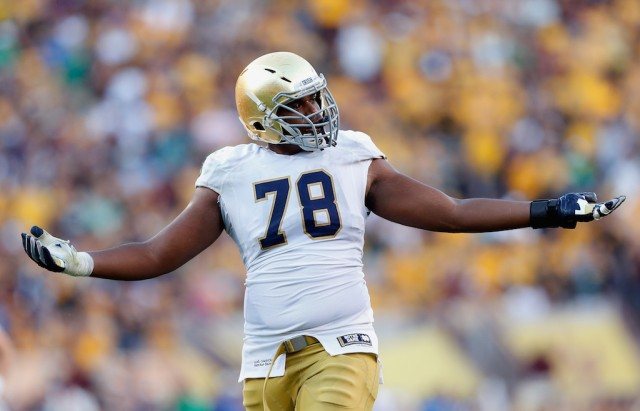 To us, the move that makes the most sense for the Titans is for them to trade away the No. 1 overall pick (assuming that they can find a viable trade partner) to pick up additional draft picks. In this scenario, the most likely trade partner for Tennessee would be one of the more quarterback-starved teams around the league. If there is a team that has fallen in love with Carson Wentz out of North Dakota State or Jared Goff out of Cal, they may be willing to pay a steep price to move ahead of the Cleveland Browns, who reportedly are high on both signal callers. And let's not forget, the Titans would likely land multiple first round picks – in addition to other draft pick and/or player compensation – in exchange for the No. 1 overall pick – which is something that would be invaluable in their efforts to rebuild their roster.
There is no arguing that Tunsil is the best available offensive tackle prospect in the 2016 draft class, and a player who projects to be an excellent left tackle in the National Football League. However, with that being said, the difference between him and guys such as Ronnie Stanley out of Notre Dame (pictured above), Jack Conklin out of Michigan State, or Taylor Decker out of Ohio State isn't all that noticeable – and all three of those players will likely be available after the top five picks have already been made. If the Titans are able to trade down in the first round and land a player like Stanley, Conklin or Decker, while also adding valuable draft picks to their arsenal, they will have made serious progress in their daunting rebuilding project.
All statistics courtesy of Pro-Football-Reference.