NFL: Eddy Pineiro Is the Chicago Bears' Starting Kicker… for Now
The Chicago Bears had the best scoring defense in the NFL last season allowing only 17.7 points per game. They also ranked third in total defense allowing 299.7 yards per game. Chicago entered the 2018 postseason on the heels of a 10-1 run and was a popular dark horse pick to win the Super Bowl.
But in the first game of the postseason, it all fell apart. The Bears defense gave up a touchdown in the closing moments of the game to go down 16-15 to the Philadelphia Eagles, but Mitch Trubisky answered with a nice drive to lead Chicago into field goal range. Cody Parkey just needed to convert on a 43-yard attempt to send the Bears into the divisional round.
Parkey did not convert. He was promptly released by the Bears in March, and they've been searching for a solution at the kicker position ever since. With two games remaining in the NFL preseason, Eddy Pineiro is the last man standing in Chicago.
Pineiro was battling with Elliott Fry for the kicking job
Elliott Fry was the early favorite to be the team's kicker out of training camp. He was the only kicker among the group with any professional experience, kicking for the Orlando Apollos in the now-defunct Alliance of American Football. He went a perfect 14-for-14 in his time with the Apollos.
Eddy Pineiro was the placekicker for the Florida Gators in 2016 and 2017. He led the nation in field goal percentage in 2017 with a 94.4% (going 17-for-18) and finished his college career with an 88.4% success rate (converting on 38 of his 43 career attempts). Pineiro was signed by the Oakland Raiders in 2018 but spent the entire season on injured reserve before being traded to the Chicago Bears on May 6.
In Chicago's first preseason game of 2019, Elliott Fry went 1-for-1 on field goal attempts and 1-for-1 on extra point attempts while Eddy Pineiro went 1-for-2 on field goal attempts. In the team's second preseason game, Pineiro went 2-for-2 and Elliott Fry went 0-for-1 on field goal attempts. It was after this game that the Bears decided to cut Elliott Fry and move forward with Eddy Pineiro as their only placekicker.
Pineiro remains, but there is still work to be done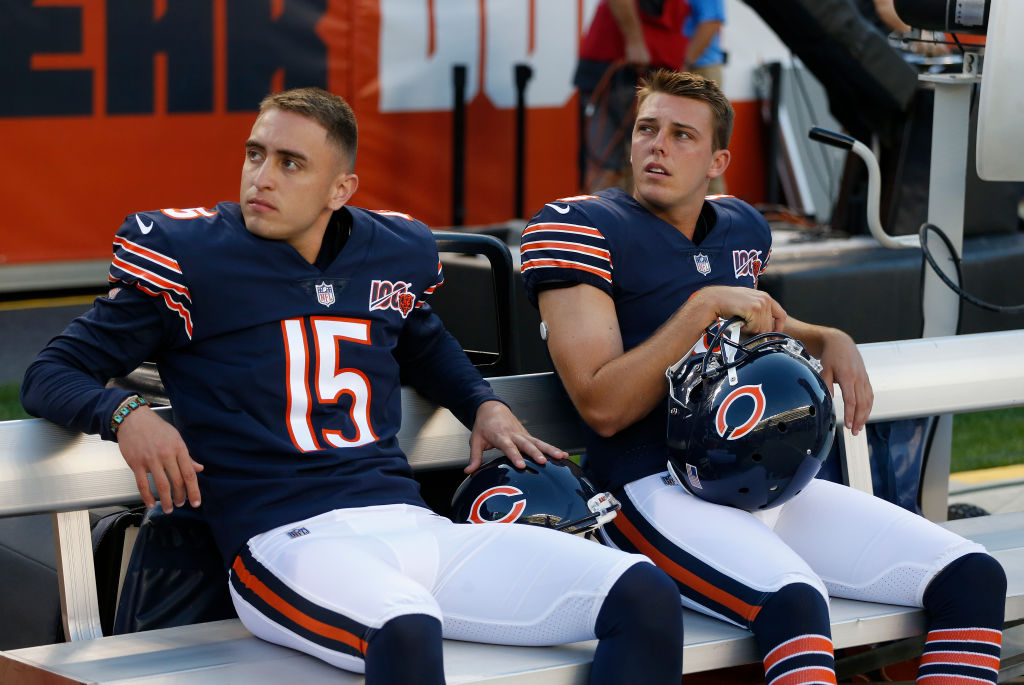 Pineiro expressed his frustrations with the kicker competition last week on the Bears official website. "Yeah, it's a little exhausting," Pineiro explained. "Just every day you feel like, 'Oh damn, if I miss this kick am I going to get cut? Are they going to trade for somebody else?' It does get annoying, but I can't control any of that. What I can control is showing what I can do on the field, and hopefully we get some more opportunities this next week."
For at least one week, Pineiro will be getting all of the opportunities when the Bears next take the field this preseason on the road against the Indianapolis Colts. The 23-year-old is excited about the opportunity.
"The way I look at it, I feel like I haven't won the competition," Pineiro told the press. "Everything's still open. Who knows if they bring somebody else in? But it does give me a confidence boost, like OK, I have a shot to be the guy and prove to the coaches that I can be the guy that they want me to be. So yeah, I feel a lot more confident, yeah."
It's Pineiro's job to lose
"What this enables us to do now with two preseason games left is get more kicks [for Pineiro]," Bears Head Coach Matt Nagy explained to reporters. "Now you're not splitting reps in the preseason game, and I think there is a mental aspect too for Eddy with him now able to get out there and kick in these final two preseason games and get those reps. The volume will pick up for him. It's a great opportunity for him to see what he can do."
There are still veteran kickers available in free agency like Matt Bryant, and more will be available soon as NFL teams make their final cuts in the coming weeks. But with no one left on the Bears roster to compete with, it would appear that Eddy Pineiro has the inside track at the job.
At least, until the next time he misses a kick, and this conversation gets fired up again.