NFL: Falcons' Matt Ryan's Impressive Feat Could be in Jeopardy
The Atlanta Falcons fell to their fifth straight loss on Sunday afternoon in a 37-10 blowout to the Los Angeles Rams, but the attention has shifted over to the health of star quarterback Matt Ryan. It marked the first significant injury that Ryan has dealt with in quite some time that may put an end to an incredible career mark.
Matt Ryan suffers ankle injury vs. Rams
Ryan exited the game late in the fourth quarter after being sacked by reigning Defensive Player of the Year Aaron Donald. He was examined on the sidelines then shortly after that went to the locker room.
Ryan was spotted in the locker room wearing a walking boot. Following the game, head coach Dan Quinn voiced that the team will have a better sense of where Ryan is physically as the week wears on, according to Vaughn McClure of ESPN.
"Well, we'll have a better sense for that as the week goes. I didn't get a chance to visit with him yet after the game, so we'll get a better sense for where we'll go. If he's not able to [go], obviously we'll lean on Matt Schaub, who's got plenty of experience."
Before Week 7, Ryan had put together a strong start to the season, having passed for at least 300 yards in each of the first six games played.
Matt Ryan's Iron Man streak in jeopardy
Since entering the NFL as the third overall pick in the 2008 draft by the Falcons, Ryan has proven to be one of the most durable players in the league.
The 34-year-old missed just one game in his entire career that occurred in his rookie campaign after suffering a turf toe injury in Week 12 action against the Tampa Bay Buccaneers. In the time that has followed, he has played in the last 152 straight regular-season games, which is the fifth-longest streak in NFL history and second-longest active span only trailing Philip Rivers.
It has been the primary reason that has allowed Ryan to put forth some highly productive campaigns, as he has thrown for more than 4,000 yards in each of the last eight straight years. He has also earned four Pro Bowl selections, a First-Team All-Pro nod, MVP award (2016), and an NFL Offensive Player of the Year honor (2016).
Ryan now faces the potentially real chance he could miss his first regular-season game in nearly a decade.
What to expect the Falcons to do with Matt Ryan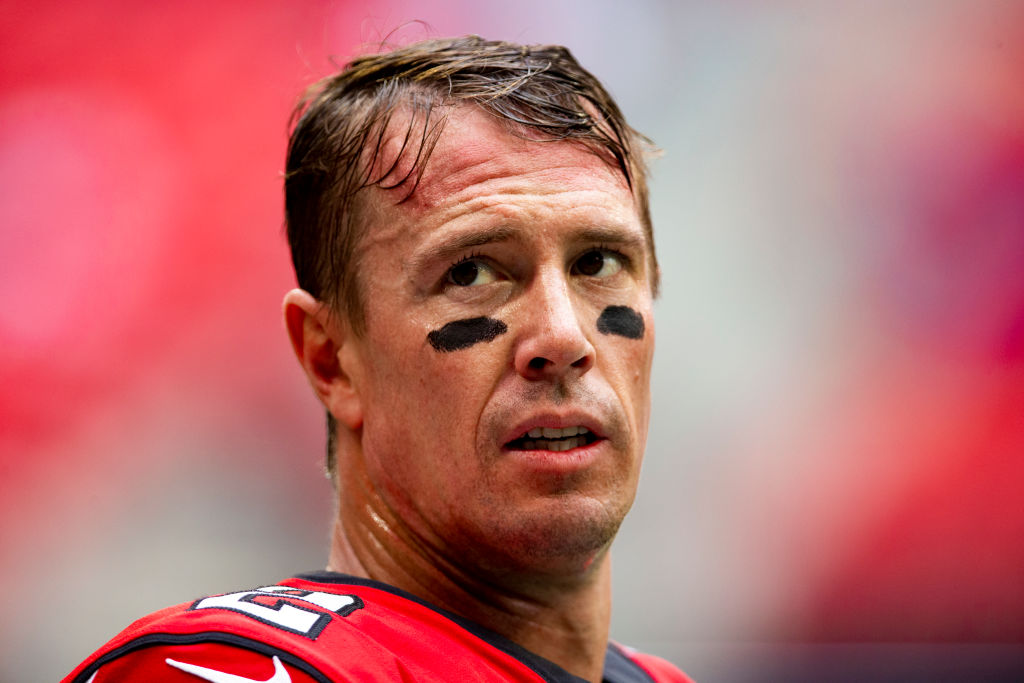 Atlanta has already come out to state that Ryan is dealing with a high-ankle sprain, which should immediately limit his ability to practice in the days leading up to the Week 8 matchup against the Seattle Seahawks.
Quinn has quickly addressed the situation by stating that the team will prepare in both manners, be it Ryan on the field or Matt Schaub filling in for him on Sunday, according to Will McFadden of Atlantafalcons.com.
"We'll be preparing both ways," Quinn said. "If he can [go], that's great. If he can't, then the bye will come at a good time for him next week. He's already in the pool running. He'll try anything he can [to get ready]. If he can't, that's the reason Matt Schaub is here, for moments like that. If he is called upon, he'll certainly be ready to do that."

Ryan is recovering from an injury that will take a couple of weeks to recover from, at the very least. The Falcons are well out of the playoff picture, which may lead Quinn to take the precautionary approach.
Schaub had performed well on his one drive against the Rams, leading the Falcons down to their only touchdown of the game. He completed all six of his passes for 65 yards that was capped off by a 10-yard touchdown pass to tight end Austin Hooper. In his 15-year career, Schaub has made 92 starts and should be capable of a spot-start if needed.