NFL Fans Agree That Roger Goodell Is Incredibly Overpaid
Since taking over as commissioner in 2006, Roger Goodell's NFL has seen a lockout, countless controversies, and many feuds with players and owners. Despite these shortcomings, Goodell is paid handsomely for his job and shows no signs of going anywhere.
How much does Roger Goodell make?
According to ABC News, Goodell signed his current deal in 2007. The deal was worth over $200 million during its five-year run through the 2023 season. Team owners permitted a six-person NFL compensation committee to negotiate the extension.
The contract was not without its naysayers. It should come as no surprise that one of the biggest detractors was outspoken Cowboys owner Jerry Jones. (He sat on the committee as a non-voting seventh member.) Jones fought for accountability from Goodell, but the voting members ultimately overruled him. He did not press matters further.
A catch for Goodell's contract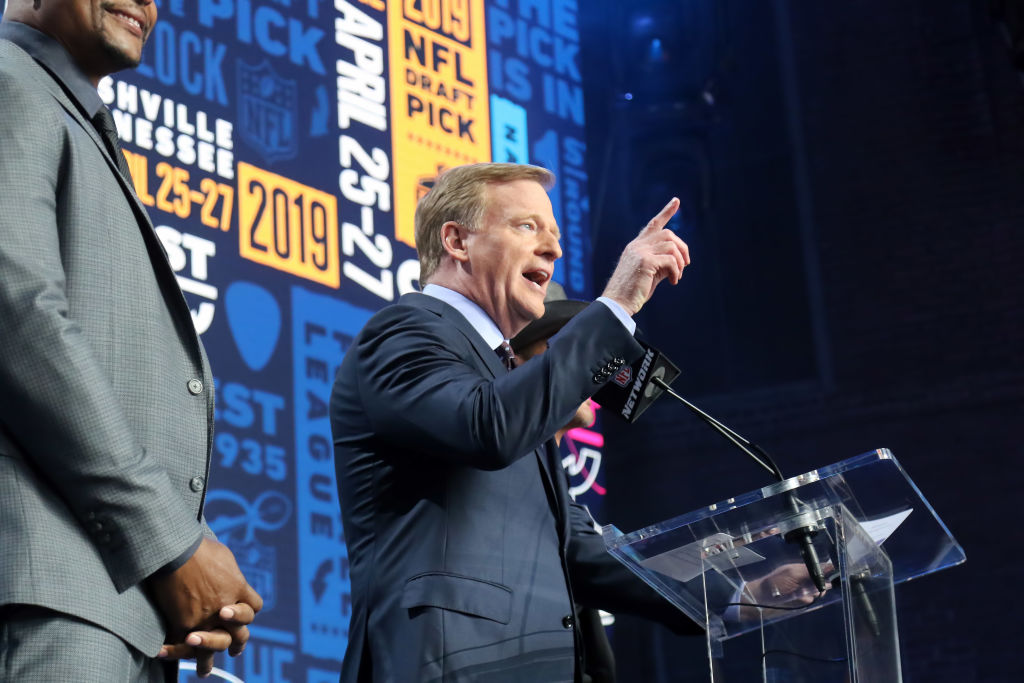 Like the incentive-ridden NFL contracts, Goodell's contract numbers do not tell the whole story. His base deal guarantees seven figures. To earn over $30 million in bonuses, however, he must make the owners happy when they vote about his bonuses throughout the contract.
The committee seemed more than happy about the deal. According to ABC News, committee leader and Atlanta Falcons owner Arthur Blank explained the terms:
"I'm happy that it's over. I was just telling Roger that, in the history of the NFL, I'm not sure a big decision has been so transparent as this one. We got a lot of input from a lot of owners … we feel very good about what developed out of that."
Being a commissioner is a hard job with a lot of responsibilities. The NFL owners need someone who will act in their best interests.
What does the NFL Commissioner Goodell do?
The commissioner is the face of the NFL's business side. Although he's responsible for the on-field product, Goodell's main purpose is to ensure that the owners are happy and their pockets are full. This can mean anything from rule-changes to league-wide policies.
Commissioner Goodell is also the NFL's top representative for any collective bargaining talks. He has the final say on scheduling and rule changes. He is also in charge of levying punishments on players who break rules.
Critics believe Goodell uses his power inconsistently when it comes to controversy. When one player does something that hurts the league or a team, they're often punished more severely than those with violence in their past and present.
Should the NFL pay Goodell less?
Around the time of the 2017 renewal, Forbes argued that Goodell makes far too much money based on what he does. On top of the punishment issues, things like schedule-making are largely done based on mathematics; collective bargaining is only once every few years; and the NFL's revenue makes negotiating new deals rather easy. Forbes explains:
"Roger Goodell will try to claim that he is responsible for the NFL's large revenue increases, for the multibillion dollar increases in television, sponsorship, and licensing deals. If this is true, then he is easily worth everything he wants to be paid and more. Yet, is it credible that Roger Goodell is solely responsible for the increase in league revenue?"
Dorfman believes Goodell gets credit for an NFL product that's largely sustainable. Judging by his reputation on draft night and online, the fans agree. He inarguably has a tough job, but he's also relatively expendable when it comes to his income.
Follow more updates from Sportscasting on our Facebook page.