NFL Fans Should Hope Adrian Peterson Doesn't Become a Dallas Cowboy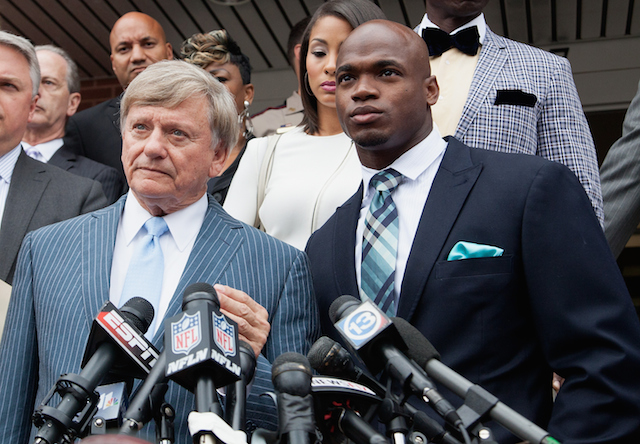 Rumors of Minnesota Vikings running back Adrian Peterson's desire to play for the Dallas Cowboys started surfacing last summer. What started out as a simple phone call between Peterson and Cowboys owner Jerry Jones, which occurred while Jones was attending George Strait's final concert at AT&T Stadium, has turned into something that is now a very real possibility.
Peterson, who spent last season serving a suspension issued by the NFL for violating the league's personal conduct policy stemming from his indictment for reckless or negligent injury to a child in September. The six-time All-Pro is set to make his return next year, and according to some reports, his aspiration to play in Dallas has only grown stronger during his time away from the game.
Peterson has admitted to feeling uneasy about a return to the Vikings in 2015, but his father, Nelson Peterson, has refuted a recent report saying that his son has vowed to never play for Minnesota again. That being said, it would be hard not to suspect that Peterson wants out of Minnesota when his agent, Ben Dogra, had to be separated from Vikings Vice President of Football Operations Rob Brzezinski after a conversation at the NFL Scouting Combine, when Dogra could be overheard saying that his client would never again play for the Vikings.
Additionally, there is a lingering animosity between Peterson, his representatives, and new Vikings Chief Operating Officer Kevin Warren, who was, according to sources, an instrumental player in the push to keep Peterson off of the field in 2014 when he was appealing his suspension.
The Vikings very well may be able to convince Peterson that he has a future in Minnesota. Indeed, they're trying to keep him there first and foremost. However, if they give in and ultimately trade him to the Dallas Cowboys, they will be setting a dangerous precedent that could have a negative effect on the entire league for years to come.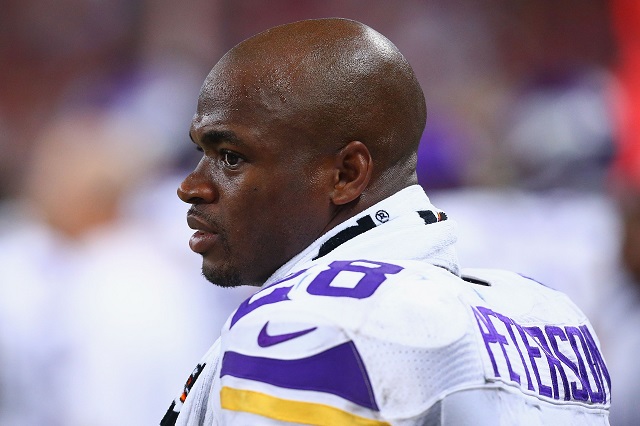 NFL teams have rarely, if ever, given in to team-specific trade demands set forth by players they have under contract. More often than not, teams will work out trades and then run them by the players in question to ensure they approve of the team they are being traded to. On the other hand, some NFL teams will choose trade players without consulting them at all.
The NBA, meanwhile, has turned into a league where major roster moves and blockbuster trades are seemingly executed by the players, not the teams. The best players in the league and their representatives have figured out that they have the power and the ability to hold their team hostage in the final year of their contracts. If a player demands a trade or if his current team is interested in trading him, the player effectively has the power to name his destination or to veto the trade by simply saying that he will not considering re-signing with his potentially new team at the end of the season.
If said player's new team is not confident that it will be able to sign the him to a long-term extension, then the organization will surely not be interested in trading away valuable assets to acquire said player. This is how Carmelo Anthony essentially forced the Denver Nuggets to trade him to the New York Knicks, and how other players around the league are attempting to form big-three combinations and super-teams in the cities of their choosing.
If Peterson forces the Vikings' hand by threatening retirement if they refuse to trade him, Minnesota head coach Mike Zimmer has twice said on record that he would accommodate the talented running back's wishes. If that happens and the Vikings end up trading Peterson to the Dallas Cowboys, there will be other big-name players around the league who will undoubtedly take note and almost certainly use a similar approach in naming their future trade destinations.
Only time will tell how the Adrian Peterson saga plays out in Minnesota, but NFL fans around the world should look at the current state of the NBA and hope that the Vikings do not grant Peterson's wish of being traded to the Dallas Cowboys.