NFL Fans Should Watch LSU vs. Alabama, Joe Burrow vs. Tua Tagovailoa
This Saturday, the top two teams in the AP Top 25 Poll and the Coaches Poll collide as the LSU Tigers visit the Alabama Crimson Tide. The AP Top 25 has LSU on top while the Coaches Poll has Alabama at No. 1, but both polls should be in unison next week after these two SEC powerhouses settle things on the field.
Saturday's showdown will feature many future NFL players, but the quarterback battle, in particular, is one that NFL fans should be watching for. Joe Burrow and Tua Tagovailoa both have the potential to be stars at the next level, and scouts from all 32 NFL teams are going to be watching this game closely. Here's a breakdown of how the two quarterbacks got to this point.
Tua Tagovailoa has bounced back from an injury scare
Tua Tagovailoa's legend at Alabama began in the 2017 season when he entered the National Championship Game against the Georgia Bulldogs trailing 13-0 in relief of Jalen Hurts. The true freshman shined on the biggest stage of all, completing 14 of his 24 passes for 166 yards and three touchdowns, including a 41-yard touchdown in overtime to seal a 26-23 win over the Bulldogs.
Tagovailoa followed up his 2017 heroics with a sensational year as Alabama's starter in 2018, racking up 3,966 passing yards and 43 passing touchdowns with only six interceptions. He picked up where he left off this season, collecting 2,166 passing yards, 27 passing touchdowns, and only two interceptions through Alabama's first seven games; and he only played one full quarter in the team's game against Tennessee on October 19.
The 21-year-old left that game with a leg injury. It looked serious when the 21-year-old left the stadium in an ambulance, but fortunately, the injury proved only to be a high ankle sprain. Tagovailoa sat out of Alabama's game against Arkansas and had a bye week last week to recover from surgery, and he's expected to play on Saturday.
Joe Burrow has rapidly ascended into one of the nation's top prospects
Joe Burrow was a backup quarterback for two seasons with the Ohio State Buckeyes before transferring to LSU to be the team's starting quarterback in 2018. He had a solid but unspectacular season last year, throwing 16 touchdown passes with only five interceptions and completing 57.8% of his passes for 2,894 yards.
Head coach Ed Orgeron and offensive coordinator Steve Ensminger committed to converting LSU's offense to a spread passing attack in 2019, and the move worked wonders for both the team and for Joe Burrow. Burrow went 23-for-27 with 278 passing yards and five passing touchdowns in a single half in the Tigers' season-opening 55-3 win over Georgia Southern.
The senior quarterback hasn't looked back since. Burrow is now the Heisman Trophy front-runner with 2,805 passing yards, 30 passing touchdowns, and four interceptions. And these performances haven't all come against scrubs either; LSU has defeated three teams that were ranked in the top ten when the Tigers faced them.
The Heisman Trophy could be on the line on Saturday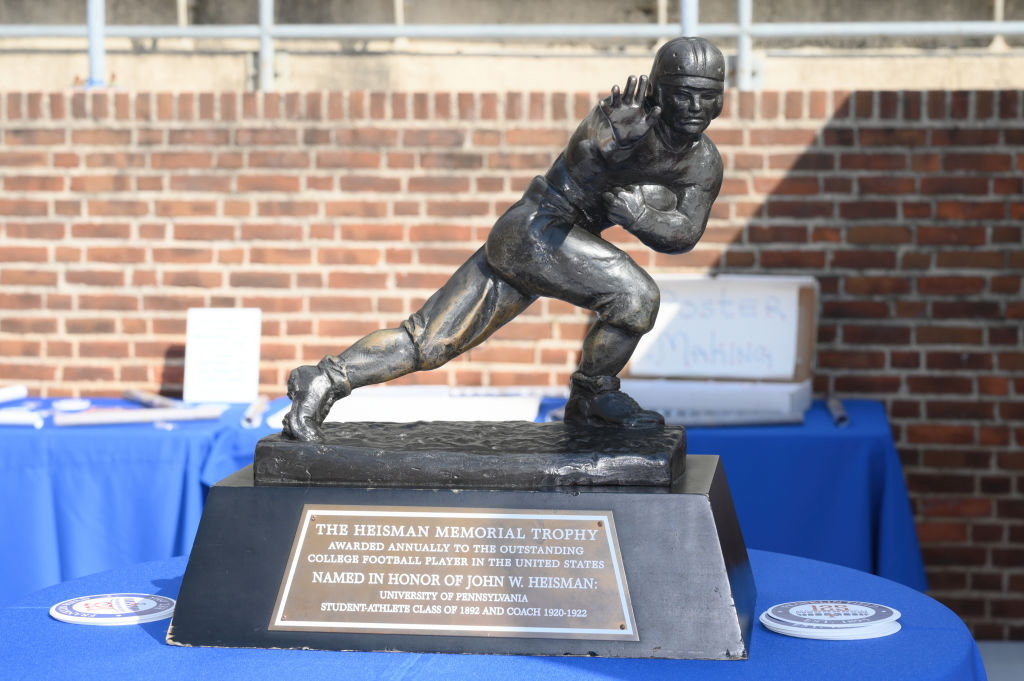 Tua Tagovailoa is already widely considered to be the favorite to go No. 1 overall in the 2020 NFL Draft. Joe Burrow has seen his stock soar this season, and he could be in the conversation for a Top-10 overall selection.
How these two top prospects perform in a game with the stakes as high as this one could have a big impact on their NFL futures. It will also have a big impact on the Heisman Trophy race as both of these players have the stats to win it, but only one will emerge from this huge rivalry game as the victor.
Buckle up; it's going to be one hell of a ride.