NFL Fantasy Football 2021: A Cheat Sheet on Which Quarterbacks to Avoid Starting in Your League
If you still haven't drafted your fantasy football team, we have an important message in neon lights: Don't draft Las Vegas Raiders quarterback Derek Carr!
At least, don't draft the three-time Pro Bowler as your starter. This is the time of year when it can get tempting to take a flyer on a reliable veteran starter or a promising young quarterback in fantasy football. Well, that's why we're here with a cheat sheet to help you out.
For this list, we did not include rookie quarterbacks or quarterbacks currently involved in a legitimate competition, such as Denver Broncos teammates Drew Lock and Teddy Bridgewater. When considering those guidelines, the five quarterbacks to avoid drafting as your starter rank as follows:
5. Matt Ryan, Atlanta Falcons
The good news for Matt Ryan is that he has wide receiver Calvin Ridley and rookie tight end Kyle Pitts at his disposal. The bad news for Ryan — and his potential fantasy owners — is that he's the same quarterback he's always been: an older pocket passer in an era of dual-threat superstars. The 36-year-old is not going to provide any real value on the ground outside of a rushing touchdown or two.
It also doesn't help Ryan that the Falcons don't have a dynamic three-down running back. Mike Davis, who figures to be Atlanta's lead back in 2020, rushed for 642 yards and six touchdowns on 3.9 yards per carry last year.
According to ESPN's average draft position (ADP), Ryan has been the 18th quarterback off the board in a typical mock draft. He's an ideal backup fantasy football quarterback who can step in for a handful of games. Selecting him with the intent of using him as your primary starter, however, is an idea that can and will backfire.
4. Derek Carr, Las Vegas Raiders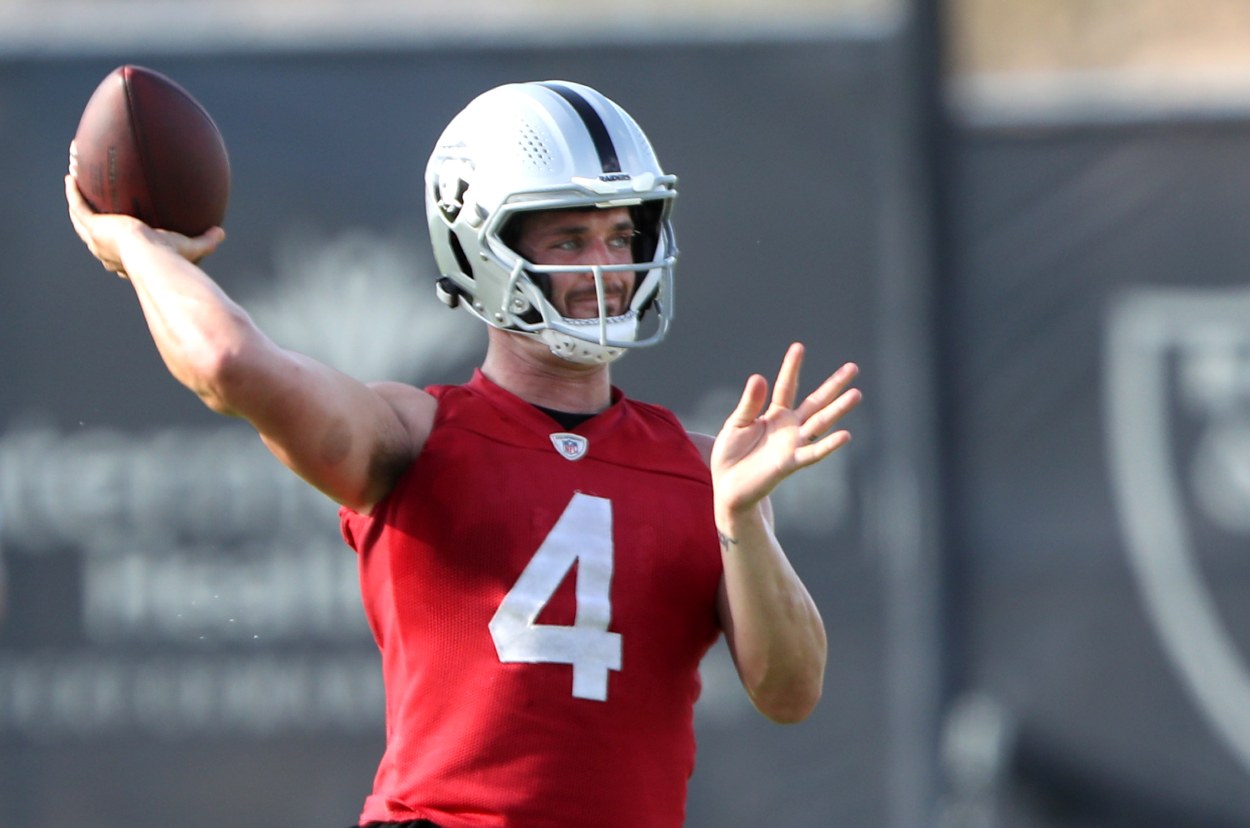 Carr did an excellent job avoiding turnovers the last two seasons and threw 48 touchdowns to 17 interceptions in that span. Regarding the actual NFL, he's an established and competent starting quarterback who gets a bad rep because he's never played in a playoff game.
The issue with Carr in fantasy this year is that too many questions surround the Raiders' offense. Jon Gruden isn't exactly employing the most stable offensive line to keep Carr upright. Second-year receiver Henry Ruggs III desperately needs to take a massive step forward and use his speed to become a frightening weapon.
Carr had the No. 25 ADP among quarterbacks, behind the likes of San Francisco 49ers rookie Trey Lance (22nd) and Washington Football Team veteran Ryan Fitzpatrick (24th). Like with Ryan, use Carr as your primary backup while hoping you don't need to start him too often.
3. Jared Goff, Detroit Lions
Goff is a proven veteran starting quarterback who once led the Los Angeles Rams to the Super Bowl. What gives? Why is he on this list?
Easy. Goff isn't playing for Sean McVay and the Rams anymore, and he won't be padding his numbers by throwing to Cooper Kupp and Robert Woods each week.
Starting tight end T.J. Hockenson made impressive strides for the Lions last year, and he's back in the starting offense. However, the third-year Iowa product isn't enough to outweigh the Lions' mostly unproven group of receivers.
On average, Goff has been the 31st quarterback selected. He might be worth a flyer as a free agent after the draft, but there are far better quarterbacks to choose from even if you're in a 12-player league.
2. Tua Tagovailoa, Miami Dolphins
Fantasy football players are already buying into the second-year hype involving Tagovailoa and the viral videos of him connecting with his receivers on sharp passes. As of publication, he has had the No. 16 ADP among quarterbacks.
We're not buying the hype, at least from a fantasy standpoint. There is a real chance that Tagovailoa improves in his sophomore season and leads the Miami Dolphins to a wild-card berth. But that doesn't mean he's going to help your fantasy team win it all.
More than anything, the Dolphins need the Alabama product to be an efficient game manager who can throw for 250 yards, two touchdowns, and no interceptions per week. That strategy will win games in the NFL but not in fantasy football leagues.
1. Baker Mayfield, Cleveland Browns
Mayfield falls into a similar trap as Tagovailoa, and the numbers prove that. The 2017 Heisman Trophy winner has had the No. 15 ADP among quarterbacks in ESPN mock drafts, one spot ahead of the Dolphins' second-year quarterback.
Mayfield and the Browns collectively realized last year that they could win games without needing him to throw for 400 yards or four touchdowns. If he avoids interceptions and gets running backs Nick Chubb and Kareem Hunt to wear out defenses, the Browns will remain a contender in the AFC North.
Mayfield sounds appealing as a backup, but we'd avoid drafting him unless he's available in the final rounds. It's better to have someone like Ryan, who is a threat to pad his numbers and throw for over 400 yards in a loss, on the bench instead of Mayfield.
All ADP (average draft position) figures courtesy of ESPN as of Aug. 10, 2021.