NFL: Top 20 Fantasy Football Running Backs for 2016
We're breaking down players by position as the fantasy football season draws near. This year, the fantasy football running backs look strong, and the top 20 group features some major studs. We already discussed the top 10 fantasy football quarterbacks for the coming season, so now we move on to their backfield mates. Let's check out the top 20 backs for the upcoming season in fantasy.
20. Ryan Mathews, Philadelphia Eagles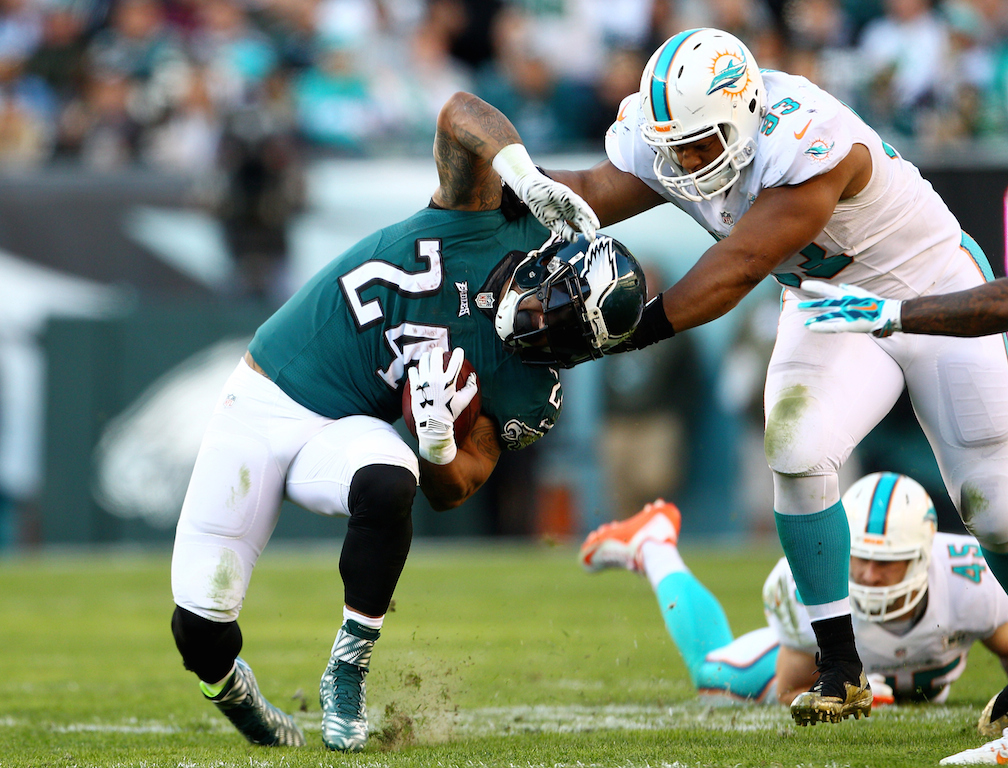 We're jumping aboard the hype train. With DeMarco Murray now long gone in Tennessee, Ryan Mathews should have a strong season. Quietly, he averaged five yards-per-carry in 2015, totaling 539 yards and six touchdowns.
Mathews also showed that he can be a solid pass-catcher, totaling 20 receptions for 146 yards and a score of only 28 targets. Expect him to be largely involved in Philly's game plan in 2016.
19. DeMarco Murray, Tennessee Titans
Is Murray ready to right the ship? We hope so, but we aren't completely sold, especially after the Titans drafted Derrick Henry.
Murray has a great opportunity in front of him with the Titans, but we don't expect him to revert back to the player he was with the Dallas Cowboys in 2014. During that season, he rushed for 1,845 yards and 13 touchdowns. Expect a top-20 season from Murray, but nothing too insane.
18. Matt Jones, Washington Redskins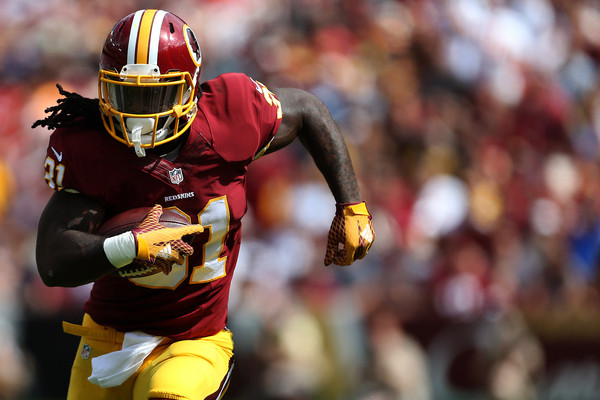 With Alfred Morris now in Dallas, things have opened up for the second-year running back for the Redskins. Matt Jones rushed for 490 yards and three touchdowns last year, but his pass-catching ability is what really sells us on his top-20 ranking. He caught just 19 passes last year, but totaled 304 yards and a score. The 16-yard-per-reception total is pretty stellar.
17. Dion Lewis, New England Patriots
Before suffering a torn ACL last season, Dion Lewis was well on his way to having a huge year. How will he recover from that injury for the Patriots? We believe Lewis will bounce back well enough to land as the No. 17 back next season.
Lewis not only rushed 49 times for 234 yards and two scores during seven games last season, but he caught an impressive 36 passes for 388 yards and two additional touchdowns. There's a lot to love about his game.
16. Eddie Lacy, Green Bay Packers
Let's face it, Eddie Lacy had a brutal 2015 season. He rushed for just 758 yards and three touchdowns, while often being overlooked for James Starks. Since the end of the year, Lacy has dropped weight and vowed to come back ready to make a statement in 2016.
We believe he'll bounce back, but not quite in a top-10 running back style. Instead, Lacy lands just outside of our top 15.
15. Jonathan Stewart, Carolina Panthers
Jonathan Stewart's play isn't going to blow you away, but he will be a consistent fantasy option. Last season he rushed for 989 yards and six touchdowns over 13 games. It's obvious that Cam Newton's superstar breakthrough is helping Stewart, and it'll help once again in 2016.
14. Matt Forte, New York Jets
Matt Forte landed in a new city, which we believe means that he'll be a rejuvenated runner. Forte had the worst season of his career in 2015, rushing for just 898 yards and four touchdowns, while seeing a major dip in receptions (just 44 for 389 yards and three additional scores).
The fact is that the Jets will utilize Forte in any and every way possible. Expect to see him get far more touches than he did in 2015 with the Chicago Bears.
13. Carlos Hyde, San Francisco 49ers
In his second NFL season, Carlos Hyde hit the ground running in Week 1 against the Minnesota Vikings. In that game, he rushed 26 times for 168 yards and two touchdowns.
Unfortunately, he couldn't stay even remotely healthy from that point on, and wound up playing in just seven games throughout all of the 2015 season. With Hyde healthy in 2016, he will be a huge contributor and focal point of San Francisco's offense.
12. Thomas Rawls, Seattle Seahawks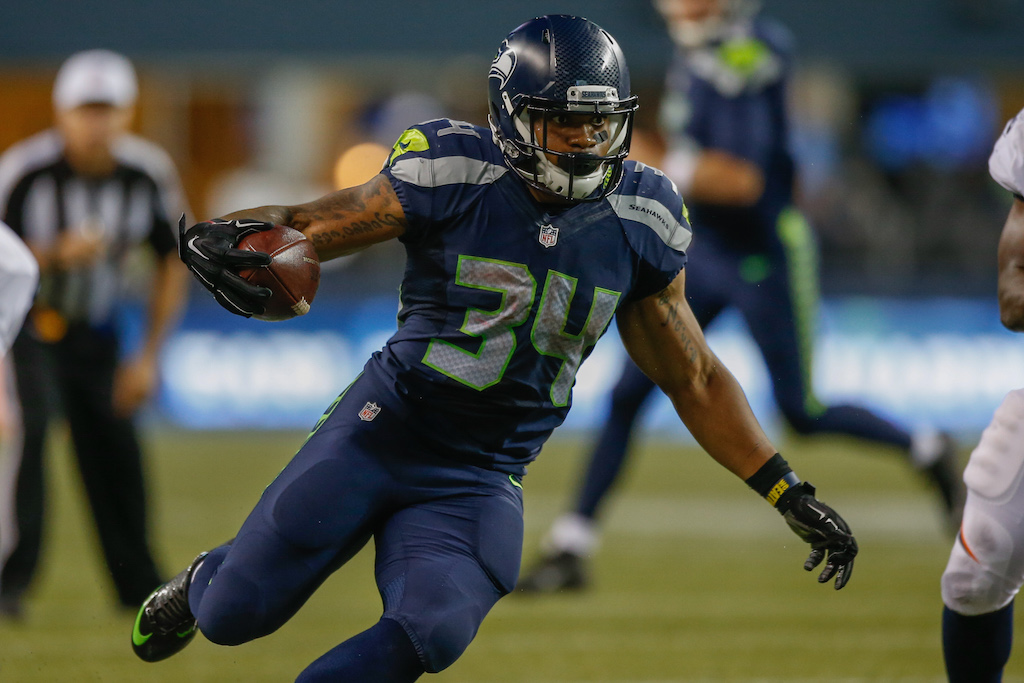 During his rookie season, Thomas Rawls' number was called when Marshawn Lynch was injured, and he stepped up in a big way. Now, Lynch is riding into the sunset in retirement, which means that it's Rawls' time to shine.
His impressive 830 yards and four touchdowns over just seven starts last year stands out, so the question is what can he do with a full 16 games? We believe it'll be fun to watch, while ranking him just outside of the fantasy top 10.
11. LeSean McCoy, Buffalo Bills
LeSean McCoy's been impressive for a long time now, but his first season in Buffalo was filled with injuries and a few mediocre games. Fortunately, McCoy bounced back nicely when all was said and done, averaging 4.4 yards-per-carry, with 895 yards and three rushing touchdowns in 12 games.
His skill as a pass catcher can't be overlooked either, as he caught 32 passes last year for 292 yards and two additional scores.
10. Jamaal Charles, Kansas City Chiefs
Jamaal Charles just can't seem to catch a break when it comes to injuries. He'll be rolling right along, then suffer a setback. Last season Charles was only able to play in five games before tearing his ACL — but he was superb during those five games.
Charles rushed 71 times for 364 yards (5.1 yards-per-carry) with four touchdowns. He's a great receiving threat out of the backfield as well, and we know Alex Smith loves to utilize him however possible. Expect a nice bounce back for Charles in 2016.
9. Mark Ingram, New Orleans Saints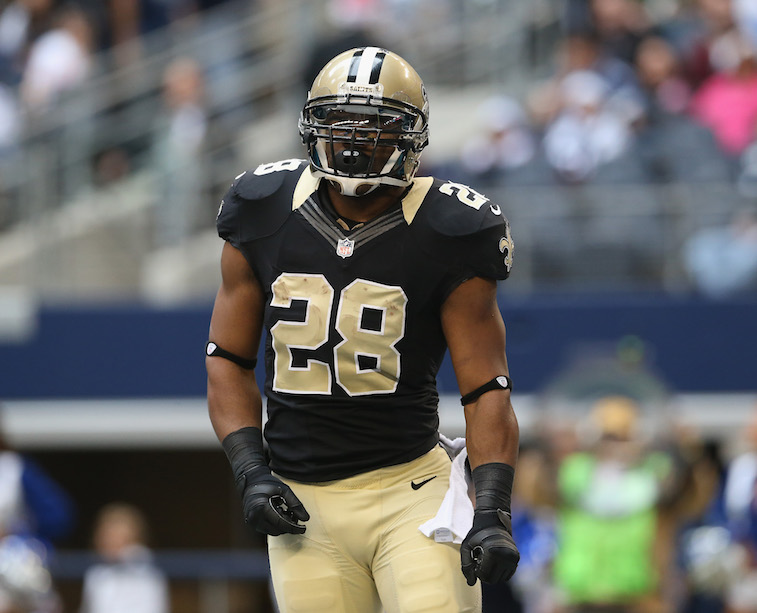 Another player who was hit with the injury bug. If Mark Ingram was able to stay healthy in 2015, we'd likely be looking at a Pro Bowl season. He totaled 769 rushing yards, 405 receiving yards, and six touchdowns through the first 12 games of the season.
Ingram showed in a big way last season that he can be a threat in the passing game, which helps take his fantasy value to a top-10 level.
8. Doug Martin, Tampa Bay Buccaneers
While we don't expect Doug Martin to be right on the fringe of taking down the NFL rushing crown again in 2016, we do think he'll have a strong year. Martin proved that he could still be an elite running back last season, rushing for 1,454 yards and 11 touchdowns, while also catching 49 passes for 472 yards and an additional score. If he can come anywhere close to those numbers again in 2016, fantasy owners will be completely thrilled.
7. Lamar Miller, Houston Texans
To be honest, last season was essentially irrelevant for Lamar Miller, so we aren't even going to talk about it. He's in a new town with a new team, and he's going to be hungry.
The Miami Dolphins didn't get the ball into Miller's hands as much as they should have, but the Texans will be more than happy to give the ball to the man they just signed for $26 million over four years.
Miller can get it done both on the ground and through the air, making him a focal point of this offense as well as a player who will ease the pressure off DeAndre Hopkins in the passing game.
6. Devonta Freeman, Atlanta Falcons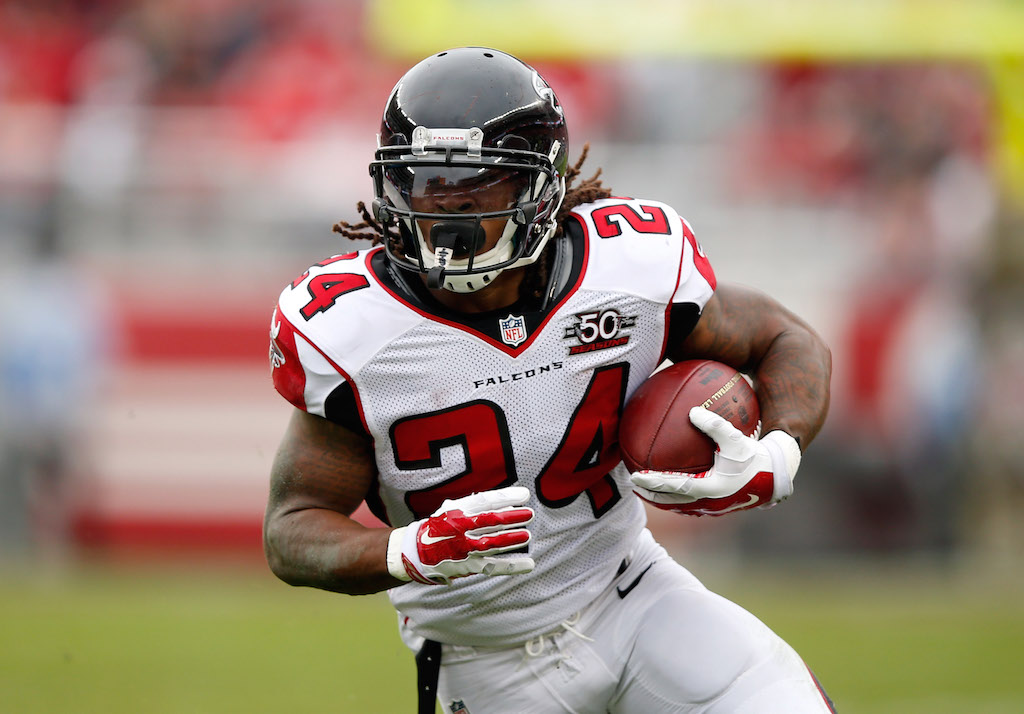 Devonta Freeman had a massive breakout year for fantasy owners in 2015, going off for 1,634 combined rushing and receiving yards, while catching 73 passes, and scoring 14 touchdowns. It doesn't get much better than that for fantasy owners, and at the very least, we expect to see Freeman as a huge part of the passing game. In 2016, he'll be a featured back once again.
5. Ezekiel Elliott, Dallas Cowboys
Running behind the best offensive line in the NFL, the No. 4 pick in the 2016 NFL Draft was selected for a reason. We're going to guess that the reason wasn't to sit behind either Darren McFadden or Morris.
Ezekiel Elliott will be asked to do a ton in 2016, including running, catching passes, blocking, and possibly even more. Don't expect Dallas to hold back in what may be one of the final years for Tony Romo to really help the team push for a Super Bowl.
4. Todd Gurley, Los Angeles Rams
Sophomore slump? We're not buying it. Todd Gurley played in only 13 games last season, but still topped 1,100 rushing yards with 10 touchdowns. Expect him to be the entire focus on Los Angeles' offense in 2016, and for it to pay off in a big way.
The reason why he's not higher on our list is simply due to his lack of receptions, but it's worth noting that he may see even more of those this coming season.
3. David Johnson, Arizona Cardinals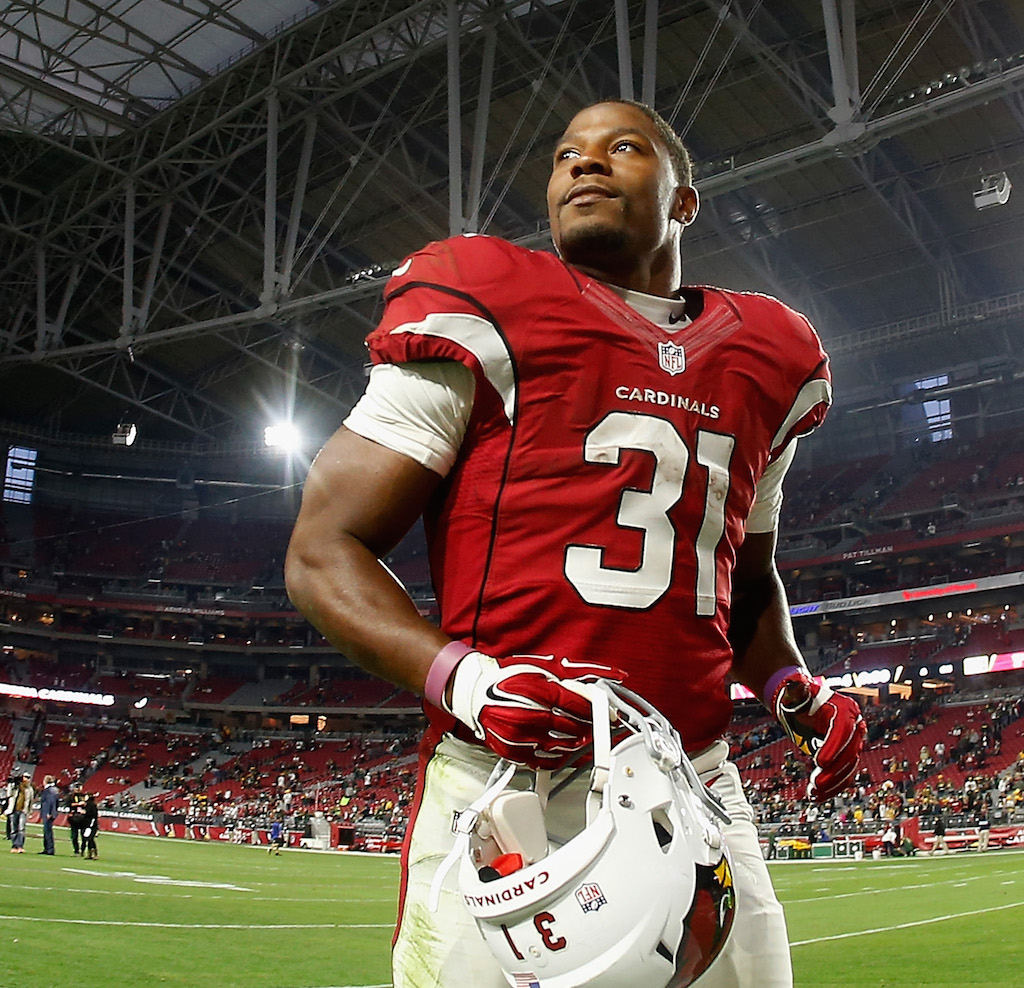 It took multiple injuries, but a star was born in Arizona last season. David Johnson was an absolute force last year even though he only started five games. Overall, he had 581 rushing yards, a 4.6-yard-per-carry average, 457 receiving yards, and 12 combined touchdowns.
Don't be shocked if Johnson is able to wind up even higher on this list than No. 3, but we see the third spot as his floor this year.
2. Adrian Peterson, Minnesota Vikings
Adrian Peterson just isn't a normal NFL running back. Usually, backs will slow down around the age of 30. For Peterson, he took it back up a notch.
In 2015, he not only led the NFL in rushing yards with 1,485, but also scored 11 touchdowns, while catching 30 passes for 222 yards. The Vikings will once again feed the rock to their elite running back, so don't expect a slowdown.
1. Le'Veon Bell, Pittsburgh Steelers
Le'Veon Bell is by far the most well-rounded running back in the NFL. Even with the fact that his Week 1 status is unknown, we can't leave him off this spot.
A knee injury and two-game suspension sidelined him for all but six games of 2015, but during those six games, he averaged 4.9-yards-per-carry, rushed for 556 yards, caught 24 passes for 136 yards, and scored three touchdowns.
Expect the Steelers to center their offense around him and Antonio Brown. His pass-catching ability is what gives him the nod at No. 1 on this list in 2016.
Statistics courtesy of ESPN.com and Pro-Football-Reference.com.